Swiss steak is a method of slow-cooking a relatively tough cut of beef, such as a round steak. The meat is browned, and then braised in a tomato sauce.
According to The American Century Cookbook, recipes first starting showing up for Swiss steak in the 1930s. Reynolds Wrap Aluminum popularized it in the late 40s by promoting the recipe as a use for its foil. Their recipe had you line a roasting pan with foil and cook the steak in the oven. (Ours below is done on the stovetop.)
The "Swiss" in Swiss Steak has nothing to do with Switzerland, but refers to the process of tenderizing a tough cut of meat. The recipe below is my mother's method for making Swiss Steak.
Swiss Steak…Cooking beef in tomato sauce with root vegetables produces an amazing concoction that is full of flavor and absolutely delicious.  Swiss steak is definitely my favorite way to eat beef.  The root vegetables release their flavors into the sauce transforming it into liquid gold.  I can eat the sauce without the steak in it over rice for leftovers and be just as happy as I was with the steak in it.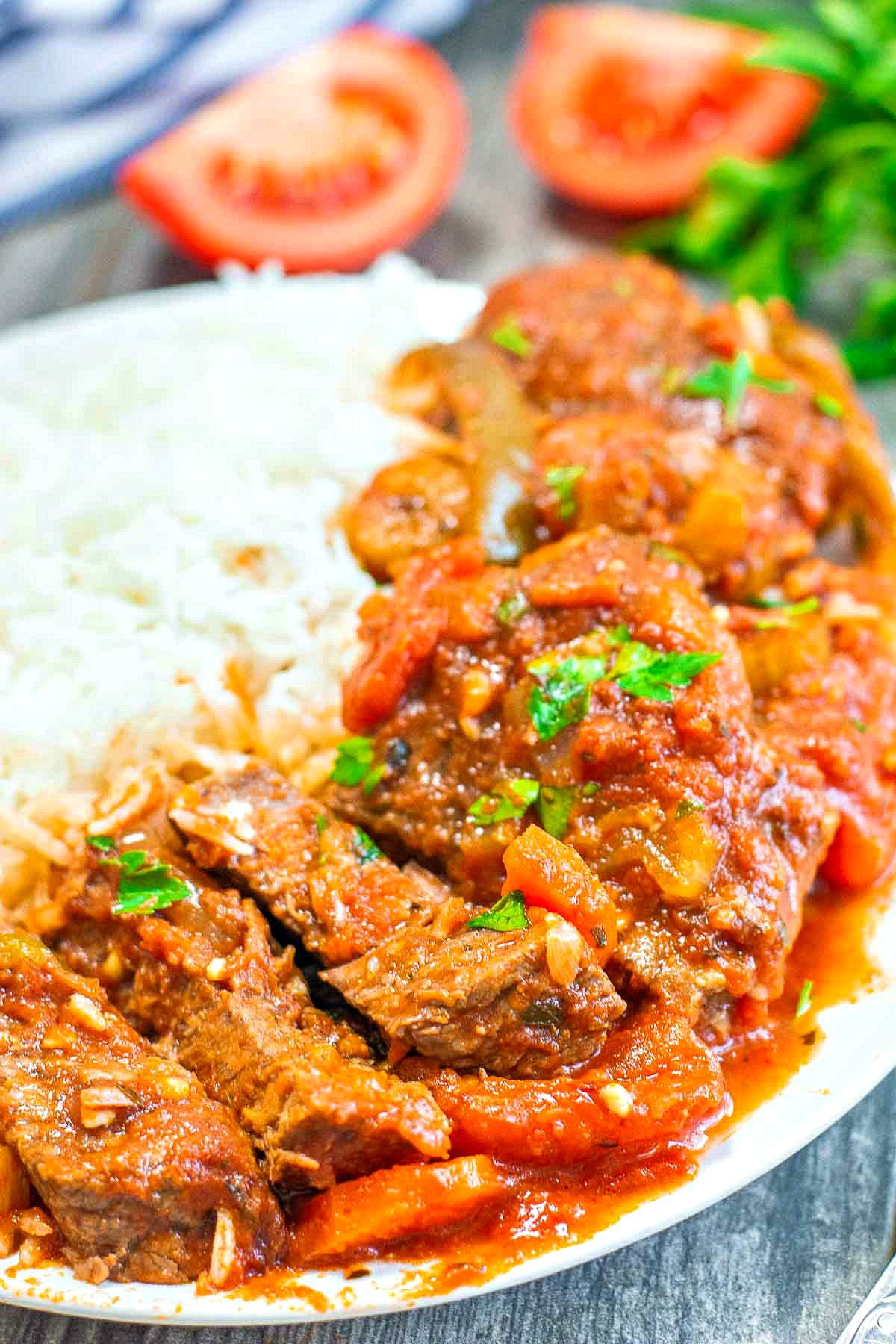 Swiss Steak
Beef and tomato sauce were made for each other, am I right?
The beef adds a wonderful depth of flavor to tomato sauce.  I think my favorite veggie in this recipe is the carrots.  They add a natural sweetness that tames the acidity in the tomato sauce without adding sugar.
As with all recipes, Swiss steak is the same: tweak the finally product to your liking.  Taste and add a little more beef flavoring in the form of bouillon if you think it needs it or a dash more Worcestershire Sauce if you think it necessary.  It's all good, it's how we make a recipe ours. Let's gather the ingredients and make Swiss Steak together.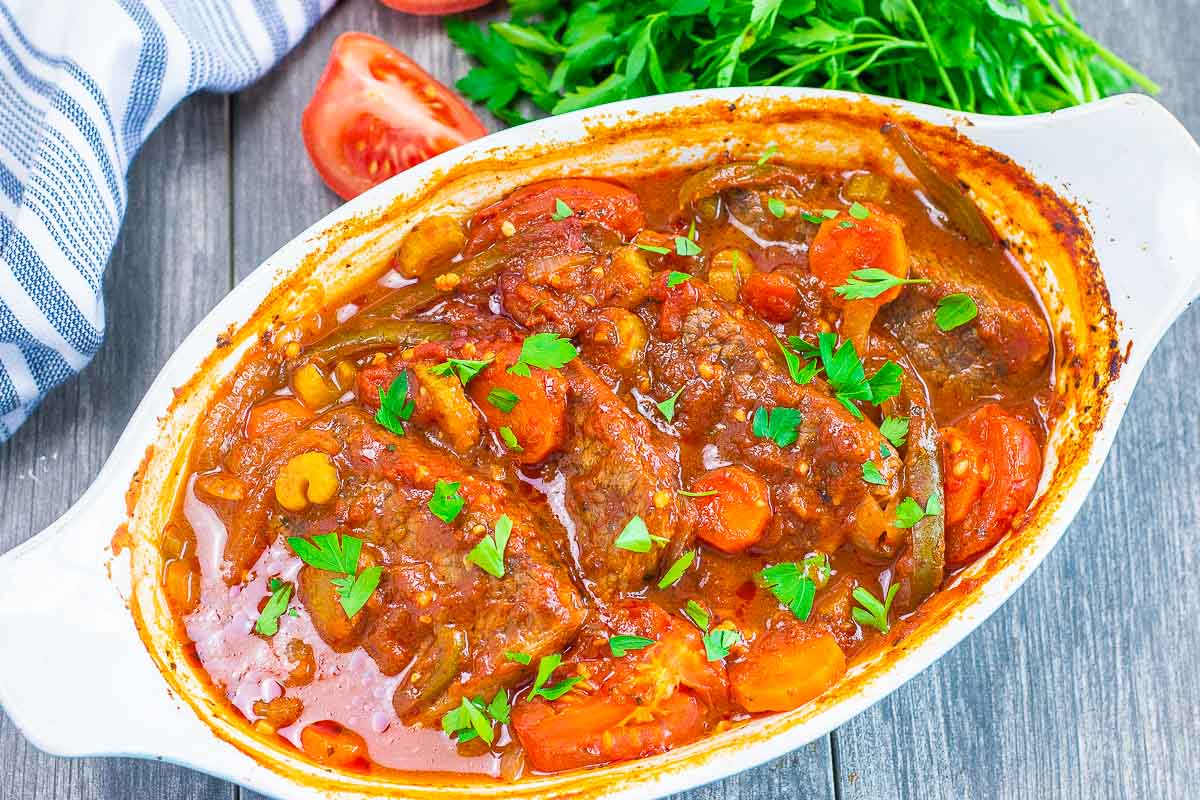 Swiss Steak Ingredients:
1 pound boneless round steak
One 24 ounce jar tomato sauce
2 fresh tomatoes cut into quarters
2 carrots, sliced
1 onion sliced
1 heaping Tablespoon minced jarred garlic
1/4 cup beef broth
1 bell pepper (red or green) sliced into strips
2 dashes Worcester Sauce
2 Tablespoons oil
salt and pepper
serve over cooked noodles. rice or mashed potatoes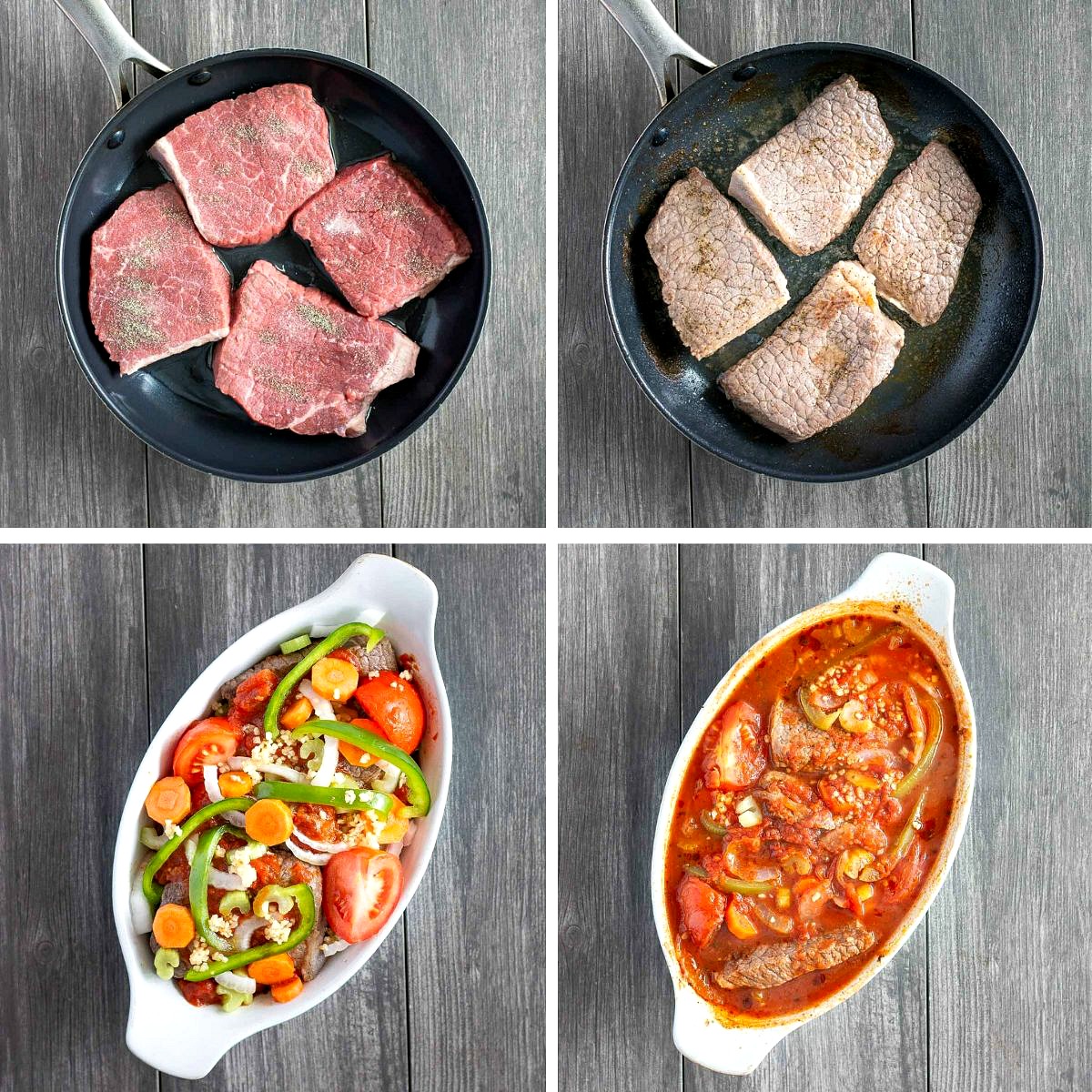 We start the recipe by cutting the round steak into 4 portions.  Salt and pepper both sides of the steak and place them into a saute pan with the oil. Fry the steaks under medium heat until they are browned on both sides. Remove the steaks from the pan and place them into a shallow baking dish or a small roasting pan (This baking dish from Pioneer Woman is my favorite!)
Add the tomato sauce, beef broth, Worcestershire Sauce, garlic, onion and all the sliced vegetables to the roasting pan.  Cover the pan with foil and place it in a 350 degree preheated oven for about 2 hours or until the steak is tender.  Serve this amazing mixture of steak and vegetables with a side of mashed potatoes, rice or noodles to round this fantastic dinner up to AMAZING!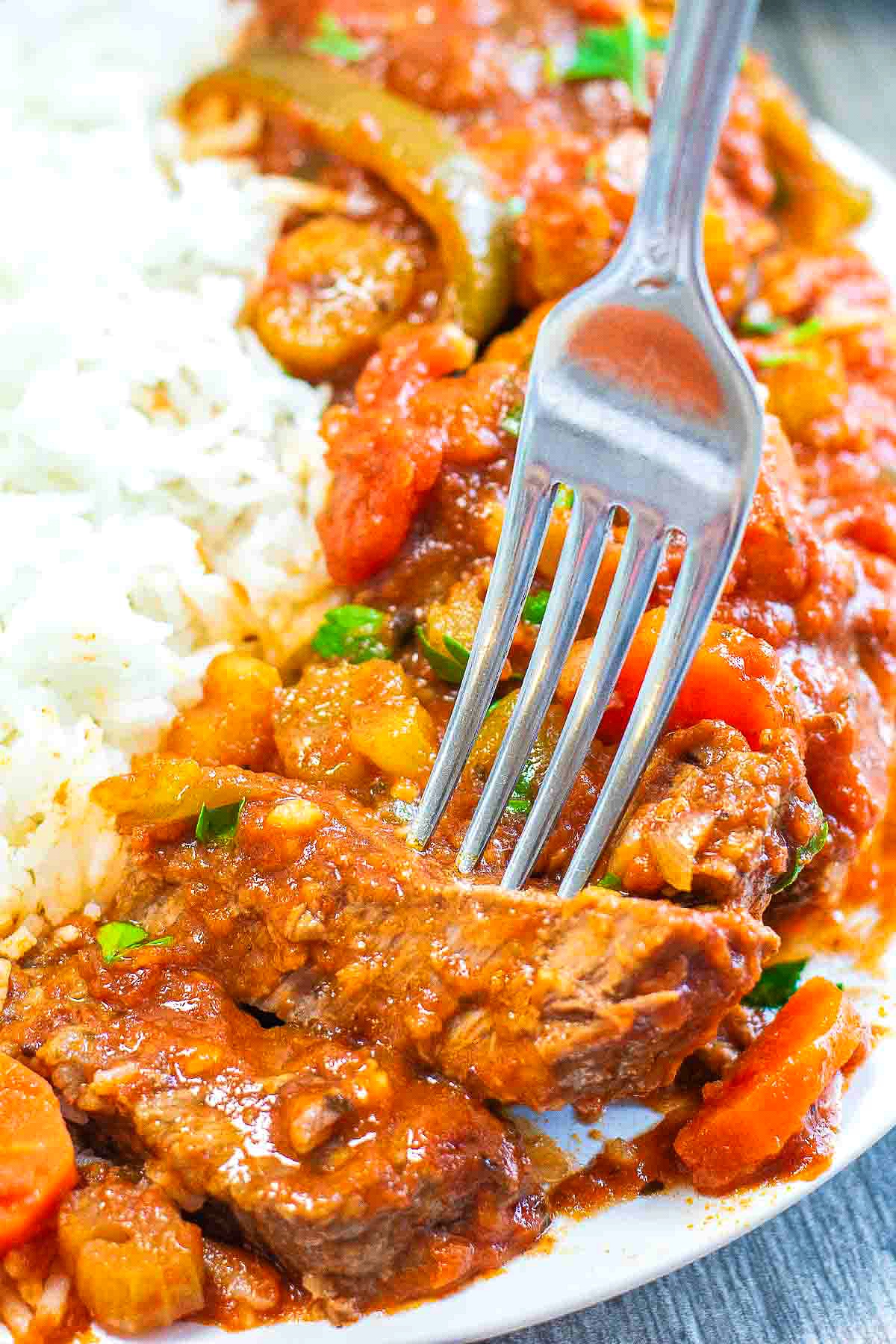 This tender Swiss Steak and vegetables  is "What's For Dinner!? And it's DELICIOUS!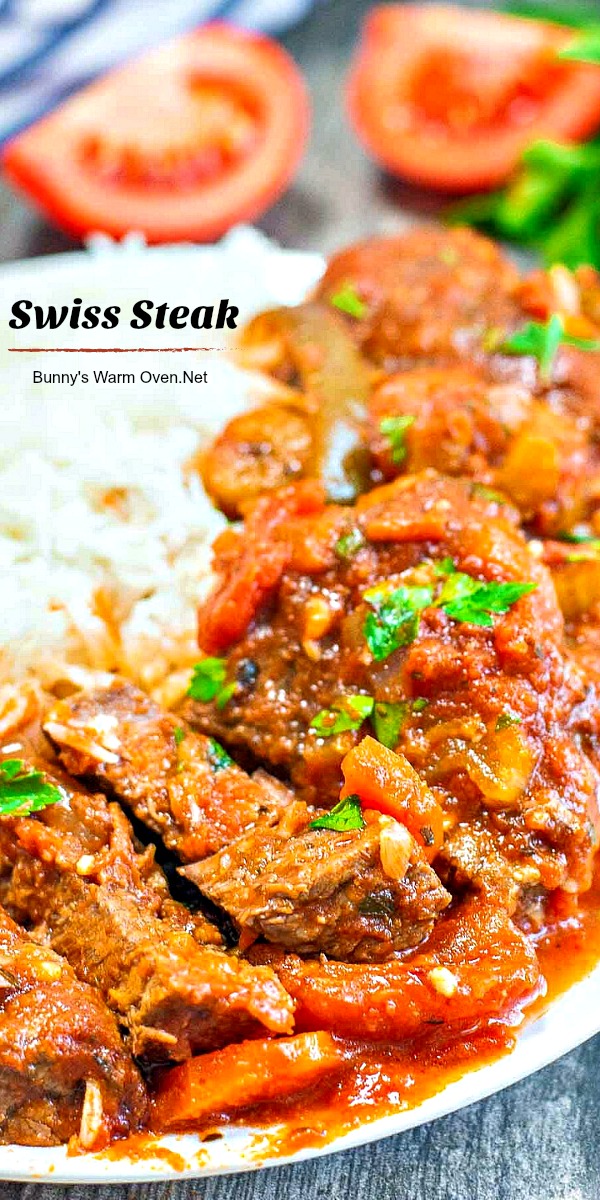 Sumber : https://bunnyswarmoven.net/swiss-steak/
Sumber : https://www.simplyrecipes.com/recipes/swiss_steak/