Spicy Thai Wings

I know that when we think about appetizers this time of the year we're thinking football.  And that's great, but there are so many fantastic celebration occasions during the year where these quick, easy and delicious wings would WOW your guests.
Spicy Thai Wings are so easy to make that you can whip these up for family movie night as a snack. They would be perfect as appetizers to make and take to graduation parties, bridal showers, baby showers or any other event your family and friends get together to celebrate.
Let's talk about the recipe…
The Spicy Thai Wings sauce takes about five minutes to put together. I mean seriously. Your going to measure out ingredients and then whisk it all together, boom there it is.  The next step is frying the wings in oil in 3 batches.
Why 3 batches? You don't want to over crowd the pan while their frying.  Let them get all nice and crispy and done in the middle. Fry each batch about 8 to 10 minutes. Drain the wings on paper towels as they come out of the hot oil. Place the wings in the sauce bowl in batches and toss to coat.  Spicy Thai Wings, quick easy and delicious for any occasion all year round. ENJOY!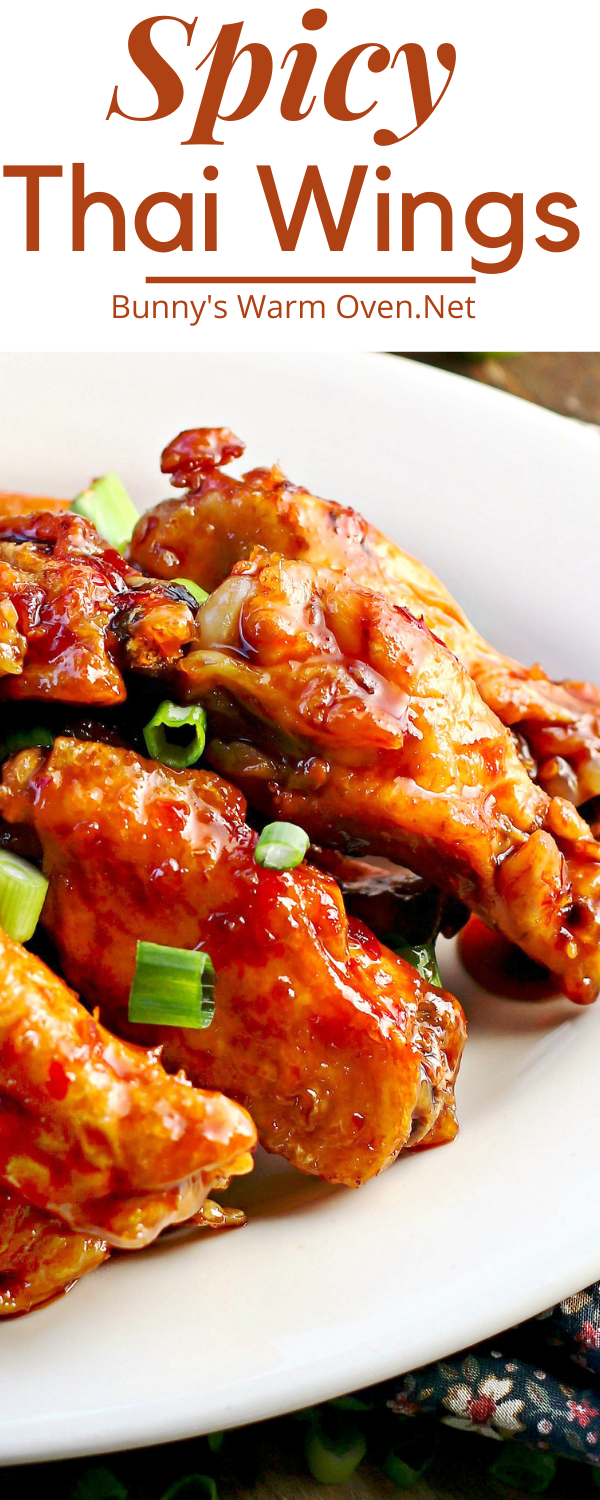 Ingredients
4 cups vegetable oil
32 wing pieces
Wing Sauce Ingredients:
1 Tablespoon Sriracha Sauce
1/4 cup soy sauce
1/2 cup Sweet Chili Sauce
1 Tablespoon brown sugar
1/2 Teaspoon garlic powder
Instructions
Place all of the sauce ingredients in a large mixing bowl, whisk until well combine. Set aside.

Place the 4 cups of vegetable oil in a pot big enough to hold it and the wings while they are frying.  Heat the oil to medium to high heat about 375 degrees if your using a thermometer.

Fry the wings in 3 batches, each batch cooking for 8 -10 minutes until cooked through and crispy. After the wings are cooked, drain them on paper towels to remove the excess grease from frying.  Whisk the sauce one more time just to make sure all the ingredients are well combined. Toss the wings in the bowl with the sauce in batches until coated. Place the wings on a serving plate and garnish with chopped green onion.

Sumber : https://bunnyswarmoven.net/spicy-thai-wings/