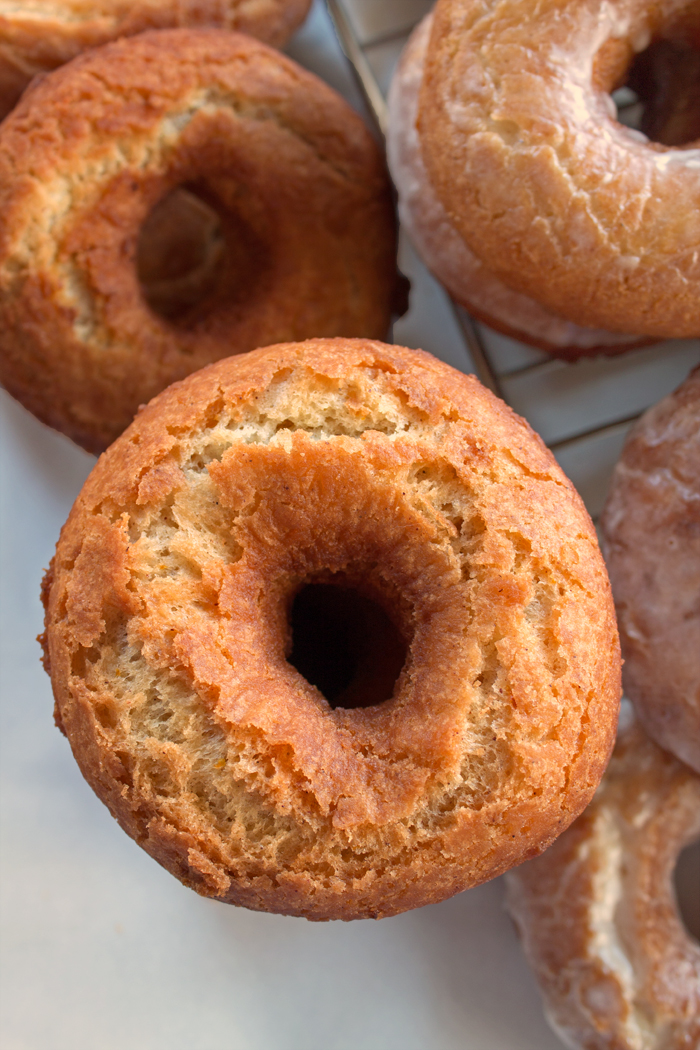 Sour Cream Doughnuts
This is the first sour cream doughnut I've ever made.  I can't imagine that there would be a better recipe out there than this one.
Sour Cream Doughnuts are soft and tender on the inside with a slight "crisp" on the outside. You just can't beat the combination of those two textures together in a doughnut.
The recipe yielded me 14 doughnuts and holes. I glazed half of the doughnuts with a vanilla glaze, the other half I left plain. Well, plain as far as a glaze.  The orange zest and cinnamon flavor of the doughnuts is far from plain, it's outstanding.
This recipe is easy to follow.  I will say, and I'm sure this is the case with any fried doughnut recipe, watch the temperature of the oil when frying, it's easy for it to creep up on you while your frying the doughnuts.  Turning the doughnut every 30 – 40 seconds when frying will give you a uniform color and doneness to the doughnut.
This is an outstanding Sour Cream Doughnuts recipe, so much so I feel like this one is it. My search is over. Enjoy!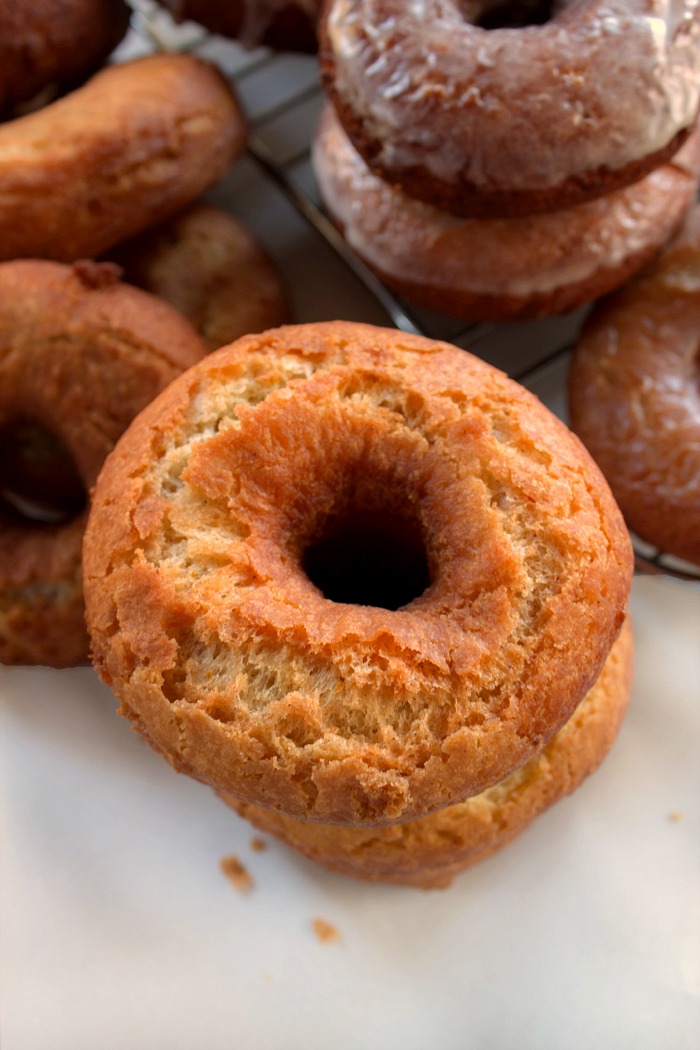 Ingredients
3 1/2 cups flour
1 Tablespoon baking powder
1 Teaspoon cinnamon
1 Teaspoon salt
1/2 Teaspoon baking soda
1 cup sugar
2 large eggs
2 Teaspoons orange zest
1/2 Teaspoon vanilla
1/3 cup melted butter cooled to warm
1 cup sour cream
Instructions
Place the flour,baking powder, baking soda, cinnamon and salt in a medium bowl, stir to combine.

Place the eggs and sugar in a large bowl. Beat for about 3 minutes until the mixture is very thick and light in color. Beat in the orange zest and vanilla. Pour the melted butter in a slow steady stream into the the mixture while beating. Beat until all the butter is incorporated.

Add the sour cream to the bowl in 2 additions, beating well after each addition.

Gently FOLD the flour into the mixture in 4 additions. The dough may be sticky, cover the dough with a kitchen towel and let sit for an hour.

Sprinkle 2 cookie sheets with flour. Using a third of the dough, pat the dough out to about 1/2 inch thickness on a lightly floured surface. Using a 3 inch wide biscuit cutter, cut dough rounds out. Cut the hole out of the middle of the dough with a small round. I used the cap of my vanilla extract bottle to cut the middle hole.Place the dough rounds on the floured cookie sheets. Repeat with the remaining dough using 1/3 of the dough at a time to roll and cut the doughnuts out.

Heat 4 inches of vegetable oil in a heavy duty metal pot with high sides. Heat the oil to 350 – 365 degrees. Fry the doughnuts one or two at a time until golden brown. Remove from the oil and drain well, cool slightly before adding a glaze.

Sumber  : https://bunnyswarmoven.net/sour-cream-doughnuts/