Skillet Hash Brown Breakfast is made in one pan ,which means minimal clean up.  This is my kind of lazy day dinner, lunch or breakfast.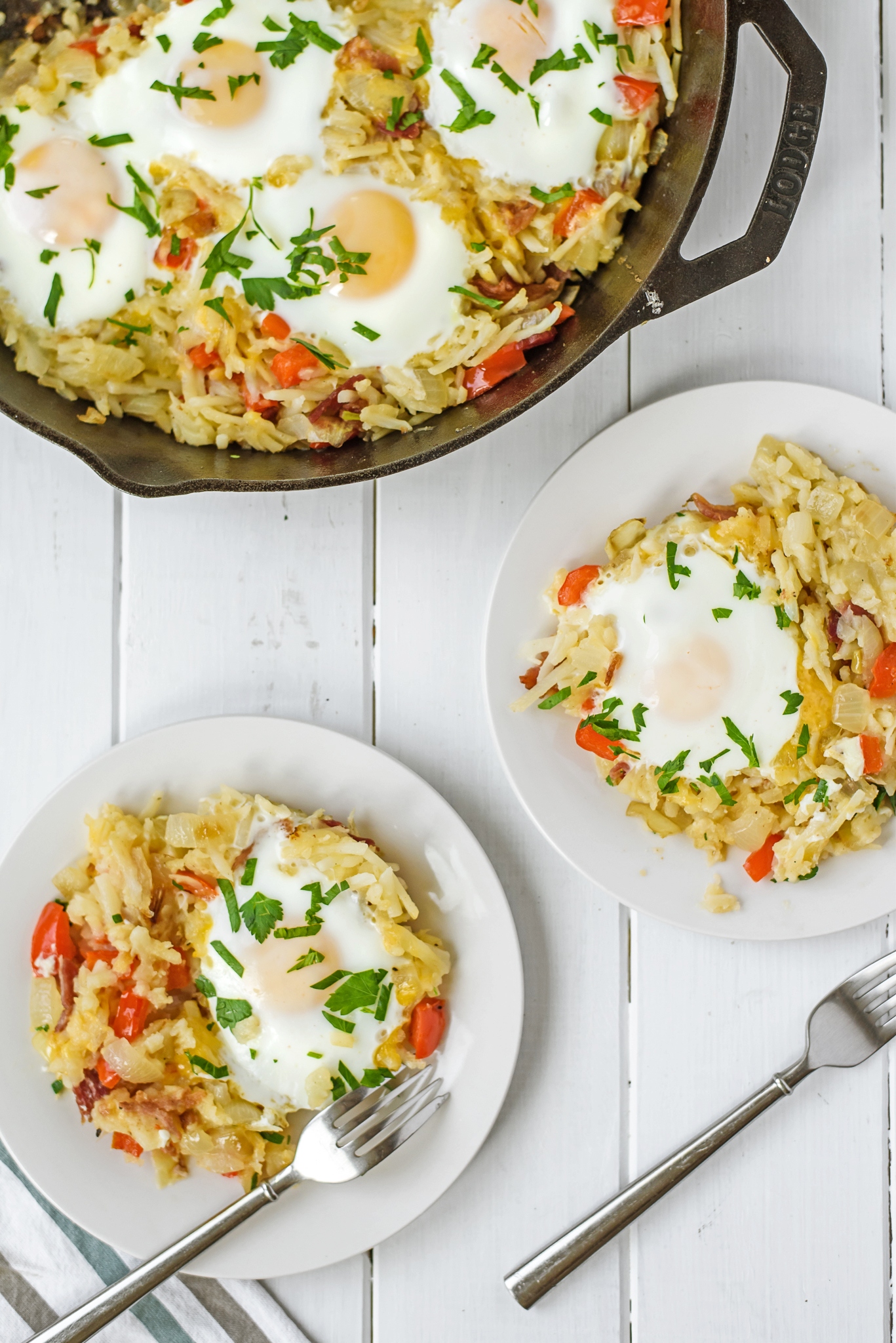 Weekends are pretty causal around here.  We take whatever the days bring and just roll with it.  Having breakfast for dinner suits both my husband and I any day of the week but the weekends? Oh yes, the weekends make it extra special.  No schedules and no worries along with an easy delicious skillet breakfast, life's good . Skillet Hash Brown Breakfast has lots of flavor and texture.  Because it's made in one pan that means minimal clean up.  This is my kind of lazy day dinner or breakfast and we're going to make it together so let's gather the ingredients.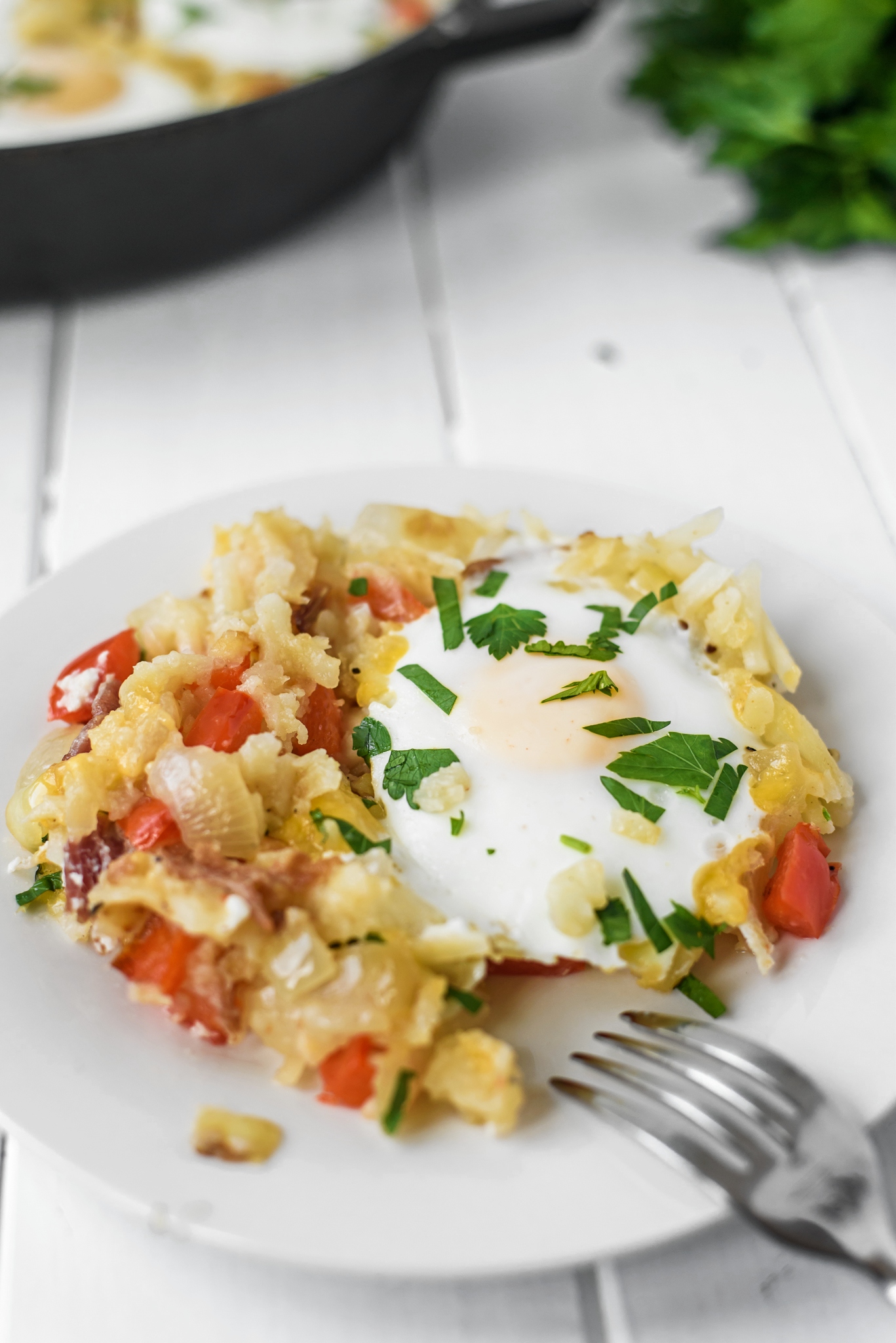 Skillet Hash Brown Breakfast Ingredients:
6 slices bacon
4 1/2 cups frozen shredded hash browns, partially thawed
1 small onion, chopped
1/2 Teaspoon garlic powder
6 eggs
1/2 cup shredded cheddar cheese
salt and pepper
chopped parsley for a garnish
We start the recipe by cooking the bacon strips in a non stick skillet until they're done.  Crumble the bacon up and set it aside. Remove all the bacon drippings from the pan except for a 1/4 cup. I don't ever throw bacon dripping away. I store it in the fridge and  use it to fry onions in for burgers to give them a little extra flavor and sometimes our dogs Bella and Derby get a little treat when I mix some into their dog food.
Add the hash browns, bacon, onion, bell pepper salt, pepper and garlic to the pan.  Cook and stir the ingredients over medium heat until the hash browns are golden brown, that'll take about 15 minutes.  Sprinkle the top of the mixture with grated cheese.  Using the back of a large spoon make 6 indentations in the hash browns for you to place the eggs. Break one egg into each indentation. Cover the skillet with a lid and cook about 3 – 5 minutes until the eggs are set. When the eggs are cooked to your liking sprinkle the top of the eggs and hash browns with parsley and serve.
How many food substitution options do I have when making Skillet Hash Brown Breakfast?
The First Option – I absolutely love versatility in recipes and thankfully this recipe has several. Let's start with the cheese. This recipe uses grated cheddar but any grated cheese can be used.  Use your favorite or a blend of two cheese. If you've never grated cheese over top of cooked eggs before your in for an absolute treat. One morning while I was cooking myself eggs, which I like over easy, I decided to grate Parmesan cheese over them while they were still in the pan. The flavor was so incredible that I make them that way every time I want" over easy" eggs for breakfast.
The Second Option – The second food substitution you could make is breakfast meat. Substitute the bacon in the recipe for any leftover ham you have from a previous dinner you've made. Cooked leftover sausage or kielbasa would work as well. Make sure the ham , sausage or kielbasa are cooked and cut into small pieces, remember we are substituting it for the crumbled, cooked bacon so the pieces should be small.  If your substituting the bacon ( which gives you the 1/4 cup of fat you need to cook the hash browns, onions and pepper) for another breakfast meat remember to add a 1/4 cup of oil to the pan to replace the bacon fat.
The Third Option – Maybe you're not real crazy about Parsley. Try using Spinach or Kale torn into small pieces to top Skillet Hash Brown Breakfast.
Skillet Hash Brown Breakfast , it's what's for breakfast, lunch or dinner and it's versatile and delicious, Enjoy!
Ingredients
6 slices bacon
41/2 cups frozen shredded hash browns, partially thawed
1 small onion, chopped
1/2 Teaspoon garlic powder
1/2 cup cheddar cheese
chopped parsley for garnish
Instructions
Place the bacon in a large non stick skillet until done. Crumble the bacon and set it aside.

Remove all the bacon drippings from the pan except 1/4 cup.Add the hash browns, bacon, onion, bell pepper, salt and pepper and garlic powder. Cook and stir over medium heat until the hash browns are golden brown, about 15 minutes. Sprinkle the hash browns with grated cheese.

Using the back of a large spoon make 6 indentations in the hash browns. Break one egg in each indentation. Cover the skillet with a lid and cook about 3 -5 minutes or until eggs are set. Sprinkle with parsley and serve.

Sumber : https://bunnyswarmoven.net/skillet-hash-brown-breakfast/