Shrimp Salad in a Fresh Pineapple – a fantastic dinner or lunch that can be made year-round with any fruit in season. Looking for a unique shrimp recipe? Find it HERE!
This simple salad combines tasty shrimp, light/citrusy dressing, crispy greens, and warm, juicy pineapple. It comes together quickly, the flavors work nicely together, it allows you more time to enjoy your visitors AND you get to avoid unnecessary calories and temptations inevitably available at beach-side restaurants 🙂   Plus, if you have any vegetarian Spring-breakers, this salad can be adjusted by replacing the shrimp with chickpeas (check out the recipe for a Buddha Bowl which includes directions for roasted chickpeas), shelled edamame, tofu or other protein of choice.
Here's the sunny, citrusy dressing filled with orange, lemon, thyme and parsley, all ready to bathe that delicious pineapple and shrimp: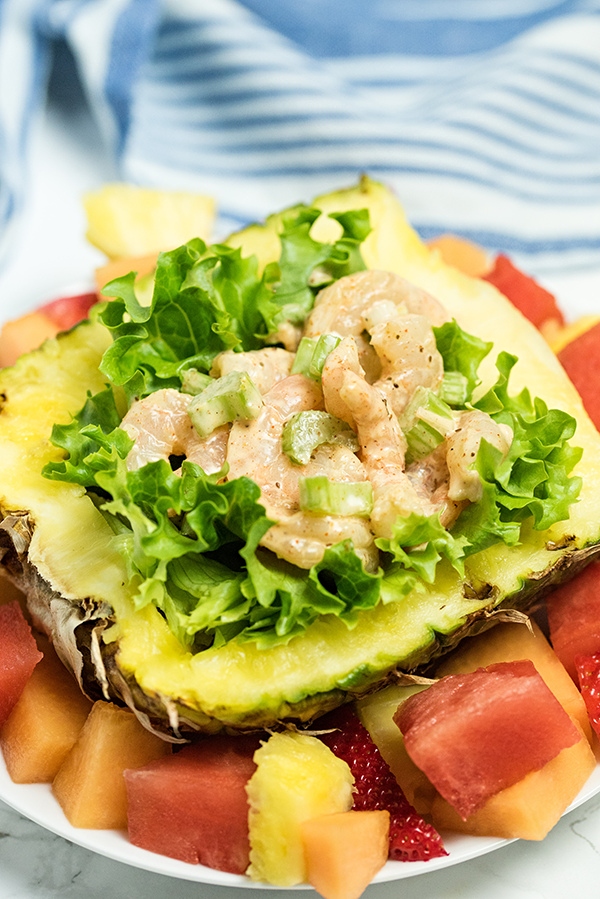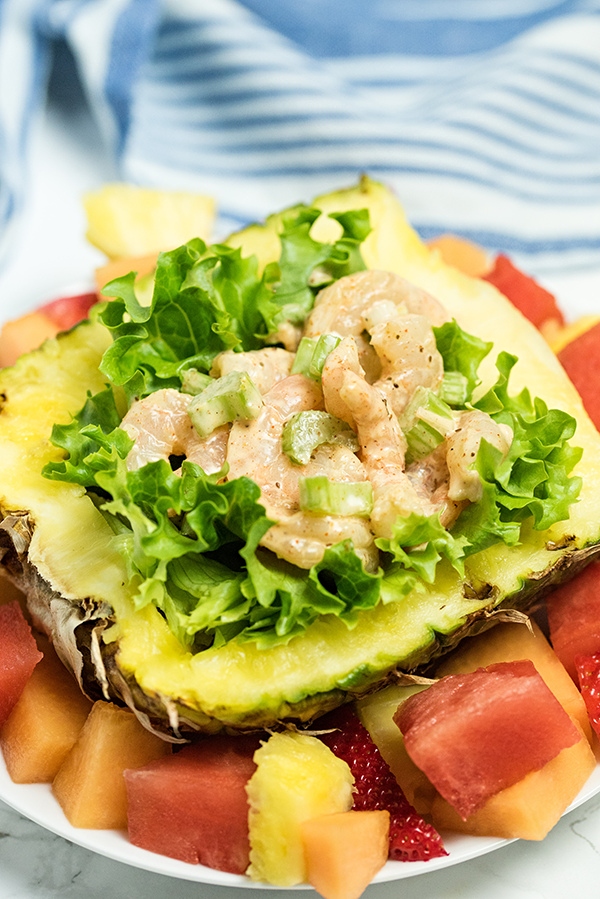 I worked as management in a restaurant for a number of years.  Every summer our customers would look forward to the Seafood Salad served in a pineapple that we would make during the summer months when fruit was in season.  When my husband Paul brought a fresh pineapple home, I started thinking about that salad.  Why wait till summer when we can have a shrimp salad now with the fresh fruit that's in season at the moment? Or we could splurge and buy the fruit we want that's not in season that we love. Either way, we get to eat the deliciousness of one of the most unique shrimp recipes out there!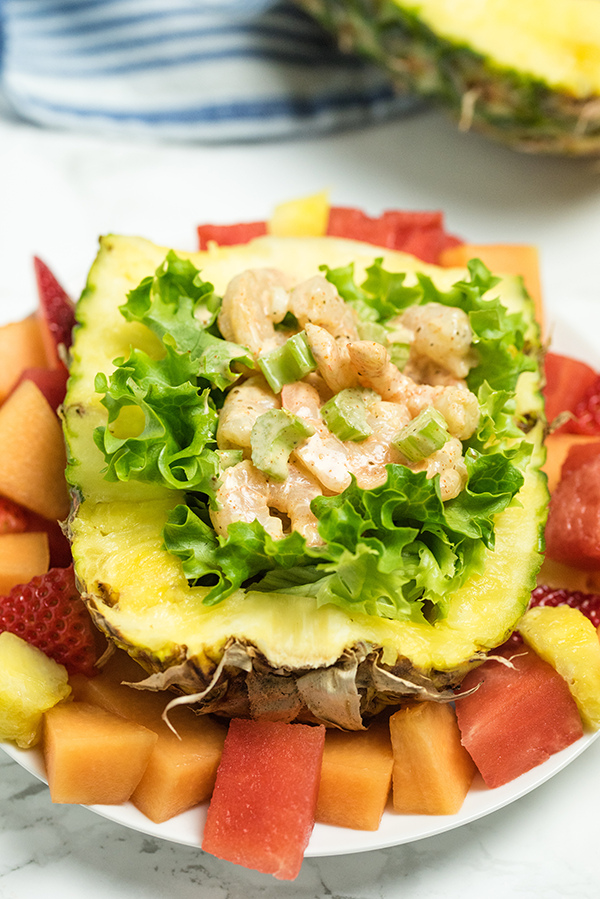 *Note: This post may contain affiliate products. This means if you click on a link and purchase a product, I may get a small commission. This is at no extra cost to you.
Can I use other salads in the fresh pineapple?
Absolutely you can! That is just one of the things that makes this a unique shrimp recipe! There's a lot of wiggle room in this delicious treat to not only use the fruit you love but also the salad you love.  I used a fantastic shrimp salad recipe the day I made it. You can use your favorite salad recipe whether it be:
seafood salad
crab salad
tuna salad
chicken salad
egg salad
lobster salad
If you'd like to serve this treat for a special breakfast or brunch fill the center of the pineapple with yogurt or cottage cheese with the pineapple half surrounded with fresh fruit, it makes such a pretty presentation. It's as delicious as it is pretty sitting at a table setting.
For those seafood lovers out there, you can actually knock it up a notch by using any SeaBear Smokehouse seafood. It is shipped anywhere from the Pacific Northwest, and you just cannot beat the taste!
Today I made it with Shrimp Salad so we're going to make that quick, easy and delicious recipe together now.
Shrimp Salad Ingredients:
1 pound cooked shrimp, peeled and deveined or 1 pound frozen salad shrimp in the freezer section, thawed
1/2 cup mayonnaise
1/3 cup chopped celery
1/4 cup finely diced onion
2 Teaspoons Old Bay Seasoning
2 Teaspoons lemon juice
1/4 Teaspoon Worcestershire Sauce
Shrimp Salad: The Steps for the Best Shrimp Recipe for Dinner!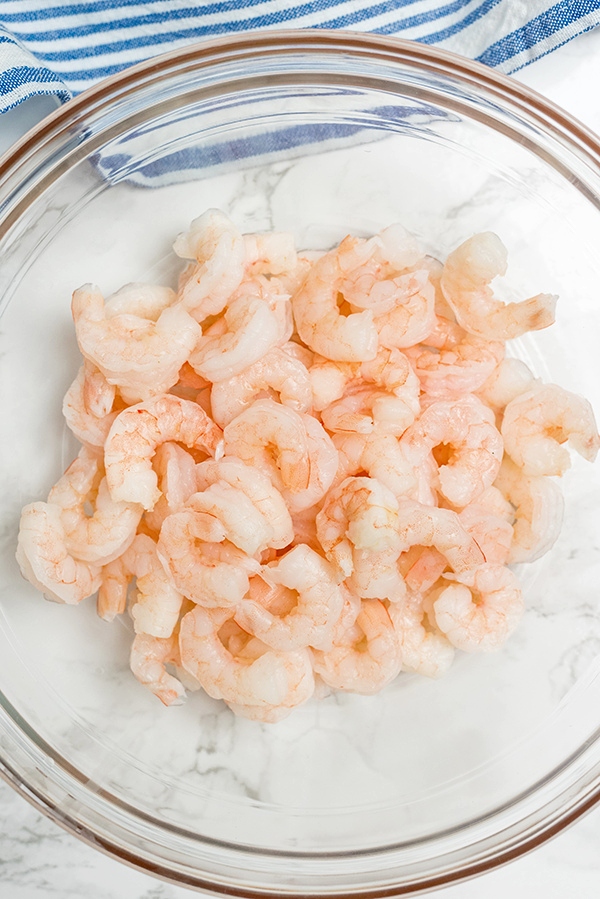 Cut each shrimp in half and place them in a medium bowl.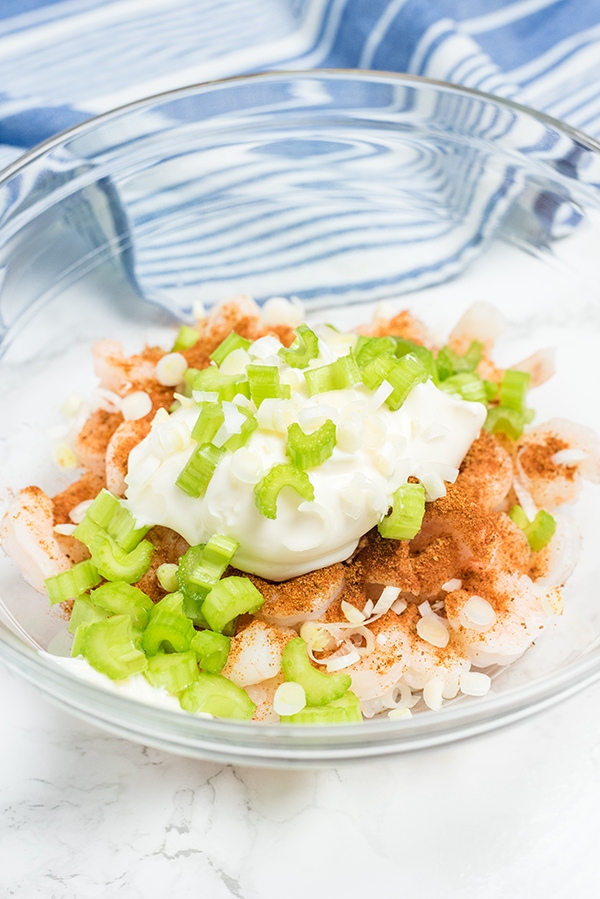 Add the mayonnaise, celery, onion, Old Bay Seasoning, lemon juice and Worcestershire Sauce to the bowl with the shrimp. Mix to combine all the ingredients. Chill the Shrimp Salad in the fridge for one hour.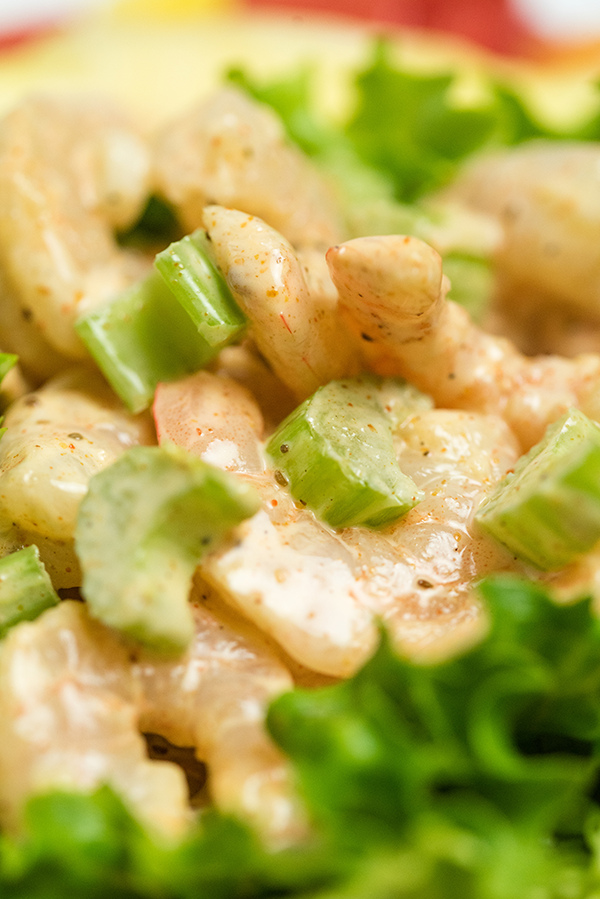 While the Shrimp Salad is "chillin"  let's get the pineapple ready.   To get your pineapple ready…cut it in half.   Run a knife all the way around the edge of the pineapple half.  Make cuts like a tic tac toe board in the center of the pineapple to make it easier to remove the fruit.  Cube the fresh pineapple to use with the other fruit you've chosen to serve on the side of your plate.  Cut a thin slice off the underside of the pineapple half so it will sit flat on your plate. Next…
Line the inside of the pineapple half with lettuce.
Here are some very pretty lettuce varieties that would look great and taste wonderful with the salad of your choice in the pineapple half:
Butter Lettuce
French Crisp
Oak Leaf
Romaine
Speckled Radicchio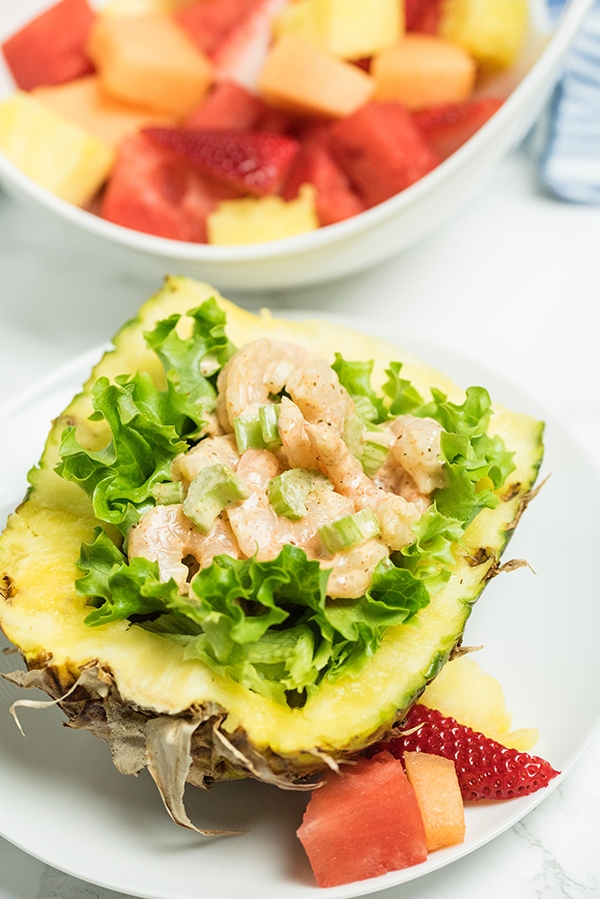 Lay the Shrimp Salad on top of the lettuce in the center of the pineapple half. Surround the plate with the fruit you've chosen to serve it with and your delicious brunch , lunch or dinner is ready.  Serve this delicious treat with the crackers of your choice or crusted bread pieces or bread sticks if you like.
If you have someone who doesn't like pineapple try making this with a cantaloupe. Just remove the seeds and membranes from the center of the cantaloupe, remove the fruit and cube it.  Don't forget to slice a sliver off the bottom of the cantaloupe to make it sit on the plate pretty and line it with lettuce before adding the salad of your choice. The are so many delicious possibilities with this presentation and salad recipe. Explore them all and ENJOY the best shrimp recipe for dinner!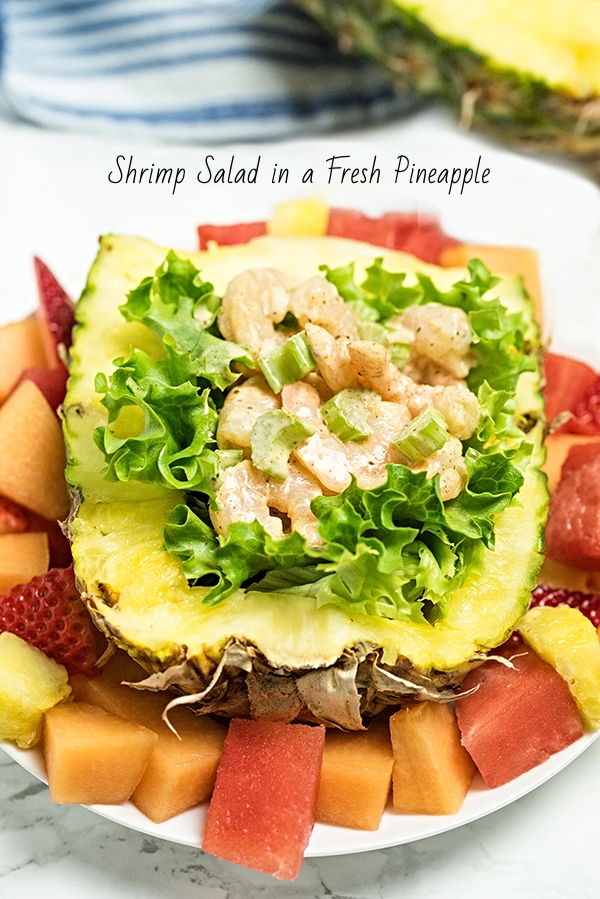 Very simple and delicious!  We love Shrimp Salad in a Fresh Pineapple and hope you do too!  Enjoy the best shrimp recipe for dinner!
Ingredients
1 pound cooked shrimp that has been peeled, deveined and cut in half frozen salad shrimp that have been thawed can also be used
1/2 cup mayonaise
1/3 cup chopped celery
1/4 cup finely diced onion
2 Teaspoons Old Bay Seasoning
2 Teaspoons lemon juice
1/4 Teaspoon Worcestershire Sauce
Instructions
Cut the shrimp in half. Place the shrimp in a medium bowl. Add the mayonnaise, celery, onion, Old Bay Seasoning, lemon juice and Worcestershire Sauce to the bowl. Mix the ingredients to combine them. Chill the shrimp salad for one hour before serving. Serve in a cored pineapple half with a lettuce leaf in the center to place the shrimp salad on. Serve with the cubed fresh fruit of your choice.

To remove the fruit from the pineapple…  Run a knife around the edge of the pineapple half, then make cuts like a tic tac toe board in the center to make it easier to remove the fruit.  Cube the fruit to use on the side of your plate.  Cut a thin slice off the underside of the pineapple half so it will sit flat on your plate.

Sumber : https://bunnyswarmoven.net/shrimp-salad-in-a-fresh-pineapple/
Sumber : https://www.mydeliciousblog.com/grilled-pineapple-shrimp-salad-with-citrus-thyme-dressing/