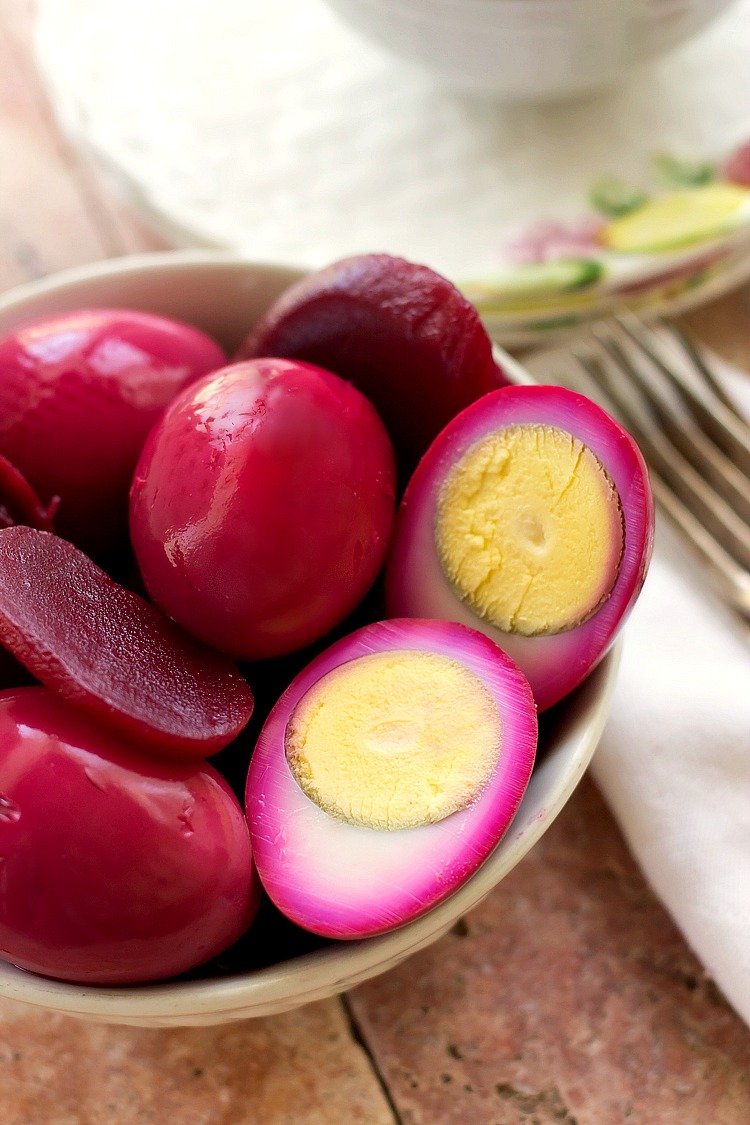 Red Beet Eggs (Pickled Eggs)
There was never a summer or winter holiday that went by in Pennsylvania where Red Beet Eggs (Pickled Eggs) didn't show up on our family table.  I'm convinced the flavors of sweet and sour run through our veins.
My husband Paul, a born and bred Texan, never had the pleasure of this very simple, flavor packed treat.  I took care of that and made a Red Beet Egg lover out of him. The man can sit and eat half a dozen eggs and red beets in one sitting.
Sweet and sour is a personal flavor taste. Some people like more sweet than sour or it may be the reverse, you may like more of the vinegar flavor with the sweet. The recipe is very easy to adjust to your taste. If this is the first time you're making them, start out by putting the vinegar and beet juice into a bowl and adding the sugar, tasting as you go, to get the flavor you're looking for.
After you have the red beet juice the flavor you want, put the eggs and sliced beets in a large bowl, pour the juice over the eggs. Try to submerge as many of the eggs in the juice as you can, totally covering them. Some people add a little water if the juice doesn't cover them completely, I don't do that. If some of the eggs aren't completely covered, don't worry about it. Put them in the fridge overnight. The next day, turn the eggs that were partially covered so the lighter colored portion goes into the juice. Refrigerate another day. The longer the eggs are in the red beet juice the better they are. Red Beet Eggs (Pickled Beets), the perfect anytime (especially summer) treat, Enjoy!
Ingredients
8 – 10 eggs hard boiled, shells removed
Two 15 oz cans sliced red beets
1/2 cup white vinegar or to taste
1/2 cup white sugar or to taste
salt and pepper to taste
Instructions
Place the juice from both cans of reds beets in a large bowl. Add the sugar and vinegar, whisk to combine and sugar is dissolved.  Add salt and pepper to taste. Add the eggs and sliced red beets. Try and make sure that the eggs are covered in the juice. Refrigerate the eggs for at least two days, the longer they sit in the fridge covered in juice the better and darker they become. If necessary turn the portion of the eggs that are a lighter color of purple down into the juice so you get an even color all around the egg.

Store the Red Beet eggs in the fridge no longer than a week. During that time you can boil more eggs to replace the eggs you've eaten, but only do that with the original juice for one week.

Sumber : https://bunnyswarmoven.net/red-beet-eggs-pickled-eggs/