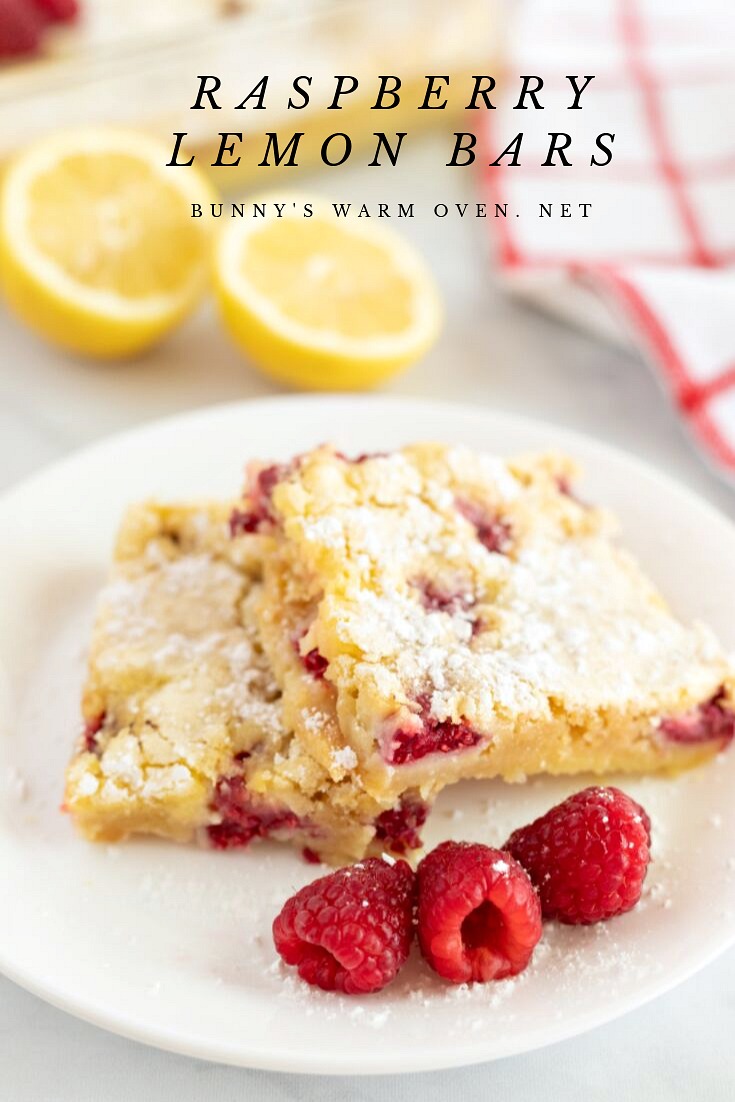 Raspberry Lemon Bars
The wonderful flavors of lemon and raspberry come together beautifully in these delicious Raspberry Lemon Bars.  The base of the bar is made with a pouch of sugar cookie mix which makes it super easy to put together.  The sugar cookie flavored base along with the lemon flavored filling and fresh raspberries is wonderful!  Let's gather the ingredients and make this delicious bar together.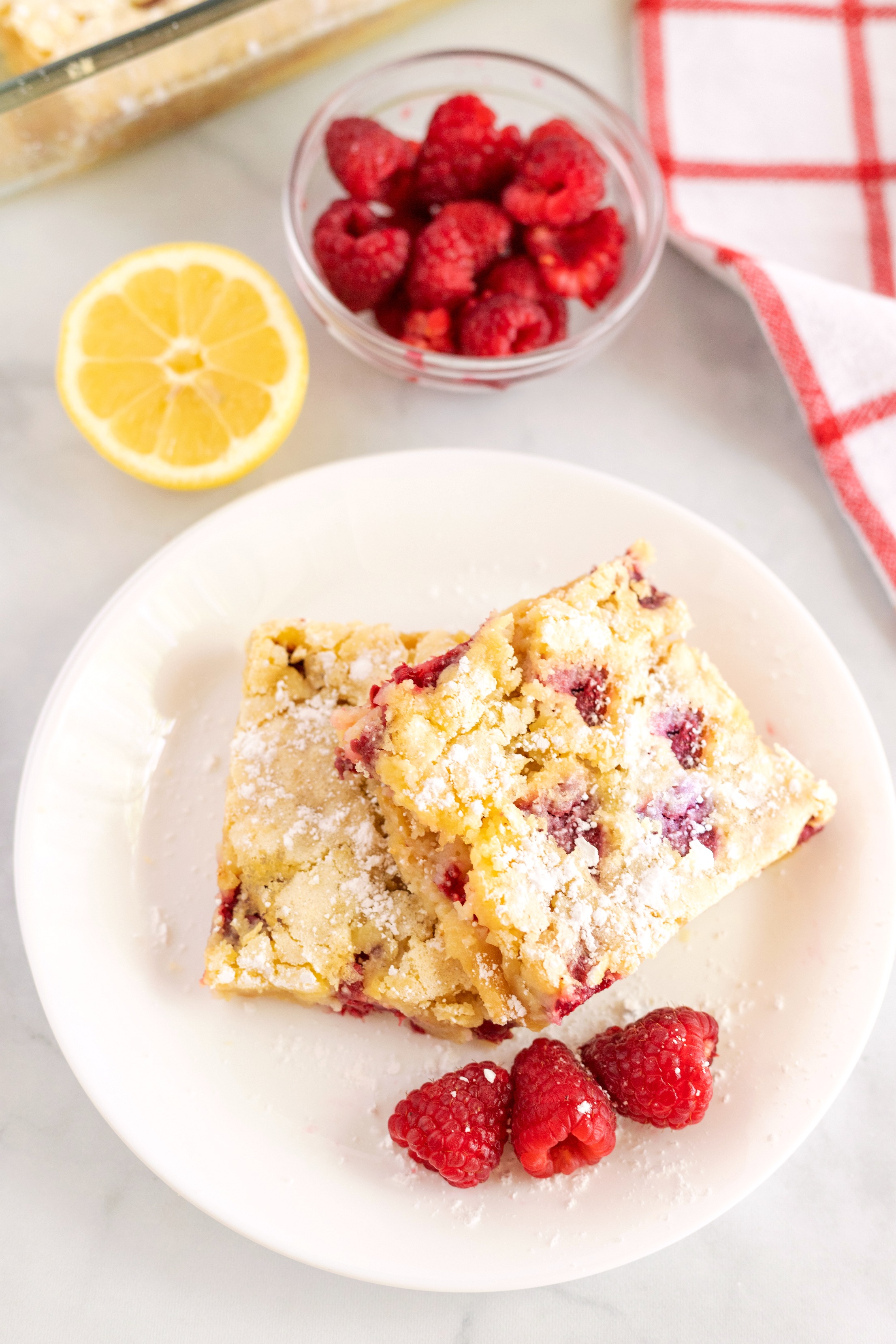 Raspberry Lemon Bar Ingredients:
Cookie Base Ingredients:
One 17.5 ounce pouch sugar cookie mix
Use the butter and egg called for on the cookie mix pouch to make the dough
1 Tablespoon lemon zest
Bar Filling:
1 cup fresh raspberries
3 eggs, slightly beaten
1 cup white sugar
3 Tablespoons all purpose flour
1 Tablespoon lemon zest
1/4 cup lemon juice
Powdered sugar – for sprinkling over bars before serving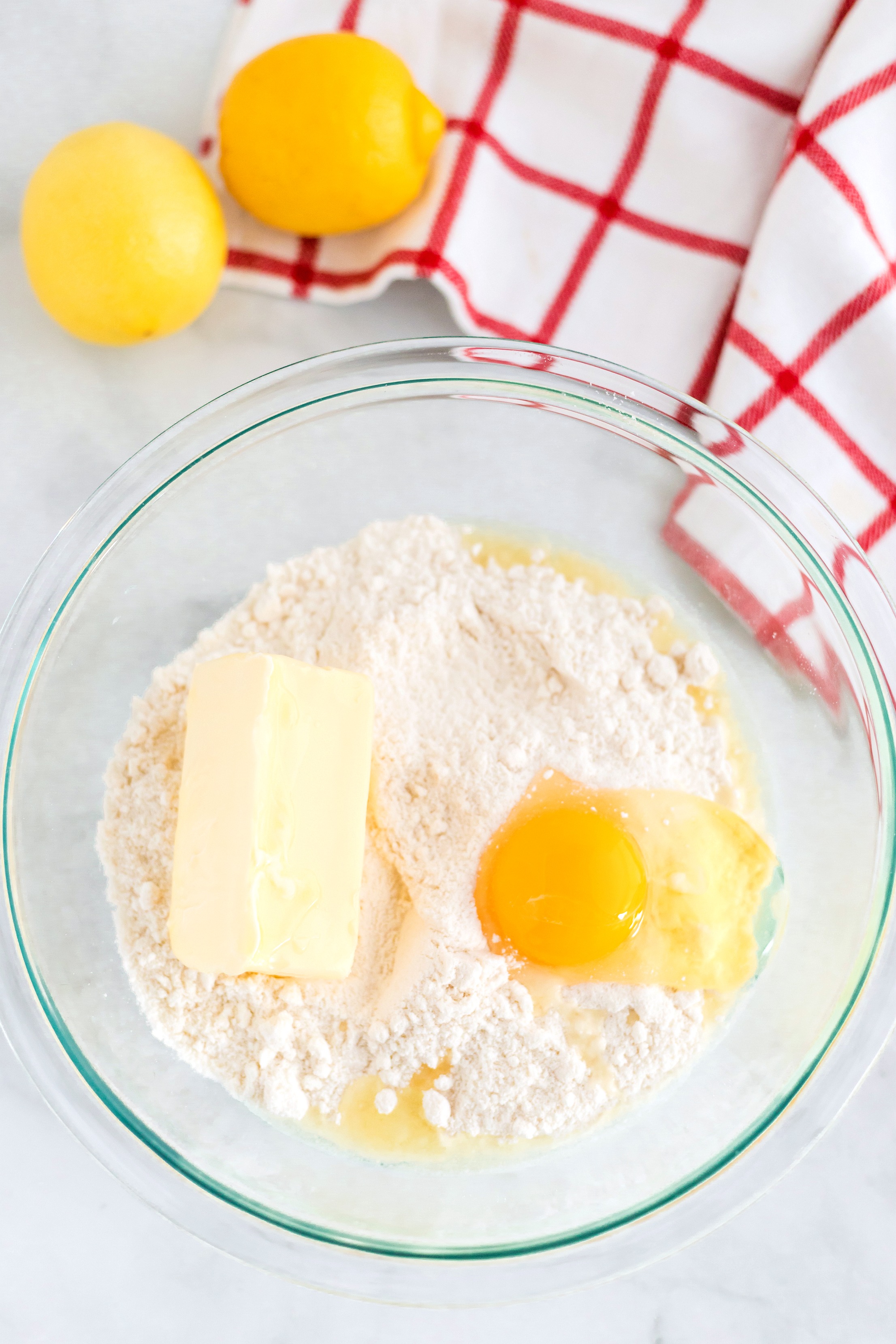 Let's get started by preheating the oven to 350 degrees and either lightly spraying a 13×9 inch baking pan with cooking spray or lightly greasing the pan with shortening.  Next, we're going to place the pouch of sugar cookie mix and the butter and egg called for on the sugar cookie package and 1 Tablespoon of finely grated lemon peel in a large bowl. Mix the ingredients together with a spoon until a soft dough forms.  Press the dough into the bottom of the 13×9 inch baking pan. Bake the cookie base for about 15 minutes or until light brown.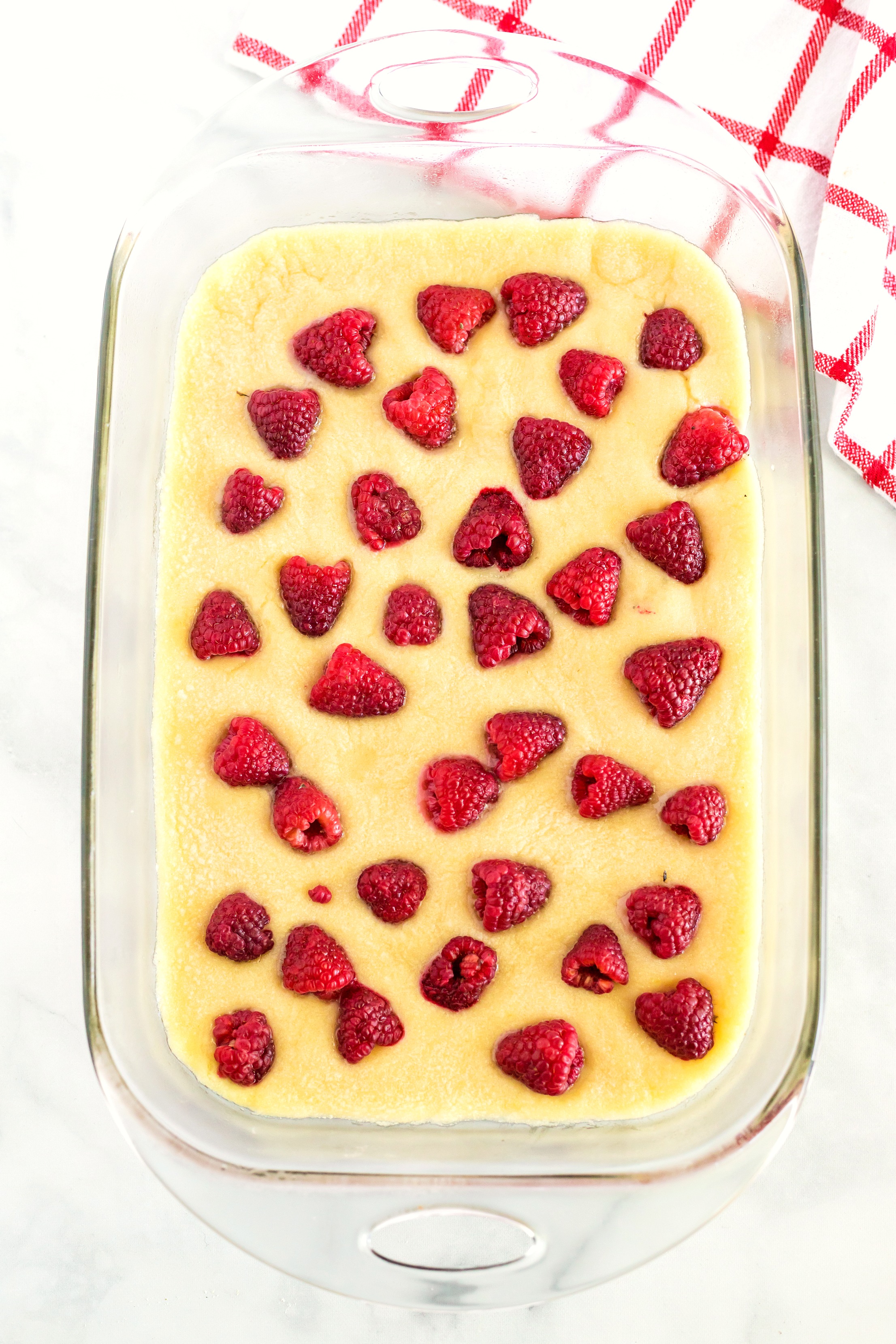 After the cookie dough base has been baked, sprinkle the raspberries on the baked cookie base and lightly press them into it.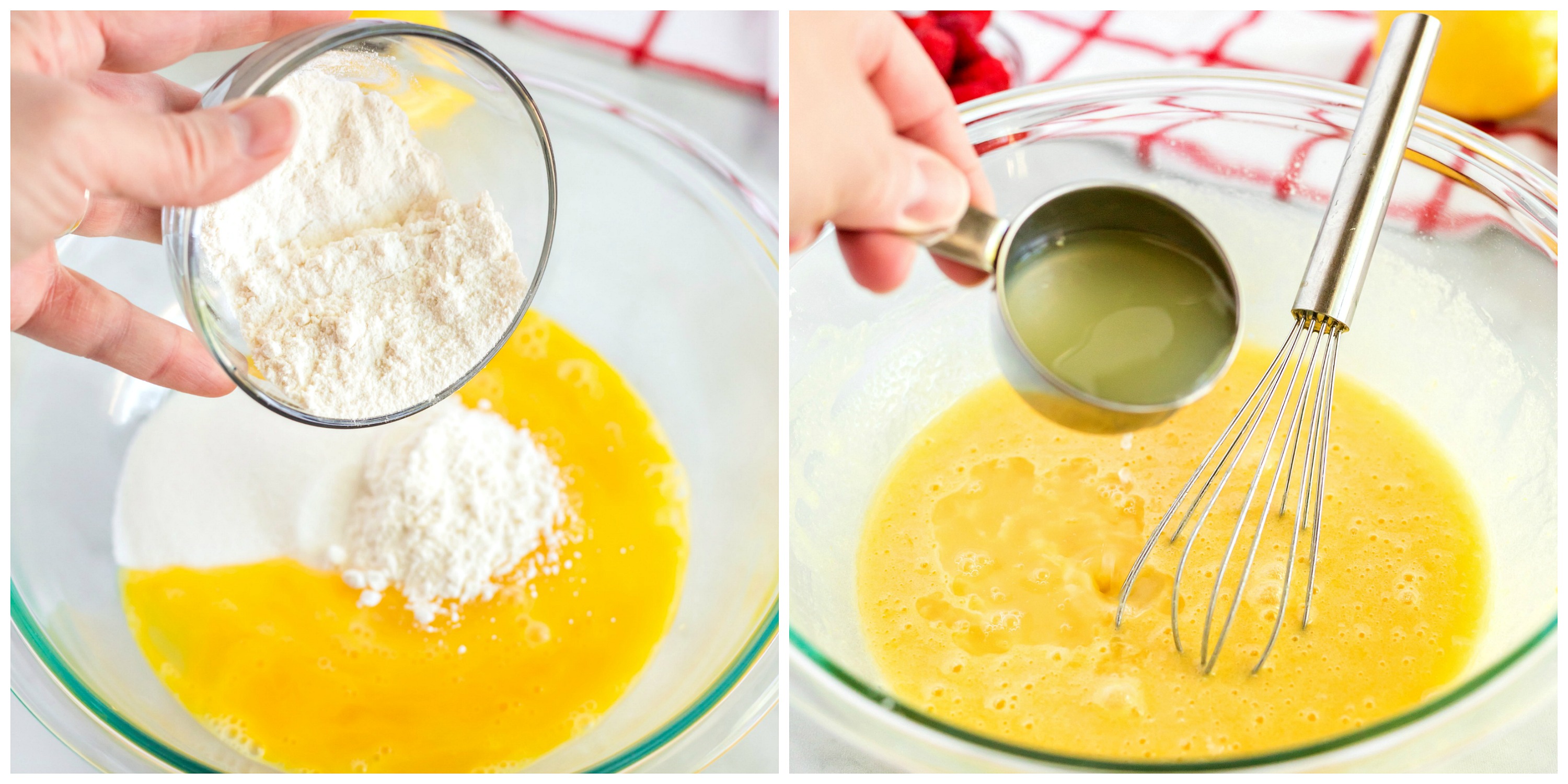 Next, whisk 3 eggs, the white sugar and flour together in a medium bowl until the ingredients are well blended.  Whisk in one Tablespoon of grated lemon peel And the lemon juice.
Pour the filling you just made over the the baked cookie base and fresh raspberries. Place the pan back into the oven and bake for about 22 minutes. Remove the bars from the oven to a wire rack and cool for about two hours until they cool completely. Right before you serve this delicious treat sprinkle the bars with powdered sugar.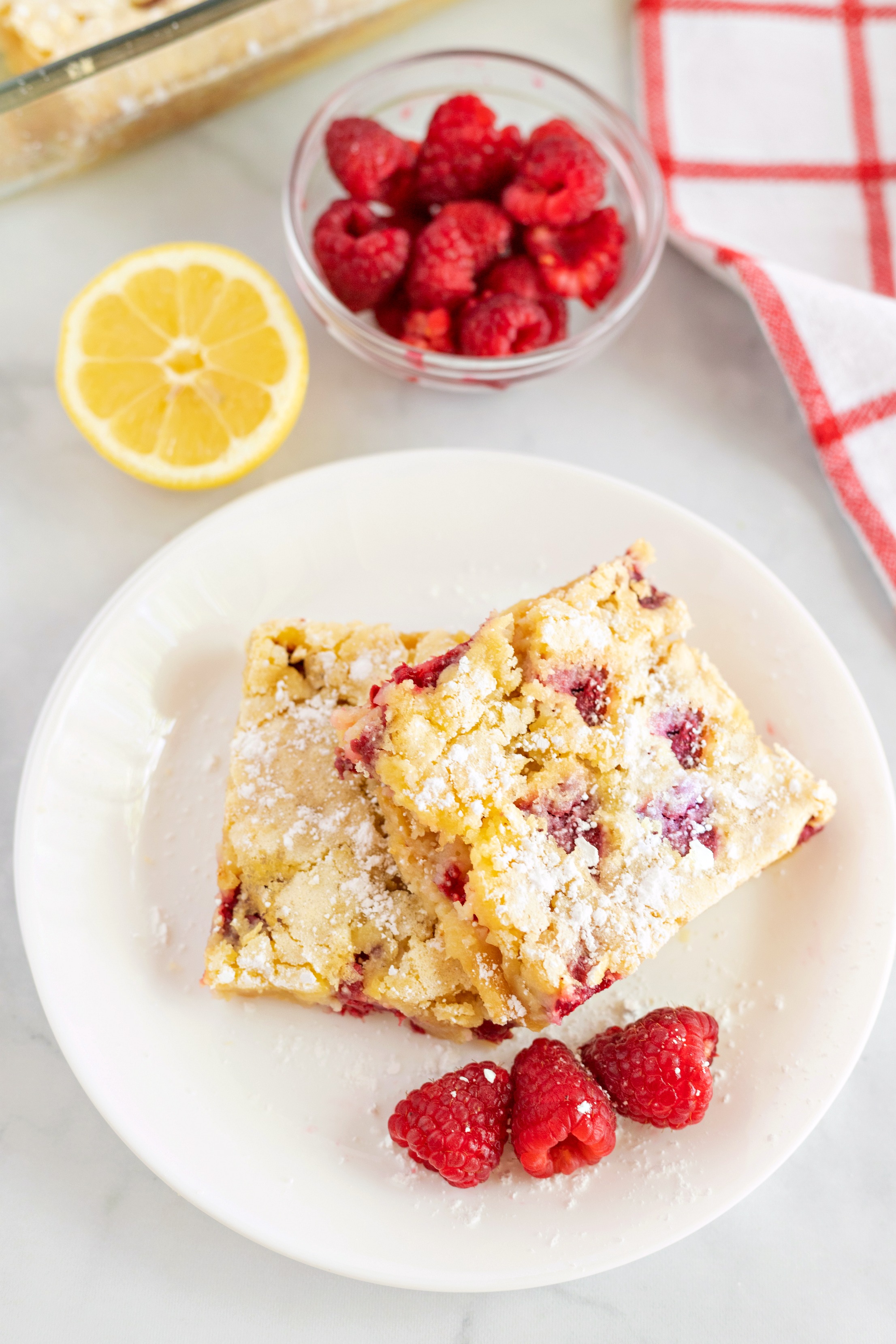 Raspberry Lemon Bars made with a sugar cookie crust, a lemon flavored filling and fresh raspberries, this one's a keeper Kids, ENJOY!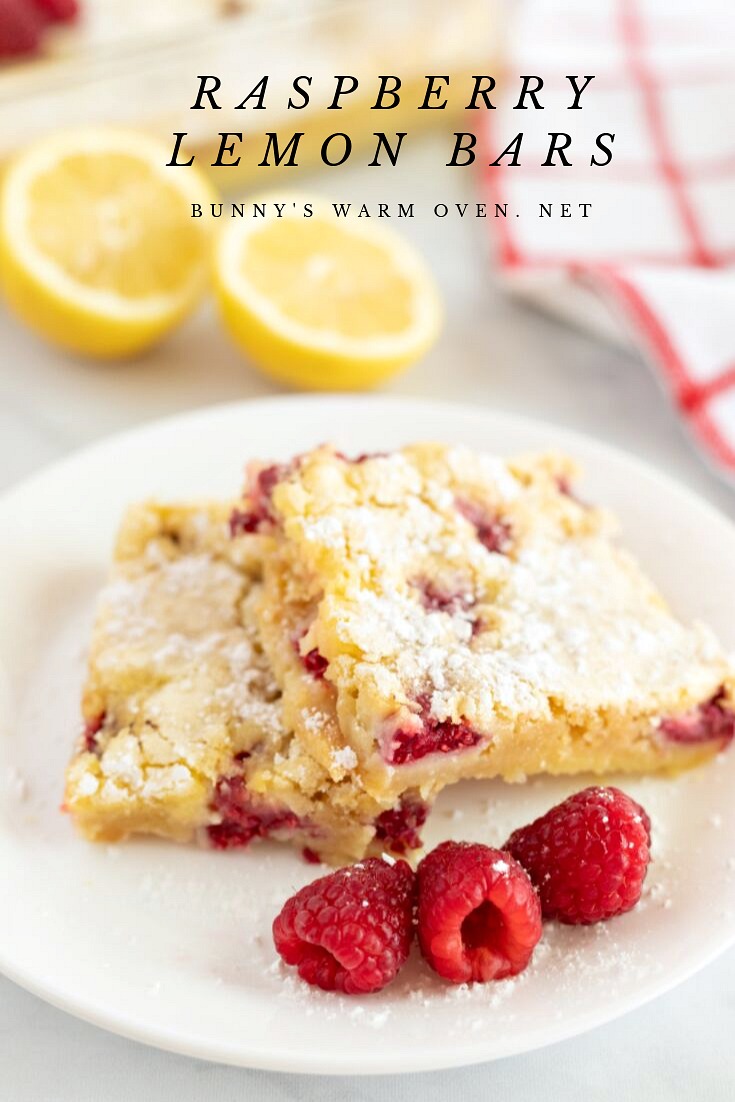 Ingredients
One 17.5 oz pouch sugar cookie mix
Use the butter and egg called for on the cookie mix pouch to make the dough
1 Tablespoon lemon zest
Filling
1 cup fresh raspberries
3 eggs slightly beaten
1 cup white sugar
3 Tablespoons all purpose flour
1 Tablespoon lemon zest
1/4 cup lemon juice
powdered sugar, to dust the bars with after they are baked
Instructions
Preheat the oven to 350 degrees. Lightly grease a 13×9 inch baking pan.

Place the cookie base ingredients (sugar cookie pouch plus the egg and butter called for on the cookie pouch) into a large bowl. Mix the ingredients together with a spoon until they form a soft dough.

Press the soft dough into a lightly greased 13×9 inch baking pan. Bake the cookie base for about 15 minutes or until light golden brown.

Sprinkle the fresh raspberries onto the crust. Lightly press the raspberries into the crust.

Place the 3 eggs, sugar and flour in a medium bowl, whisk the ingredients together until well incorporated. Stir in 1/4 cup of lemon juice and 1 Tablespoon lemon zest. Pour the mixture over the raspberries on the crust.

Bake at 350 degrees for 18 to 22 minutes or until center is set. Let the bars cool completely. When you're ready to serve them, sprinkle the top of the bars with powdered sugar.

Cover and refrigerate any leftover bars.

Sumber : https://bunnyswarmoven.net/raspberry-lemon-bars/