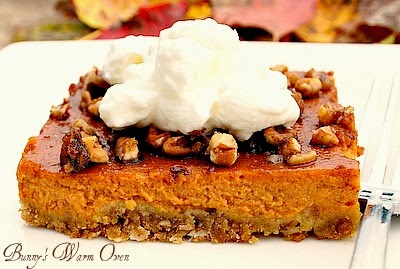 Pumpkin Pecan Pie Squares give you the delicious taste of a pumpkin pie without the fuss of making  pie.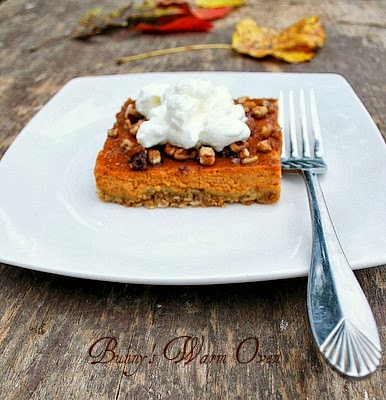 After patting it into the bottom of a 13×9 inch pan ,I made the pumpkin filling.  Pumpkin pie spice gave it all the warm spice we love in pumpkin , the evaporated milk made the filling creamy and delicious.  Brown sugar and pecans on top , well that's just a bonus, and I was able to meet my husbands request for pecans and pumpkin. Next time I make it ,I'll add a little cinnamon to the topping, I love my cinnamon. The crust has a slight crisp chewy texture, the pumpkin is smooth and spiced while the brown sugar adds a little sweetness on top ,and the pecans give the squares a nice crunch.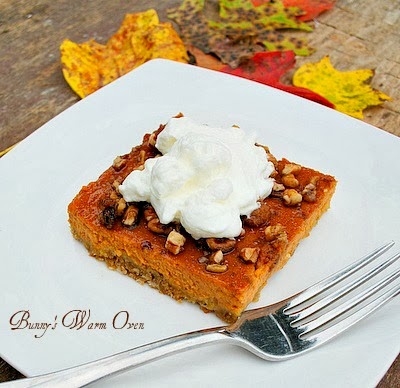 Pumpkin Pecan Pie Squares
Ingredients
1 cup all-purpose flour
1/2 cup old-fashioned or instant oats
1/2 cup packed brown sugar
1/2 cup butter or margarine, softened
3/4 cup granulated sugar
1 can (15 oz.) LIBBY'S® 100% Pure Pumpkin
1 can (12 fl. oz.) NESTLÉ® CARNATION® Evaporated Milk
2 large eggs
2 1/4 teaspoons pumpkin pie spice
1/2 cup pecans, chopped
1/4 cup packed brown sugar
Whipped Cream
 Directions
PREHEAT oven to 350° F.
COMBINE flour, oats, brown sugar and butter in small mixer bowl. Beat at low speed for 1 to 2 minutes or until crumbly. Press on bottom of ungreased 13 x 9-inch baking pan.
BAKE for 15 minutes.
COMBINE granulated sugar, pumpkin, evaporated milk, eggs and pumpkin pie spice in large mixer bowl. Beat at medium speed for 1 to 2 minutes; pour over crust.
BAKE for 20 minutes. Combine pecans and brown sugar in small bowl. Sprinkle pecan topping over filling. Continue baking for 15 to 25 minutes or until knife inserted in center comes out clean. Cool completely in pan on wire rack. Cut into bars. Top with whipped cream.
Sumber : https://bunnyswarmoven.net/pumpkin-pecan-pie-squares/