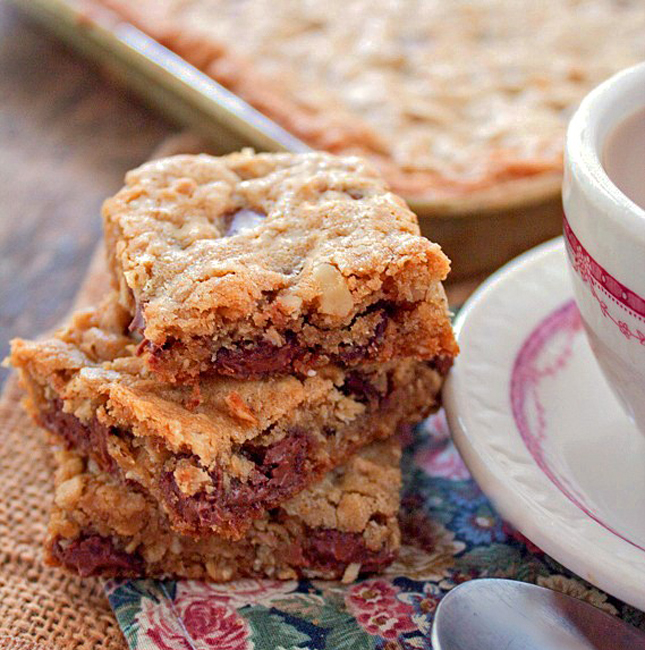 Oatmeal Chocolate Chip Walnut Bars
These Oatmeal Chocolate Chip Walnut Bars are soft and chewy with a big chocolate flavor. The addition of walnuts adds a little crunch to these buttery treats.
I always buy Old Fashioned Oats at the grocery store.  You can easily make quick oats, which is what this recipe calls for, using Old Fashioned Oats.
Place the amount of Old Fashioned Oats you'll need for the recipe in a food processor, pulse until the oats are broken down into smaller pieces. Voila, quick oats!
I love recipes like this, they're so easy to adapt. If you like, you can use a combination of baking chip flavors in the bars.  The recipe uses 2 cups of chocolate chips.
You could use one cup of chocolate chips and substitute the other one cup of chips for… one cup of peanut butter chips, butterscotch chips or white chocolate chips.  You can also use any nut you have on hand instead of walnuts.
Oatmeal Chocolate Chip Walnut Bar- A delicious combination of oats, butter, chocolate chips and walnuts in a tender chewy bar. Enjoy!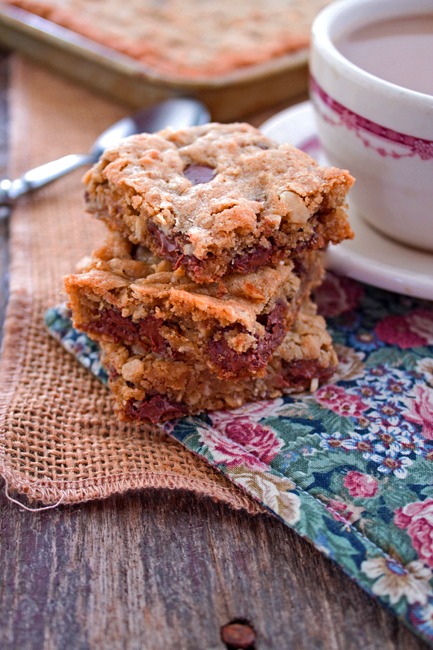 Ingredients
1 cup butter 2 sticks, softened
3/4 cup light brown sugar
3/4 cup white sugar
2 eggs room temperature
1 Teaspoon vanilla
2 cups flour
1 Teaspoon baking soda
1/2 Teaspoon salt
1 1/2 cups dry quick oats
2 cups milk chocolate chips
1 cup chopped walnuts
Instructions
Preheat oven to 375 degrees.

Combine the butter, brown sugar and white sugar in a large bowl. Beat on medium speed until creamy, scraping the bowl as needed.

Add the eggs and vanilla, beat until well incorporated.

With the mixer on low speed,add the flour, baking soda and salt. Beat until well incorporated. Add the oatmeal and mix well. Stir in the chocolate chips and walnuts.

Press the dough into an ungreased jelly roll pan. Bake 16 – 20 minutes until golden brown. Remove from the oven to a cooling rack, cool completely. Cut into bars.

Sumber : https://bunnyswarmoven.net/oatmeal-chocolate-chip-walnut-bars/