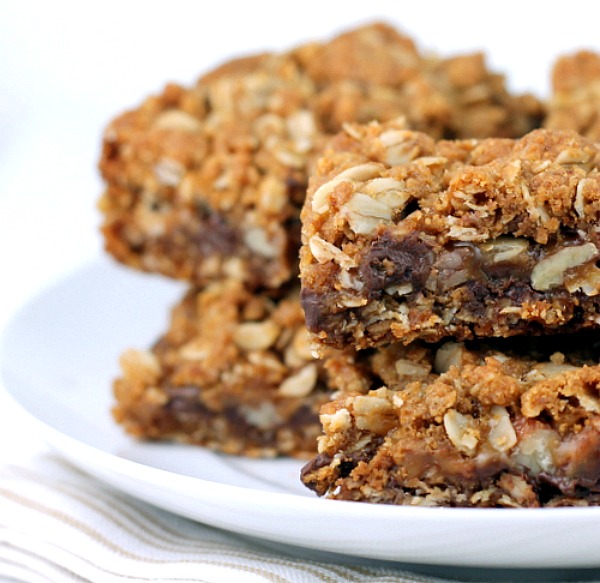 Ingredients
1 pkg vanilla caramels (11 oz bag)
1/3 cup milk
2 cups flour
2 cups quick or regular oats
1 1/2 cups packed brown sugar
1 teaspoon baking soda
1/2 teaspoon salt
1 egg
1 cup butter, softened
1 cup semi sweet chocolate chips
1 cup chopped pecans
Directions:
Preheat oven to 350 degrees.  Grease a 9×13 inch baking pan with shortening.
Unwrap caramels and place in a medium size heavy duty sauce pan along with the milk.  On low heat, stir the caramels and milk until smooth, remove from heat.  Set aside.
In a large bowl stir the flour, oats,brown sugar,baking soda, salt and egg.  Cut the butter into the flour mixture with a fork until crumbly. Press half the mixture into the bottom of prepared 13×9 inch baking pan. Bake for 10 minutes.  Sprinkle the chocolate chips and pecans over the baked layer.  Drizzle with melted caramels.  If the caramels have cooled off , reheat just enough to be able to drizzle.  Evenly sprinkle the remaining crumb mixture over top. Bake 20 – 25 minutes or until golden brown.  Cool 30 minutes.  Loosen the edges of the bars from the pan by running a knife around the edges.  Cool completely.  Cut into bars.
Sumber : https://bunnyswarmoven.net/oatmeal-chocolate-caramel-bars/