Mini Cinnamon Raisin Biscuits
These Mini Cinnamon Raisin Biscuits are a nice alternative to cookies.  The biscuit texture is extremely tender and studded with plump soft raisins.
The biscuit is rolled in a cinnamon/sugar topping before baking to add  the perfect balance of sweetness to it.  The size of the biscuits are perfect for a little treat for breakfast or with a cup of coffee or tea.
I can definitely see a little dab of butter or apple butter added to the biscuit split open.  Talk about extreme yumminess, Enjoy!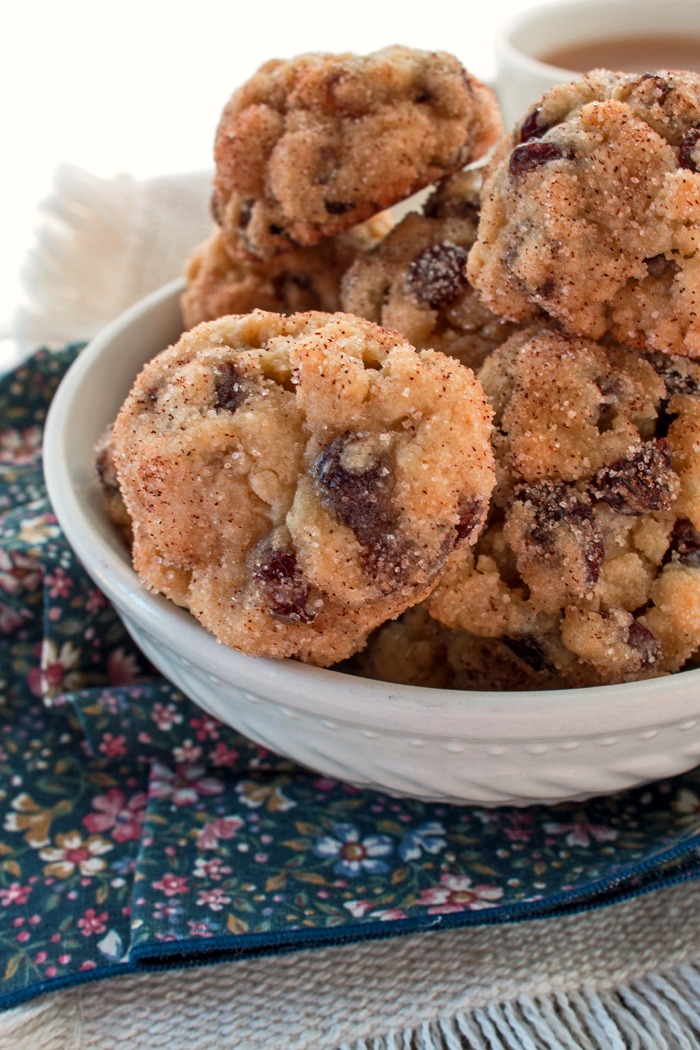 Ingredients
1 1/2 cups raisins
1 cup water
1/2 cup melted butter
1 teaspoon baking soda
1 Teaspoon vanilla
2 eggs
1 1/2 cups sugar
3 1/4 cup flour
1/2 Teaspoon salt
Cinnamon Topping
3 Tablespoons sugar
1 Teaspoon cinnamon
Instructions
Preheat oven to 350 degrees. Line a cookie sheet with parchment paper.

Place the raisins and water in a small saucepan, cook the raisins until all the water is gone. Cool the raisins. ( I laid them out onto a plate and spread them out to speed the cooling)

Melt the 1/2 cup butter and add the baking soda, stir to combine. When the raisins are cooled add the butter/baking soda mixture to the raisins and mix to thoroughly combine.

Using a large bowl, beat the vanilla, eggs and sugar together until well combined. Add the raisins to the bowl and stir to combine. Add the flour and salt to the bowl stirring with a wooden spoon until all flour is just incorporated. The dough will look crumbly. Refrigerate the dough 1 hour.

Scoop the dough out by heaping tablespoons, roll into balls. Roll the balls in the cinnamon/sugar mixture. Place the balls on the parchment paper, bake 10 minutes, remove from the oven and let the biscuits sit on the baking pan about 2 minutes. Remove from the pan to a cooling rack to completely cool.

Cinnamon Sugar Topping Directions – Place the sugar and cinnamon in a shallow bowl, stir together. Roll the dough balls in the sugar mixture. Bake according to directions.

Sumber : https://bunnyswarmoven.net/mini-cinnamon-raisin-biscuits/