Chicken breast recipes are a dime a dozen on the internet but if you're looking for an easy, simple and drop-dead-delicious way to cook chicken breasts quickly, you've found it! These lemon herb chicken breasts are a regular in our house because they are so good and they are so versatile. Serve them as is with sides of your choice, slice them and serve on salads or sandwiches or use them in tacos and quesidillas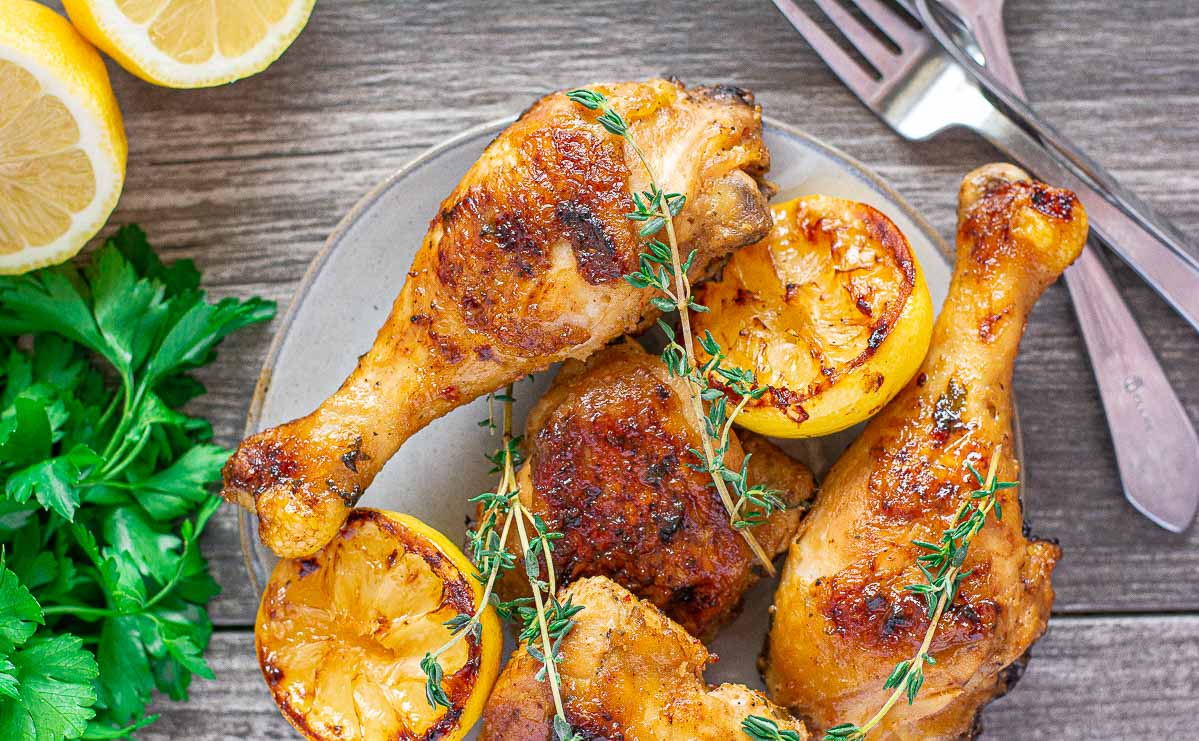 Are you tired of just using barbecue sauce on the chicken you want to grill for dinner?  Need to switch things up a bit?  For this delicious Lemon Grilled Chicken recipe, you use a marinade. Before we go over the recipe together, let's talk about marinades and how to marinade meats safely.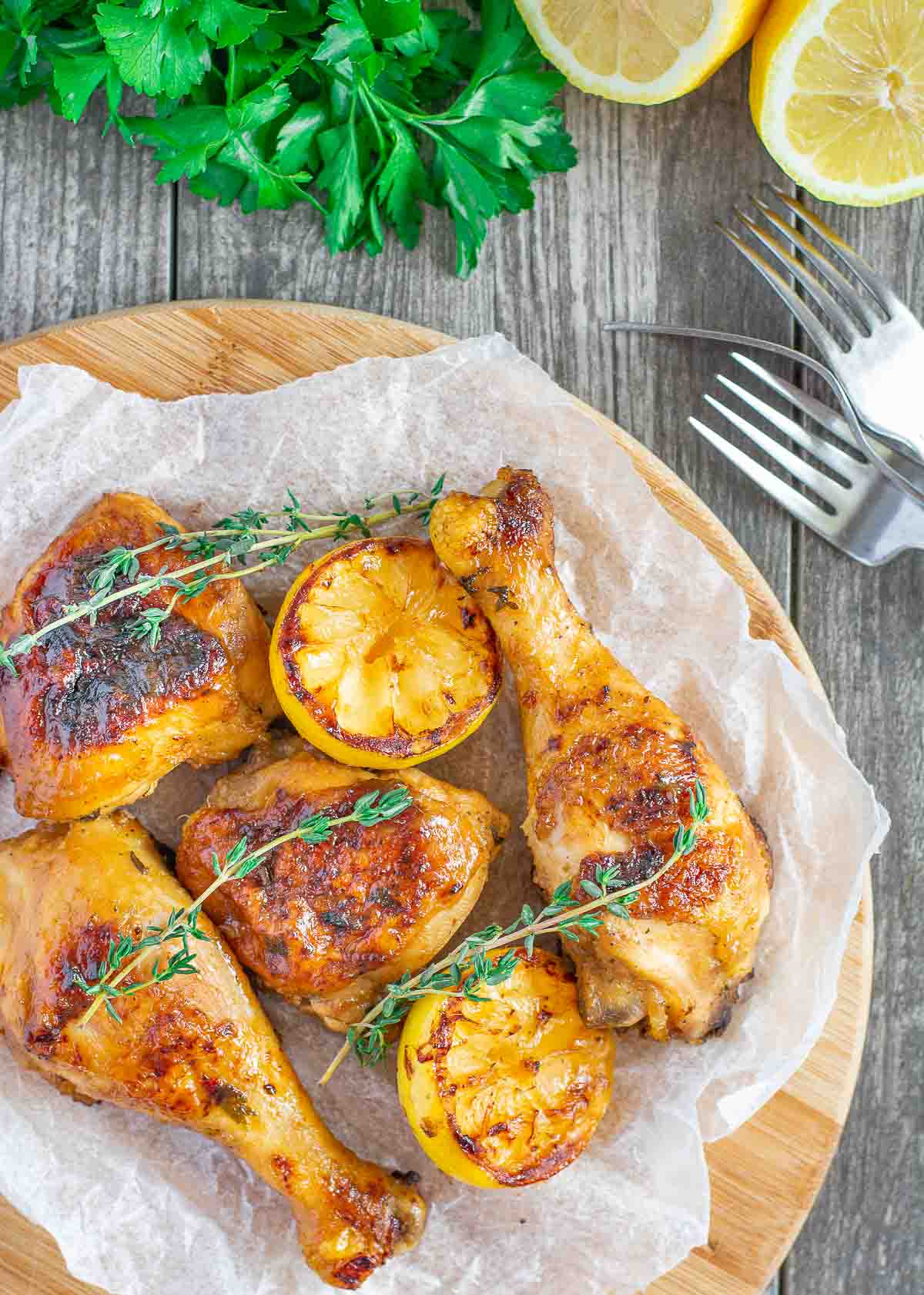 What Is A Marinated Composed Of?
According to Wikipedia we marinade meats to add flavor to them and to tenderize tougher cuts of meat. Marinades are usually made of an acidic ingredient like vinegar, lemon juice or wine .  The acidic ingredients break down the meat tissue and allow more absorption of the moister,which makes the final cooked meat more juicy and tender. Adding seasoning, oils and herbs to marinades gives them flavor. it's a perfect marriage of ingredients don't you think?
How Do I Marinade Meats Safely ?
Believe it or not there is a right and a wrong way to marinade meats. If you marinade the right way, it gives you a juicy, tender cooked entree to serve to family and friends. Marinating the wrong way can result in food poisoning. To marinade the right way, follow these tips from Eat Right (Academy of Nutrition and Dietetics).
Marinate food in a food-safe container. Do not use a metal pan, container or bowl to marinate meats or vegetables. The acid in the marinade can interact with the metal. If you like marinating in seal-able food-safe plastic bags, you'll need to throw the plastic bag away after you marinade the meat or vegetables in it. Never reuse the plastic bags you use to marinade meats or vegetables in.
Make sure the container you are marinating food in is fully covered. Place it on the bottom shelf in the refrigerator (at or below 40°F). Never leave raw meat to marinade on the kitchen counter at room temperature. That's a hospital visit for food poisoning waiting to happen.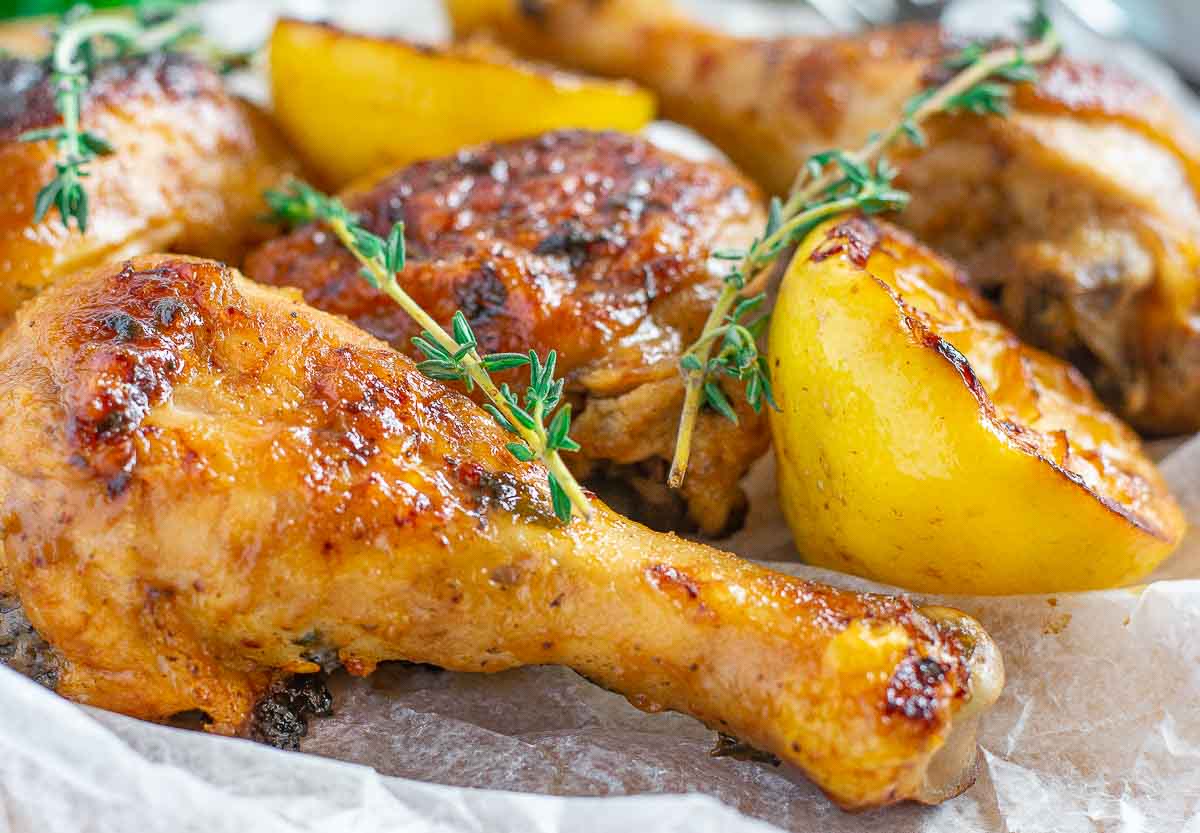 Now that we know how to marinade meat the right way, let's gather the ingredients for this delicious grilled chicken recipe and make it together.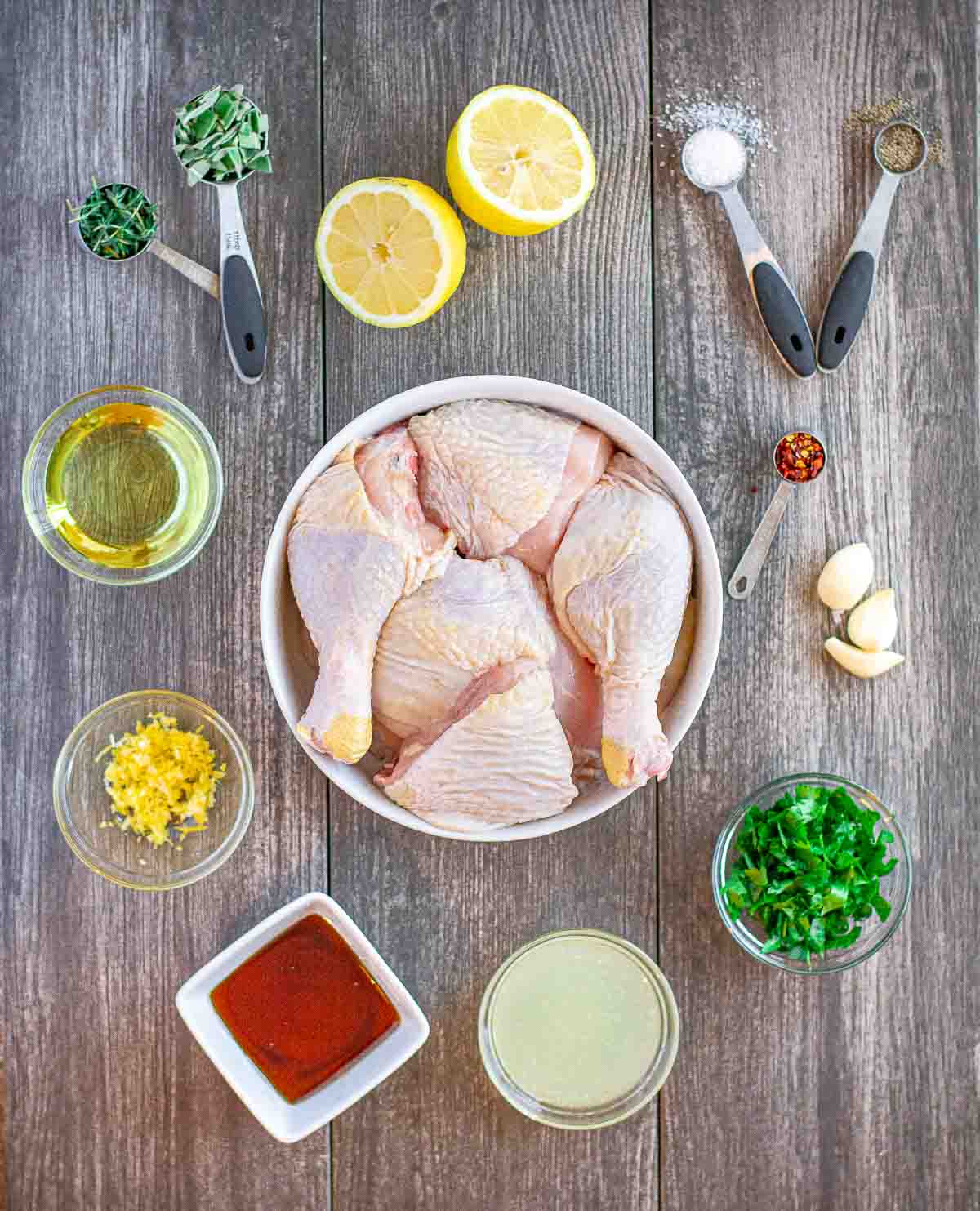 Lemon Herb Chicken Ingredients:
5 pounds chicken drumsticks or thighs
salt and pepper to taste
3/4 cup chicken broth
1/4 cup fresh parsley removed from the stem
1 Tablespoon lemon zest
1/3 cup lemon juice
3 Tablespoons olive oil
1 Tablespoon fresh sage or 1 Teaspoon dried sage
1 Tablespoon fresh thyme or 1 Teaspoon dried Thyme
3 cloves minced garlic
1 Teaspoon crushed red pepper
1/4 cup honey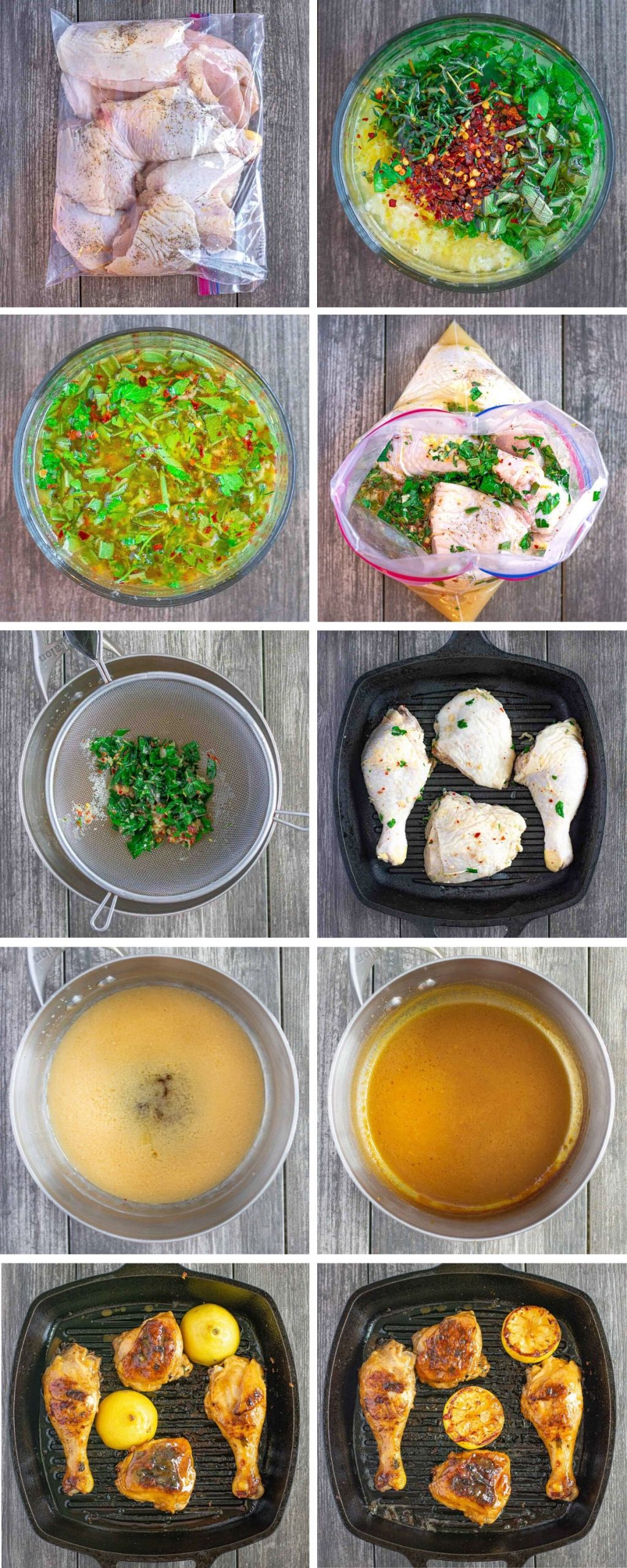 Lemon Herbed Chicken Recipe Steps:
Recipe Step One:
You can either take the skin off the chicken or leave it on for the recipe. That's totally your call. Sprinkle both sides of the chicken with salt and pepper. Place the chicken in a NON METAL DISH or a plastic bag big enough to hold the chicken and the marinade.
Recipe Step Two
To make the marinade place the broth, parsley, lemon zest, lemon juice, oil ,sage, thyme, crushed red pepper and garlic in a medium bowl. Whisk the ingredients together until you combine them well. Pour the marinade over the chicken in the plastic bag or over the chicken in the non metal bowl you're using to marinade the chicken in. Turn the chicken over to coat it in the marinade. Seal the plastic bag or put plastic wrap over the bowl that your using and place it on the bottom shelf of your refrigerator. Refrigerate the chicken for 4 hours or up to 24 hours turning the chicken in the bag or bowl occasionally.
Recipe Step Three
After you marinade the chicken and you are ready to grill it, strain the marinade through a wire mesh strainer into a saucepan. Add the honey to the saucepan. Bring the marinade ingredients up to a boil, reduce the heat and simmer, uncovered for 15 – 20 minutes or until you reduce the marinade to a glaze consistency that yields about a 1/4 cup of glaze.
Recipe Step Four
Place the chicken drumsticks and thighs on the grill. Put the grill lid down and cook the chicken for 50 to 60 minutes, turning as needed until the chicken is done to your liking. Brush the chicken parts with the glaze during the last 15 minutes of grilling.
When the chicken is done , remove the chicken to a plate and serve. if you like, slice lemons in half or slices and grill them to serve as a garnish for the grilled chicken.  Our grill is out of commission at the moment but as you can see, a grill pan on the stove works just fine to make this delicious lemon herb chicken recipe.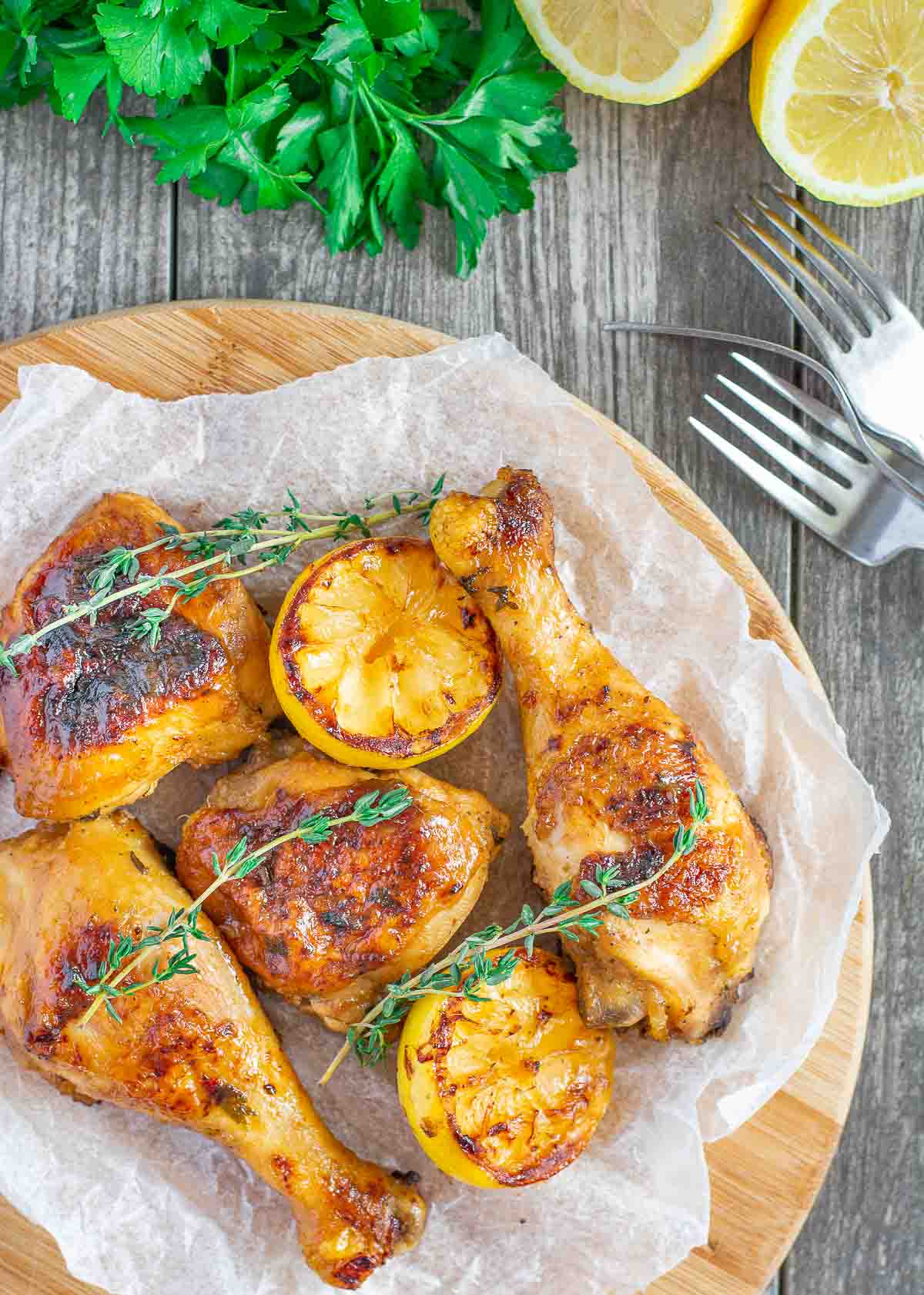 This delicious and easy lemon grilled chicken recipe is "What's For Dinner?!  And it's  DELICIOUS!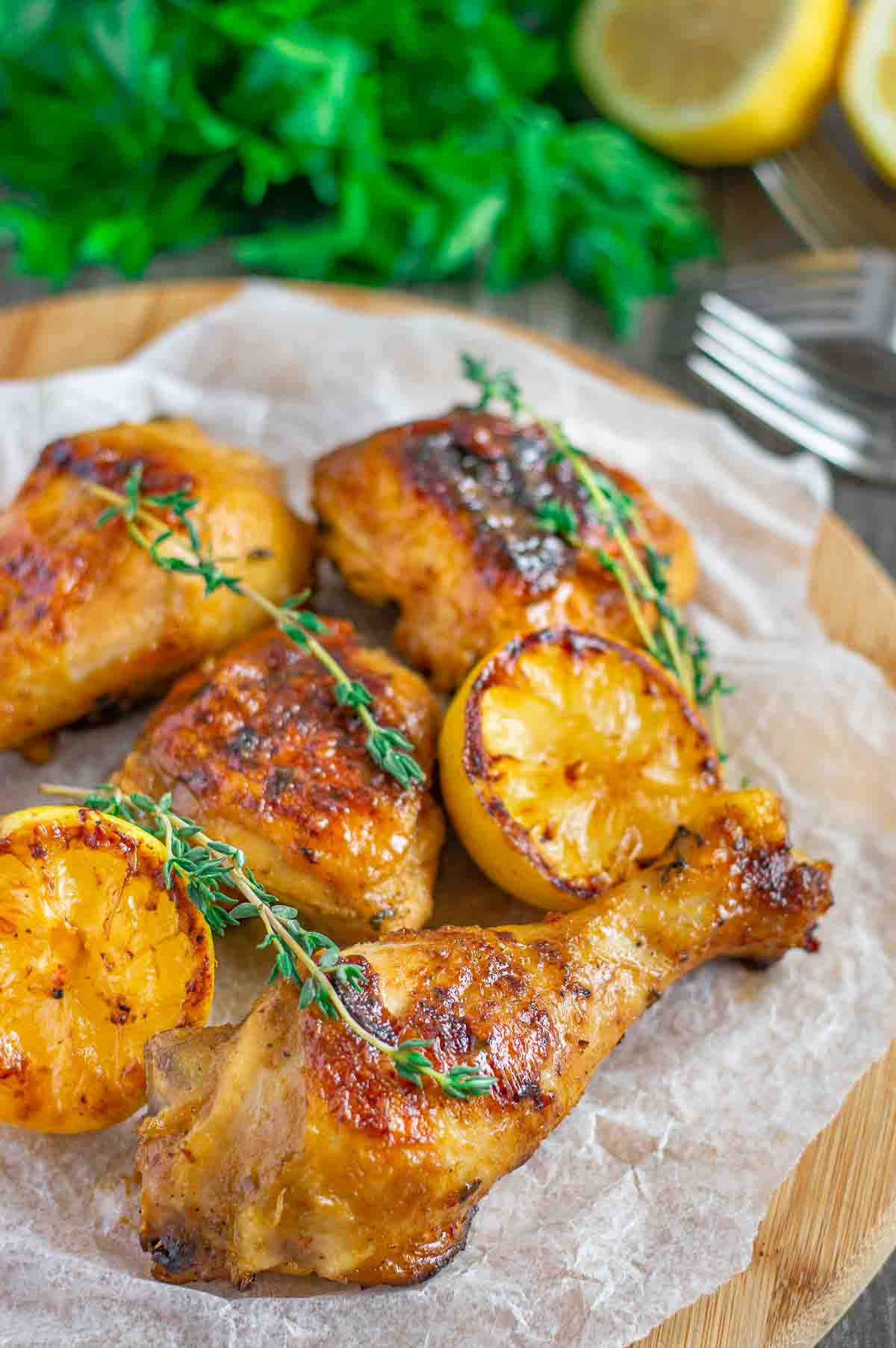 Looking For More Recipes From Bunny's Warm Oven, Try These!
Mustard Chicken Marinade…Chicken Enchiladas with Homemade Red Enchilada Sauce…Chicken Breasts in Sour Cream Sauce…Crock Pot Tuscan Chicken…Baked Chicken Thighs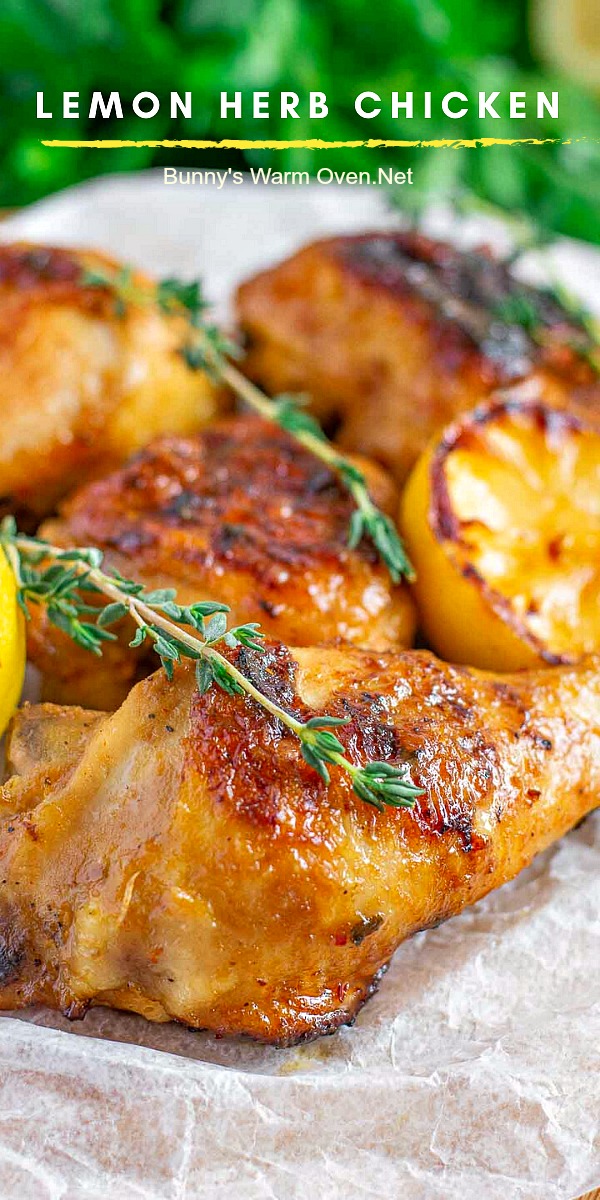 Sumber : https://bunnyswarmoven.net/lemon-herb-chicken/
Sumber : https://simply-delicious-food.com/lemon-herb-chicken-breasts/