This recipe makes 24 delicious soft buttery rolls, perfect for your Thanksgiving dinner!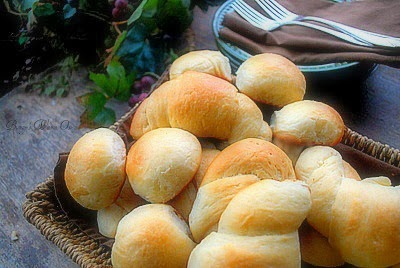 I found this wonderful yeast roll recipe can be made in a bread machine!  I know that'll make you bread machine owners happy. I made them without one and they were delicious. The recipe makes wonderfully soft , buttery rolls that would be perfect to serve with your Thanksgiving dinner. I've always wanted to try my hand at making different shapes while making yeast rolls.  I found a very helpful video on Fine Cooking all about shaping yeast rolls that you can find here if you'd like to try too.  I didn't use the recipe in the video, the recipe I used came from Food.com.  I made crescent rolls, knots and regular shaped dinner rolls and I enjoyed every minute of it! The taste of the rolls more than made up for the flaws in my first attempt at shaping them. One of the things I'd love to do is make the rolls a little bigger and use them for sandwich rolls.  How good is that leftover turkey going to taste on a homemade  buttery ,soft sandwich roll!  The Bread Machine version of the recipe will be the first recipe you see.  After that recipe, I'll post how to make these without a machine. Enjoy!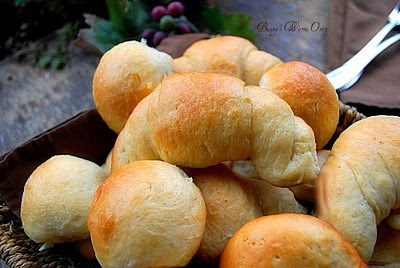 Ingredients:
1/2 cup water
1/2 cup warm milk
1 egg
1/3 cup butter or 1/3 cup margarine, softened
1/3 cup sugar
1 teaspoon salt
3 3/4 cups all-purpose flour (NOT bread flour!)
1 package dry yeast (2 1/4 tsp)
1/4 cup butter or 1/4 cup margarine
Directions:
Place all ingredients except the 1/4 cup butter into bread machine in the order recommended by the manufacturer.
Select the dough cycle and start machine.
Shape dough into 20 to 24 balls and place in buttered pan (s).
Melt the 1/4 cup butter and brush it over the tops of rolls, saving the excess for brushing on after baking.
Cover and let rise in a warm place about 1 hour, or until double in bulk.
Bake at 375 degrees F for 15 to 18 minutes.
Brush baked rolls with remaining butter.
NOTE: This dough can also be divided into two portions and each rolled into a 12-inch circle; spread each circle with softened butter, cut into 8 wedges and roll up starting with wide end, to make crescents OR use this dough for cinnamon rolls or sticky buns.
Recipe Directions Without a Bread Machine
Combine the water and milk in a sauce pan and heat till milk is very warm but not hot.  If you have a thermometer the liquid shouldn't be any warmer than 110 degrees.
Combine the warm liquid with the yeast and sugar, let sit for about ten minutes for the yeast to activate.
Add a room temperature egg and slightly melting butter along with the salt to the yeast mixture.
Add the flour, with mixer on low, mix until the flour is well incorporated.  Change to your kneading hook and knead dough about 5 minutes.  I normally knead by hand, but I used the hook to keep from adding more flour into the dough.  The dough will be sticky, use a little butter on your hands to keep the dough from sticking to your fingers.  Place the dough in a buttered bowl, cover with a cloth and let rise till doubled.  Place the dough in a warm draft free place to rise.
After the rolls have risen, roll into 24 balls.  Place them on a buttered 11×7 baking sheet with room in between to rise, let rise until double in bulk.  Brush the rolls with butter and bake at 375 degrees for 15-18 minutes.
Sumber : https://bunnyswarmoven.net/incredible-delicious-soft-buttery-yeast-rolls-that-can-be-made-with-or-without-a-bread-machine/