Homemade Chocolate Cupcakes with Frosting – 12 decadent chocolate cupcakes with an equally delicious homemade frosting.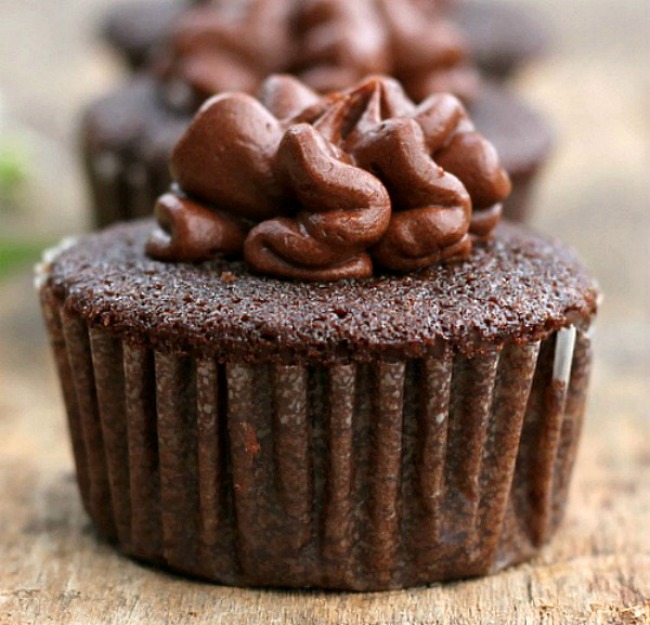 Homemade Chocolate Cupcakes with Frosting
One of the reasons I love to bake from scratch is because I don't have to buy anything special to make cakes, pies or cookies.  I always have flour, sugar, butter, baking soda, baking powder….all the things I need to make it myself in the pantry.  Let's face it, going to the grocery store just for what you need can rock your pocketbook.  When you have all the basics for baking in your pantry, you'll find that baking from scratch can actually save you money.  Which brings me to this recipe, Homemade Chocolate Cupcakes with Frosting.  I've made this recipe before as an 8 inch chocolate cake, today I was in a cupcake kind of mood.  I chose to make the cupcakes with this 8 inch cake recipe because we don't need a full cake recipe that would make 24 cupcakes.  The recipe yielded 12, which is a nice amount to make, eat and still have some left to share .
The other reason I made it is because it uses cocoa, something I always have in the pantry.  Using minimal ingredients that I already had, I made the most decadent deep chocolate cupcakes you'll ever eat.  These delicious, moist chocolate cupcakes deserved to be topped with an equally delicious homemade chocolate frosting…made with cocoa.  The effort of baking from scratch is worth it, not only for your pocketbook ,but for the taste alone. Homemade Chocolate Cupcakes with Frosting , you can't beat homemade!   Enjoy!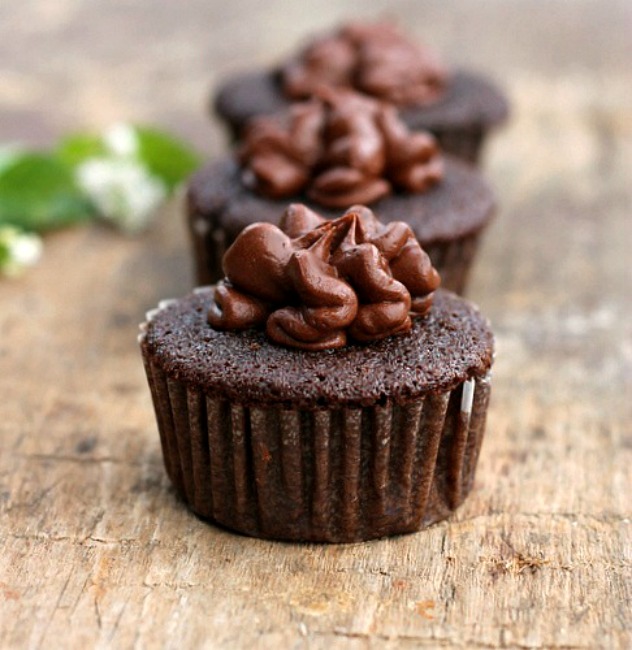 Ingredients
Preheat oven to 350 degrees. Place cupcake liners in a 12 cup cupcake pan.
Cupcake batter
1 cup boiling water
1/2 cup butter softened
1 egg slightly beaten
1 teaspoon vanilla extract
1 cup all-purpose flour
1 cup sugar
3 tablespoons baking cocoa
1 teaspoon baking powder
1/2 teaspoon baking soda
1/4 teaspoon salt
Chocolate Frosting
1/4 cup butter melted
1/3 cup cocoa
1 1/2 cups powdered sugar
3 Tablespoons milk more if needed.
1/2 teaspoon vanilla extract
Instructions
For The Cupcakes
1. In a medium bowl combine the dry ingredients, flour,sugar,cocoa,baking powder,baking soda and salt. Set aside.

2. Boil 1 cup of water in a saucepan, remove from the stove and add the butter in chunks, stir to melt the butter.

3. In the bowl of an electric stand mixer, place the water/butter mixture, beat on medium speed to combine. Add the egg and vanilla and beat until well combined.

4. Add the dry ingredients to the mixing bowl, beat for 2 minutes on medium speed.

5. Spoon batter into cupcake liners about 3/4 full. Bake at 350 degrees for 15 – 20 minutes or till test done with a toothpick. Cool completely, frost cupcakes.
For the Frosting
In a small saucepan melt butter, stir in cocoa, place the mixture in the bowl of an electric stand mixer. Alternately add confectioners sugar and milk, beating until you reach spreading consistency. Add more milk if needed, stir in vanilla. Frosts 12 cupcakes.
Sumber : https://bunnyswarmoven.net/homemade-chocolate-cupcakes-frosting/