Garlic Butter Chicken Casserole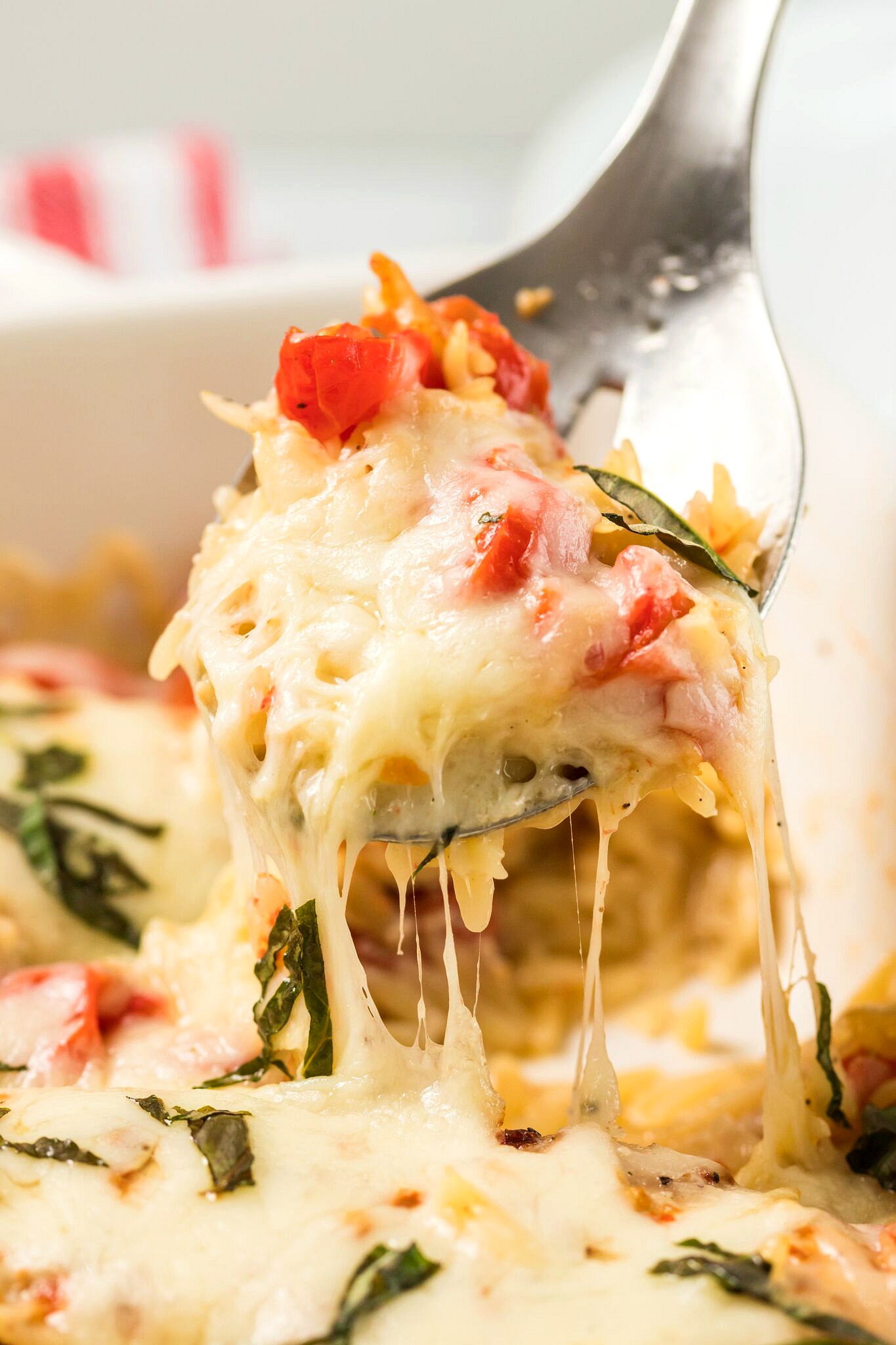 Can I use Long Grain Rice instead of the Orzo in the recipe?
The short answer to this question is NO.  Long grain rice won't cook through and get tender in this casserole. I tried it, at the end of the cooking time, the rice was under cooked and "crunchy".  Use the Orzo, it'll be amazing.  Let's gather the ingredients and make this delicious casserole together.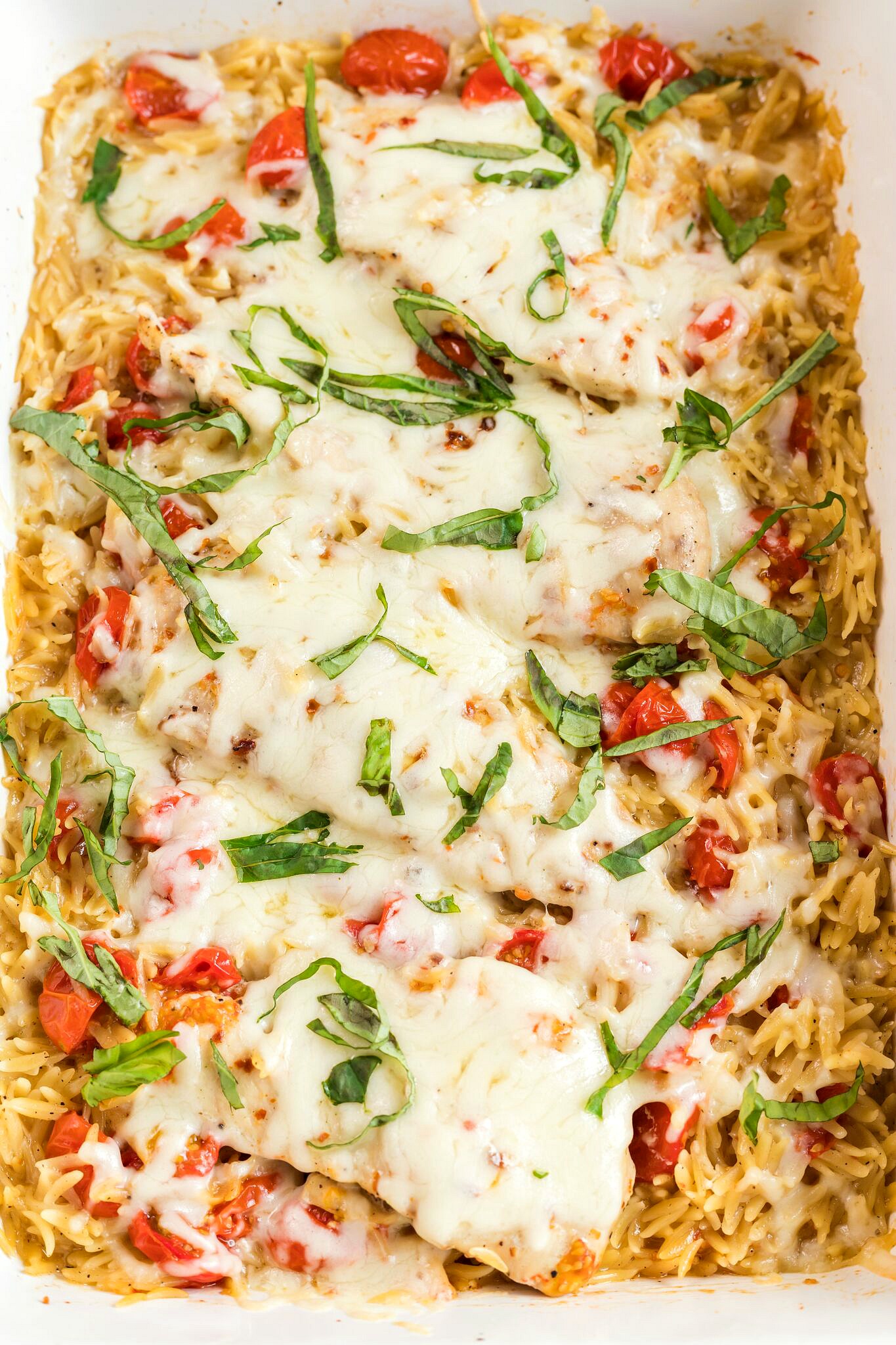 Garlic Butter Chicken Casserole Ingredients:
1 cup uncooked Orzo
1 cup chicken broth
2 Tablespoons butter, melted
4 cloves garlic, chopped fine
1/2 Teaspoon salt
1/4 Teaspoon black pepper
2 cups cherry tomatoes, cut in half
1 Tablespoon olive oil
1 Teaspoon Italian Seasoning
1/4 Teaspoon salt
4 boneless , skinless chicken breast
1 cup shredded mozzarella
1/4 Teaspoon red pepper flakes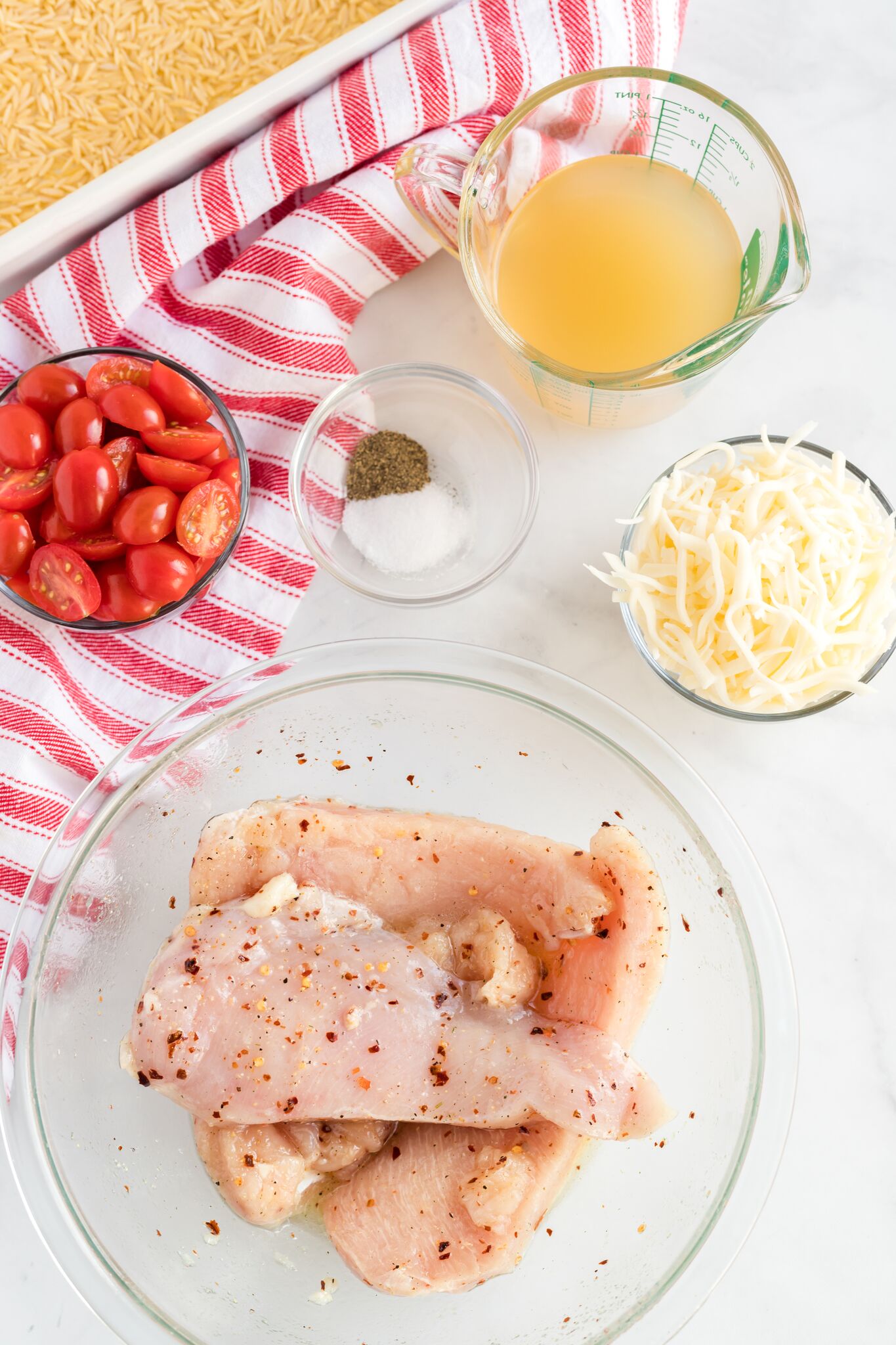 Garlic Butter Chicken Casserole: The  Steps
The first step in the recipe is to place the olive oil, Italian seasoning, salt, red pepper flakes and boneless chicken in a large bowl. Mix the ingredients together. Place the boneless chicken breast in the bowl, turn them to coat them with the mixture.  Place the chicken breast in the refrigerator an hour before you start the recipe to marinate. We want the chicken to have lots of flavor.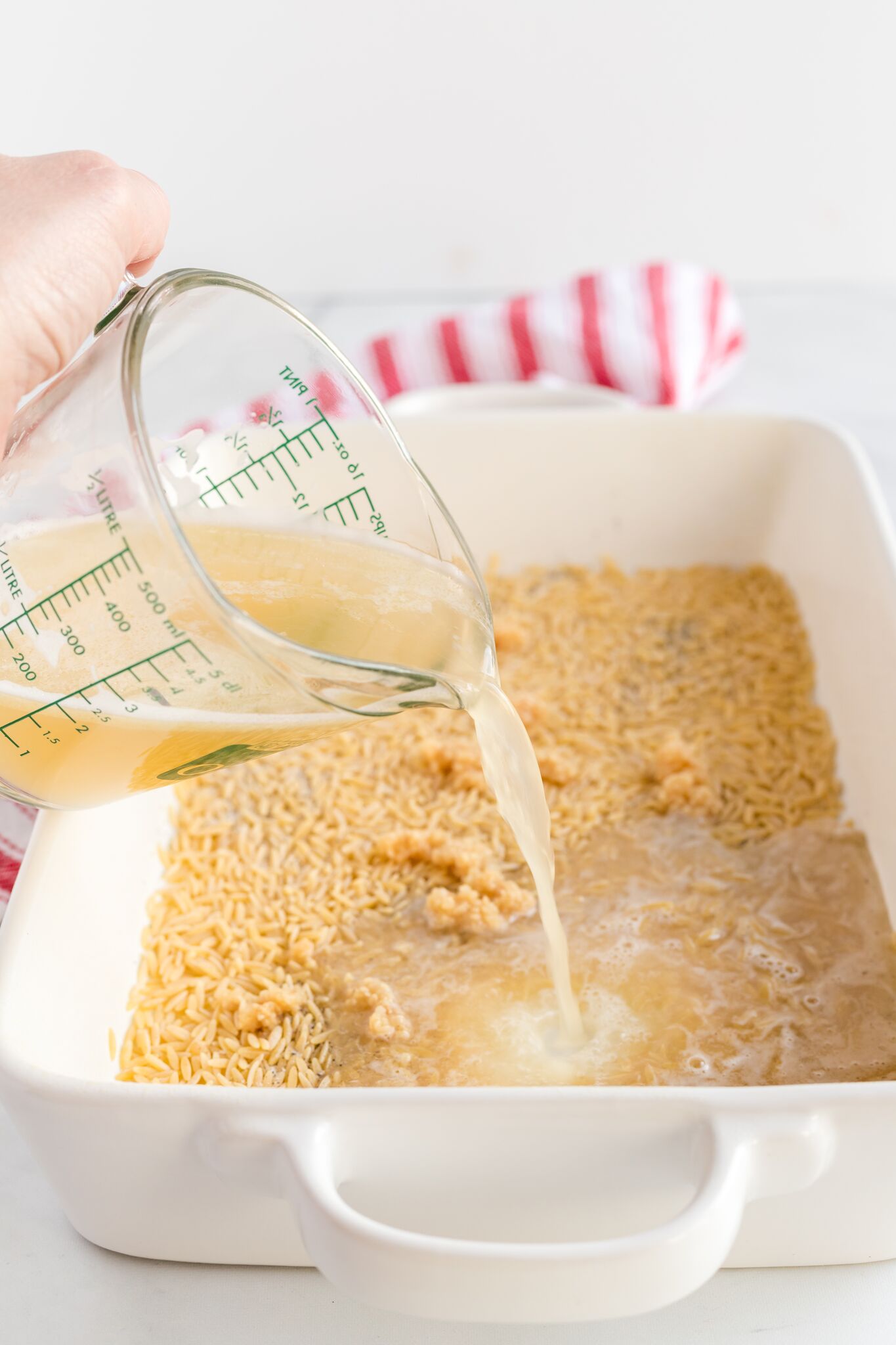 After the chicken breasts have marinated for an hour, place the orzo in a lightly greased 13×9 inch baking dish.  Add the chicken broth, melted butter, garlic, salt and black pepper to the orzo in the baking dish.  Stir the ingredients slightly to combine them.
Next, spread the ingredients out evenly in the pan. Add the halved cherry tomatoes to the dish, making sure they're distributed evenly in the pan. Place the marinated chicken breasts over the tomatoes.  Cover the baking dish with foil and bake in a preheated 350 degree oven for about an hour to hour and fifteen minutes (depending on how big your breast are)  or until the chicken breasts are completely cooked through.
After the cook time is done, take the casserole out of the oven, remove the foil from the top and sprinkle the chicken with mozzarella cheese. Put the casserole dish back in the oven without the foil on top and bake until the cheese has melted. Remove your Garlic Butter Chicken Casserole from the oven and sprinkle it with chopped fresh Basil.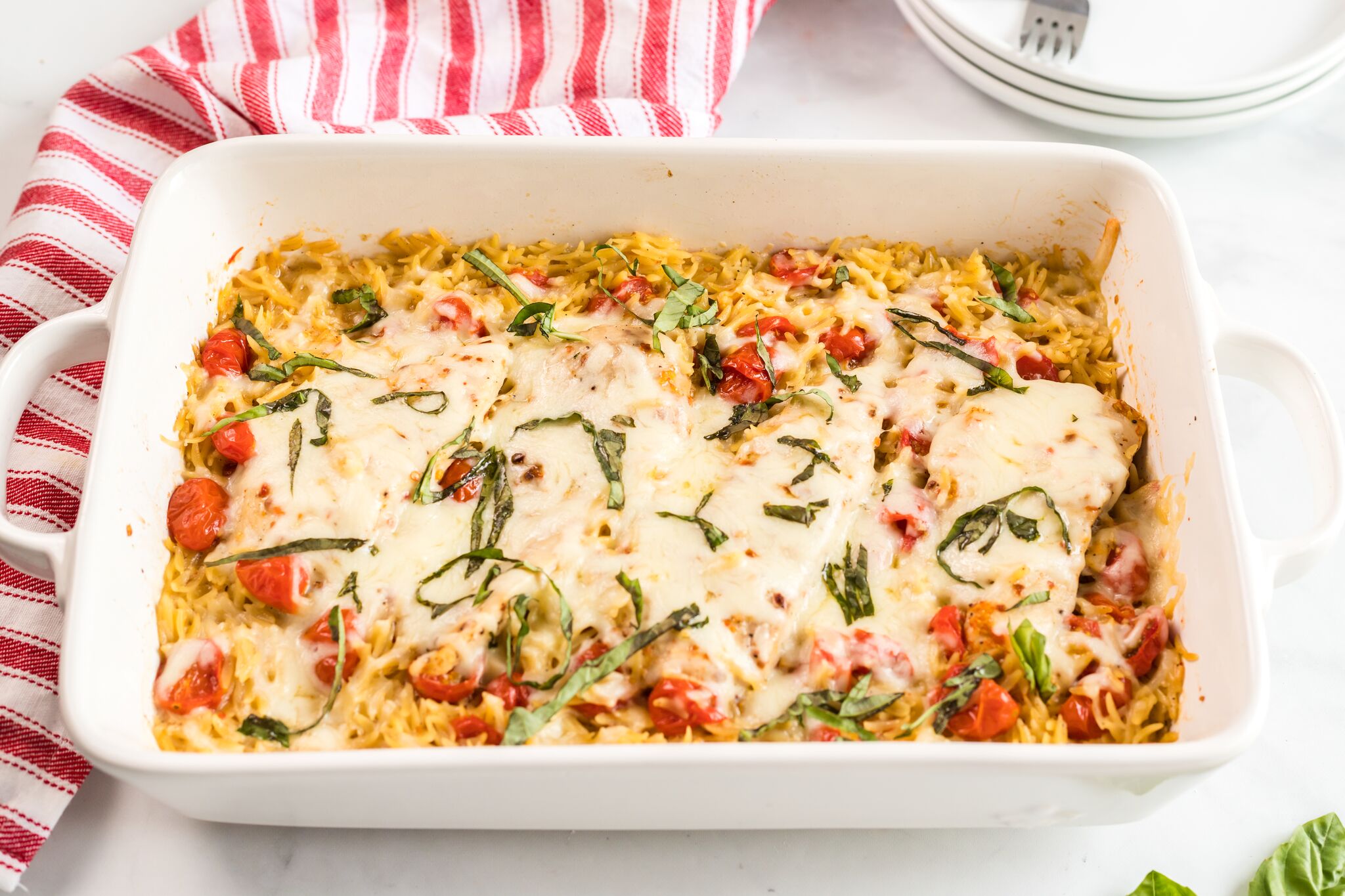 Garlic Butter Chicken Casserole, this ones a keeper, and it's What's For Dinner?!
 Sumber : https://bunnyswarmoven.net/garlic-butter-chicken-casserole/