You're going to love this 8 inch Sweet Cherry Coffee Cake. It's full of sweet cherries and topped with a delicious streusel topping.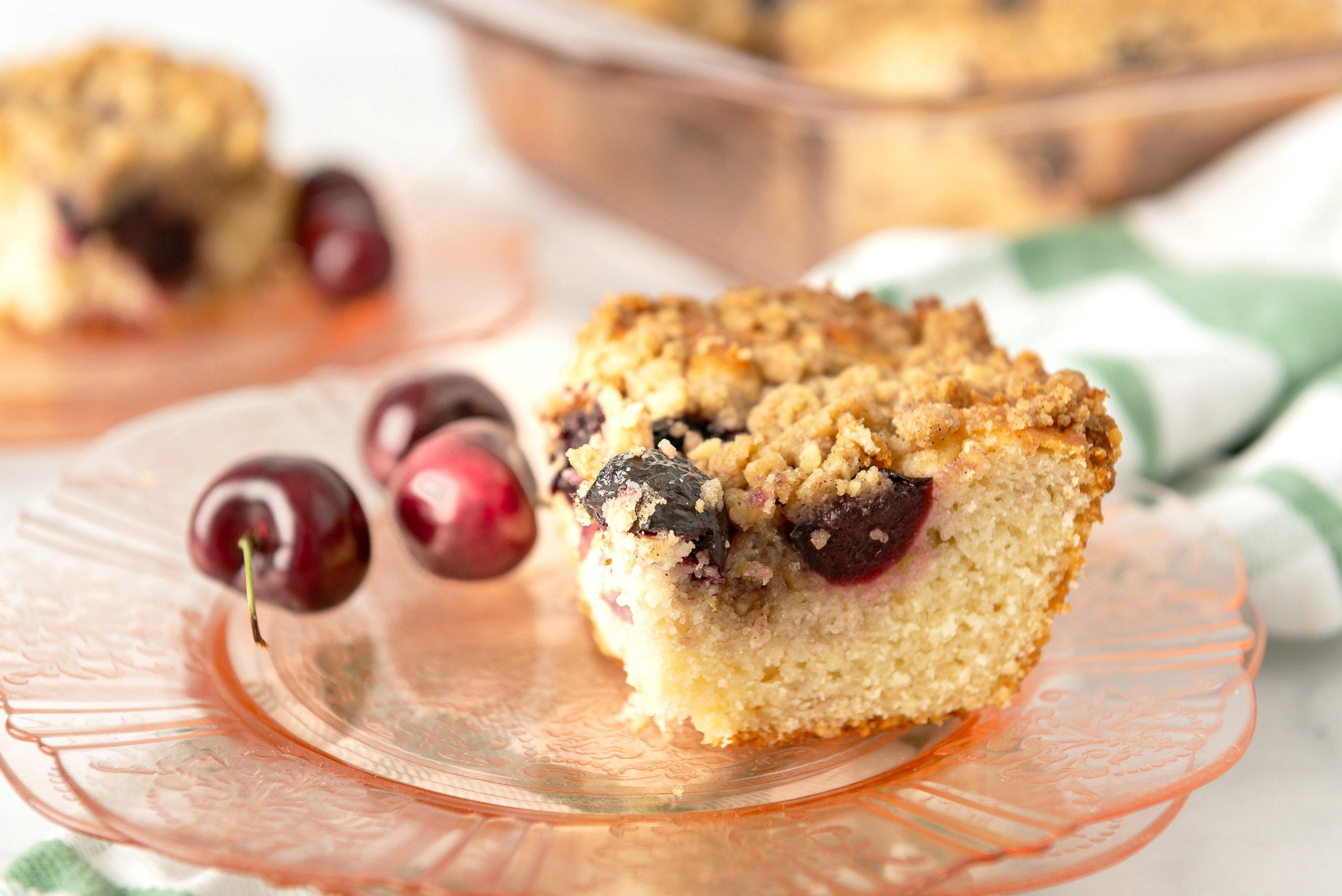 This was a delicious and easy sweet cherry coffee cake recipe.  It was a fantastic way for me to use the cherries I bought.  The eight inch size cake was just enough for my husband and I without having a ton of leftover coffee cake.
How To Freeze and Can Fresh Sweet Cherries
If you'd like to take advantage of sweet cherries in season when the prices are fantastic to either freeze or can them for the Winter, check out these links for freezing and canning sweet cherries. Take a peek at this article from WikiHow on how to freeze cherries 4 ways.  Check out this article from Pick Your Own on how to can fresh sweet cherries.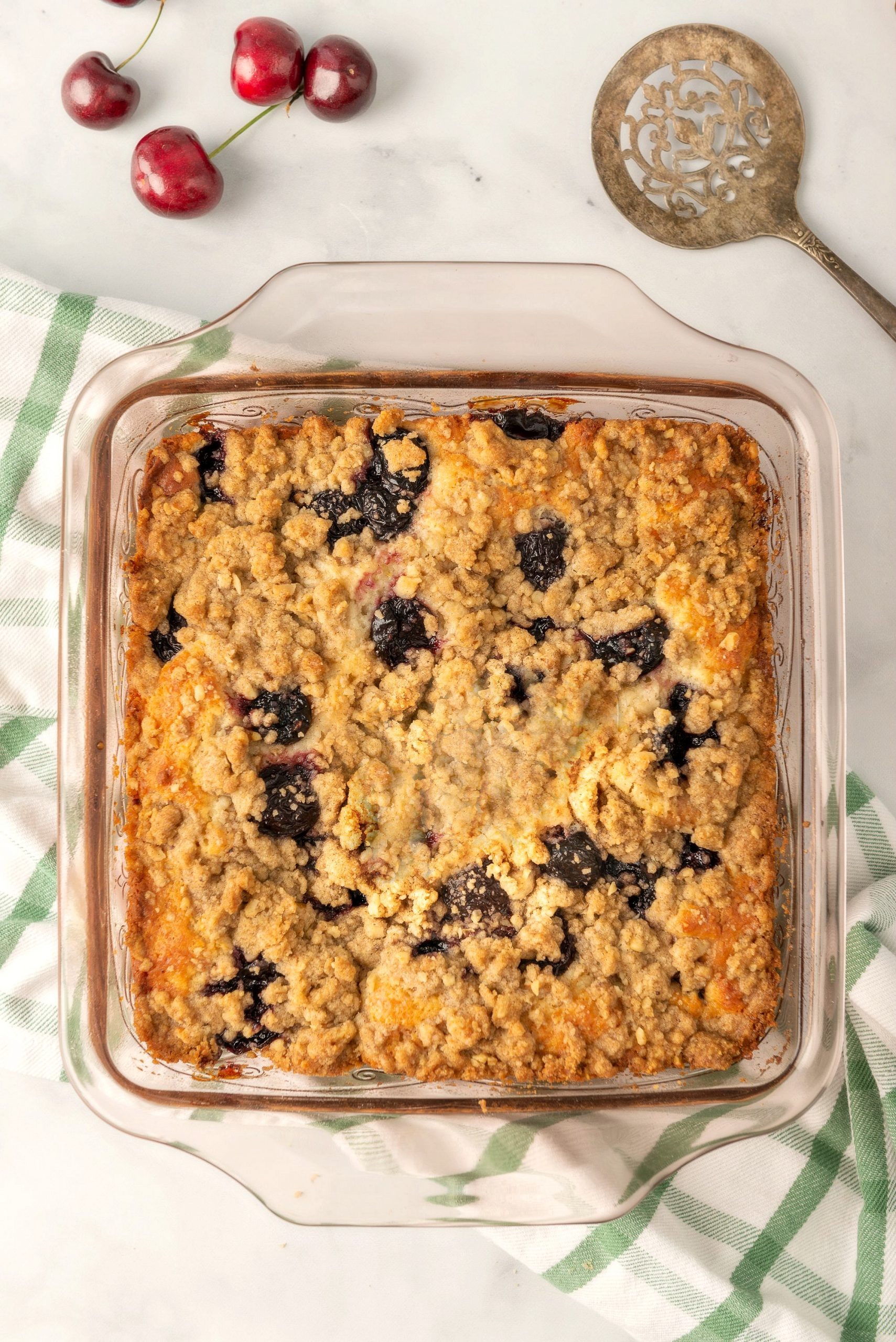 Eight Inch Sweet Cherry Coffee Cake Ingredients:
2 cups buttermilk baking mix (Bisquick)
1/2 cup white sugar
1 teaspoon grated lemon zest
3/4 cup sour cream
2 Tablespoons melted butter
1 egg room temperature, beaten
1 1/2 cups pitted and halved sweet cherries
Streusel Topping Ingredients:
1/2 cup all purpose flour
3 Tablespoons packed brown sugar
1/2 Teaspoon ground cinnamon
1/4 teaspoon salt
3 Tablespoons softened butter
1/4 cup chopped walnuts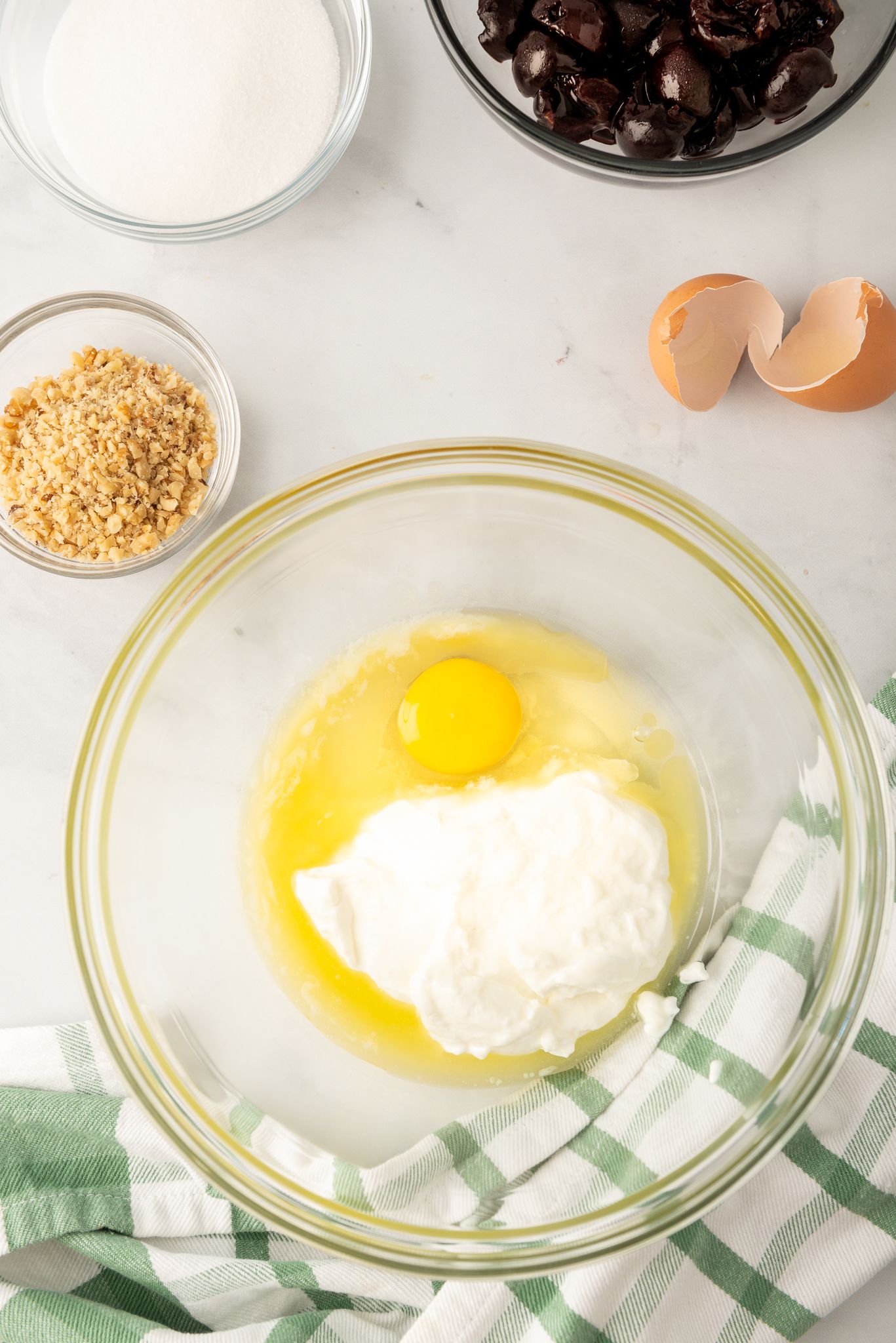 Place the sour cream, egg and two tablespoons of melted butter in a large size bowl.  Mix the ingredients together until they are well combined.

Place the baking mix, sugar and lemon peel in medium size bowl, mix the ingredients together with a large spoon until they are well combined.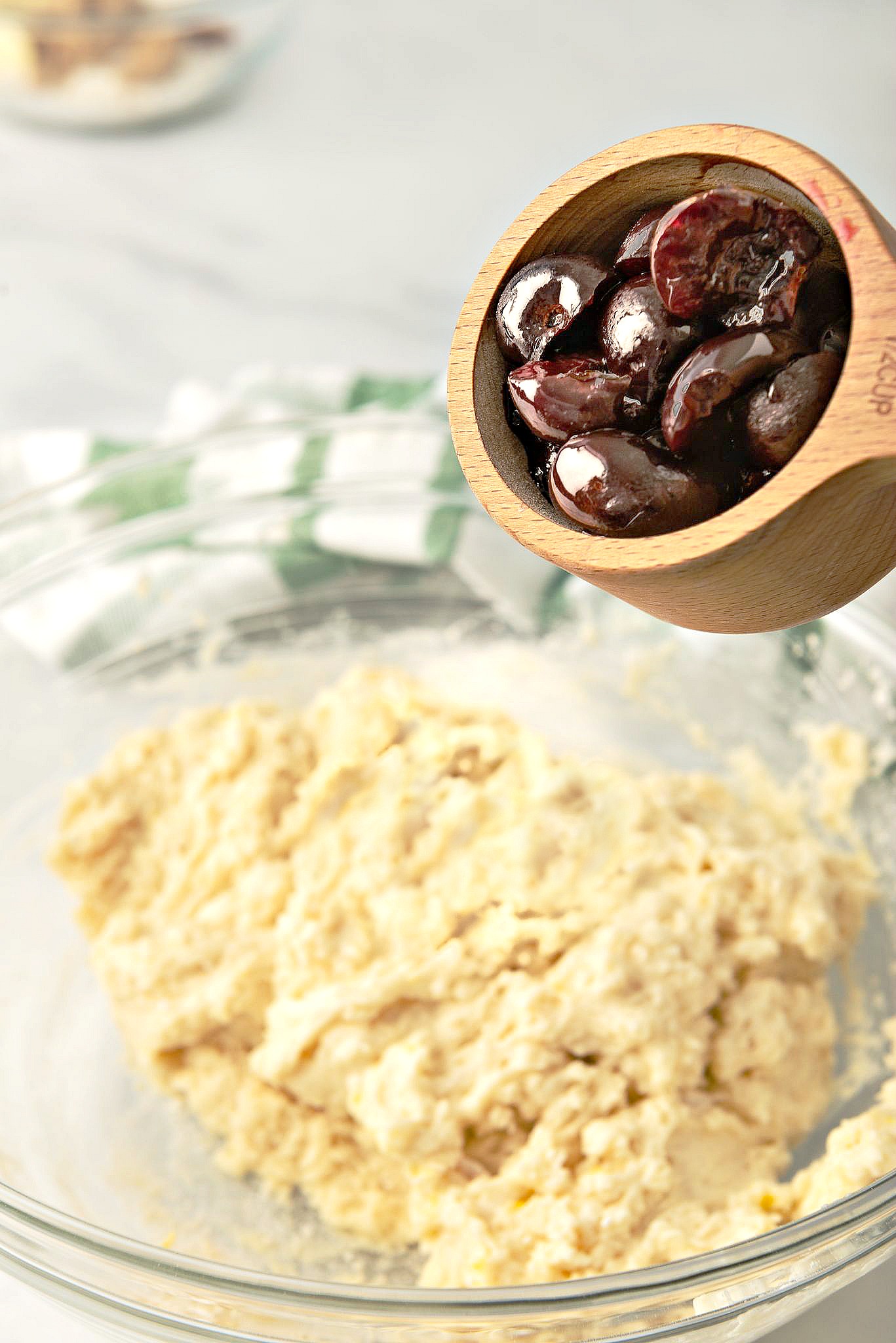 Add the sour cream mixture to the buttermilk baking mix mixture and only stir until the ingredients are moistened. Fold in 1/2 cup of cherries. Pour the mixture into your prepared your greased and floured 8 inch square baking pan. Sprinkle the remaining sweet cherries over the cake batter, and top the batter with the streusel topping.
To Make The Streusel Topping :
Combine 1/2 cup all purpose flour, 3 Tablespoons of packed brown sugar, 1/2 Teaspoon ground cinnamon and 1/4 Teaspoon salt in a medium bowl. Mix the 3 Tablespoons softened butter into the flour mixture with a fork. Add 1/4 cup chopped walnuts and mix well. Take the 1 cup of streusel you just made and sprinkle it over the cake batter evenly. Place the cake in a preheated 375 degree oven to bake for 35 – 40 minutes or until a wooden tooth pick inserted in the center comes out clean.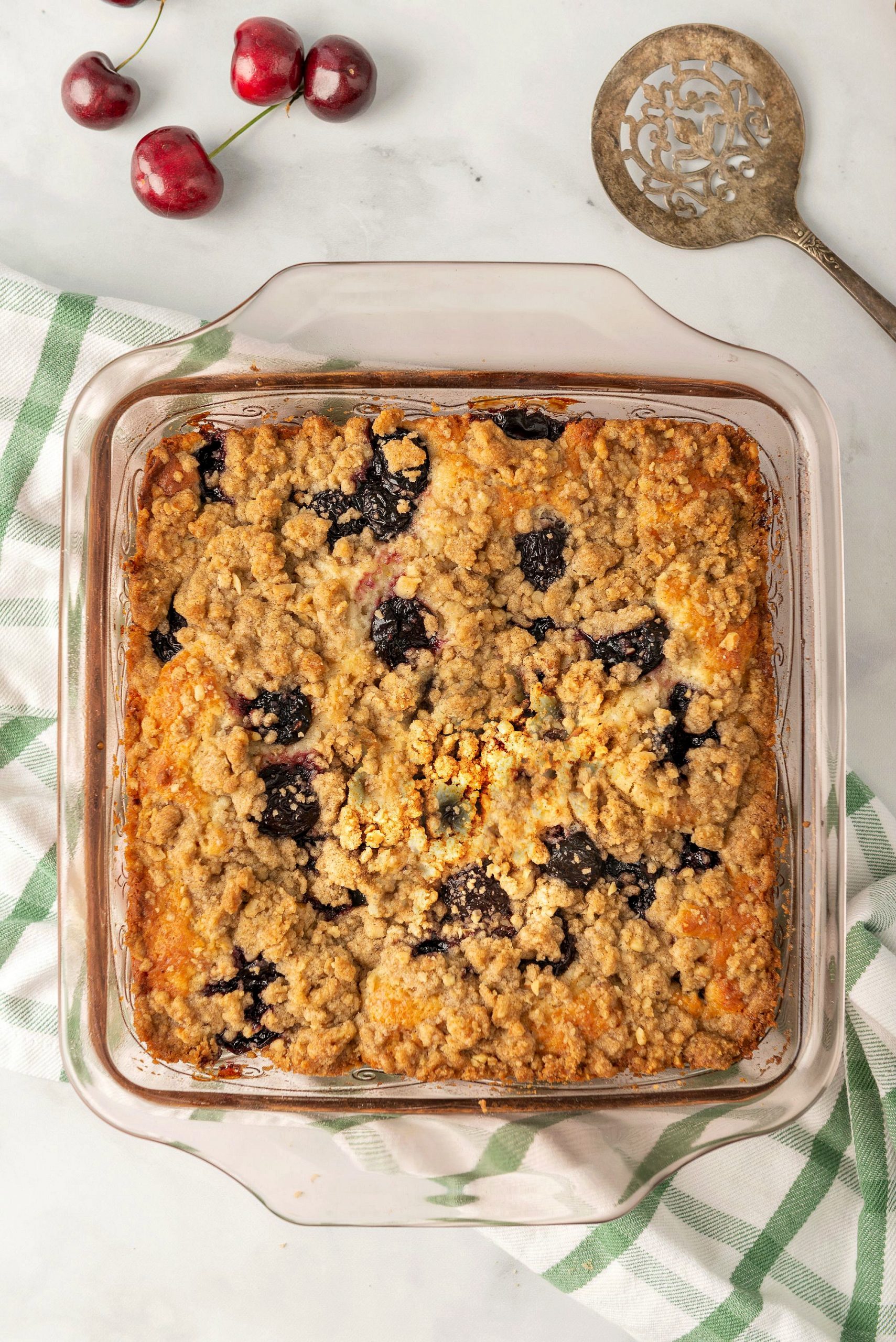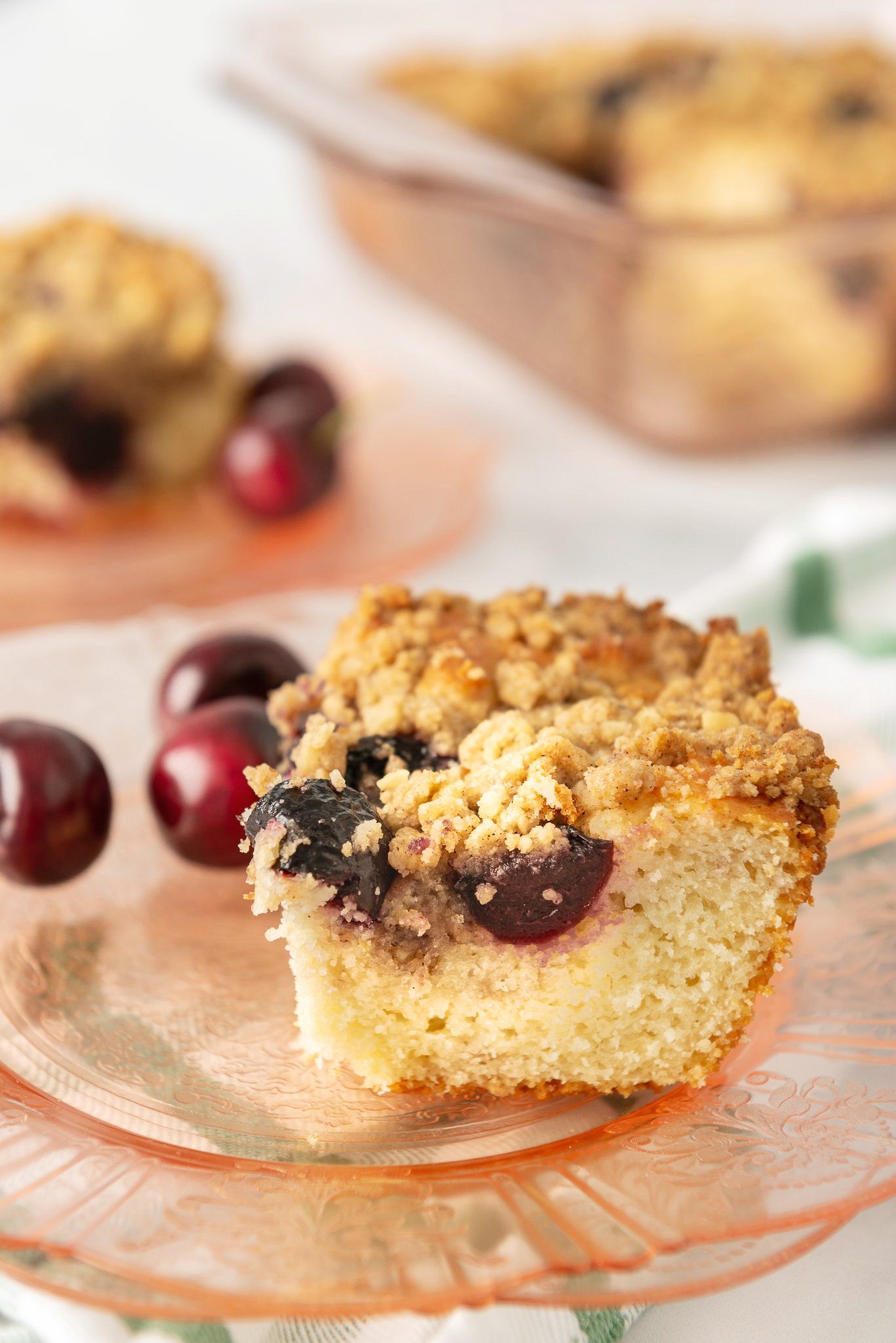 This small Sweet Cherry Coffee Cake is…What's For Dessert?! And it's delicious!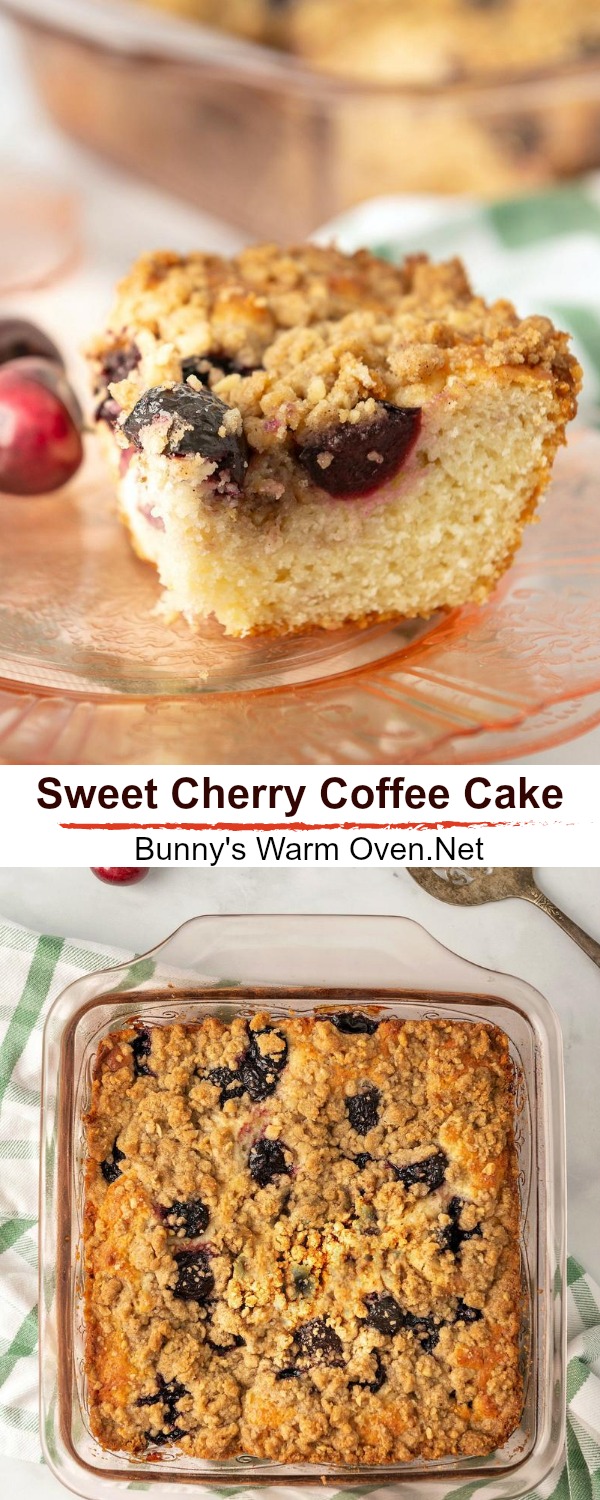 Ingredients
Cake Batter Ingredients
2 cups buttermilk baking mix (example Bisquick)
1/2 cup white sugar
1 Teaspoon grated lemon zest
3/4 cup sour cream
2 Tablespoons melted butter
1 egg room temperature, beaten
1 1/2 cups pitted and halved sweeten cherries, divided
Streusel Topping
1/2 cup flour
3 Tablespoons packed brown sugar
1/2 Teaspoon ground cinnamon
1/4 Teaspoon salt
3 Tablespoons softened butter
1/4 cup chopped walnuts
Instructions
Place the sour cream, melted butter and egg in a large size bowl. Beat with an electric mixture until well combined.

Combine the baking mix, white sugar and lemon peel in a medium size bowl. Stir the ingredients together to combine them.

Add the sour cream mixture to the dry ingredients (Bisquick, sugar and lemon zest). Stir the ingredients together until they are moistened. Fold 1/2 cup cherries into the batter.

Sprinkle the remaining cherries and the streusel topping over the batter. Bake at 375 degrees for 35 – 40 minutes or until a wooden pick inserted in the center comes out clean.

Sumber : https://bunnyswarmoven.net/eight-inch-sweet-cherry-coffee-cake/