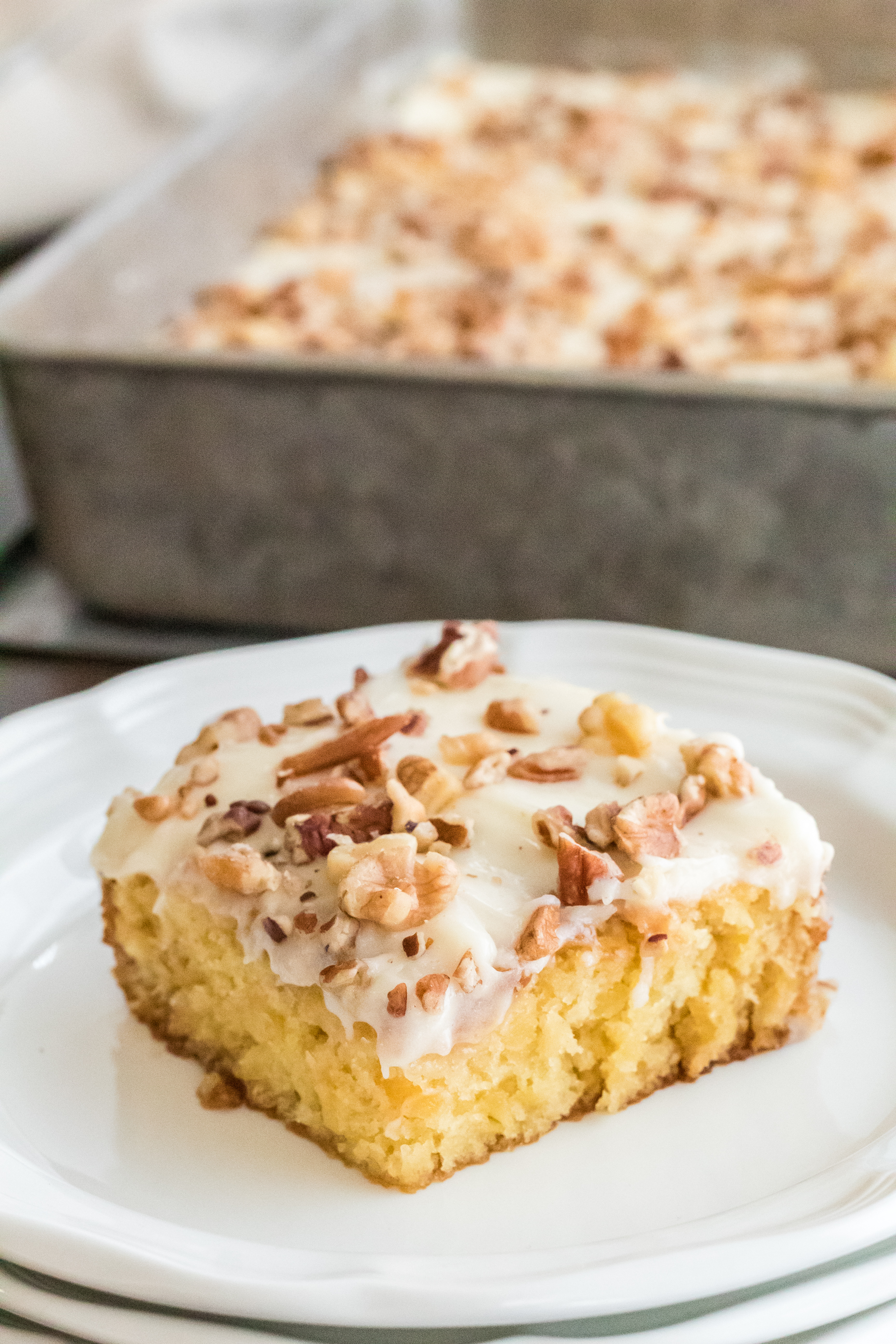 Easiest Pineapple Cake
A delicious one bowl pineapple cake topped with a cream cheese frosting while it's still warm.  This Easiest Pineapple Cake is a one bowl wonder!  Not only is it made easy by only needing one bowl to make it, there isn't any butter or oil in the cake batter and yet it is extremely moist!
Easiest Pineapple Cake Ingredients:
2 cups all purpose flour
2 cups white sugar
2 eggs, room temperature
1 Teaspoon baking soda
1 Teaspoon vanilla extract
pinch of salt
one – 20 ounce can crushed pineapple in it's own juice, don't use crushed pineapple in syrup
1 cup chopped nuts (optional)
Cream Cheese Frosting Ingredients:
1/2 cup (1 stick) butter, room temperature
one 8 ounce package cream cheese, softened
1 Teaspoon vanilla extract
1 1/2 cups confectioners sugar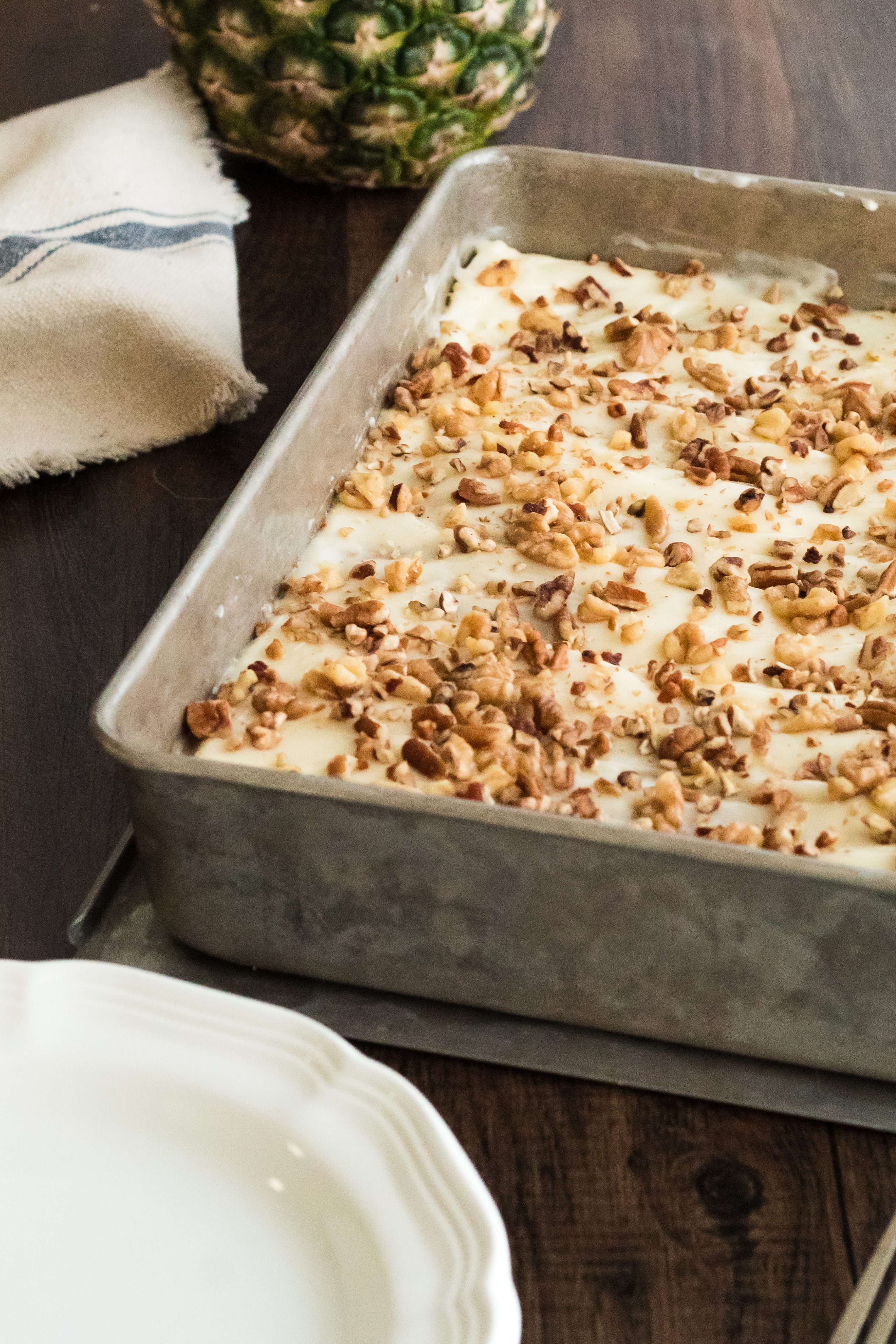 Easiest Pineapple Cake
The cream cheese frosting is put on the cake while it is still warm, the frosting seeps into the top of the cake, it's incredible.  This is a dense , moist, pecan, pineapple filled cake topped with a creamy cream cheese frosting your family will thoroughly enjoy!
I didn't have crushed pineapple in juice but I did have pineapple slices in juice.  I took the slices out of the can and put them into my food process without the juice and pulsed them until they were "crushed".  I put the crushed pineapple and it's juice into the bowl and added the other cake ingredients to it.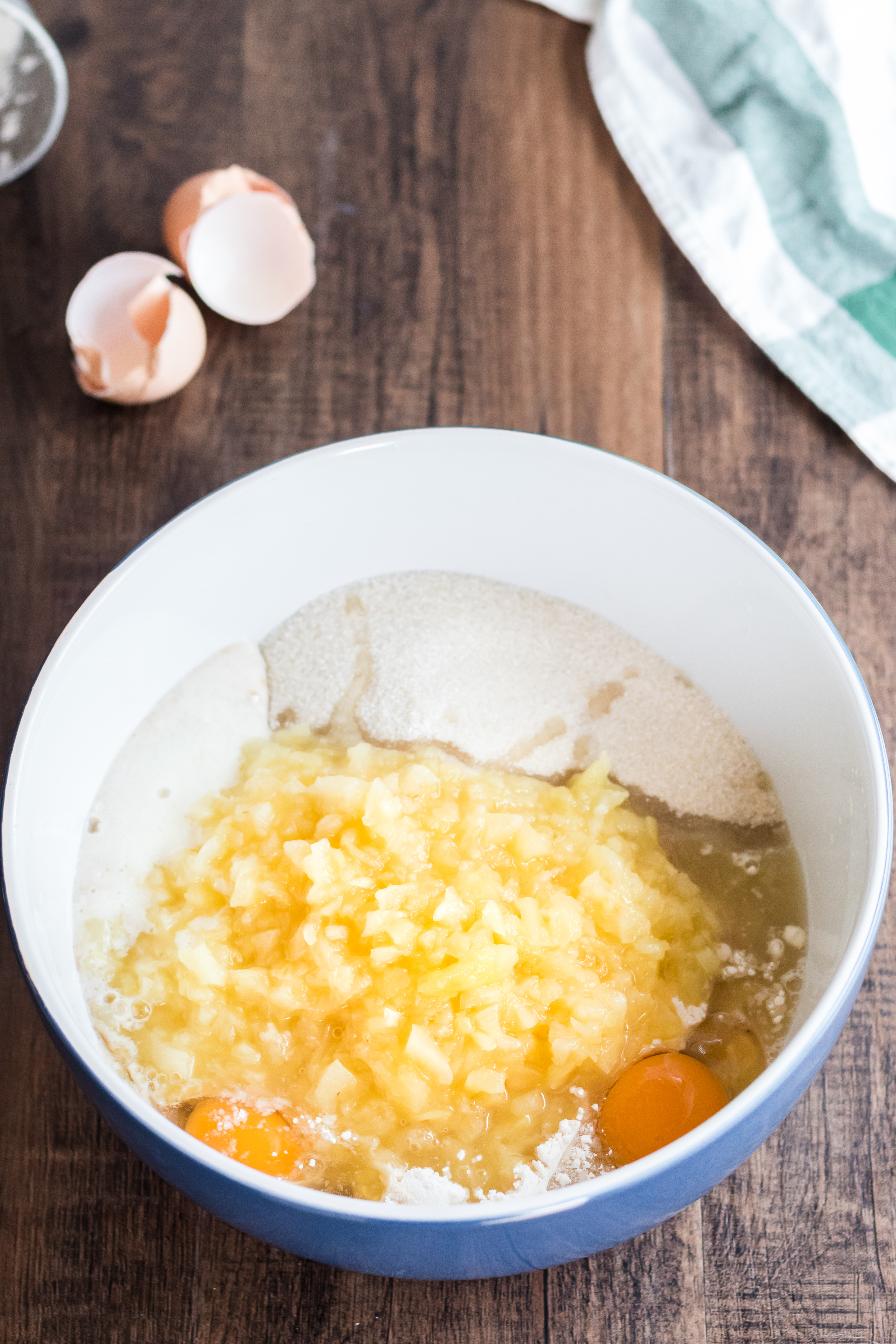 After all the cake ingredients were in the bowl, I mixed them together with an electric mixer just until they were combined.  That only took about 3 minutes tops.  I folded the chopped pecans ( mine were more crushed ) into the batter.  I poured the batter into a greased 13x 9 inch baking pan and placed it in the oven a 350 degree preheated oven for about 35 minutes.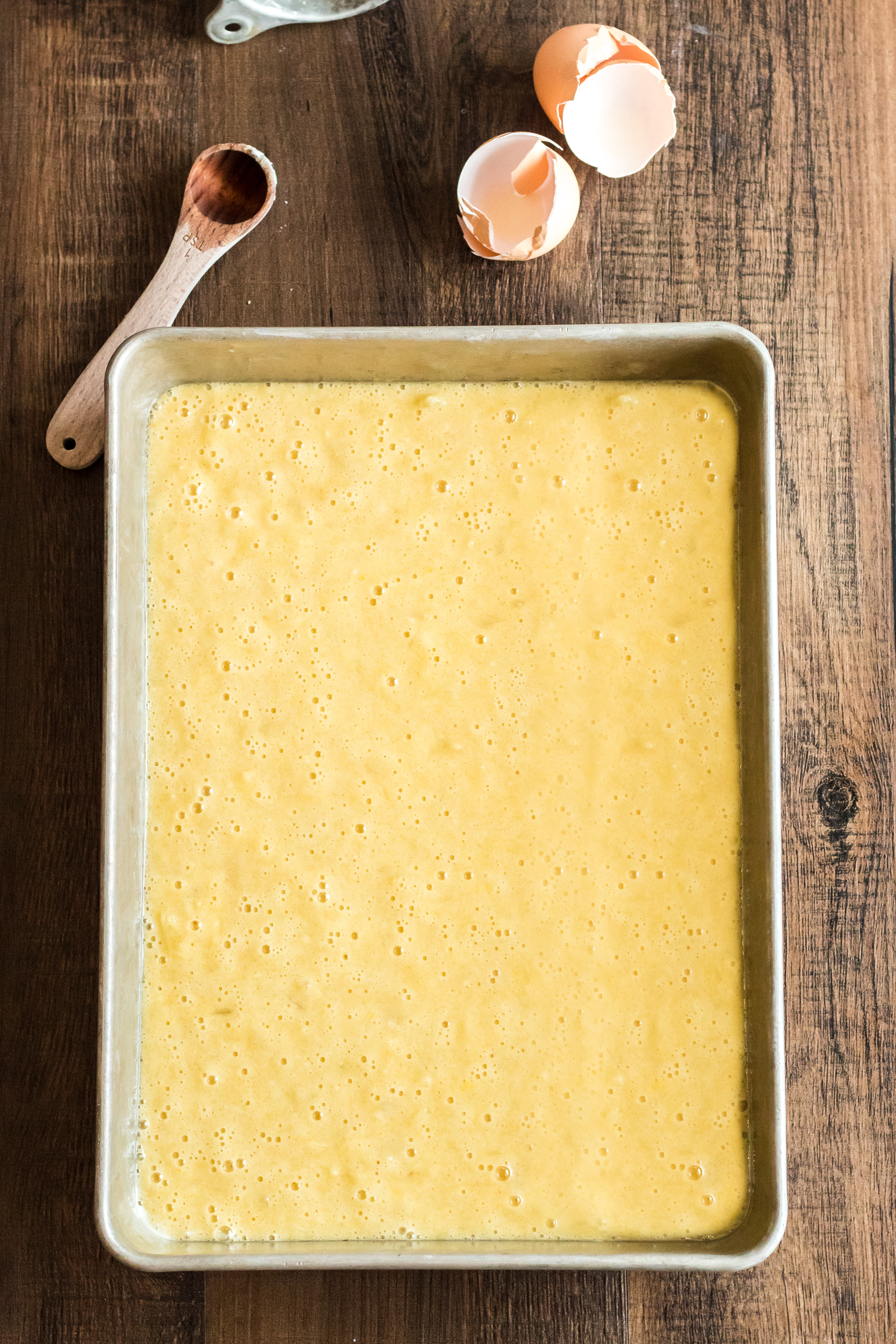 I poured the batter into a greased 13x 9 inch baking pan and placed it in the oven a 350 degree preheated oven for about 35 – 40 minutes. About ten minutes before the cake was done I made the frosting.
To make the frosting place the butter, cream cheese and vanilla in a large bowl, beat the ingredients together until they're creamy. Gradually add the confectioners sugar to the bowl and beat until the frosting is smooth. Frost the cake while it's still warm, garnish the top of the cake with crushed nuts if you like.
Now if your still a little leery about making a homemade cake without butter or oil in it I invite you to scroll down to the comments and read what the people that have made it say about this amazing cake. Easiest Pineapple Cake, a one bowl wonderful made without oil or butter in the homemade cake batter that's absolutely AMAZING, Enjoy!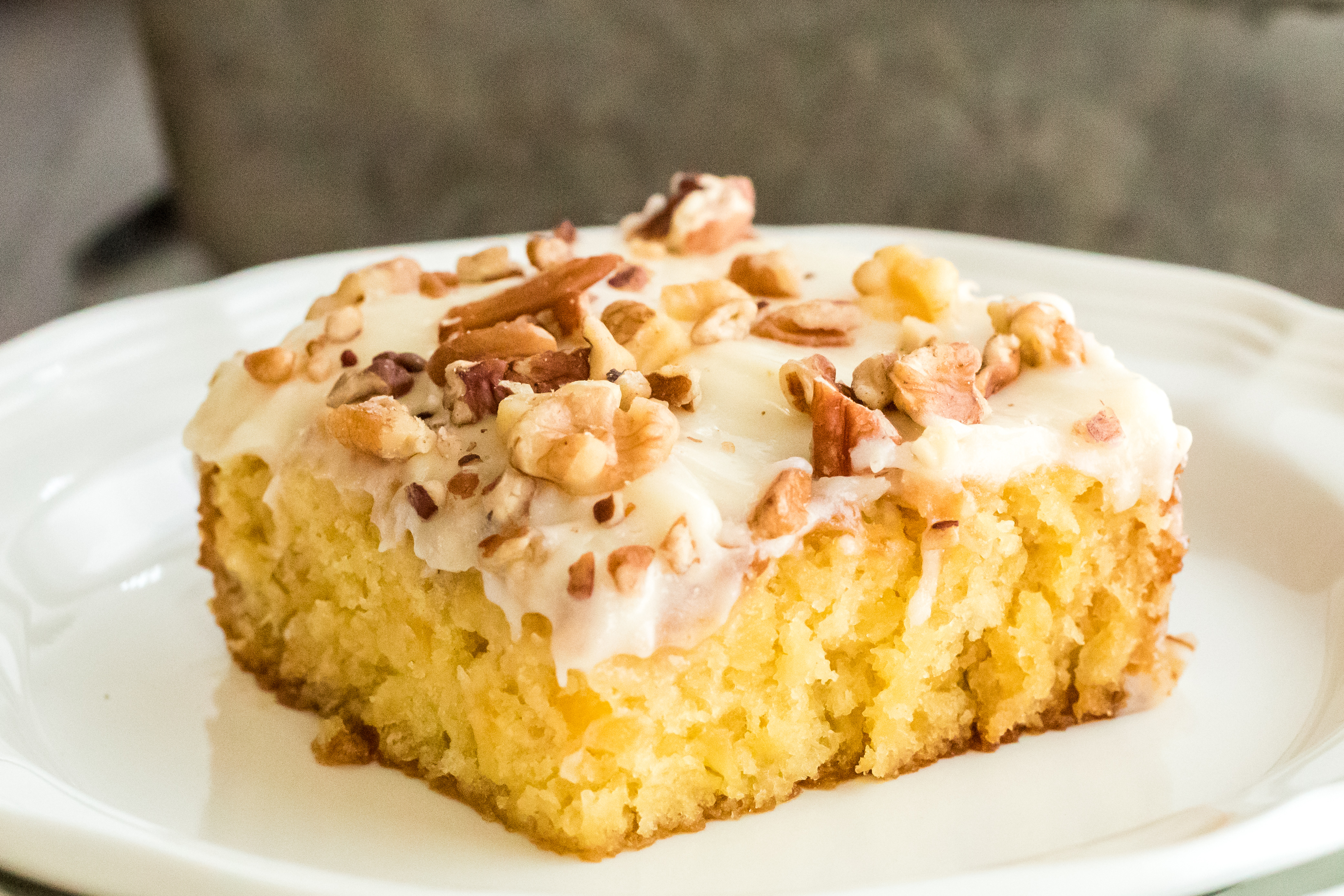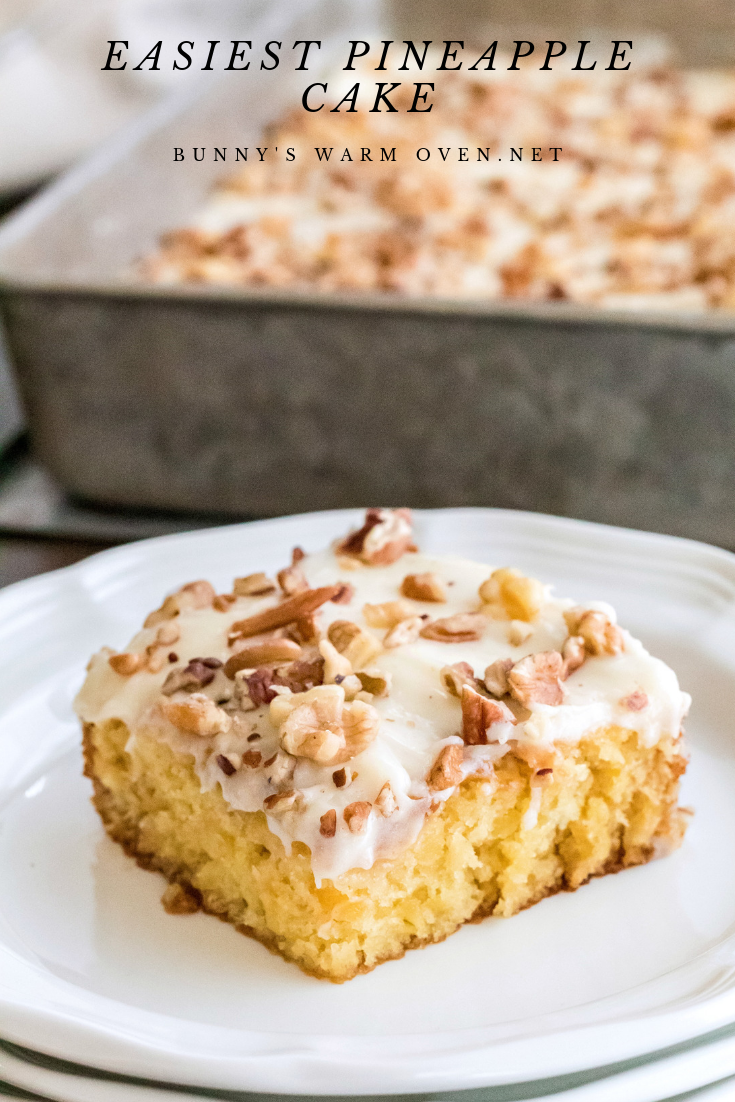 Ingredients
Remember …there's no oil or butter in this cake batter.
Ingredients
2 cups all purpose flour
2 cups sugar
2 eggs
1 tsp baking soda
1 tsp vanilla
pinch salt
1 – 20 oz can of crushed pineapple in it's own juice – not syrup undrained
1 cup chopped nuts optional
CREAM CHEESE FROSTING
1/2 c butter or 1 stick
1 – 8 oz cream cheese softened
1 tsp vanilla
1 1/2 c confectioners' sugar
Instructions
1. Preheat oven to 350 degree F. Mix all of the cake ingredients together in a bowl. Pour into a greased 9X13 inch pan and bake at 350 for 35 – 40 minutes (until top is golden brown).

2. Frosting: Beat butter, cream cheese and vanilla together until creamy. Gradually mix in powdered sugar.

3. Frost cake with cream cheese frosting while still warm. Sprinkle with chopped nuts if desired.

Sumber : https://bunnyswarmoven.net/easiest-pineapple-cake/