Fluffy, soft, moist and loaded with fresh peaches…Peach Fritters!
I grew up in Pennsylvania and am very familiar with apple fritters.  The restaurant that I helped manage made apple fritters as a side dish, we also made apple fritter sundaes with them. I bet that's one way of using fritters you never thought of! You wouldn't believe how delicious an Apple Fritter sundae is made with vanilla ice cream and caramel sauce!
It never crossed my mind to make  peach fritters until I was talking to my little brother Kevin about wanting to use the fresh peaches I had to make a dessert.  When Kevin told me he saw Peach Fritters at the Farmers Market, the light came on, that's when I decided to make PEACH FRITTERS!
The recipe is very easy to make. After the ingredients are measured out and the peaches are peeled and diced it literally just takes minutes to put the recipe together. Let's gather the ingredients and make this delicious treat together.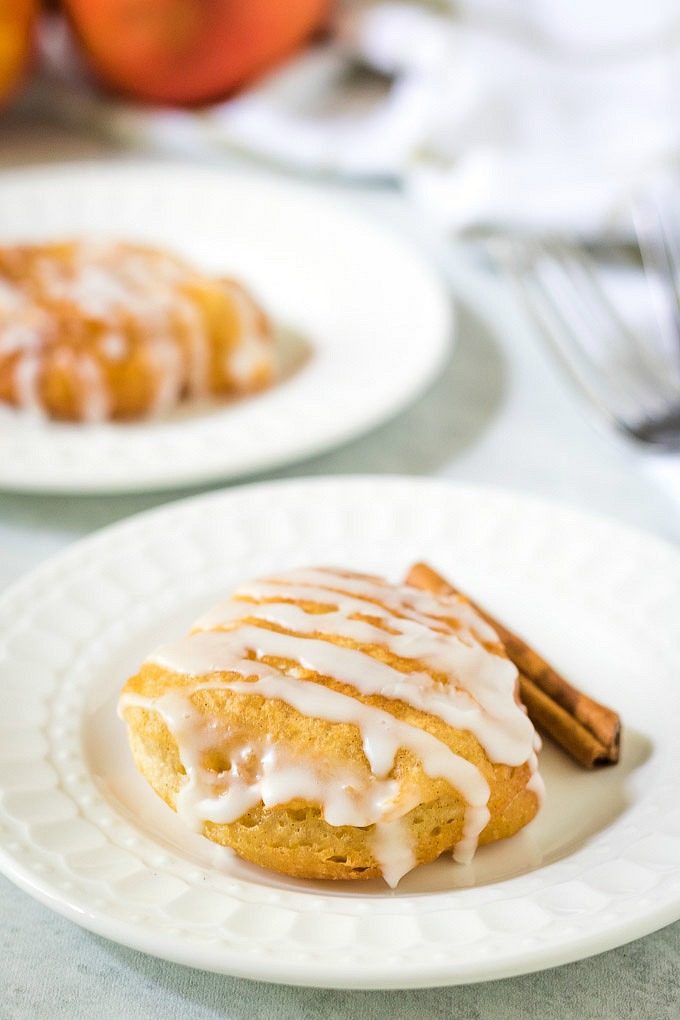 Peach Fritter Ingredients:
1 cup all purpose flour
1 Teaspoon salt
2 Tablespoons white sugar
1 Teaspoon baking powder
1/2 Teaspoon cinnamon
2 eggs
1/3 cup milk
1 Tablespoon melted butter
1 1/4 cups diced peaches ( I used 2 fresh peaches which came to a little over 1 1/4 cups peaches
Oil for frying in a pan or a deep fryer
Powdered Sugar Glaze:
1 cup powdered sugar
milk, enough to make a drizzling consistency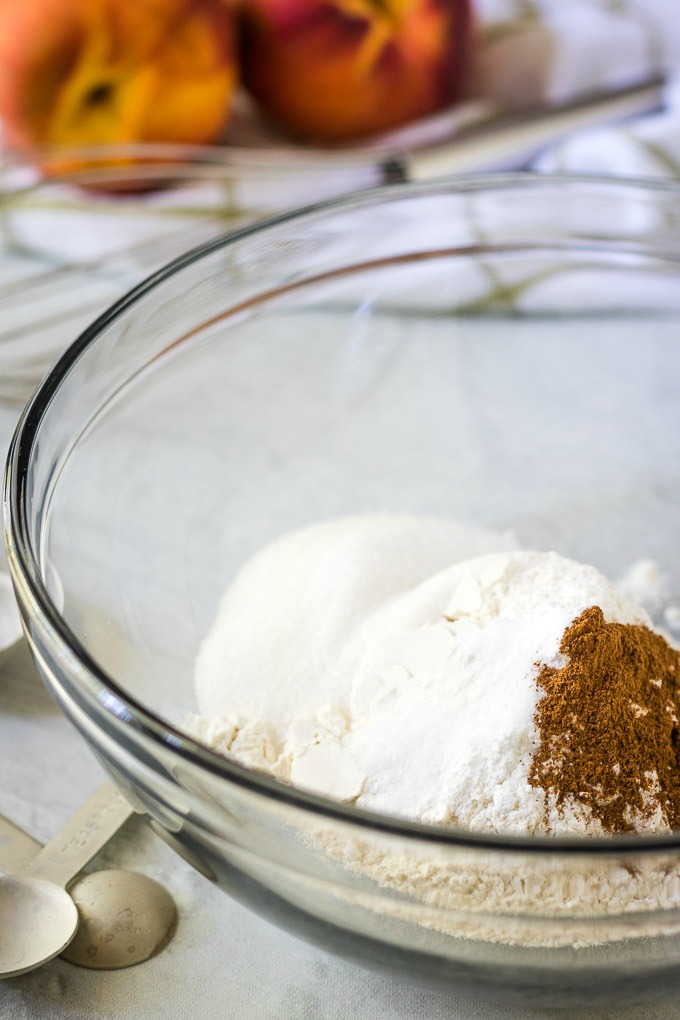 Place the flour, salt, sugar, cinnamon and baking soda in a large bowl. Whisk the ingredients together until they are well combined.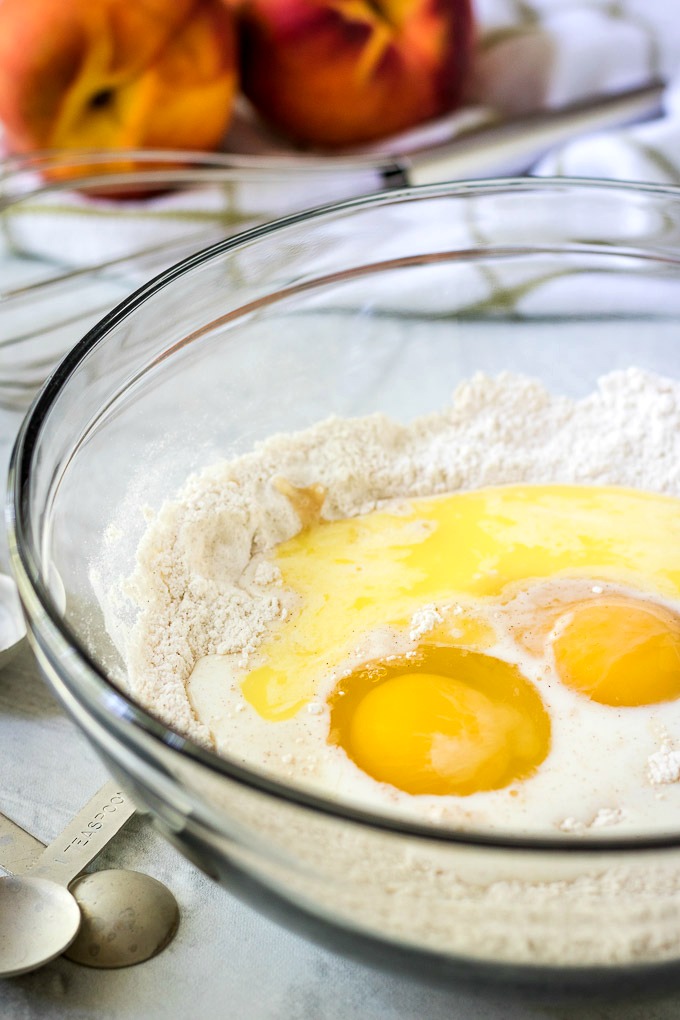 Whisk the eggs, milk, and melted butter into the flour ingredients until they are well combined.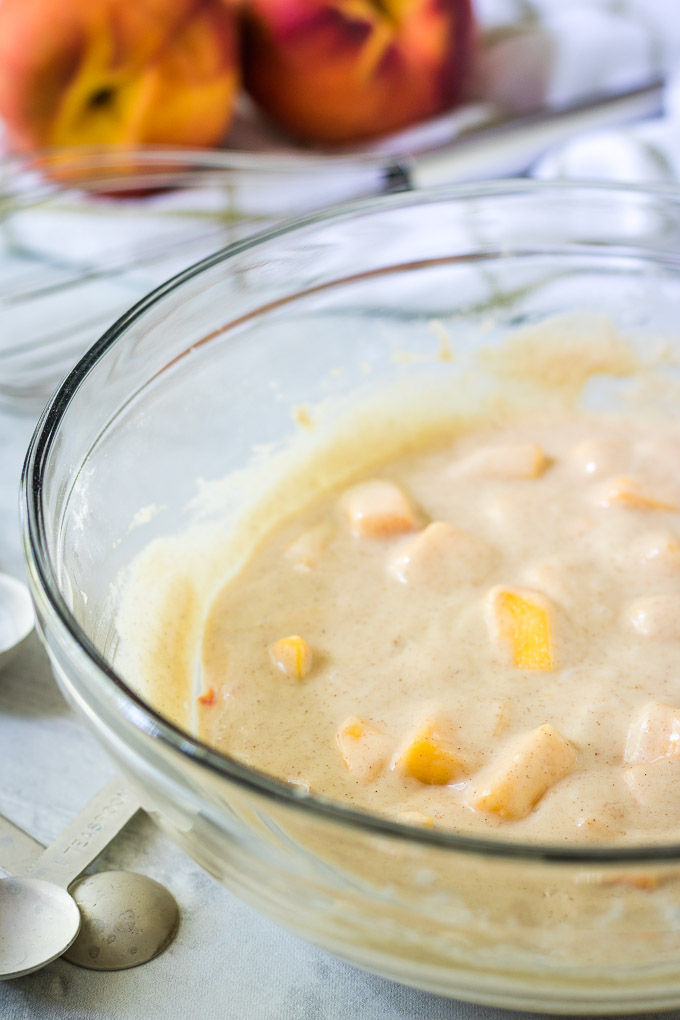 Peach Fritters Steps
Fold the peeled, pitted and cubed peaches into the batter.  Set the batter aside for a minute while we heat the oil up to fry the fritters.
You can use a frying pan or an electric fryer with oil if you have one.  My favorite way to fry them is using a medium size saucepan, but I really should give in and buy an electric fryer.
I fill the saucepan will oil, half way up the pan. I heat the oil to hot and then drop 1/4 cup to 1/2 cup batter into the hot oil. The batter will sink at first and then rise to the top of the oil. Cook the batter for 2 – 3 minutes, depending on the size of the fritters. While they are frying flip them over a couple times if need be to get a nice golden color on both sides of the fritter.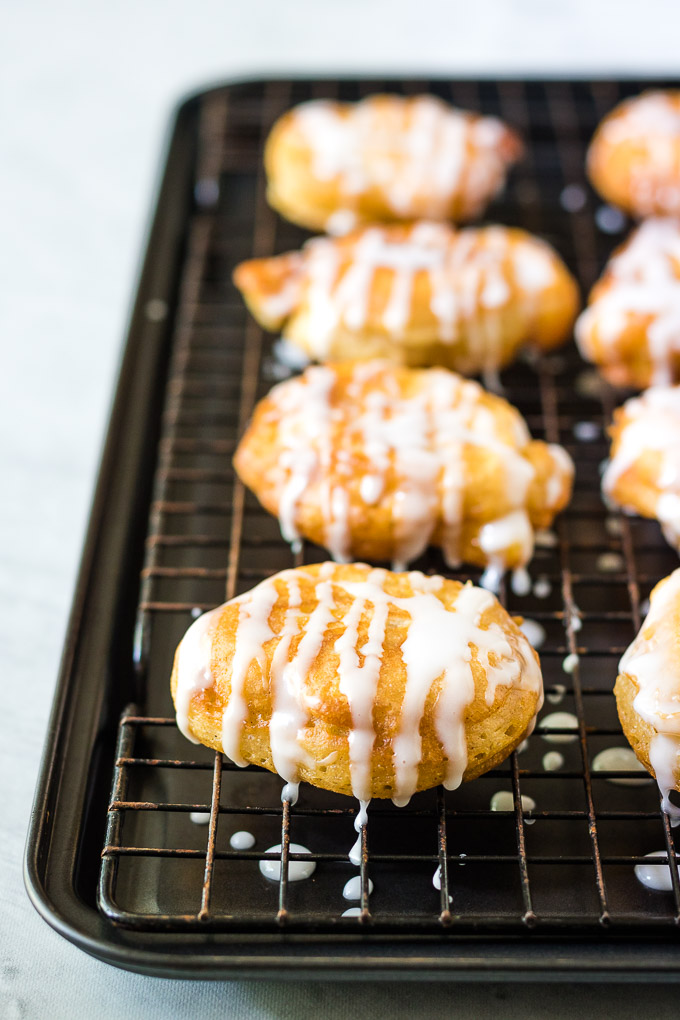 Remove the fritters from the hot oil with long handled tongs. Quickly drain the fritters on paper towels. You have two options to coat the fritters. You can either have a bowl of granulated sugar ready to coat them in after they are fried and drained or make a simple glaze with confectioners sugar and milk.
Things to Keep in Mind
You'll notice there's no confectioners sugar amount in the recipe to make the glaze. Just put confectioners sugar in a bowl, add as little or as much milk as you want to the confectioners sugar to get the drizzling consistency you want. It's really just that easy to make. If you add a tad more milk than you wanted to, just add a little more confectioners sugar to the bowl and stir it in until it's the consistency you were looking for. Place the Peach Fritters on a wire rack and drizzle the fritters with the glaze.
Now while you have those "just make" Peach Fritters on hand, try making yourself a Peach Fritter Sundae darlin, (peach fritters, vanilla ice cream, maybe a sprinkle of pecans and caramel sauce) you"ll love it.  Delicious Fresh Peach Fritters, use those fresh peaches while you've got them to make this delicious easy treat! ENJOY!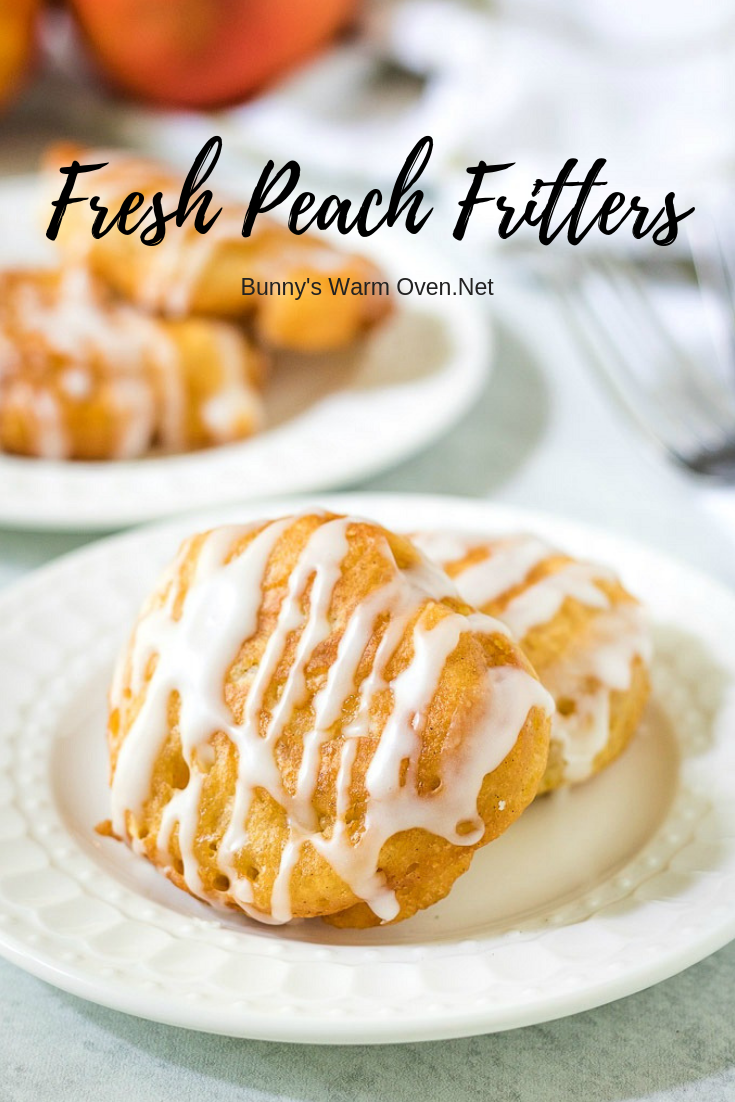 Ingredients
1 cup flour
1 teaspoon salt
1 teaspoon baking powder
2 TBLs sugar
1/2 tsp cinnamon
2 eggs
1/3 cup milk
1 tablespoon melted butter
1-1/4 cups diced peaches I used 2 fresh peaches which came to a little over 1 1/4 cups of peaches
granulated sugar in flat-sided bowl or a powdered sugar glaze
oil for fryer or deep frying pan
Powdered Sugar Glaze
1 cup powdered sugar
milk enough to make a drizzling consistency.
Whisk the milk and confectioners sugar together until the desired drizzling consistency.
Instructions
Using a whisk, combine flour, salt, sugar, cinnamon and baking powder. Whisk in eggs, milk and butter. Fold in peaches.

Heat oil in fryer or pan to 375 degrees F. With long handled ladle, ladle about 1/4 -1/2 cup batter into hot oil. The batter will sink at first and then rise. Cook for about 2 – 3 minutes, depending on size of fritters. Remove fritters from oil with long-handled tongs. Quickly drain on paper towels or newspaper. Then place fritter in bowl of sugar or glaze fritters. Coat with sugar on both sides, or glaze tops of fritters.
Sumber : https://bunnyswarmoven.net/delicious-fresh-peach-fritters/