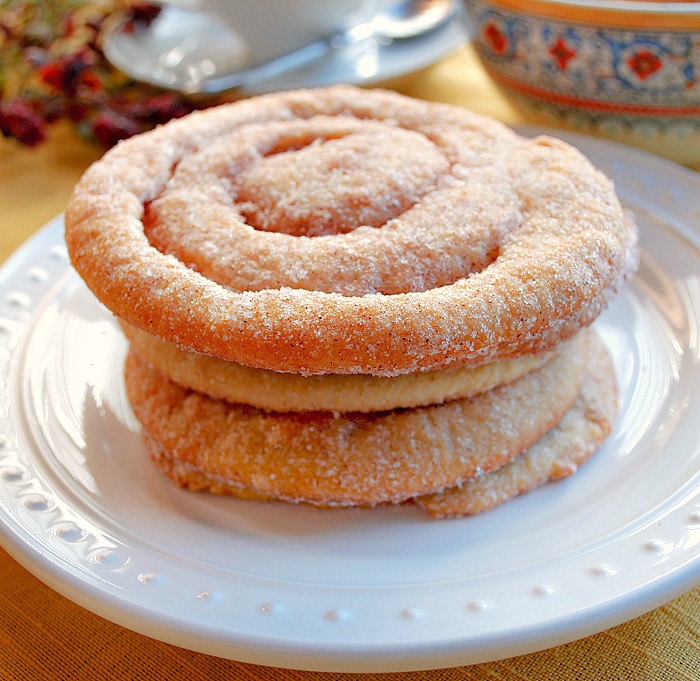 Danish Crispies
Danish Crispies are the BOMB and they're made with yeast!  This is the second recipe I've made out of the Taste Of Home Baking Book 2013!  I saw the picture of this, read the recipe and couldn't WAIT to get into the kitchen to make these!  I absolutely love making things I've never baked before. When I saw that the recipe had yeast it in, it was a done deal.
  A Danish Crispie has the appearance of a big cookie, but there's so much more to it.  It's slightly soft on top, the bottom browns beautifully because of the butter and sugar. There is cinnamon inside and outside, yet it's not too sweet. This isn't "bread like" at all, it has a cookie texture. It would be perfect with coffee or tea.
The dough is made, then refrigerated overnight.  The next day you roll the dough out into an 18×10 inch rectangle, spread butter on it, top it with sugar and cinnamon, roll up from the long side, jelly roll style and cut into 3/4 in slices.
You then put wax paper down and sprinkle the cinnamon and sugar topping down.  Lay your slice down and roll with a rolling pin, flipping over and adding more topping as you go until you have a 5 inch circle. Put your circles on greased cookie sheets, I was able to get six circles to a cookie sheet.  Top with more topping if you like. Bake for 15 to 20 minutes.  Mine were baked more toward the 20 minute mark, they were slightly light brown on top when I took them out. This reminds me of a treat you would get in a bakery or a coffee shop. it's just wonderful!  Paul and I loved them!  Thank you Taste Of Home for your wonderful Holiday Baking Book 2013!  Enjoy!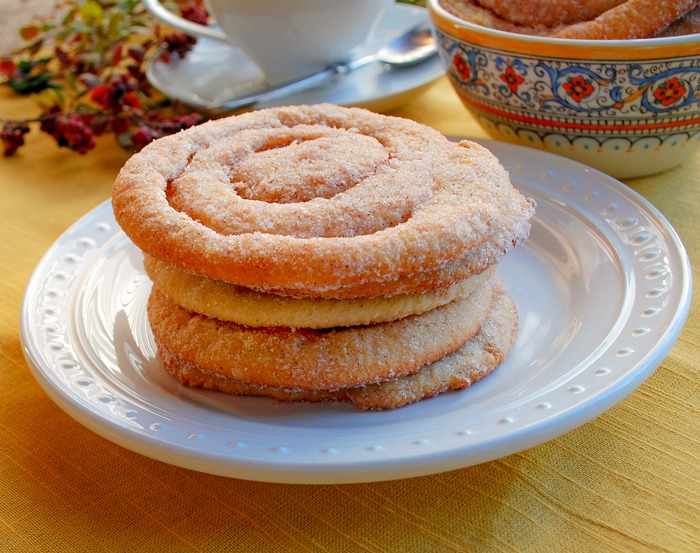 Ingredients
1 package active dry yeast 1/4 ounce
1/2 teaspoon plus 3 tablespoons sugar divided
1 cup warm water 110° to 115°, divided
3 egg yolks
4 cups all-purpose flour
1/3 cup nonfat dry milk powder
1 teaspoon salt
1 cup cold butter. grated
FILLING
8 tablespoons butter softened
1/2 cup sugar
1 teaspoon ground cinnamon
TOPPING
1-1/2 cups sugar
1 teaspoon ground cinnamon
Instructions
In a large bowl, dissolve yeast and 1/2 teaspoon sugar in 1/4 cup water; let stand for 5 minutes. Beat in the egg yolks, remaining sugar and water.

Combine the flour, milk powder and salt; cut in butter until mixture resembles coarse crumbs. Gradually add to yeast mixture to make a soft dough. Place in a greased bowl, turning once to grease top; cover and refrigerate overnight.

Turn dough onto a lightly floured surface. Cover with a kitchen towel; let rest 10 minutes. Roll into an 18×10-in. rectangle; spread with softened butter. Combine sugar and cinnamon; sprinkle over butter. Roll up jelly-roll style, starting with a long side. Pinch edges to seal. Cut into 3/4-in. slices.

Preheat oven to 350°. Combine topping ingredients; sprinkle some on waxed paper. Place slices, cut side down, on cinnamon-sugar; roll each into a 5-in. circle, turning to coat both sides and adding cinnamon-sugar as needed. Place 2 in. apart on greased baking sheets. Sprinkle tops with leftover cinnamon-sugar if desired. Bake 15-20 minutes or until golden brown. Remove from pans to cool on wire racks. Make about 2 dozen.

Sumber : https://bunnyswarmoven.net/danish-crispies/