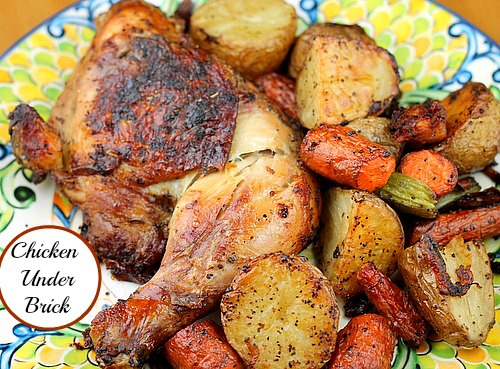 I have a wonderful friend that is an amazing cook.  Patty has a blog called Cooking On A Budget, she cooks and she does it very, very well. She makes budget friendly dinners that are delicious.  I saw Crispy Chicken Under Brick on her blog, it stuck in my head because it just looked incredible.  Let me say here that I'm not an adventurous cook, I can bake up a storm, but cooking is something I need to work on.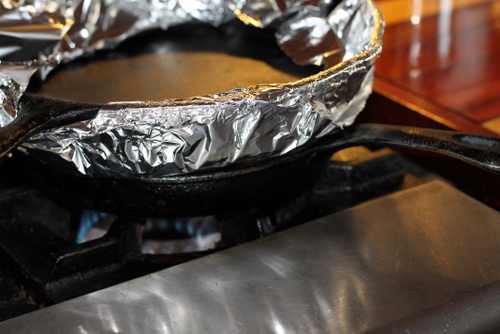 After marinating the chicken quarters they went into a cast iron skillet to brown.  Since I didn't have a brick, I used another cast iron skillet with the bottom wrapped in foil and greased slightly.  I placed it on top of the pan of chicken quarters and cooked the chicken till it was  beautiful brown on both sides.  I removed the quarters from the frying pan, put them in a baking dish and again placed the foil wrapped cast iron pan on top of it and baked for about an hour.   I also decided to put a pan of assorted veggies in the oven to roast along with the chicken.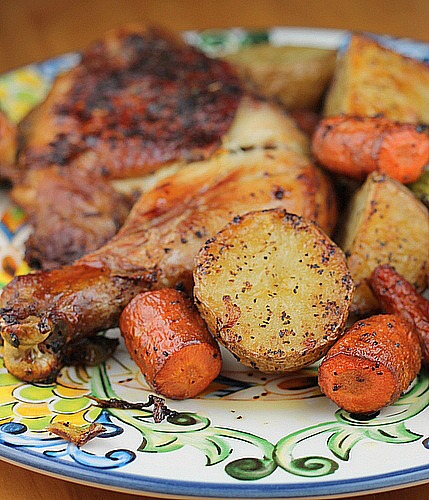 Dinner was magnificent!  Paul said it was the best chicken he ever ate. The marinade, cooking the chicken in the pan first and then baking it under the pan or brick, made the chicken deliciously brown and fall off the bone tender and flavorful.  The man made me promise to be friends with Patty for the rest of my life.  Girl, you are all that and more!  Thank you for encouraging me to make your fantastic recipe.  I'll be scouring your blog for more!
Need some dinner inspiration?  Check out Cooking On A Budget for delicious budget friendly recipes!
Ingredients
1 four pound whole chicken or chicken parts
For the Marinade
4 garlic cloves – finely minced
1/4 cup Olive Oil
1 tbsp . Paprika
3 sprigs fresh Rosemary – leaves finely chopped
3 tbsp . fresh Parsley – finely chopped
1 tsp . crushed red pepper flakes
To make a Sauce
1/2 cup white wine
1 cup chicken broth
Instructions
Wash the chicken parts or whole chicken and pat dry with paper towels. If using a whole chicken ,remove the backbone and press down on the chicken to crack the breast bones. Remove the wing tips.

Next, salt and pepper both sides of the chicken. Place the chicken in a plastic bag, or a container. Combine all of the marinade ingredients and rub all over the chicken. Marinate in the refrigerator for at least an hour, or overnight.

Just prior to cooking, remove the chicken from the refrigerator and allow it to come to room temperature. If using a whole chicken tie the legs together with butchers twine.

Coat a large saute pan, a heavy duty skillet or roasting pan with olive oil. Lay the chicken skin side down in the pan. Place another heavy duty skillet or pan lid on top of the chicken along with the bricks and over moderate heat cook the chicken about 5-8 minutes to deeply brown the skin.

Flip the chicken over and cook the other side for 2 minutes. Flip it back over and place the whole thing (bricks and all) in a preheated 400° oven. Cook for about an hour – until the internal temperature reaches 160 degrees.

Remove from the oven and place the chicken on a platter and cover with foil to keep warm while you are making the pan sauce.

Take out some of the fat, then over medium heat de-glaze the roasting pan with 1/2 cup white wine, stir and allow this to reduce by half. Then add in 1 cup chicken broth, stir and simmer to incorporate all of the flavors and reduce the liquid to half. Spoon this flavorful sauce over the plated chicken.

Sumber : https://bunnyswarmoven.net/crispy-chicken-brick/