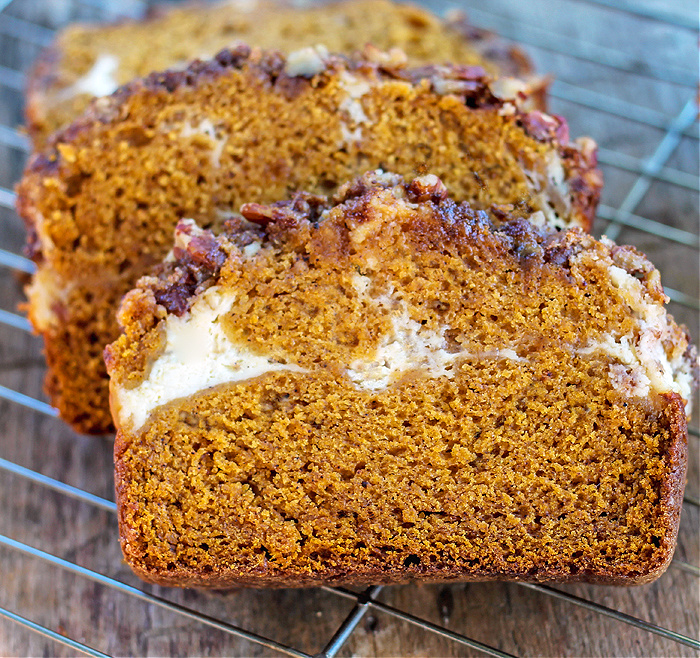 Cream Cheese Pumpkin Bread
I've spent a good many years collecting recipes from newspapers, magazines, cookbooks and then online where I would hand write recipes out and keep them.  I told my husband when he moved me to Kentucky when we got married that I collected them ,but he didn't REALLY comprehend the extent of it till he had to move box upon box of my little stash. How could I leave behind the recipe for the treats our neighbor Mrs Shindle would make us at Christmas, the Peanut Butter Pie Nana made or this Cream Cheese Pumpkin Bread.
The first time I made Cream Cheese Pumpkin Bread I loved it so much I decided to see what it would be like in a different flavored quick bread.  I replaced the pumpkin in the recipe with bananas and the water with buttermilk.  It was a great experiment and a fantastic Cream Cheese Banana Bread!
Today I decided to experiment with a topping for the Cream Cheese Pumpkin Bread.   As much as I loved it before , the topping took it up to perfection!  The brown sugar, cinnamon and pecan topping along with the cream cheese- sour cream layer and pumpkin were unbelievable together!!  This is the PERFECT pumpkin bread!  The recipe makes 2 delicious loaves, after you taste it, it may not be enough.  Enjoy!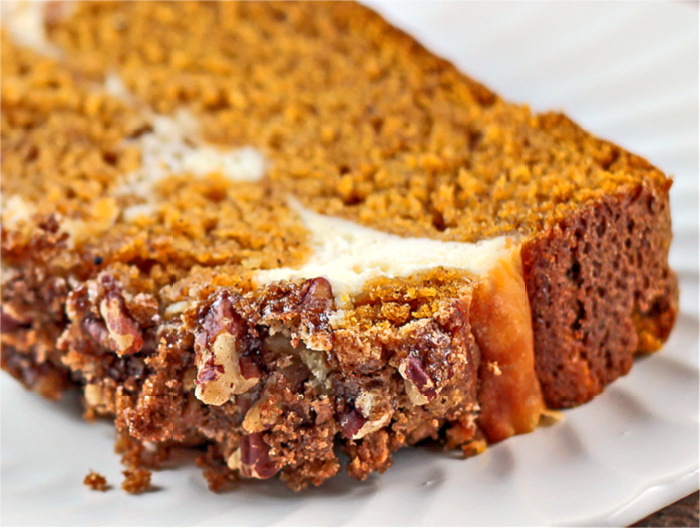 FILLING
1 cup sour cream
1/4 cup sugar
4 ounces cream cheese softened
1 egg
Bread
3 cups flour
2 teaspoons baking soda
2 Teaspoons cinnamon
1 teaspoon nutmeg
1/2 teaspoon salt
2 cups sugar
1 cup butter melted
1/3 cup water
1 ounce can pumpkin 15
4 eggs
Topping
1 cup chopped pecans
1/2 cup packed brown sugar
1/2 teaspoon cinnamon
Instructions
HEAT OVEN TO 350 DEGREES. GREASE AND FLOUR 2 ( 9X5 INCH ) LOAF PANS. SET ASIDE.
FILLING
COMBINE ALL FILLING INGREDIENTS IN SMALL BOWL. BEAT AT MEDIUM SPEED, SCRAPING BOWL OFTEN, UNTIL WELL MIXED. SET ASIDE.
BREAD BATTER
COMBINE FLOUR, BAKING SODA, AND SALT IN MEDIUM BOWL. COMBINE 2 CUPS SUGAR , MELTED BUTTER, WATER, PUMPKIN AND 4 EGGS IN LARGE BOWL. BEAT AT LOW SPEED, SCRAPING BOWL OFTEN, UNTIL SMOOTH. CONTINUE BEATING, GRADUALLY ADDING FLOUR MIXTURE AND SCRAPING BOWL OFTEN, UNTIL WELL MIXED.

SPOON 1/4 ( ABOUT 2 CUPS ) PUMPKIN BATTER INTO EACH LOAF PAN. CAREFULLY SPREAD 1/2 OF FILLING MIXTURE OVER BATTER IN EACH PAN. TOP EACH WITH REMAINING BATTER. CAREFULLY SPREAD PUMPKIN BATTER TO EDGE OF PANS. SPRINKLE TOPPING OVER BATTER.

BAKE 65 TO 70 MINUTES OR UNTIL TOOTHPICK INSERTED IN CENTER COMES OUT CLEAN. COOL 10 MINUTES; REMOVE FROM PAN. COOL COMPLETELY

Sumber : https://bunnyswarmoven.net/cream-cheese-pumpkin-bread/

DON'T MISS A RECIPE!
Get new free recipes delivered right to your inbox
You have Successfully Subscribed!
Content retrieved from: https://bunnyswarmoven.net/cream-cheese-pumpkin-bread/.