Cranberry Orange Granola is a delicious healthy breakfast or snack you can take anywhere.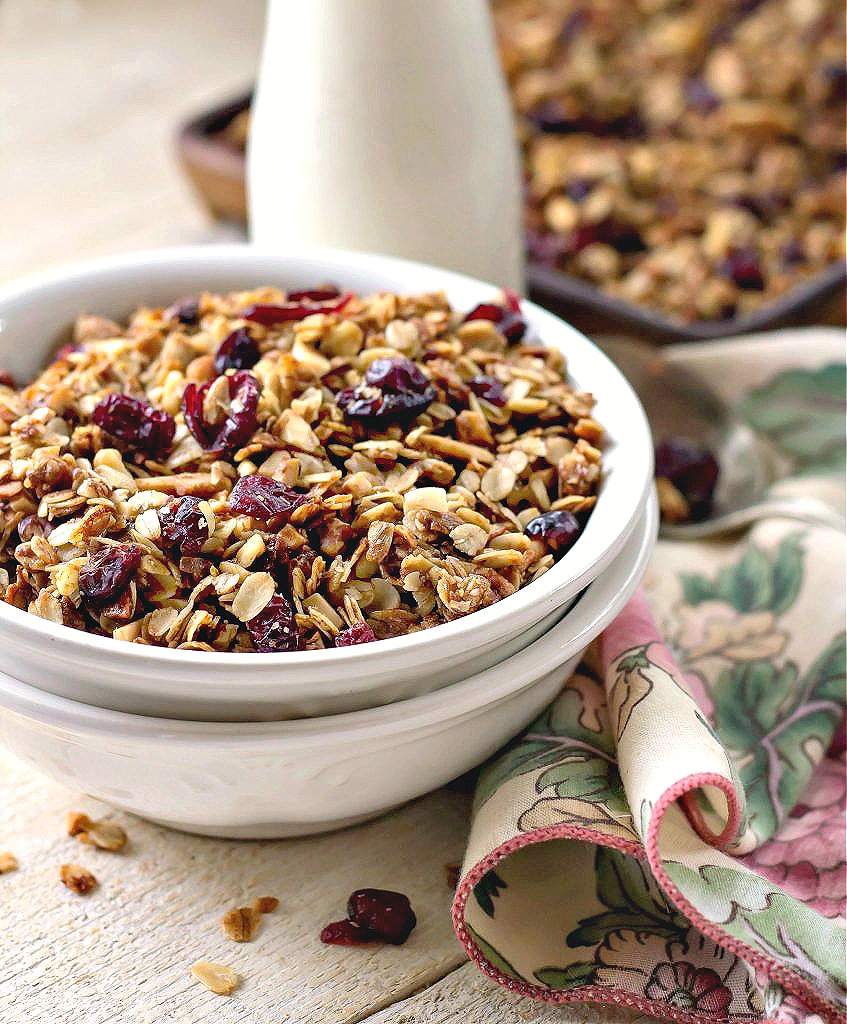 Cranberry Orange Granola
The aroma in the kitchen when Cranberry Orange Granola is baking is heavenly. The flavors of cinnamon and orange baking in the oven transform into a delicious teaser for your taste buds.This is my husband's favorite snack or breakfast. Most people nibble on granola, my husband eats it by the jars full.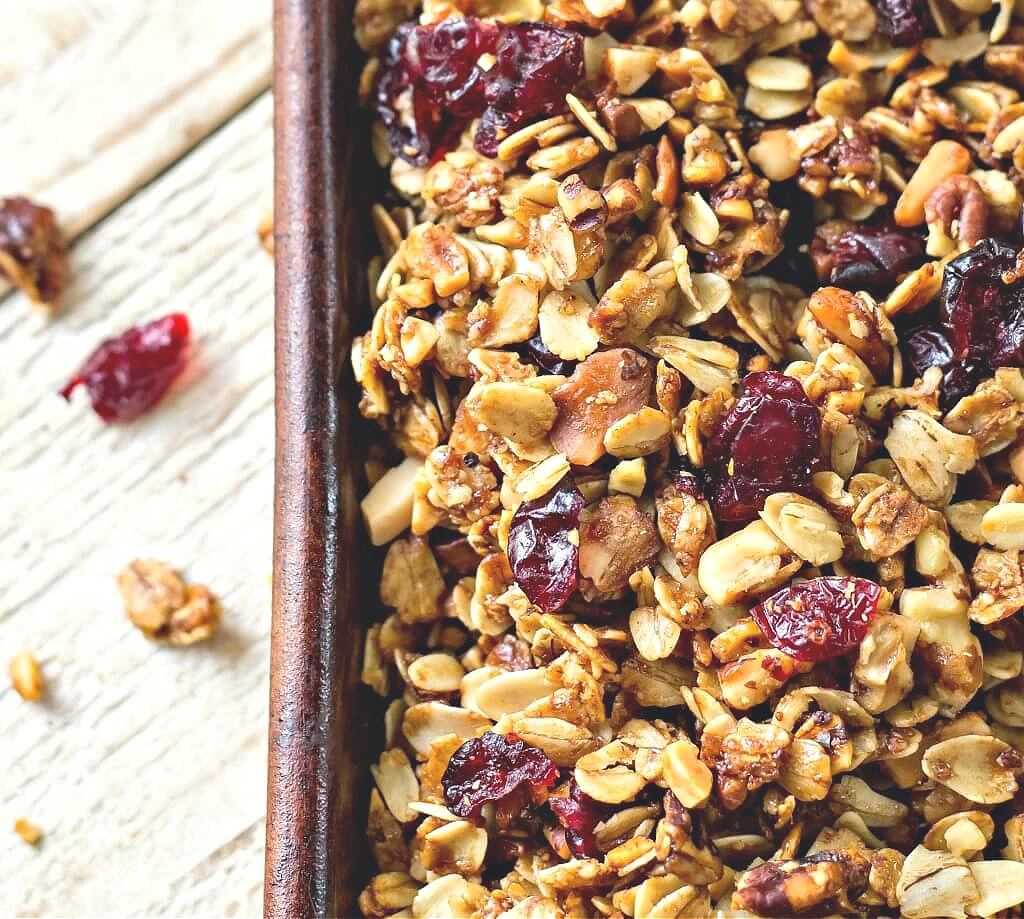 Granola is one of those recipes that you can adapt easily according to what you have in your kitchen cabinets. This batch was made with four different varieties of nuts because that's what was in my cabinet.
Sunflower Seeds
Pepitas
Sesame Seeds
Flaxseed
Dried Fruit (raisins,dates,pineapple,dried cherries,blueberries,strawberries,coconut)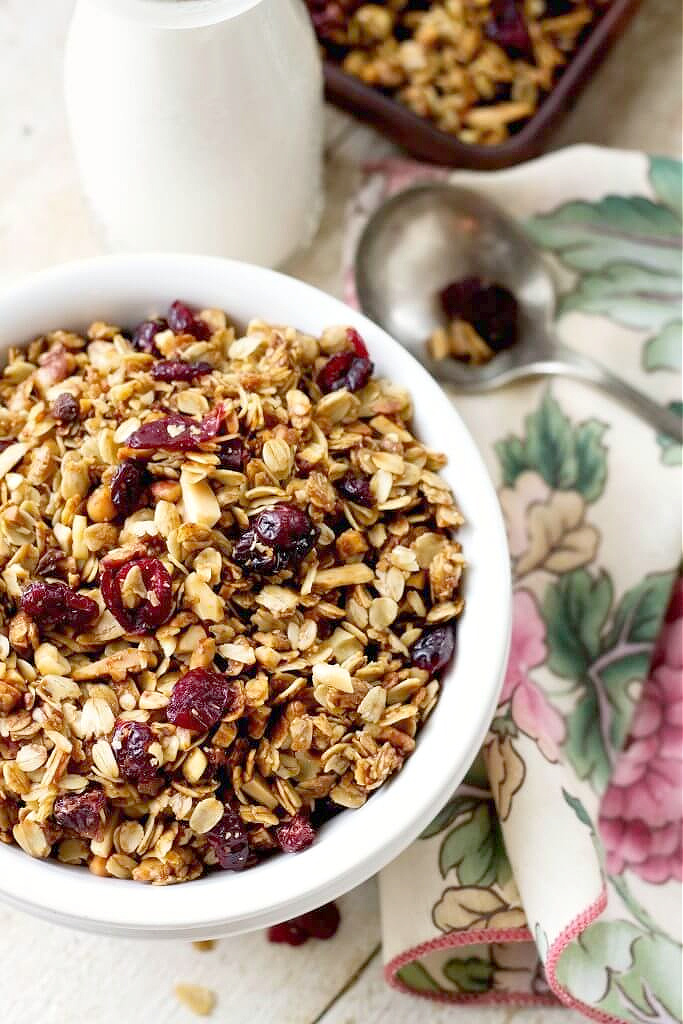 I also made this a few years ago for a neighbor going through chemo who couldn't eat anything.  She was able to nibble on the granola a little at a time and at least get some nourishment from it. Made my heart happy to be able to do that for her. Cranberry Orange Granola –  a delicious treat or gift made in your kitchen, Enjoy!
Ingredients
4 cups old fashioned oats
1/2 cup pecans
1/2 cup macadamia nuts
1/2 cup almonds
1/2 cup walnuts
1/2 cup dark brown sugar
1/3 cup honey
3/4 Teaspoon salt
1/2 Tablespoon vanilla
1/2 Tablespoon orange zest or lemon zest
1/2 cup vegetable oil
1 cup dried cranberries
1 Tablespoon cinnamon
Instructions
Preheat oven to 325 degrees. Line a large baking sheet with either parchment paper or foil.

Place the nuts and oats in a large bowl. If you substitute any of the nuts for seeds ( pepitas, sunflower) place those in the bowl as well. Toss to combine.

Place the brown sugar, honey, salt,vanilla orange zest , cinnamon and oil in a medium size saucepan over low to medium heat.  Stir to combine. Heat the mixture bringing it up to a slow boil. Let it boil a minute or two, it will thicken slightly and coat the oats better. Pour the mixture over the oats in the bowl and stir to combine.

Spread the mixture out in a single layer onto the baking sheet.Bake 20 minutes or until crispy and toasted. Stir once, halfway through baking. Place the sheet on a wire rack to cool. When cooled, add the dried cranberries or any dried fruit if using , stir to combine. Store in airtight containers.

Sumber : https://bunnyswarmoven.net/cranberry-orange-granola/