The delicious combination of chocolate and peanut butter come together beautifully in this Homemade Chocolate Cake with Peanut Butter Frosting.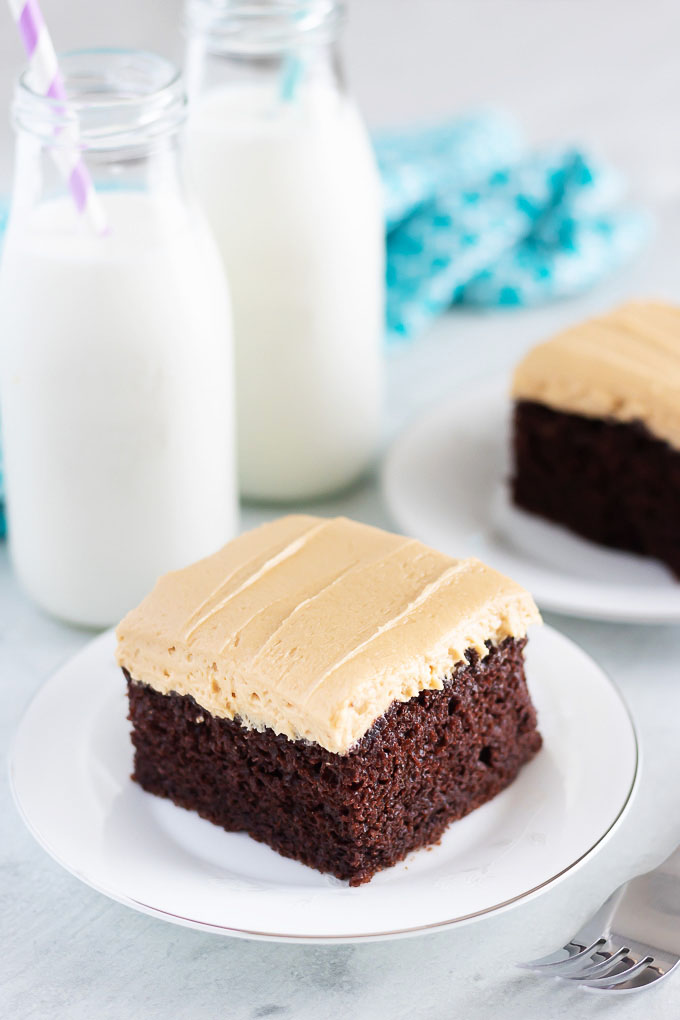 Chocolate Cake With Peanut Butter Frosting
I've been making this delicious old fashioned chocolate cake with peanut butter frosting for 30 yrs. I have an old recipe binder that I started years ago when I was bitten by the baking bug.  The pages are yellowed now and some of the recipes have broken free from the binder and are tucked in there as best they can be.
That's where this recipe has lived for many years.  I can't tell you where it originated from, but I can tell you that my sister-in-law gave it to me.
In April 2008 this chocolate cake made it's debut as the first recipe I ever put on my blog.  It's very special to me and brings back memories of birthday parties and special occasions with my kids.
So what makes this Chocolate Cake with Peanut Butter Frosting so special?  The flavor is very special.  Chocolate and coffee combined give you a spectacular mocha flavor.  The texture of the cake is very moist and soft. The Peanut Butter Frosting makes the cake fantastic. Who can resist the combination of chocolate and peanut butter.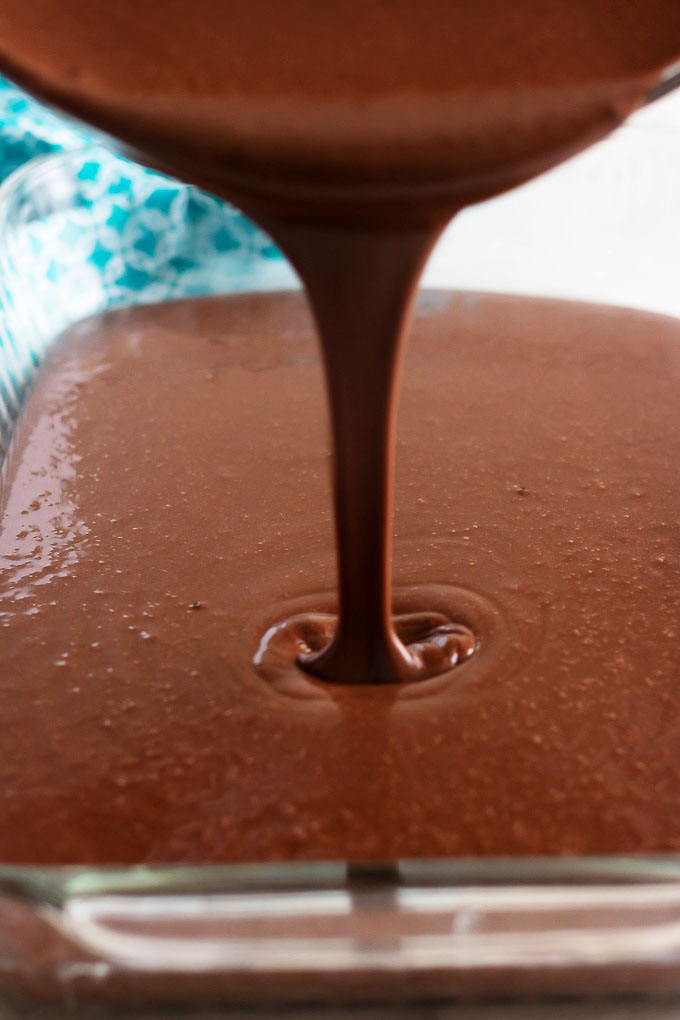 I make this in a 13×9 inch pan, I've also made it as a layer cake.  if you don't need that much cake, half the recipe and make it in a 9 inch cake pan. When you make this, be prepared to give out the recipe, it's really that good.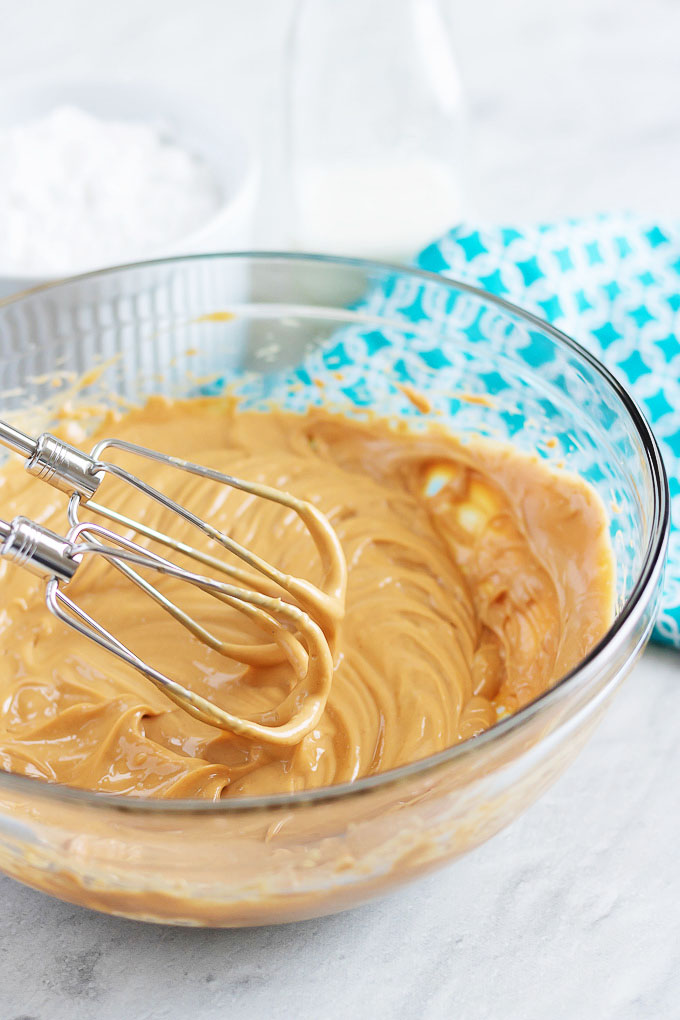 Any way you make it, your going to love it, especially the peanut butter frosting.  I've always frosted this cake with peanut butter frosting but feel free to use the frosting of your choice.  I hope you enjoy Homemade Chocolate Cake With Peanut Butter Frosting  for as many years as I have, ENJOY!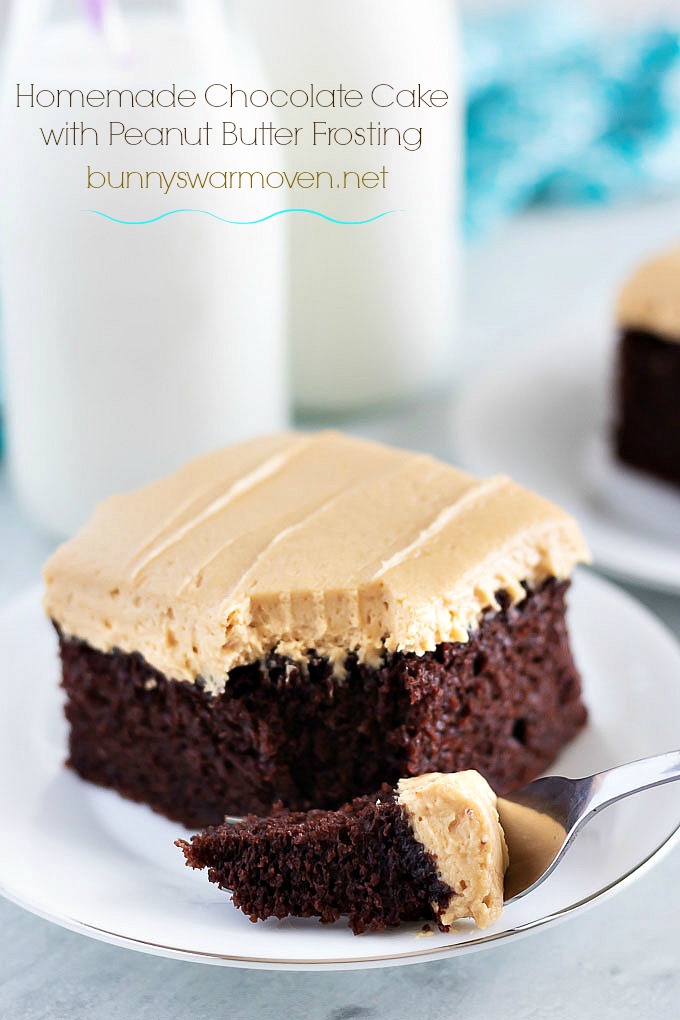 Ingredients
2 cups flour
2 cups sugar
3/4 cup Hershey's cocoa
1 1/2 tsp baking soda
1/2 tsp baking powder
2 large eggs
1 tsp salt
1 cup buttermilk
1 cup vegetable oil
1 1/2 tsps vanilla
1 cup brewed coffee instant coffee will do in a pinch
Peanut Butter Frosting
1/2 cup butter softened
1 cup creamy peanut butter
3 TBLS milk or as needed
2 cups confectioners sugar
Instructions
Cake Directions
Preheat oven to 300 degrees. Grease the bottom and sides of a 13×9 inch baking pan.

Mix the flour sugar, cocoa, salt, baking powder and baking soda together in a large bowl.

Beat the eggs with an electric mixer until they are bright yellow and slightly thick. Add the oil, coffee and vanilla to the eggs, mix until well incorporated. Add the flour to the mix, alternating with the buttermilk, mixing after each addition until just incorporated. Start with the flour first, then buttermilk, flour, buttermilk and end with flour.

Pour the batter into the prepared baking pan. I always hold the pan up a few inches from the counter and let it fall to get rid of air bubbles in the batter. Bake at 300 degrees for 1 hour. Test for doneness with a toothpick.
Frosting Directions
Place the butter and peanut butter into a medium bowl, and beat with an electric mixer. Gradually mix in the sugar, and when it starts to get thick, incorporate milk one tablespoon at a time until all of the sugar is mixed in and the frosting is thick and spreadable. Beat for at least 3 minutes for it to get good and fluffy. Frost cake after it has cooled completely.
Sumber : https://bunnyswarmoven.net/homemade-chocolate-cake-with-peanut-butter-frosting/