Chicken BLT Salad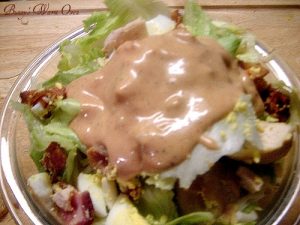 I wouldn't consider myself a great cook, I'm really pretty much into baking. Baking is what I do to relax and forget about work. Cooking is nice to except I'm not a very adventurous cook.  To Read More, Click On The Recipe Title.
I have the 3 rug rats and Sam to think about when I'm making a meal, they'll eat anything I bake but meals are different. I don't cook with fancy ingredients cause frankly the kids would probably turn they're noses up at it and it would make me sick to waste money and ingredients! When I come across something that my kids and hubby absolutely love I will post it. This Chicken BLT Salad falls into that category. They actually request this, when I made this the first time, Matt turned to me and asked when I was gonna make it again. Yeah they LOVED it.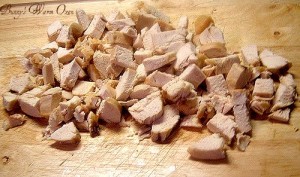 I baked about 5 or six boneless chicken breast and just cut them up.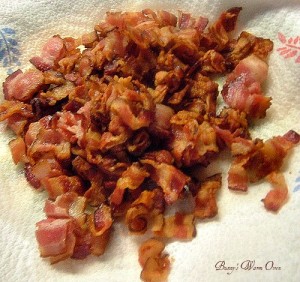 Then came a pound of bacon, that I chopped up and fried till it was crispy.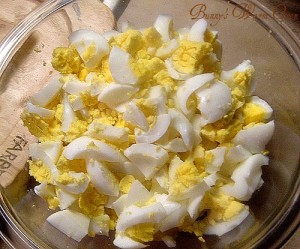 I hard boiled 8 eggs (we don't worry about cholesterol here!) And chopped them up.And then there was the dressing, oh yes that wonderful dressing! The picture of which ended up at the top of the post with the salad, how the heck did I do that!! Sometimes I amaze myself. LOL. All these ingredients together make a heck of a good salad! Oh yeah your suppose to put tomatoes in it too, but Sam doesn't like tomatoes, put anything you want in it, cheese, other vegetables and go to town! Who wants to spend hours in the kitchen, just make it look like you did!!
Dressing
1/2 cup mayonnaise
4 tbls barbecue sauce
2 tbls finely chopped onion
1 tbls lemon juice
1/4 tsp pepper
8 cups torn salad greens
2 large tomatoes, chopped ( may use cherry or grape tomatoes)
1 1/2 lbs boneless, skinless, cooked , cooled and cubed
10 bacon strips, cooked and crumbled
2 hard boiled eggs
In a small bowl, combine the first 5 ingredients; mix well. Cover and refrigerate until serving time. Place salad greens on a large platter. Sprinkle with tomatoes, chicken and bacon, garnish with eggs. Drizzle with dressing.
Sumber : https://bunnyswarmoven.net/chicken-blt-salad/