Chicken and Spinach Skillet Dinner
Chicken and Spinach Skillet Dinner is an easy delicious dinner you can have on the table in no time at all. Looking for healthy chicken and spinach recipes? Start here!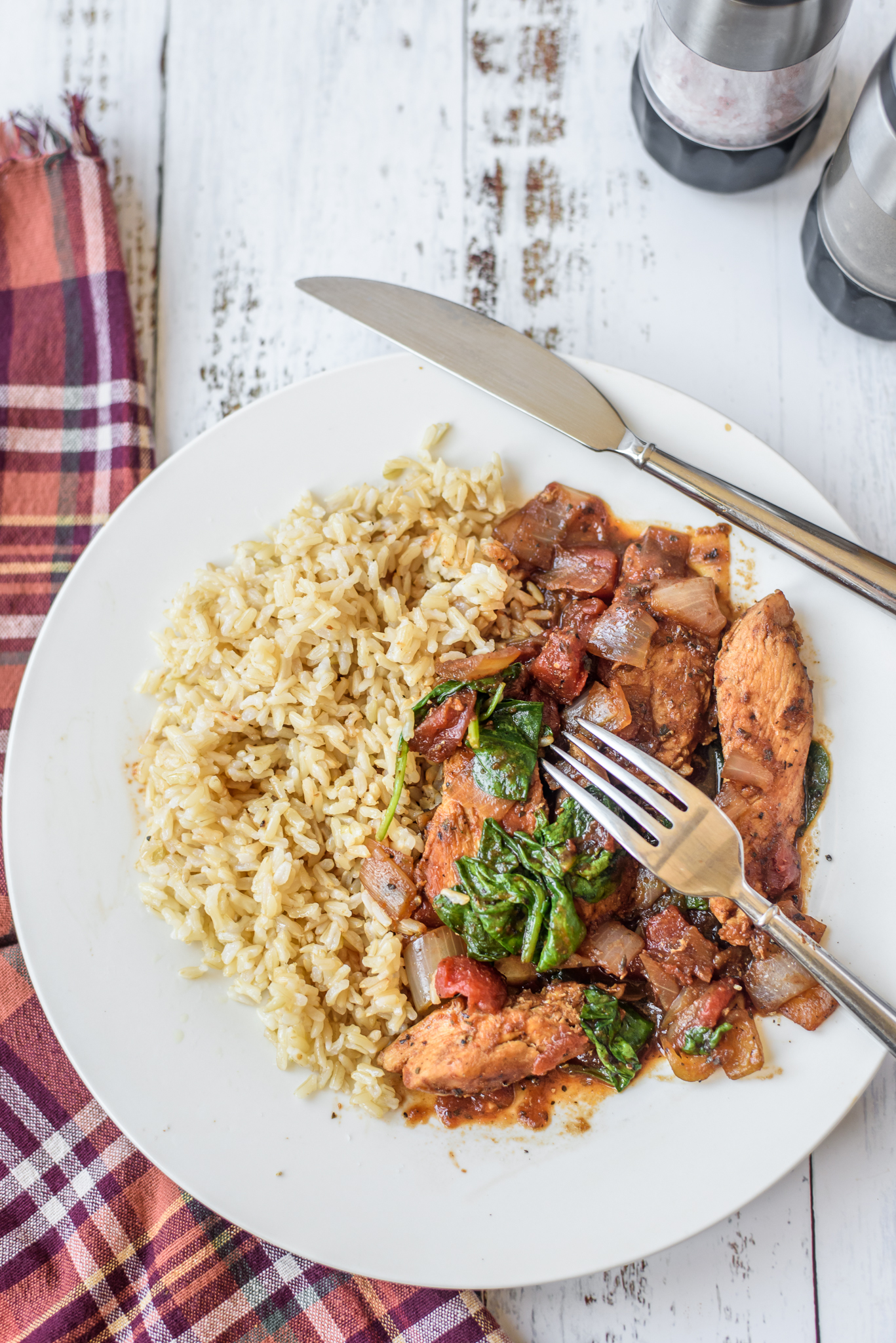 I had a busy day today mopping up our wooden floors from all the rain mess.  First, our downstairs has no carpet, none.  The wooden floors that Paul put in are gorgeous, but not when they're tracked up with muddy footprints. Incidentally, the mop and bucket and I had a date. Likewise, you can't have clean floors and not dust.  Lastly,  why not wipe down the stove and the counters in the kitchen?
Hence, just mopping the floors snowballed into an all-out clean fest. Therefore before I knew it, it was time for dinner. Consequently, after everything I cleaned, I wanted dinner to be fast, delicious and with minimal dishes to wash.  As a result, I looked straight to one of my healthy chicken and spinach recipes. Chicken and Spinach Skillet Dinner fit those requirements to a "T".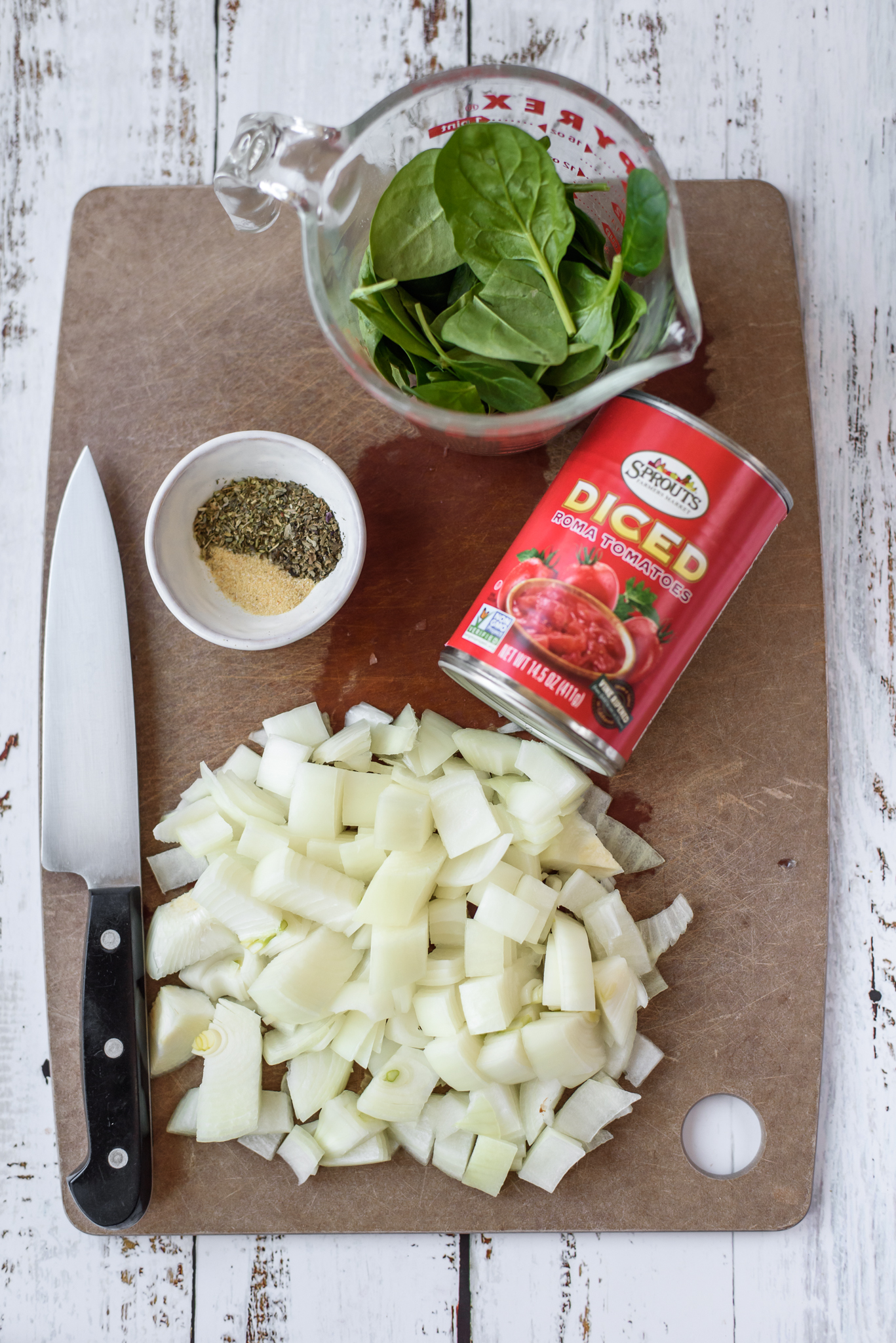 My first memory of spinach
The first memory I have of eating spinach as a kid was at my grandparents' house.  I remember sitting at the dinner table with my cousin looking down at my plate that had this glob of canned cooked to mush spinach sitting on it. Grandpa was doing his best to coax us into eating it. "If you eat it you'll be big and strong just like Popeye," he said.  All I kept thinking as I sat there looking at it was, I wanna be like Yogi Bear and eat what's in the picnic basket, Grandpa.
Generally, that was my idea of spinach for a long time.
However, fast forward 50 plus years (cause that's about how long it took me to get the vision of that green mushy canned blob of spinach out of my head) to a grown woman who loves fresh green spinach from the garden or cooked in a dish until it's just wilted so it retains it gorgeous color and texture. What a difference fresh makes!
Maybe you're in the same position. Maybe you're trying to get someone you know to like spinach. Chicken is a great place to start. You can take something they are already comfortable with and add spinach. Maybe you are here because you are looking for some healthy chicken and spinach recipes. You made the right choice by starting with this chicken and spinach recipe.
Let's gather the ingredients for Chicken and Spinach Skillet Dinner and make this chicken and spinach recipe together.
Chicken and Spinach Skillet Dinner Ingredients:
2 large boneless chicken breasts cut into strips
1 medium onion, diced
2 Tablespoons olive oil
One – 14 1/2 oz can diced tomatoes, undrained
1/4 cup water
1 Teaspoon dried basil
1/2 Teaspoon dried oregano
1/2 Teaspoon black pepper
a 1/2 Teaspoon salt
1/2 Teaspoon garlic powder
1 cup baby spinach, packed tight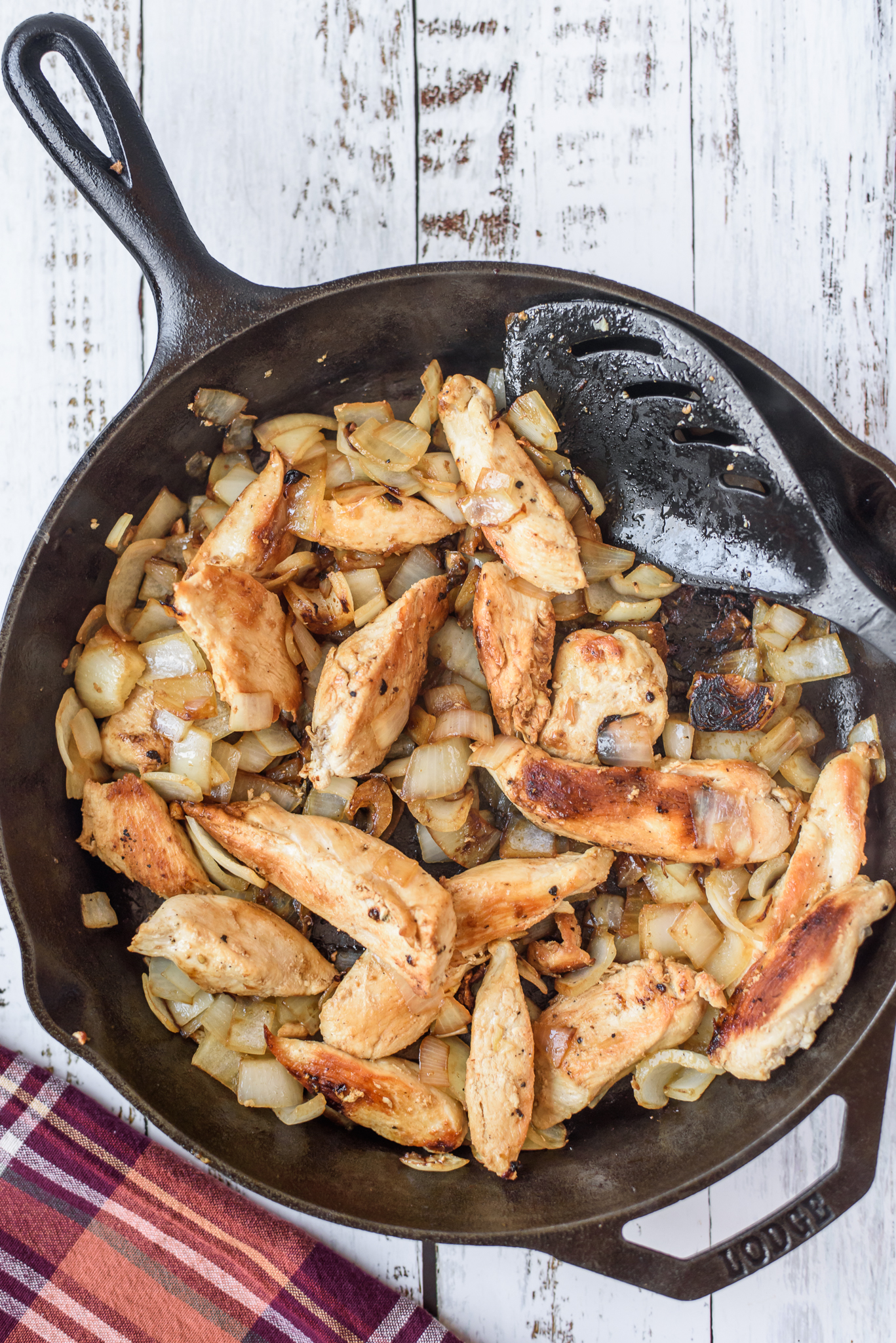 Chicken and spinach recipe: The Steps
Place the olive oil in a saute pan over medium to high heat. Add the boneless chicken strips to the pan. Cook and stir the chicken strips until they are browned about 10 minutes. Add the diced onion to the pan and cook until the onions are soft.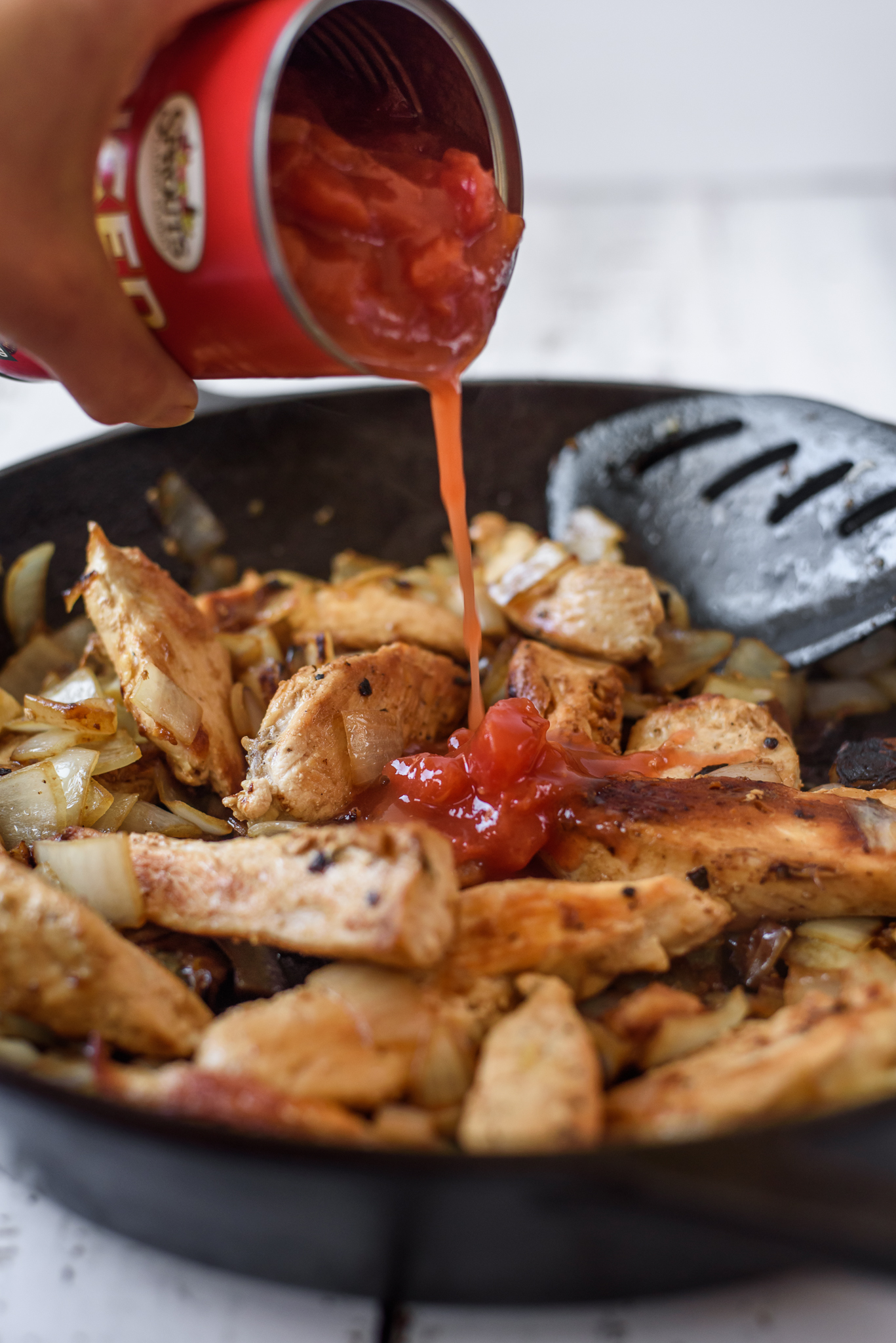 Add the undrained tomatoes and water to the pan. Stir the mixture around a little bit to mix everything together.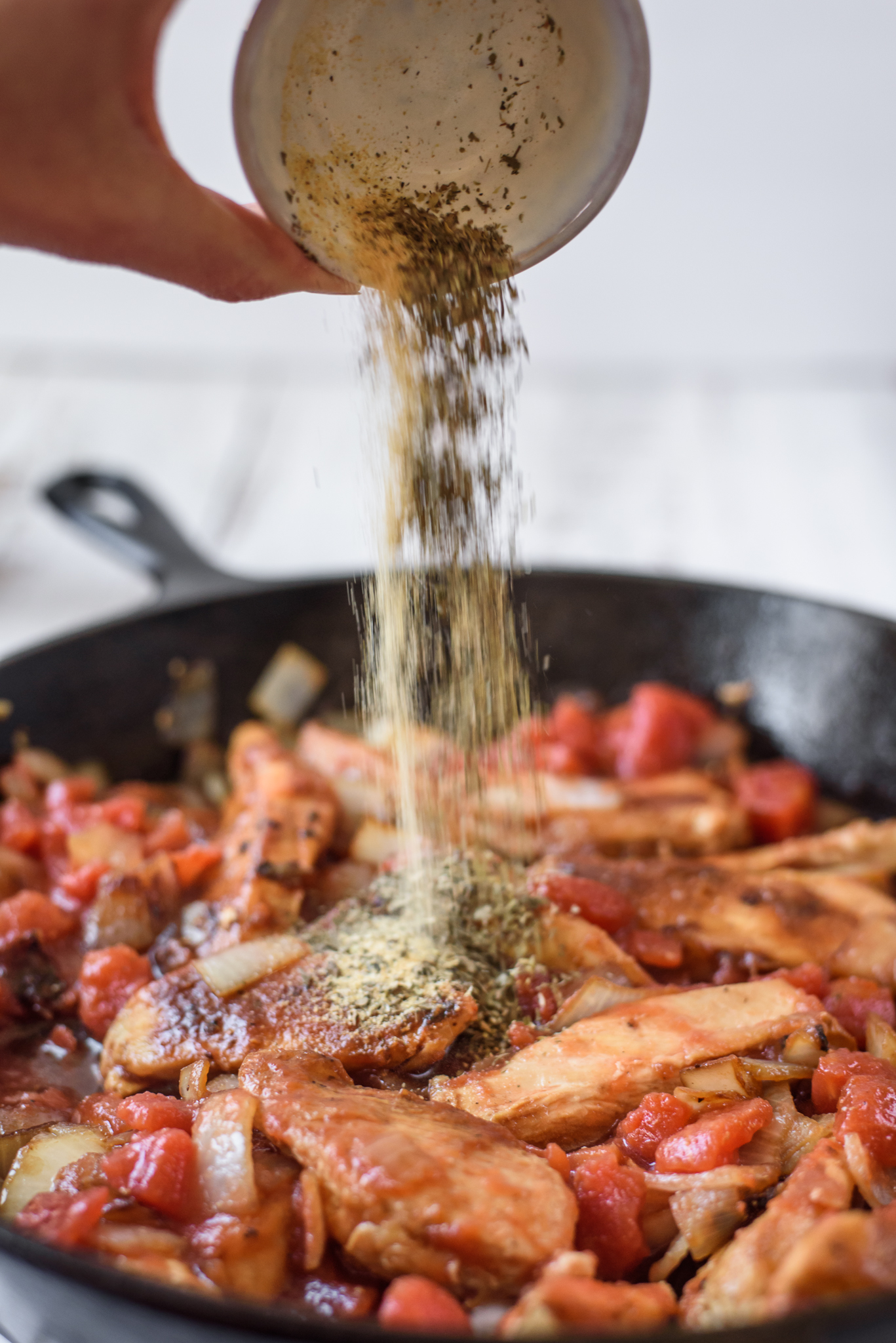 Place all the spices and seasoning together in a little bowl and swirl them together. Add them to the skillet and mix to combine everything well. Bring the mixture up to a boil while stirring.  Reduce the heat to low, cover and simmer for about 5 minutes.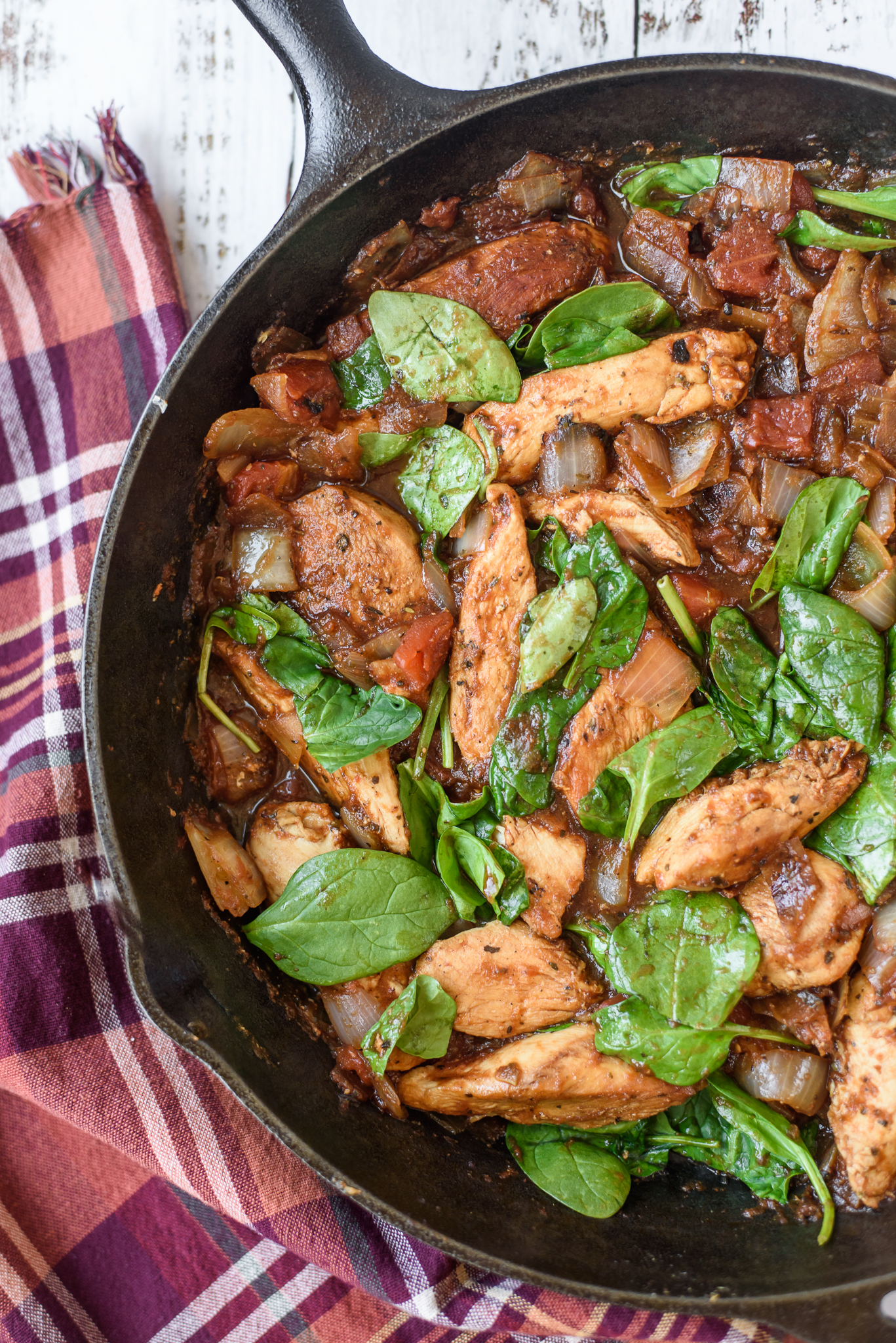 After five minutes, remove the lid and add the fresh spinach to the pan. Next, cook and stir until the spinach begins to wilt. In general, you want the spinach to retain its gorgeous green color and texture. As a rule, it doesn't need to cook any longer than it takes to wilt it.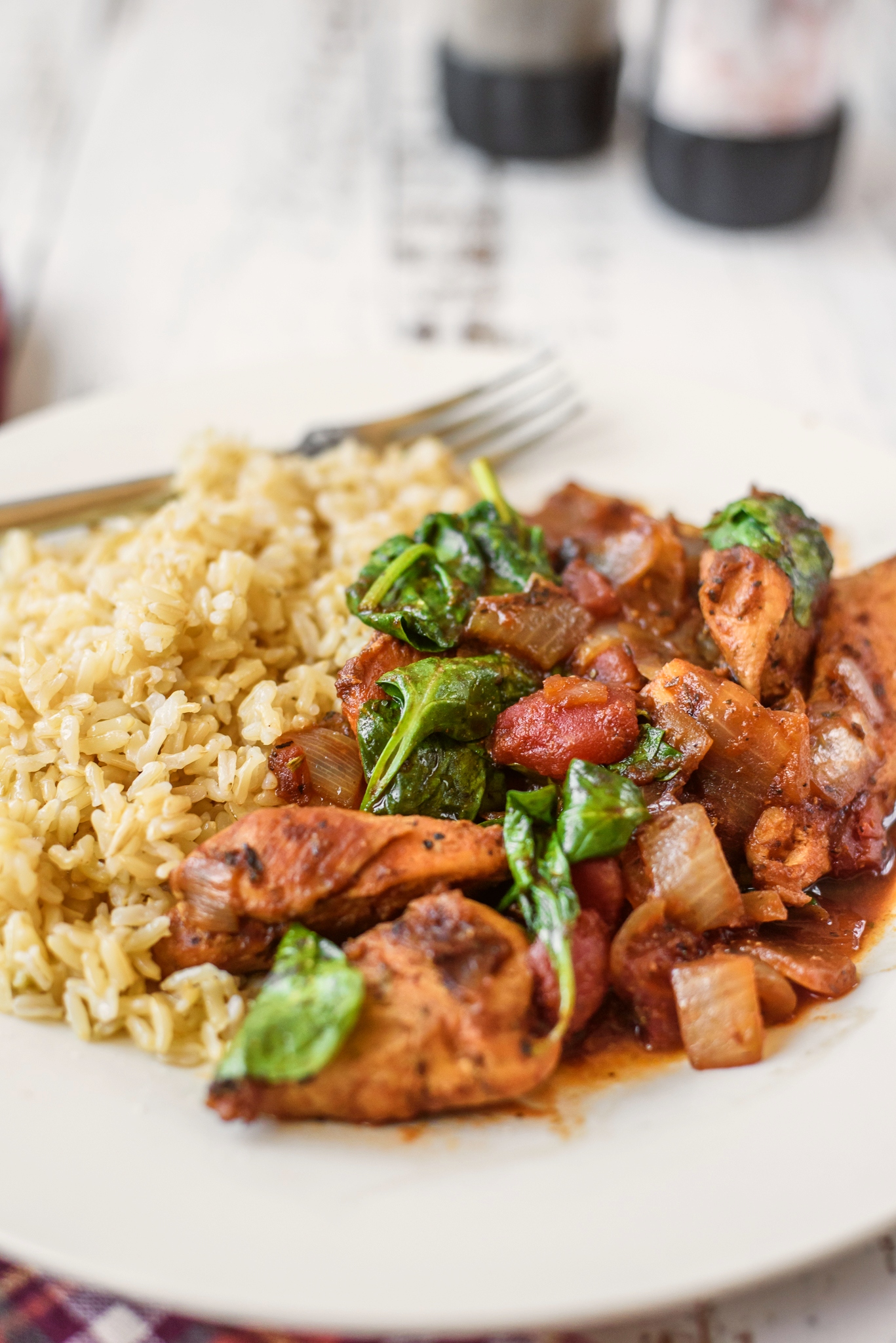 Chicken and Spinach Skillet: The Dinner
In this case, this skillet dinner was sooooo good!  In the first place, it has a nice fresh taste and was very easy to put together. Also, I didn't feel like messing with side dishes so I served it with long grain rice that I cooked in chicken broth.  Perfection!  My husband Paul loved it and I was out of the kitchen in no time at all. To summarize, Chicken and Spinach Skillet Dinner, definitely a keeper, homemade goodness from our house to yours, ENJOY!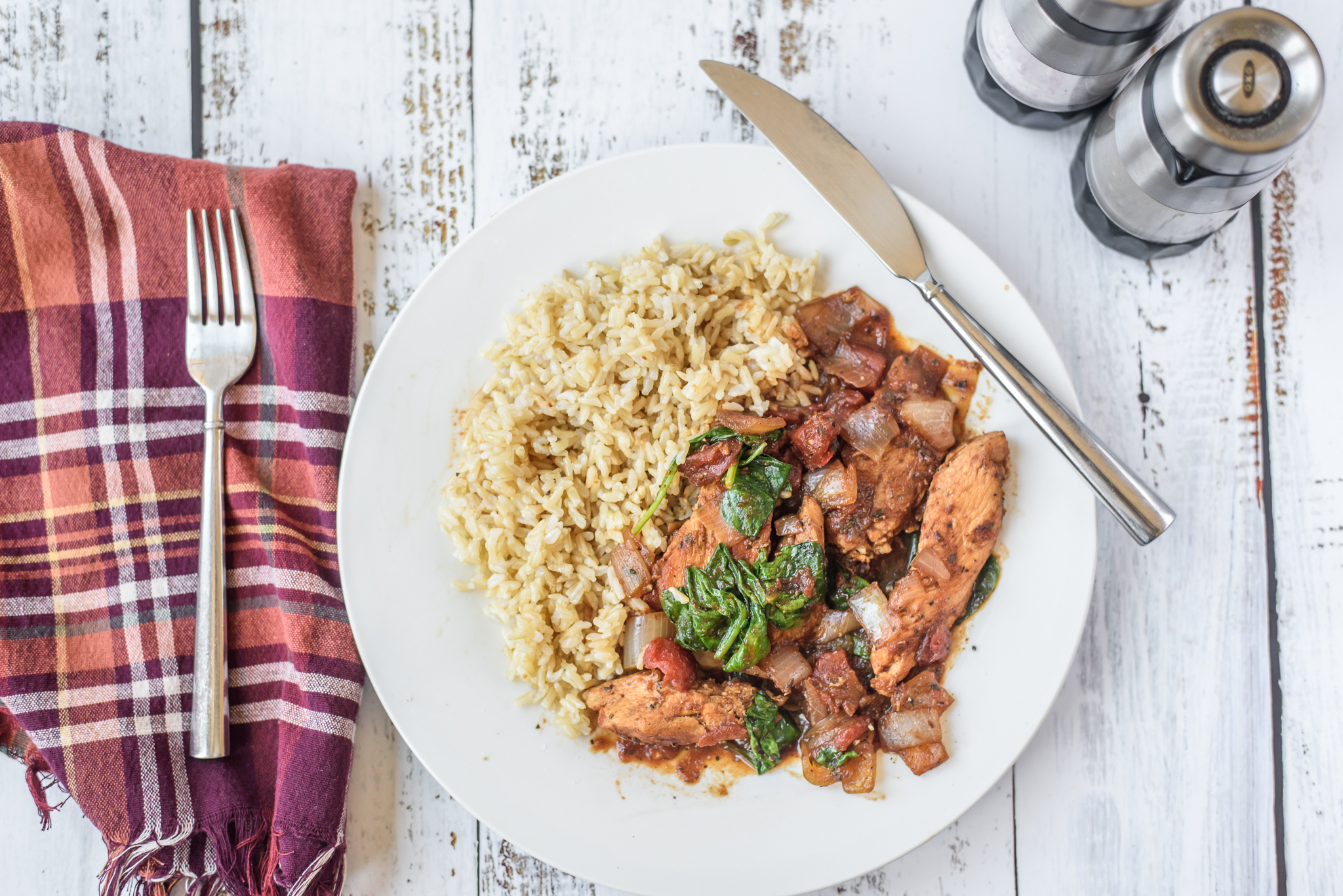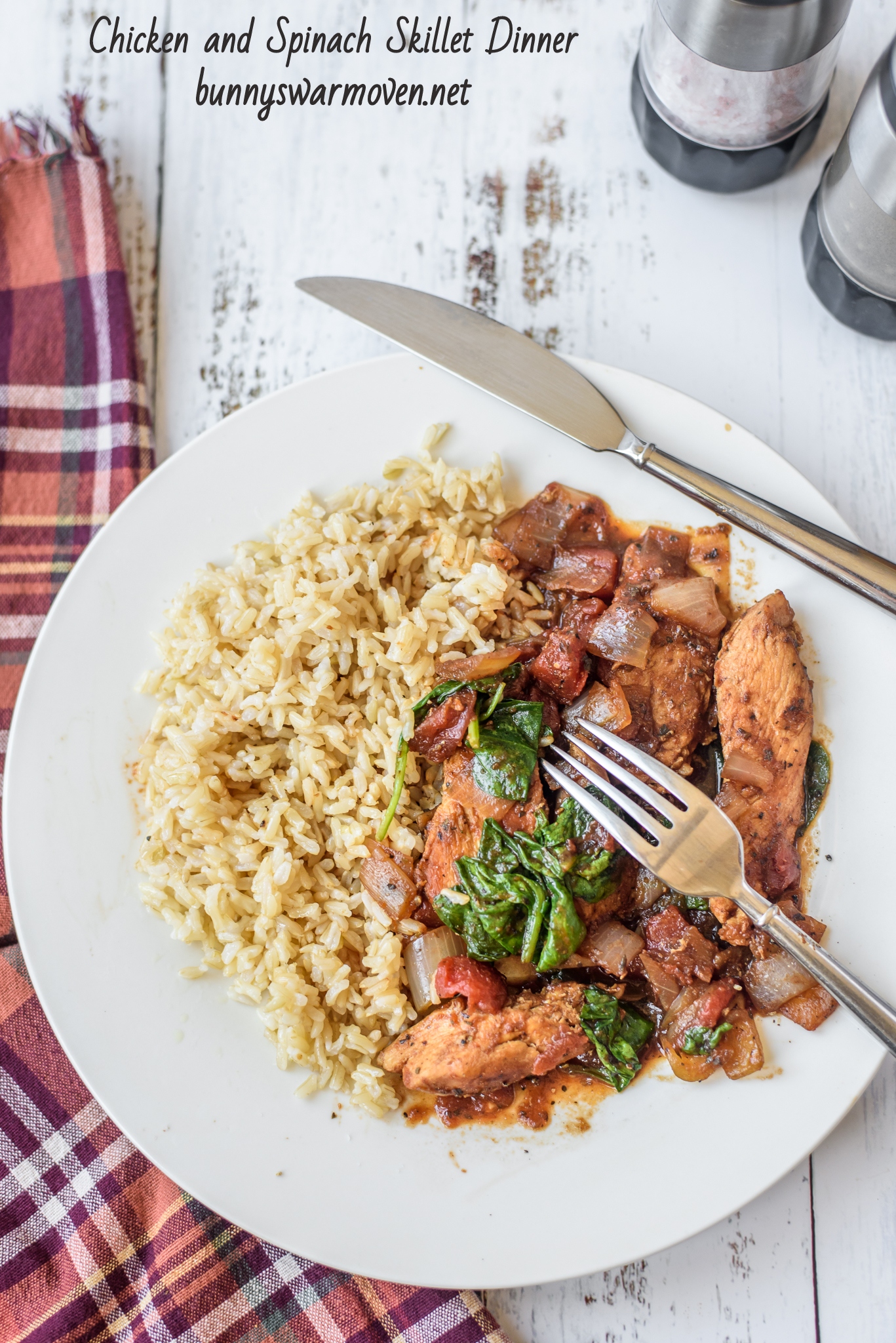 Sumber : https://bunnyswarmoven.net/chicken-spinach-skillet-dinner/