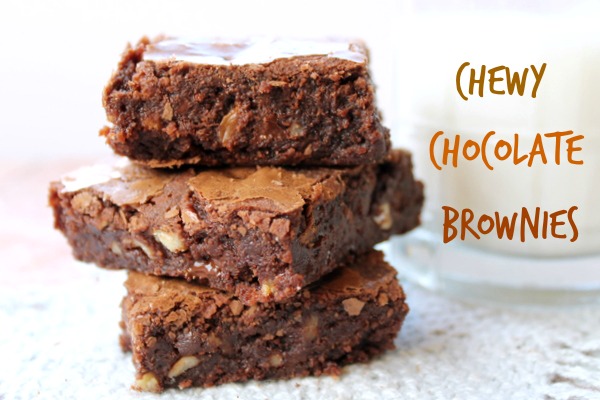 There are three kinds of chocolate in these chewy, fudgy best ever brownies!
If you're looking for a cake type brownie this isn't a recipe you want.  This is a chocolaty,chewy, fudgy brownie…grab yourself a glass of milk and experience brownie heaven.  There are three kinds of chocolate in this recipe…cocoa, unsweetened chocolate and chocolate chips.  I added a cup of chopped pecans at my husbands request which made it even better as far as we were concerned.  A little crunch thrown into a chocolaty chewy fudgy brownie just puts it over the top.
Chewy Chocolate Brownies
Ingredients:
1/3 cup cocoa
1/2 cup plus 2 tablespoon boiling water
2 ounces unsweetened chocolate
4 tablespoons butter (1/2 stick), melted
1/2 cup plus 2 tablespoons vegetable oil
2 large eggs
2 large egg yolks
2 teaspoons vanilla
2 1/2 cups sugar
1 3/4 cups all-purpose flour
1 teaspoon salt
1 cup chocolate chips
1 cup chopped pecans
Directions:
Preheat oven to 350°F. Spray a 9-inch x 13-inch pan with nonstick cooking spray.
Whisk the cocoa and boiling water together in a large bowl until smooth. Add the unsweetened chocolate and whisk until the chocolate is melted. Whisk in the melted butter and oil. The mixture may look curdled at this point.Add the eggs, egg yolks and vanilla. Continue to whisk until smooth. Whisk in the sugar until fully incorporated. Using a rubber spatula, fold in the flour, salt, and chocolate chips ( add the nuts at this time if using) all at once, taking care to not over mix.Scrape the batter into the prepared pan and bake until a toothpick inserted in center comes out with a few moist crumbs attached, about 30-40 minutes. Do not overcook. Transfer the pan to a wire rack and let cool completely, about 1-1 1/2 hours. Cut when cooled.
Sumber : https://bunnyswarmoven.net/the-best-chocolate-chewy-fudgey-brownies-ever/