Cheesy Chicken and Pasta
The sauce in Cheesy Chicken and Pasta has Parmesan cheese and cream cheese in it to make it creamy and cheesy. This delicious meal comes together quickly for a fast weeknight meal.
You can't beat an easy one pan dinner that the whole family will gobble up, and maybe even ask for seconds, can you? This one pan cheesy chicken pasta is just the answer for your busy weeknight.  It's so easy, and so delicious.
Have you made a one pan/one pot/one dish meal before? This was my first, but it will definitely not be my last.  I was afraid cooking a one pan meal would be hard, but silly me – everything is literally cooked in one pan, even the pasta noodles.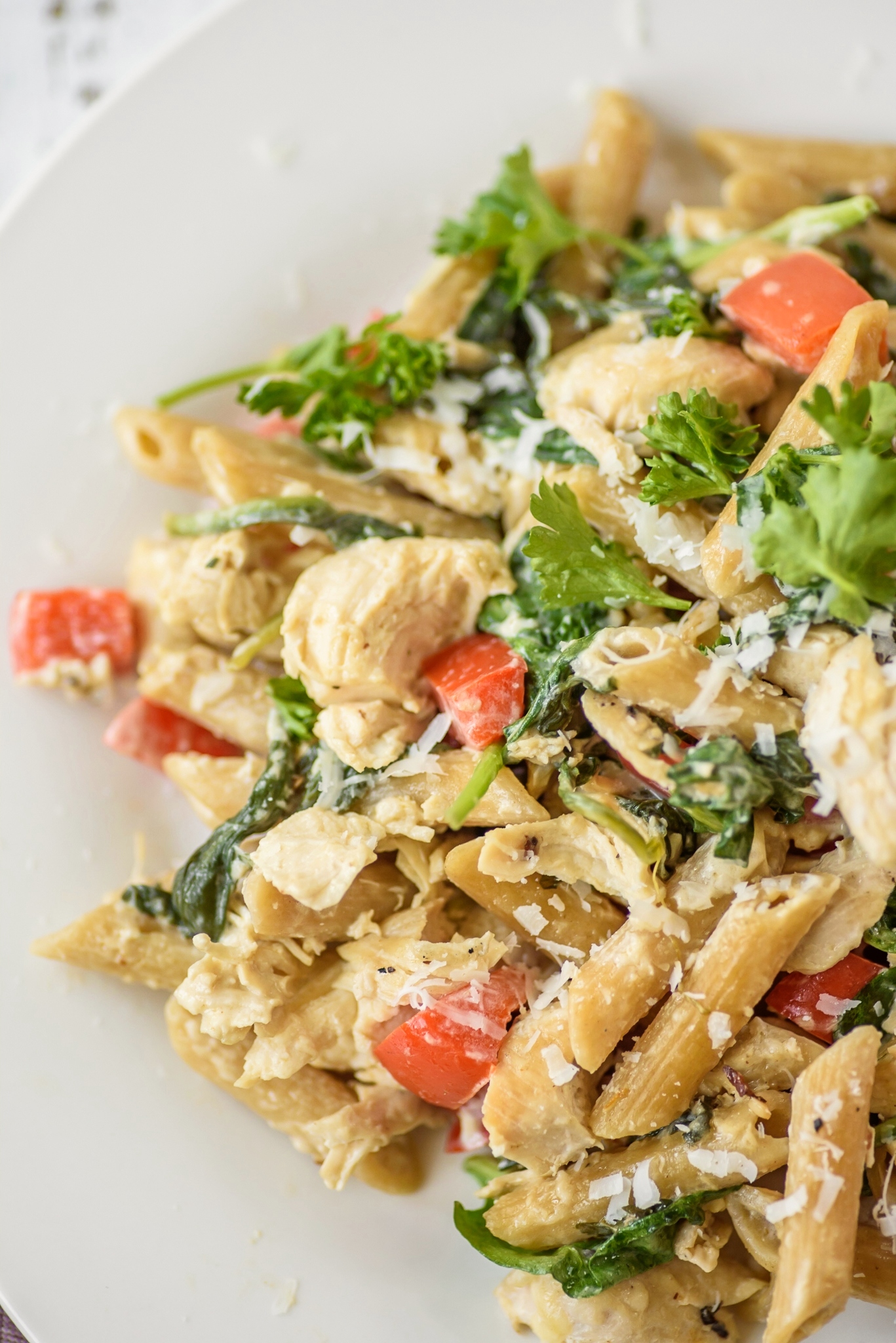 Cheesy Chicken Pasta is so good my husband Paul asked me to make it again tomorrow night. Believe me it's very unusual for him to ask for the same dinner two nights in a row. What makes this so good?  The sauce has Parmesan cheese and cream cheese in it to make it creamy and cheesy.  The addition of lemon juice gives the sauce a very bright flavor while the pasta and chicken make it a hearty dinner.  I used spinach to round the dish up with, you could steam some broccoli and add it to the pan instead of Spinach if you liked.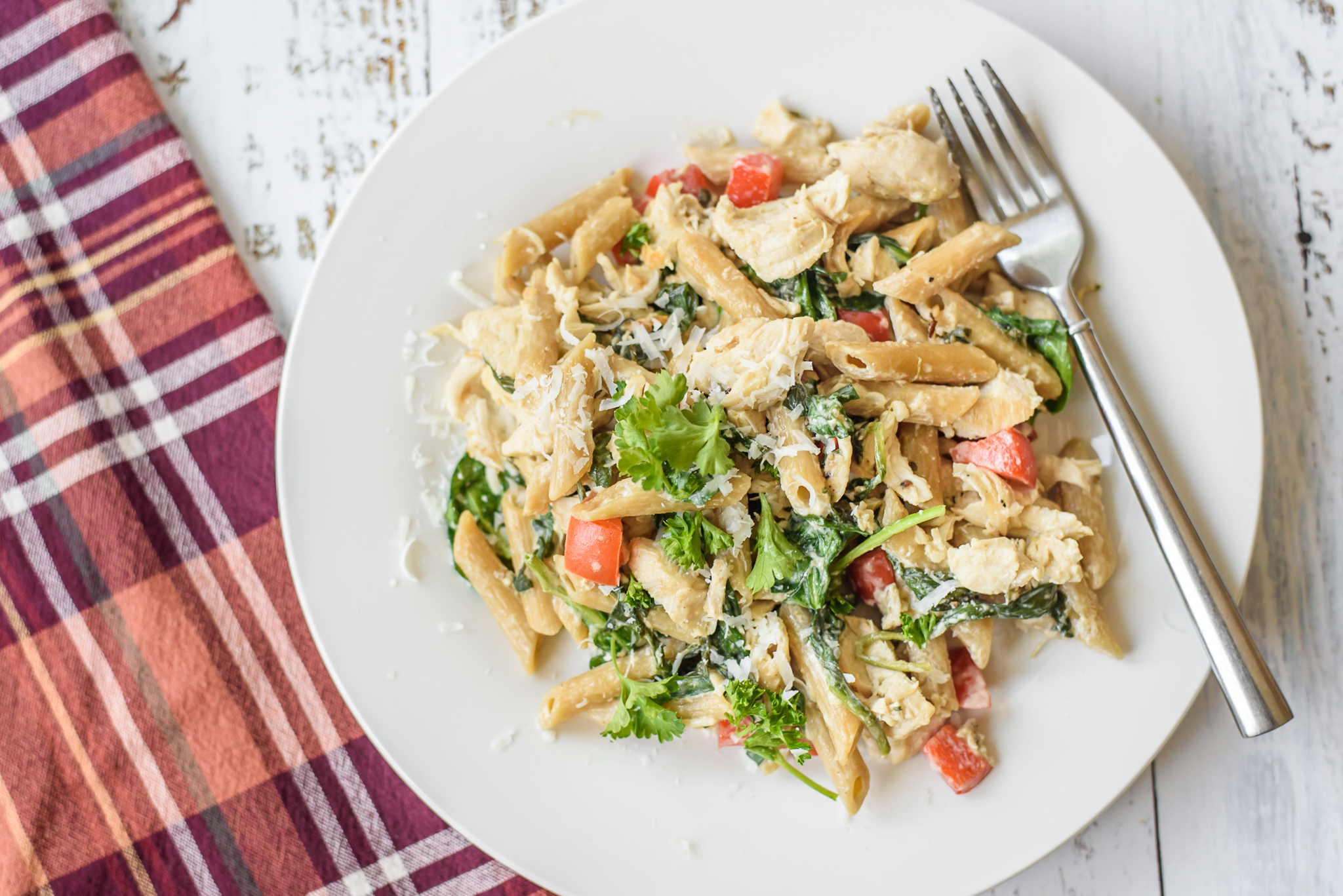 Cheesy Chicken and Pasta Ingredients:
8 ounces Penna Pasta
2 Thin boneless skinless chicken breast (about 12 ounces)
2 Tablespoons olive oil, divided
8 ounces fresh baby spinach
1 Tablespoon minced jarred garlic
1 Tablespoon lemon juice
1/2 cup diced red bell pepper
1/2 cup Parmesan Cheese, grated
2 ounces cream cheese, softened
1/4 cup pasta cooking water
salt and pepper to taste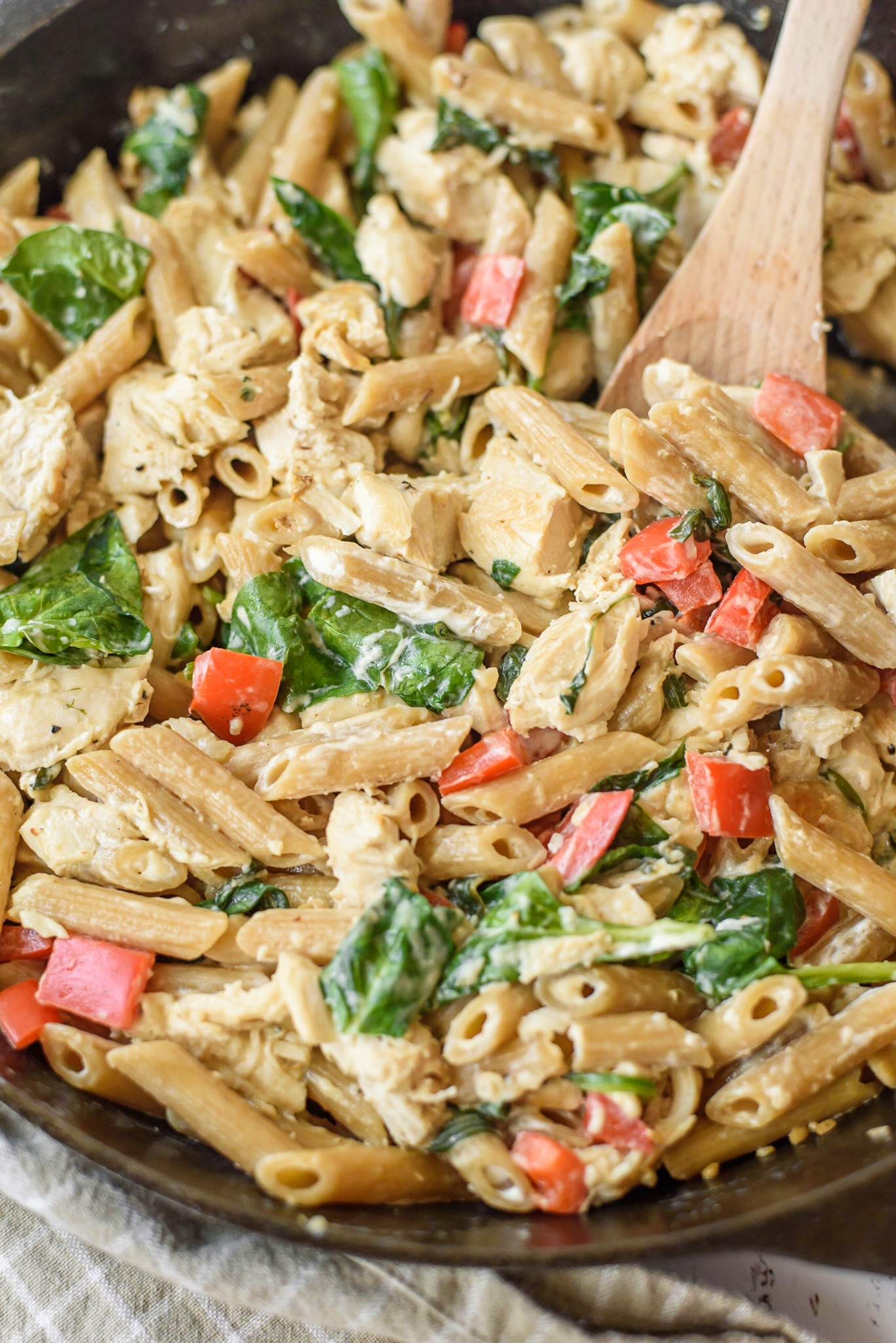 We start the recipe by cooking 8 ounces of Penne Pasta according to the package directions. After the pasta has cooked, save 1/4 cup of the water you cooked the pasta in, we're going to use it in the recipe.  Salt and pepper both sides of the thin boneless chicken breasts and set them aside. If you have regular chicken breasts that aren't thin you can always pound them down to thin yourself by using a kitchen mallet.  If you don't have a mallet, (mine somehow disappeared) use the back of a metal soup ladle, it works like a charm in a pinch.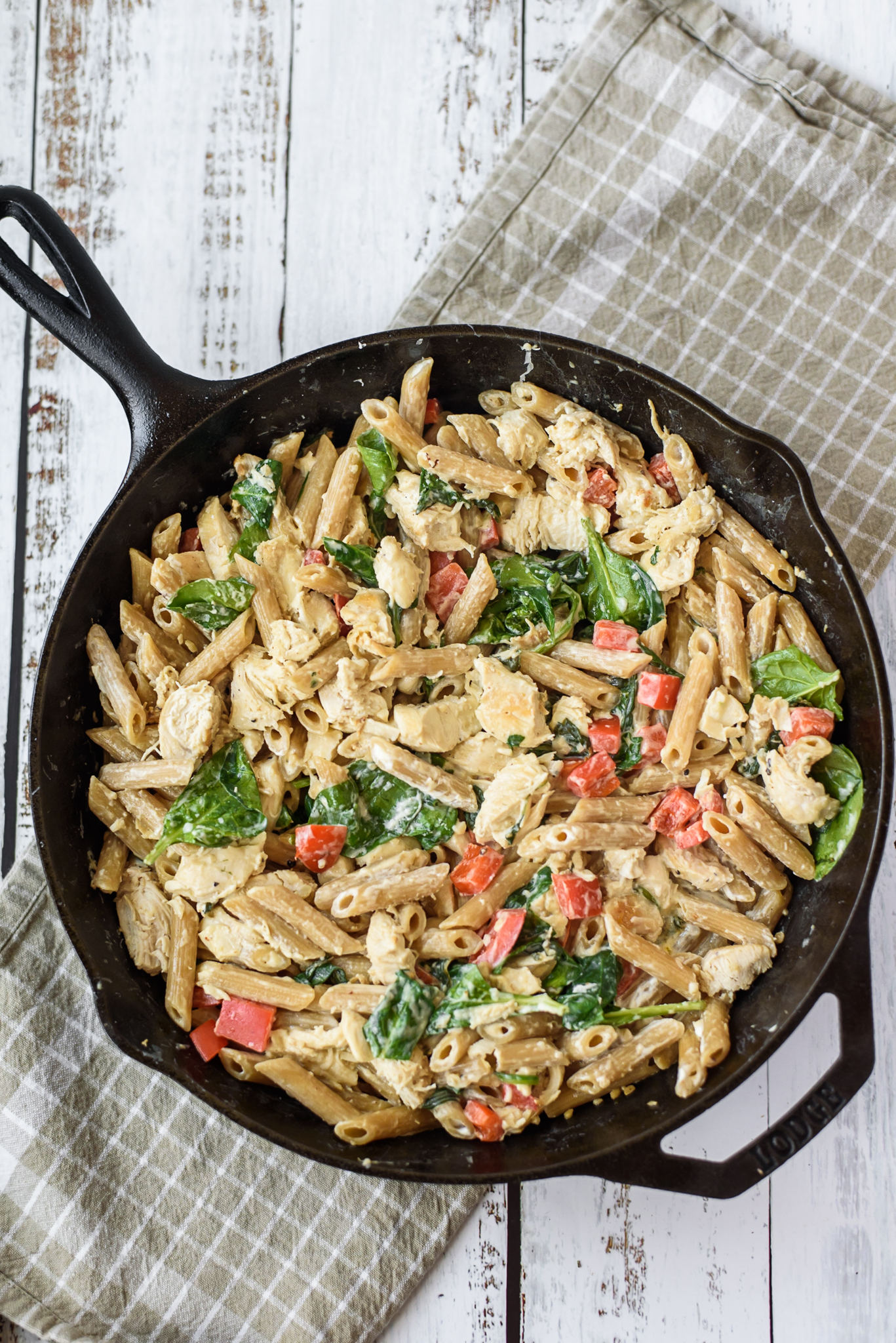 Place one Tablespoon of olive oil into a large saute pan. Place the thin chicken breast in the pan under medium to high heat. Cook the chicken until they are just done, which means no longer pink in the middle. Cooking the chicken isn't going to take long at all. The chicken breasts are thin, it doesn't take long for them to cook all the way through. And that's all the longer they need to cook.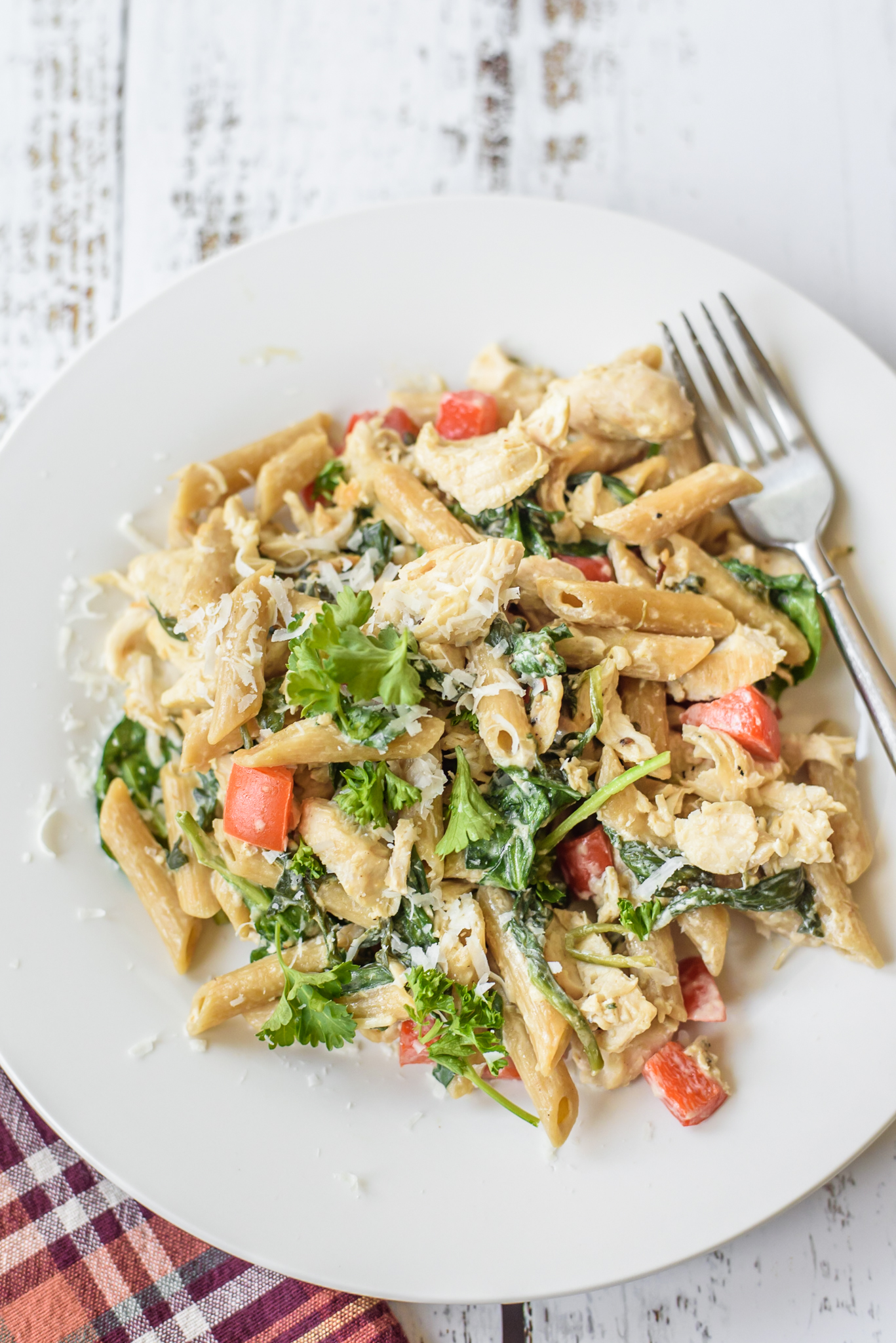 Add one tablespoon of olive oil to the same pan you cooked the chicken breast strips in.  Don't you love it, besides cooking the pasta this is the only other pan you have to wash. Add the garlic, red bell pepper and baby spinach to the pan. Saute until the spinach is wilted. Add the cooked pasta along with the reserved pasta water, the lemon juice, cream cheese , Parmesan cheese and chicken strips to the pan. Toss the ingredients together to coat them and until the cheese has melted. Voila, dinner is ready!
Sumber : https://bunnyswarmoven.net/cheesy-chicken-and-pasta/
Sumber : https://lmld.org/one-pan-cheesy-chicken-pasta