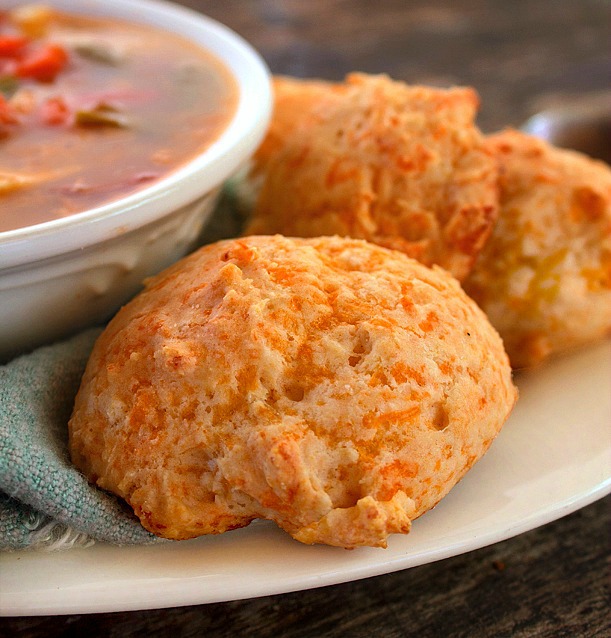 Cheddar Drop Biscuits
I made a homemade chicken soup in the crockpot over the weekend, it turned out better than I could have imagined. Thinking about homemade soup always makes me think about homemade rolls and bread.
If I hadn't been so busy the day I made soup, I would have taken the time to make yeast rolls.  As I stood looking at the soup, wishing I would had taken the time, I thought about biscuits.
Which made me think about the box of baking mix in the pantry.  In all the years I've been baking, I've never made drop biscuits from a mix.
I was surprised at how easy and good the biscuits were!  They had a slight crisp on the outside with a fluffy inside. The cheddar cheese flavor was mild  and well incorporated in the biscuit.
Next time I think I'll try parmesan cheese with a little bit of italian seasoning thrown in.  As fast and easy as they were to make, no matter how busy the day, you'll always have time to make Cheddar Drop Biscuits, Enjoy!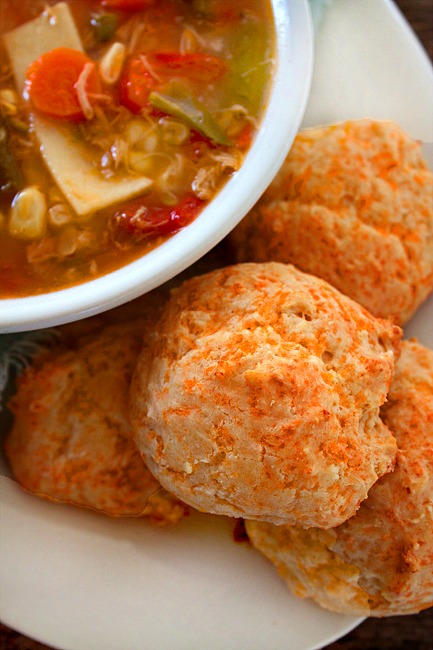 Ingredients
1 cup grated cheddar cheese
1/2 cup milk
1 Teaspoon sugar
1 cup biscuit baking mix
2 Tablespoons cold butter cut into thin slices
Instructions
Preheat oven to 400 degrees. Line a baking sheet with parchment paper.

Combine milk and sugar in a small bowl, whisk to combine. Place the biscuit mix in a medium bow. Cut the cold butter into the mix with a pastry blender until you have coarse crumbs. Add the grated cheese to the bowl, toss to combine. Add the milk mixture, stir gently until you have a soft sticky dough. Drop the dough by rounded Tablespoons onto the parchment paper, keeping the dough about 2 inches apart on the baking sheet.

Bake about 15 minutes or until biscuits are golden. Remove the biscuits to a wire rack to cool. Serve.

Sumber : https://bunnyswarmoven.net/cheddar-drop-biscuits/