Moist Carrot Cake Cupcakes with Cream Cheese Frosting
It's getting to be almost Easter-time, with all things bunnies, carrots, and eggs! So I wanted to share a classic moist carrot cake cupcakes recipe with you today! Moist carrot cake cupcakes are a simple treat, but they're still packed with delicious-ness and Easter spirit.
I adapted this recipe from Southern Living.  They called their recipe "Best Carrot Cake." And, boy! They weren't kidding! This is truly the best carrot cake I have ever tasted.  It's moist, sweet, and flavorful!  I think the trick is the buttermilk!  This recipe has a lot of buttermilk in it, but don't fret if you don't have any on hand! I have this super easy Buttermilk Substitute that does the trick (In fact, I used it for the cupcakes pictured here, and they turned out fabulous!).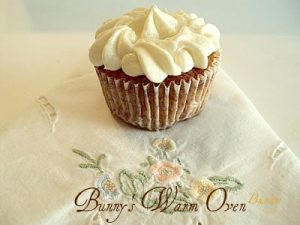 A long name for a little cupcake huh ?  A couple of weeks ago my sister Robin called me on the phone and asked me if I'd make a Carrot cake for her son Andrew, he was coming home and they were having a get together. When did she need? RIGHT AWAY! Sure I'll make one.
My hubby was defraging the computer, so I went to my Southern Living Cookbook and found this recipe. I started the recipe thinking this is going to be like every other carrot cake I've made so no big deal. After I started the recipe I realized there was a glaze, a buttermilk glaze. HUH??? ok so this recipe is different , very different. I made the 3 layers to the cake then started the glaze. OMG!!! This stuff is like heaven!!! It's made with buttermilk and tastes like caramel, it looks like caramel! After the cakes were made the glaze is drizzled all over the tops of the cakes while they're hot from the oven. When they cool a little, out of the pans they go to cool completely then they get frosted with the cream cheese frosting. Since the cake was for my sister, I didn't get to taste it! When I called her to see how the cake was she said….Oh my gosh it was wonderful, so moist , not at all dense like most carrot cakes. Ok that's it I have to make it again!! But since I already made the cakes I decided to make cupcakes. I drizzled the cuppies with the glaze just like the cakes, straight from the oven. I had to try a cupcake after they cooled without the frosting. It was WONDERFUL!!! You wouldn't even need the cream cheese frosting!! The glaze seeps down into the cupcake and makes it so moist and delicious! I had a little bit of glaze left and put it on ice cream!! This stuff ROCKS!!! This is THE BEST carrot cake I've ever made!
Best Carrot Cake
Southern Living
Found on MyRecipes.com
Ingredients
* 2 cups all-purpose flour
* 2 teaspoons baking soda
* 1/2 teaspoon salt
* 2 teaspoons ground cinnamon
* 3 large eggs
* 2 cups sugar
* 3/4 cup vegetable oil
* 3/4 cup buttermilk
* 2 teaspoons vanilla extract
* 2 cups grated carrot
* 1 (8-ounce) can crushed pineapple, drained
* 1 (3 1/2-ounce) can flaked coconut
* 1 cup chopped pecans or walnuts
* Buttermilk Glaze
* Cream Cheese Frosting
Preparation
Line 3 (9-inch) round cakepans with wax paper; lightly grease and flour wax paper. Set pans aside.
Stir together first 4 ingredients.
Beat eggs and next 4 ingredients at medium speed with an electric mixer until smooth. Add flour mixture, beating at low speed until blended. Fold in carrot and next 3 ingredients. Pour batter into prepared cakepans.
Bake at 350° for 25 to 30 minutes or until a wooden pick inserted in center comes out clean. Drizzle Buttermilk Glaze evenly over layers; cool in pans on wire racks 15 minutes. Remove from pans, and cool completely on wire racks. Spread Cream Cheese Frosting between layers and on top and sides of cake.
Buttermilk Glaze
Ingredients
* 1 cup sugar
* 1 1/2 teaspoons baking soda
* 1/2 cup buttermilk
* 1/2 cup butter or margarine
* 1 tablespoon light corn syrup
* 1 teaspoon vanilla extract
Preparation
Bring first 5 ingredients to a boil in a large Dutch oven over medium-high heat. Boil, stirring often, 4 minutes. Remove from heat, and stir in vanilla.
Cream Cheese Frosting
Ingredients
* 3/4 cup butter or margarine, softened
* 1 (8-ounce) package cream cheese, softened
* 1 (3-ounce) package cream cheese, softened
* 3 cups sifted powdered sugar
* 1 1/2 teaspoons vanilla extract
Preparation
Beat butter and cream cheese at medium speed with an electric mixer until creamy. Add powdered sugar and vanilla; beat until smooth.
Sumber : https://bunnyswarmoven.net/carrot-cake-cupcakes-with-buttermilk-glaze-and-cream-cheese-frosting/
Sumber : https://www.thegraciouswife.com/carrot-cake-cupcakes/