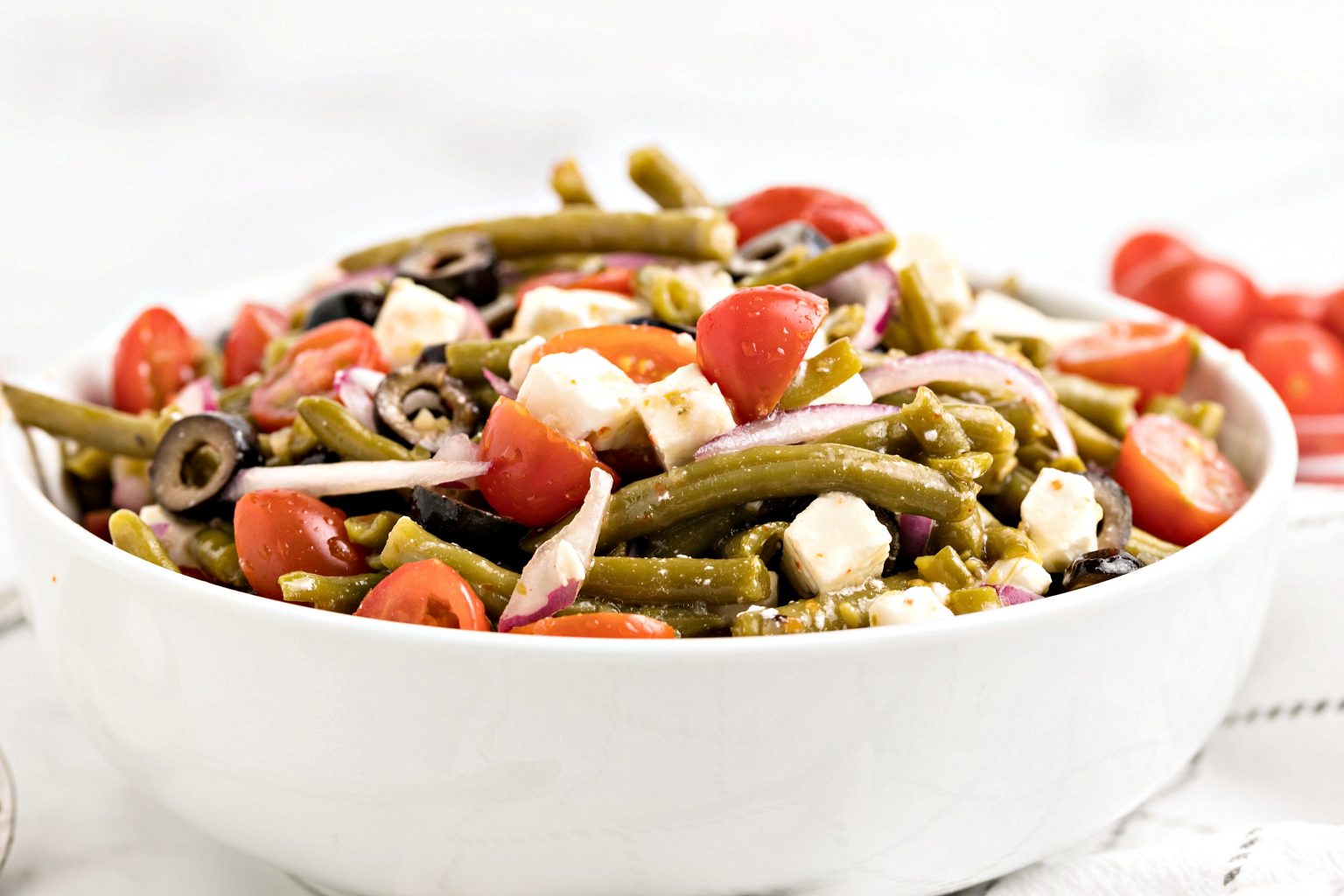 Canned Green Bean Salad is a very flavorful salad that can be made with canned or fresh cooked green beans that's perfect anytime of the year, but especially good during the hot months of Summer. You're not going to believe how easy and delicious it is to make!  This is a recipe my family has been making for years.  If this green bean salad doesn't show up at a family get together I'm disappointed, seriously, it's that good.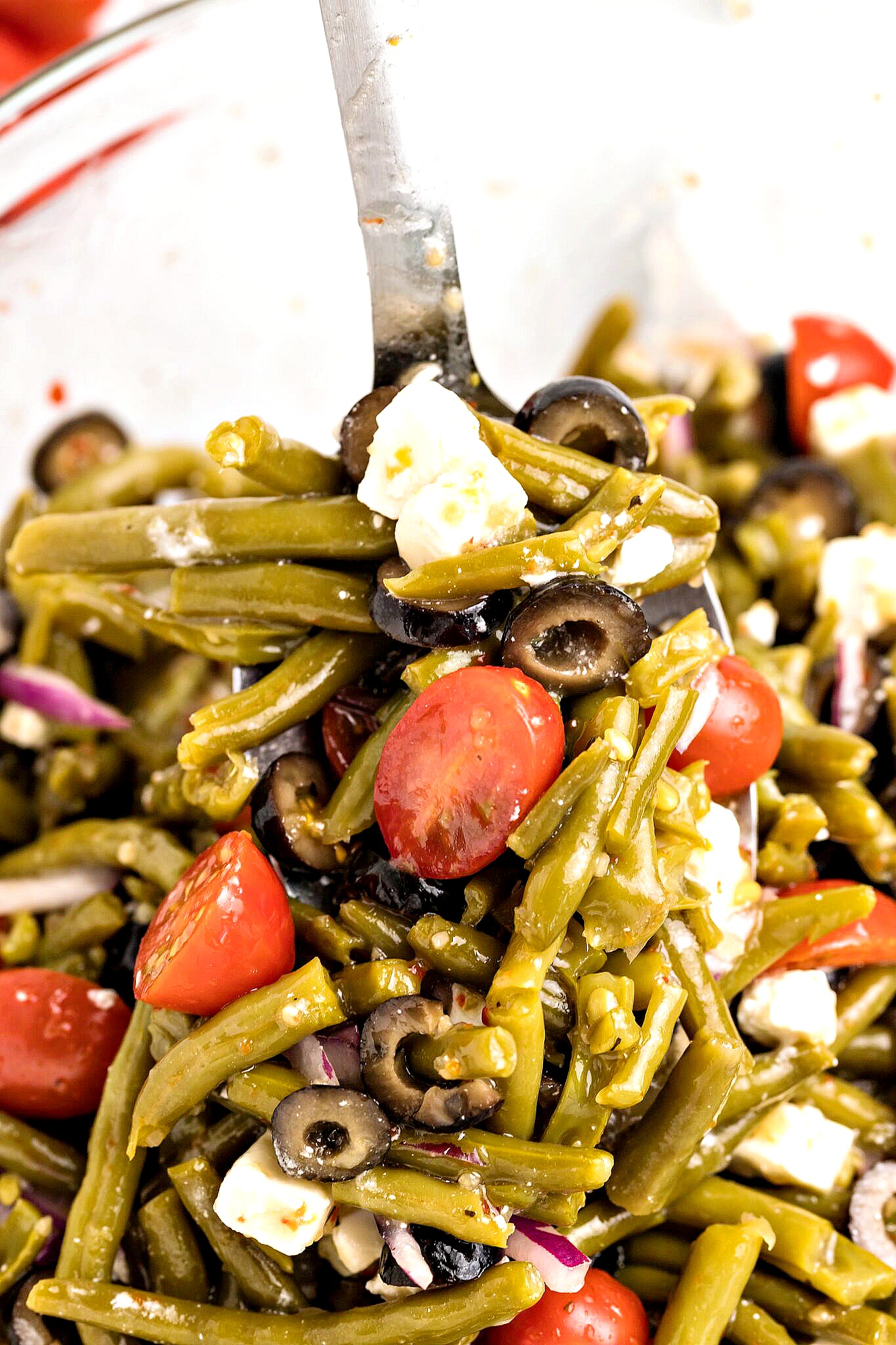 Can I make Canned Green Bean Salad With My Home Canned Green Beans or Fresh Green Beans From My Garden I have Frozen?
Absolutely you can!  The recipe uses four 14.5 ounce cans of green beans. Each drained can of green beans will yield about 1 3/4 cups of green beans.  If you are making this with your own home canned green beans you'll need approximately 7 1/2 to 8 cups of green beans.  I don't recommend using French Style Green beans, they're cut to thin, that's just my opinion though, you can try it if that's what you have. If you do use French Style Green Beans toss the salad ingredients together gently as to not break the French Style Green Beans green beans up to much.
If your using your own fresh green beans you have frozen in the freezer from your garden you'll need to thaw them and cook them until tender and cool to room temperature before using them in the recipe.  And again you'll need approximately 7 1/2 to 8 cups of your thawed and cooked frozen green beans for the recipe.  How awesome is it to have one more delicious green bean recipe you can use your home canned and frozen green beans for!  Now listen, there's basically no difference between canned green beans and canned yellow wax beans except the color. If you have canned yellow wax beans and want to use those, go for it.
I Don't like Feta Cheese, Can I substitute it for another Cheese?
Absolutely you can. Feta Cheese is a soft cheese and pares very well with the recipe ingredients but if you want to use another cheese instead, Honey it's your kitchen, do it.  You can use any of the following cheese in the recipe instead of Feta….
White American
Cheddar Cheese (white or yellow)
Mozzarella
Swiss Cheese
Goat Cheese
Let's gather the ingredients for this delicious green bean salad and make it together.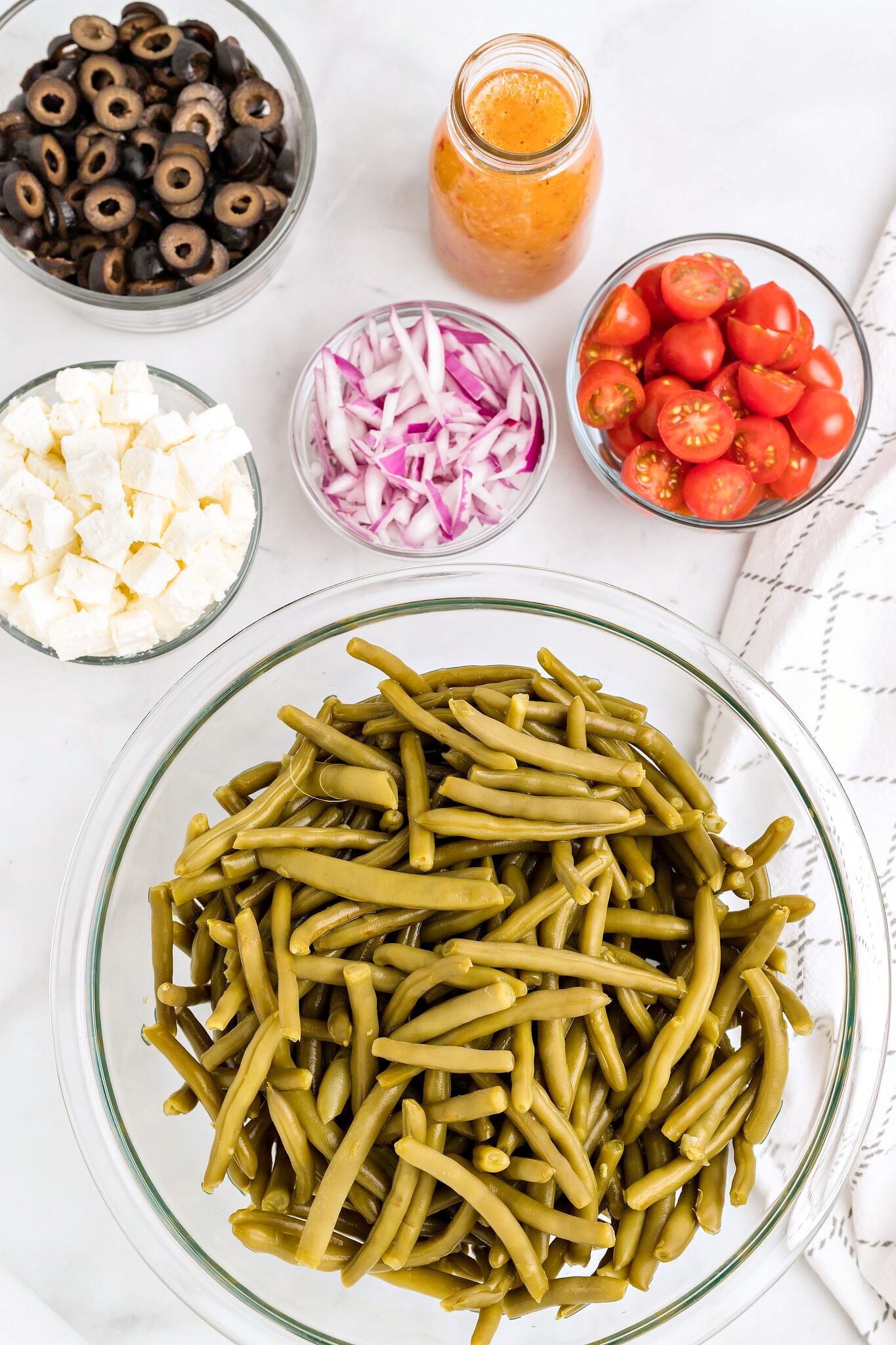 Canned Green Bean Salad Ingredients:
Four 14.5 ounces canned green beans (not French Style Green Beans)
16 ounce bottle Italian Dressing
6 ounce can black olives , cut in half
8 ounces Feta Cheese, cut into cubes
20 – 25 cherry tomatoes, cut in half
1/2 small red onion, sliced thin

Place the 4 cans of drained canned green beans, sliced red onion, cherry tomatoes cut in half, drained black olives cut in half and the Feta Cheese in a large bowl.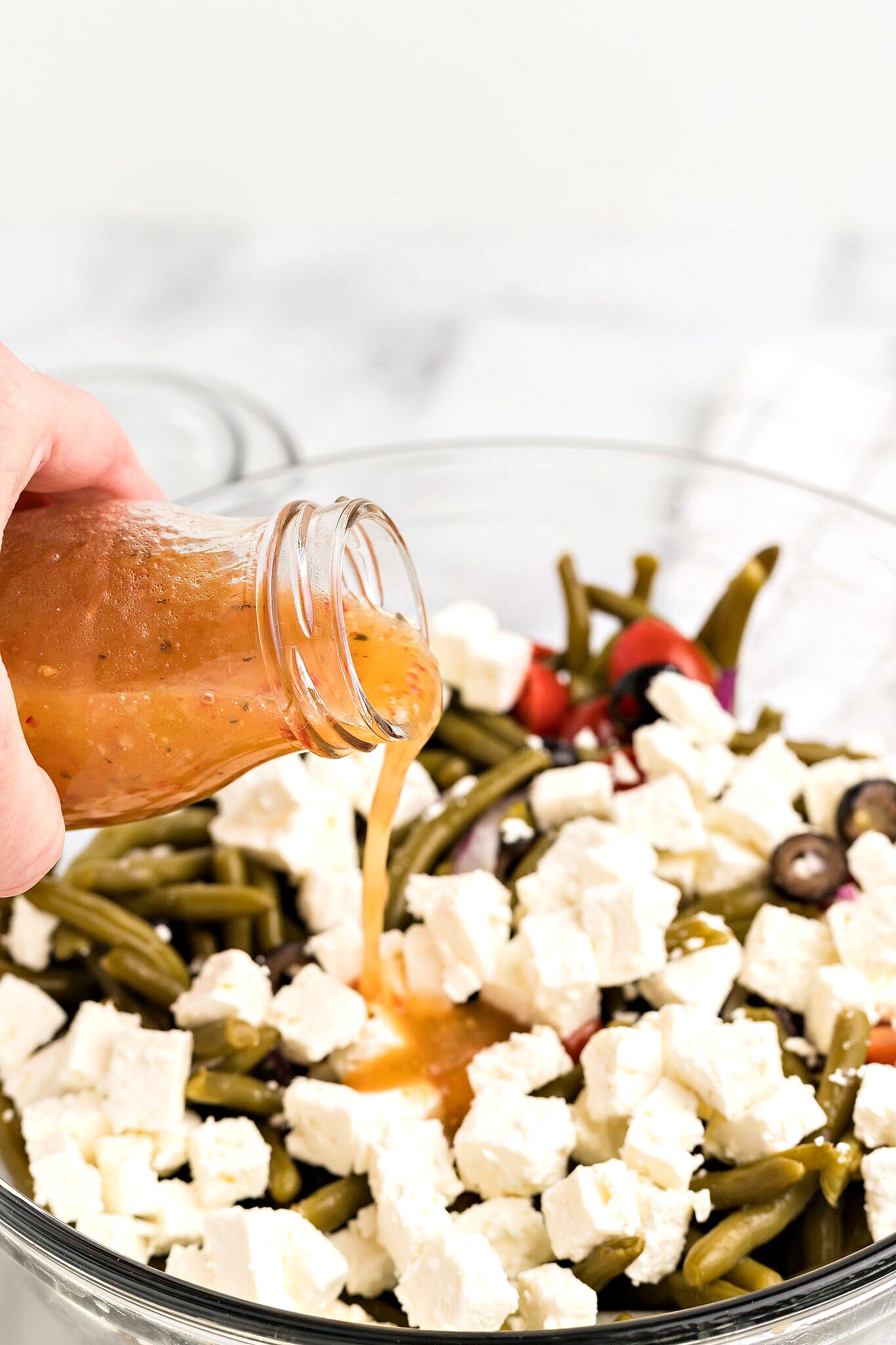 Add the whole 16 ounce bottle of Italian salad dressing to the bowl. Toss the ingredients gently (you don't want to break the green beans up) with a large spoon to coat them with the dressing.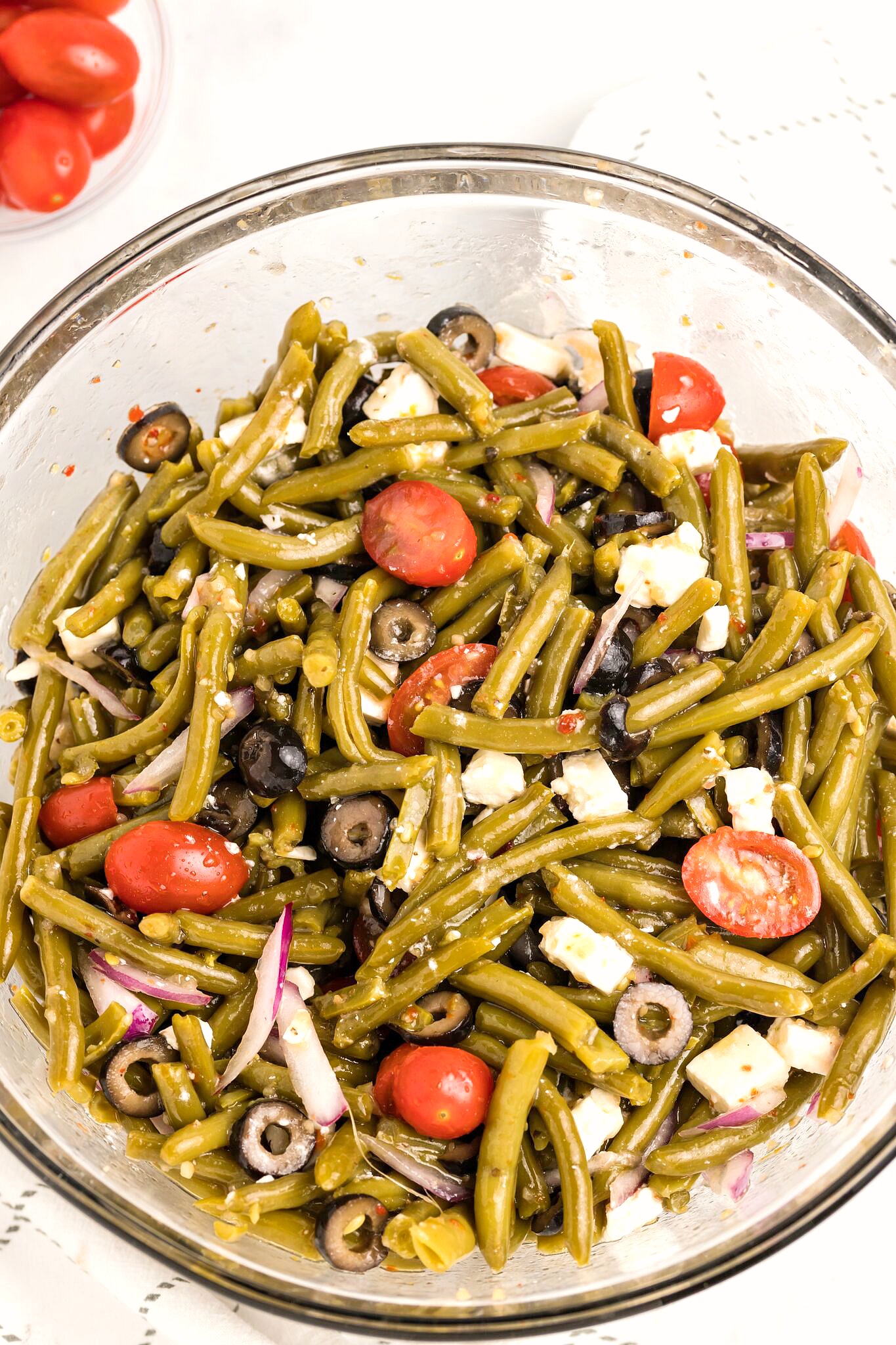 Place your Canned Green Bean Salad in the refrigerator for at least 4 hours and up to overnight before serving. Toss the salad ingredients together with a large spoon right before serving it.  I really hope you love this recipe as much as my family does, This delicious green bean salad is "What's For Dinner and you're going to LOVE IT, ENJOY!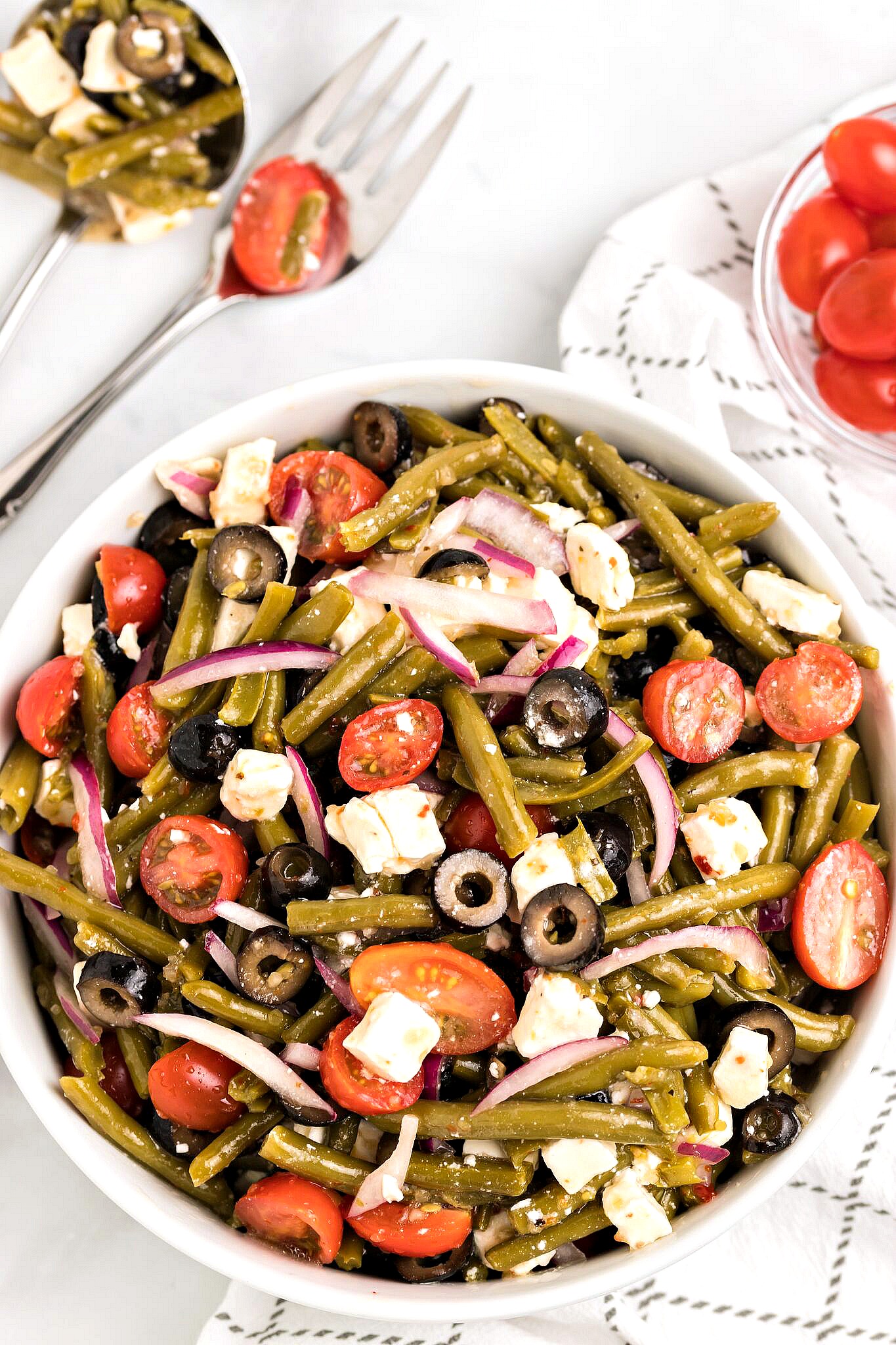 THis is a delicious cold salad recipe using canned green beans. it's easy to put together and absolutely delicious.
Ingredients
4 14.5 ounce cans green beans (not french style green beans)
16 ounce bottle Italian dressing
6 ounce can black whole olives, cut in half
8 ounces Feta Cheese, cut into small cubes
20 – 25 cherry tomatoes cut in half
1/2 small red onion, thinly sliced
Instructions
Place the drained green beans, drained black olives cut in half, the cubed Feta cheese, the cherry tomato halves and sliced red onion in a bowl. Add the whole bottle of Italian dressing to the bowl. Toss the ingredients gently to coat them. Place the salad in the refrigerator for at least 4 hours and up to overnight before serving. Toss the salad ingredients together with a large spoon right before serving.

Sumber : https://bunnyswarmoven.net/canned-green-bean-salad/