These delicious Browned Butter Apple Bars will make you very, very popular…like Baking Rock Star popular.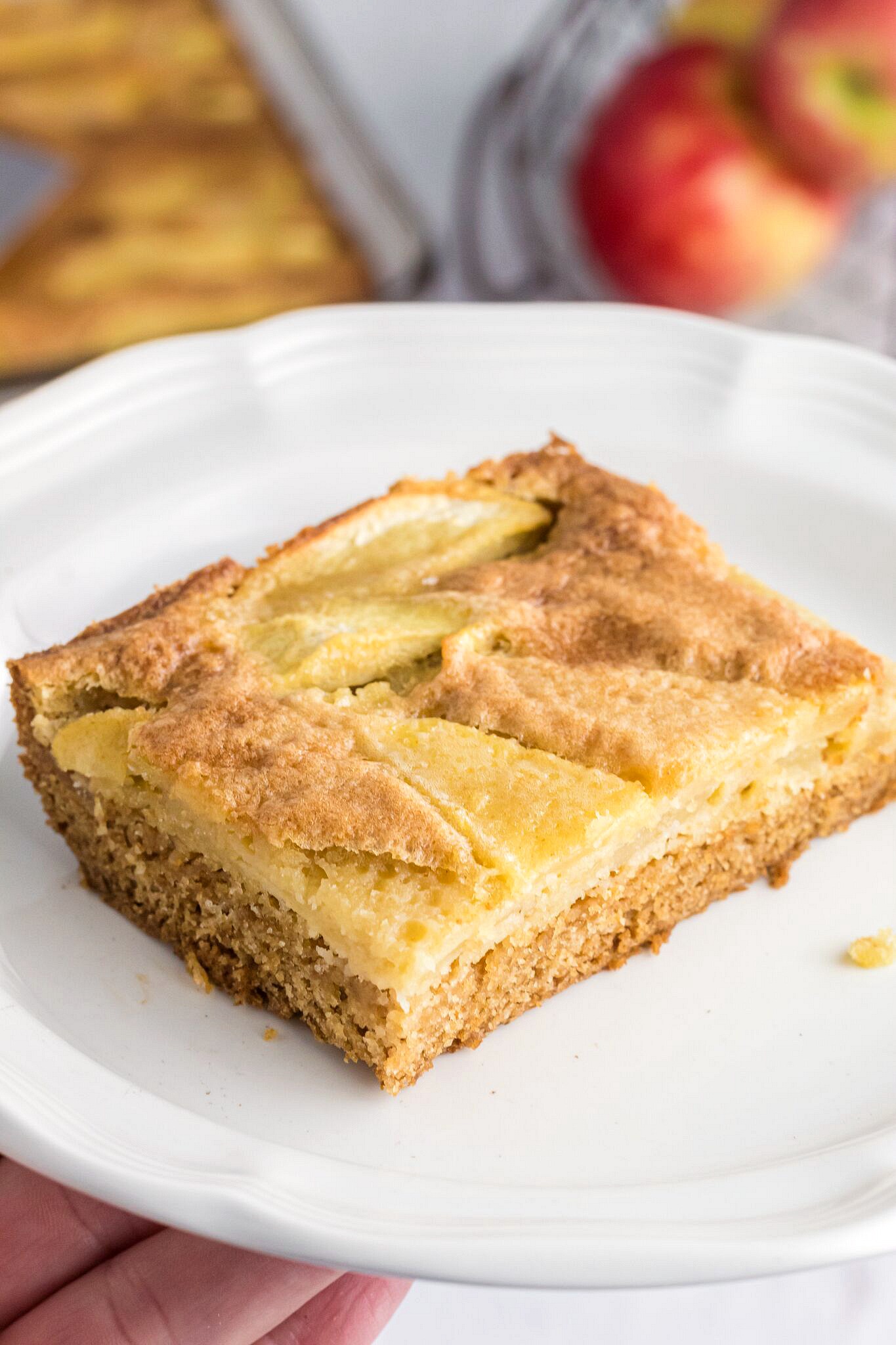 There isn't one itty bitty part of these delicious apple bars that you wouldn't absolutely LOVE!  From the sugar cookie crust to the sliced apples on up to the browned butter topping this is apple bar magnificence!  We're going to make this bad boy together so let's gather the ingredients.
Browned Butter Apple Bar Ingredients:
1 pouch sugar cookie mix
1 Tablespoon all purpose flour
1/2 cup butter, softened
1 egg, room temperature
Topping:
3/4 cup butter, room temperature
2 apples, peeled, cored, and sliced thin
3 eggs, room temperature
3/4 cup white sugar
1/3 cup flour plus 1 Tablespoon flour
1/2 Teaspoon salt
1 1/2 Teaspoons vanilla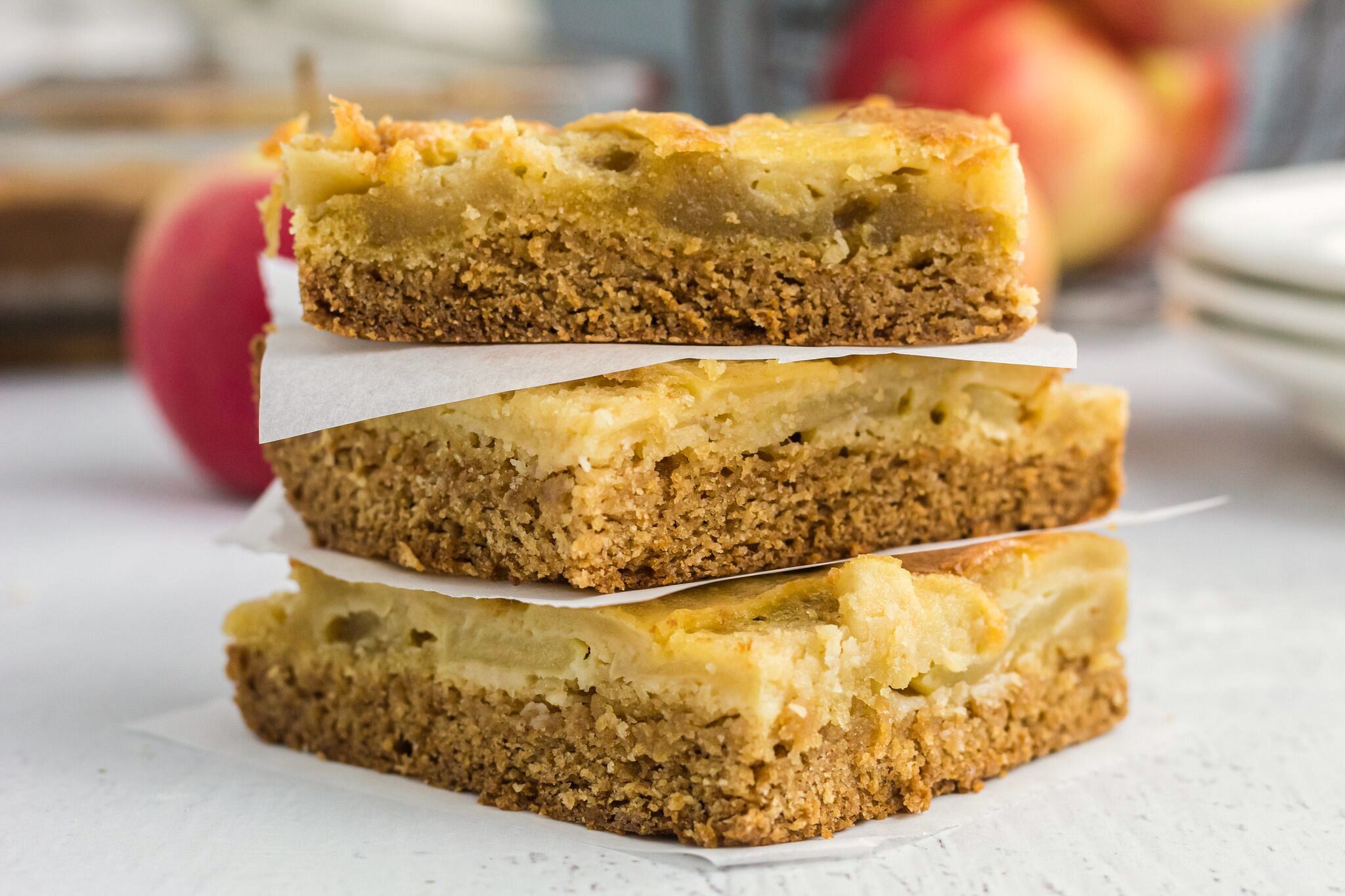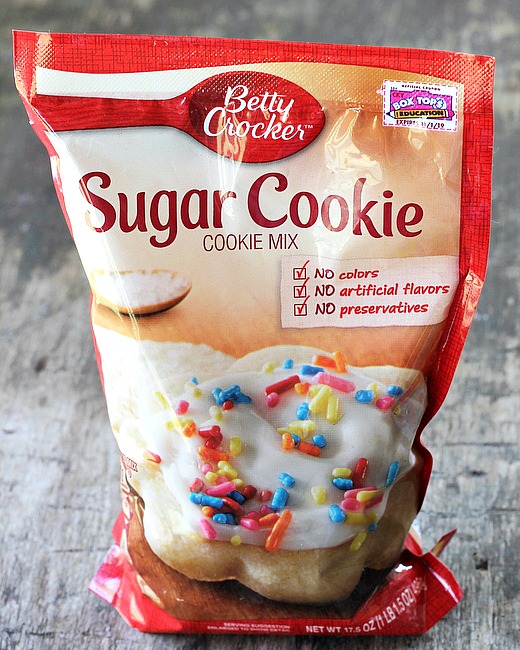 We start making these delicious bars by using a pouch of cookie dough.  I took a picture of the pouch so you'd know what I was talking about.  You can use any brand you want to , this is what I picked up at the store.

First, you want to stir the cookie mix with 1 Tablespoon flour in a large mixing bowl.
Next, place 1/2 cup softened butter and 1 egg in the bowl.  Use a fork to work the butter into the cookie mix until it's well incorporated and you have large clumps of dough.
After that, press the dough into a greased 13×9 inch pan evenly. Place the pan in a preheated 350 degree oven and bake about 15 – 20 minutes or until the dough is set and lightly browned around the edges. Lastly, remove the pan from the oven to a wire rack to cool.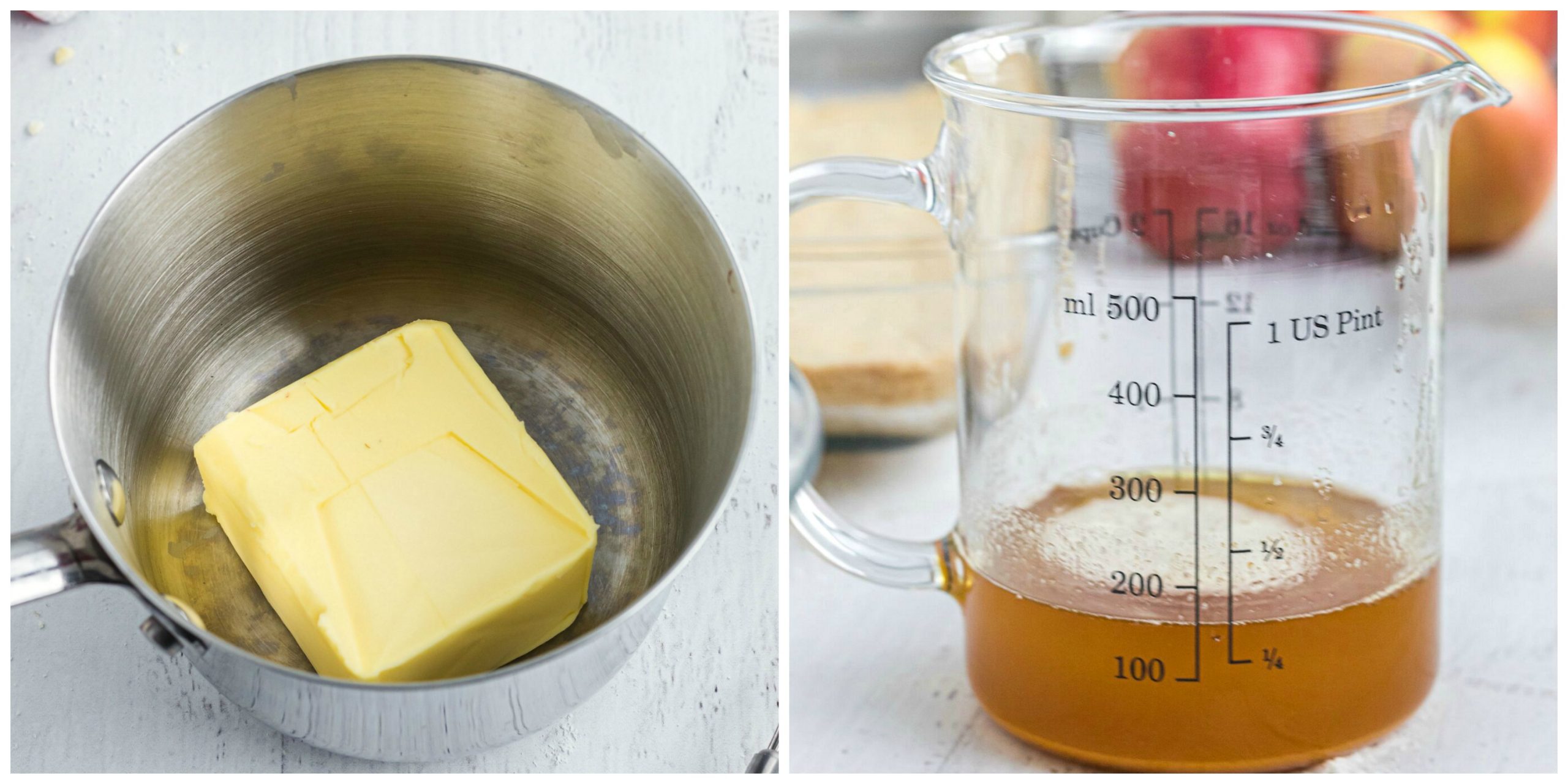 While the dough cools…
Place 3/4 cup butter in a small saucepan. Cook the butter stirring constantly until it becomes a golden brown color. Take the butter off the heat as soon as it reaches a golden brown color, place it in a measuring cup to cool slightly.  Don't cook the butter any farther than golden brown, if it's cooked longer you run the risk of it burning.

Peel, core and thinly slice the apples, layer them onto the cooled cookie crust.  Place the remaining topping ingredients (3 eggs, 3/4 cup sugar, 1/3 cup flour, plus 1 Tablespoon flour, 1/2 Teaspoon salt, and 1 1/2 Teaspoons vanilla extract) in a large bowl.  Beat until the ingredients are well incorporated. Using an electric mixer, gradually add the browned butter to the topping, beat until the ingredients are smooth. Spread the mixture over the apples evenly in the pan. Bake 40 – 45 minutes or until deep golden brown.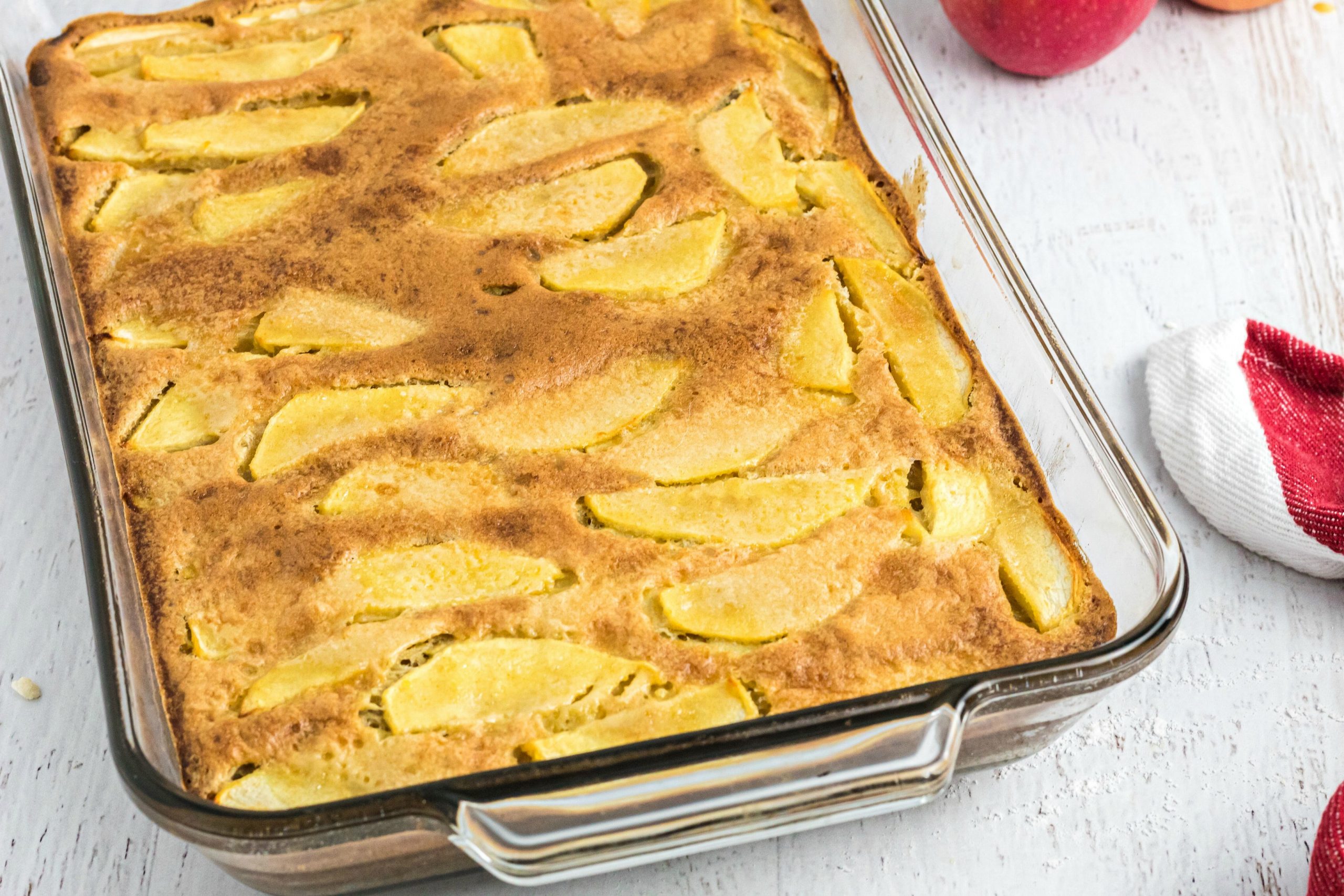 These delicious apple bars are going to make you weak in the knees!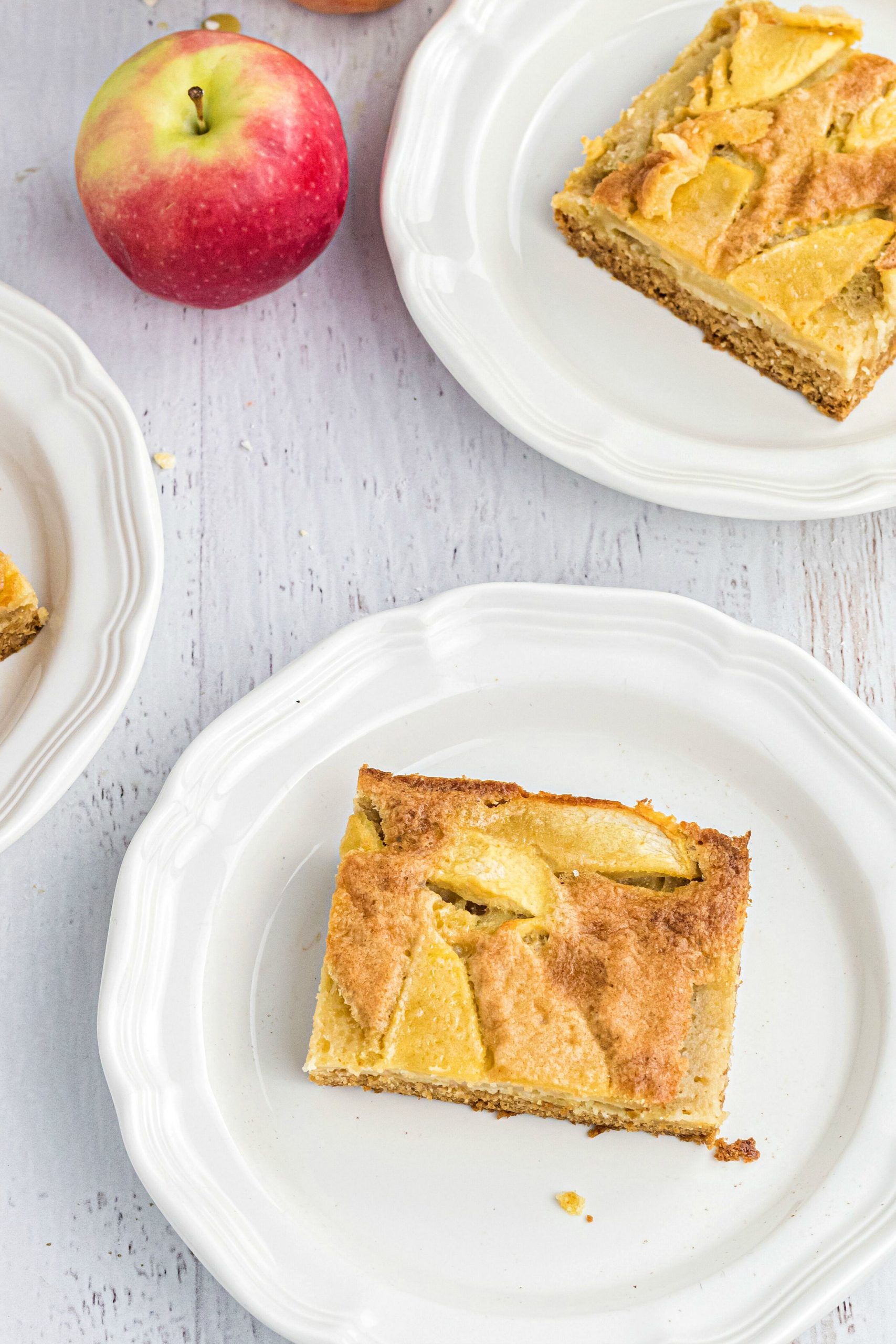 Looking For More Recipes From Bunny's Warm Oven, Try These!
Chunky Apple Cake with Browned Butter Frosting…Banana Cake with Browned Butter Glaze…Banana Chocolate Chip Cake…Chocolate Cake w/ Peanut Butter Frosting…Apple Harvest Cake
Ingredients
Crust
1 pouch sugar cookie mix
1 Tablespoon flour
1/2 cup butter softened
1 egg room temperature
Topping
3/4 cup butter
2 apples peeled cored and sliced thin
3 eggs
3/4 cup sugar
1/3 cup flour plus 1 Tablespoon flour
1/2 Teaspoon salt
1 1/2 Teaspoons vanilla
Instructions
Preheat oven to 350 degrees. Grease a 13×9 inch glass baking pan.

1. Using a large bowl , stir the cookie mix with 1 Tablespoon flour. Place 1/2 cup softened butter and 1 egg in the bowl. With a fork, work the butter into the cookie mix until well incorporated and you have large clumps of dough.

2. Press the dough into the bottom of your prepared pan evenly. Bake 15 – 20 minutes or until the dough is set and lightly browned around the edges. Remove from the oven and set aside to cool.

3. While the dough cools, place 3/4 cup butter in a small saucepan, cook the butter stirring constantly until it becomes a golden brown color. Take the butter off the heat as soon as it reaches a golden brown color, place it in a measuring up to cool slightly.

4. Peel. core and thinly slice apples, layer them onto of the cooled cookie crust.

5. In a large bowl place the remaining topping ingredients (3 eggs, 3/4 cup sugar,1/3 cup flour , plus 1 Tablespoon flour, 1/2 Teaspoon salt and 1/1/2 Teaspoons vanilla). Beat until well incorporated. Using the mixer, gradually add the browned butter, beat until smooth. Pour mixture over the apples evenly in pan.

Bake 40 – 45 minutes or until deep golden brown and a tooth pick inserted in the center comes out clean. Cool completely on wire rack. Cut into squares, serve.

Sumber : https://bunnyswarmoven.net/browned-butter-apple-bars/