This delicious Blueberry Cheesecake Ice Cream has always been one of my favorites! While my classic custard style Old Fashioned Vanilla Ice Cream is an all time family favorite that goes with so many other desserts like pies and peach cobbler, this Blueberry Cheesecake Ice Cream is a definite treat for blueberry or cheesecake fans too! Sweet juicy blueberries and the slight tartness of cheesecake combine with creamy, decadent ice cream to make a special homemade frozen treat! This ice cream always brings back special memories for me. Luckily it's so easy to make, I can reminisce often! I've included instructions on how to make in your ice cream maker as well as how to make it no-churn!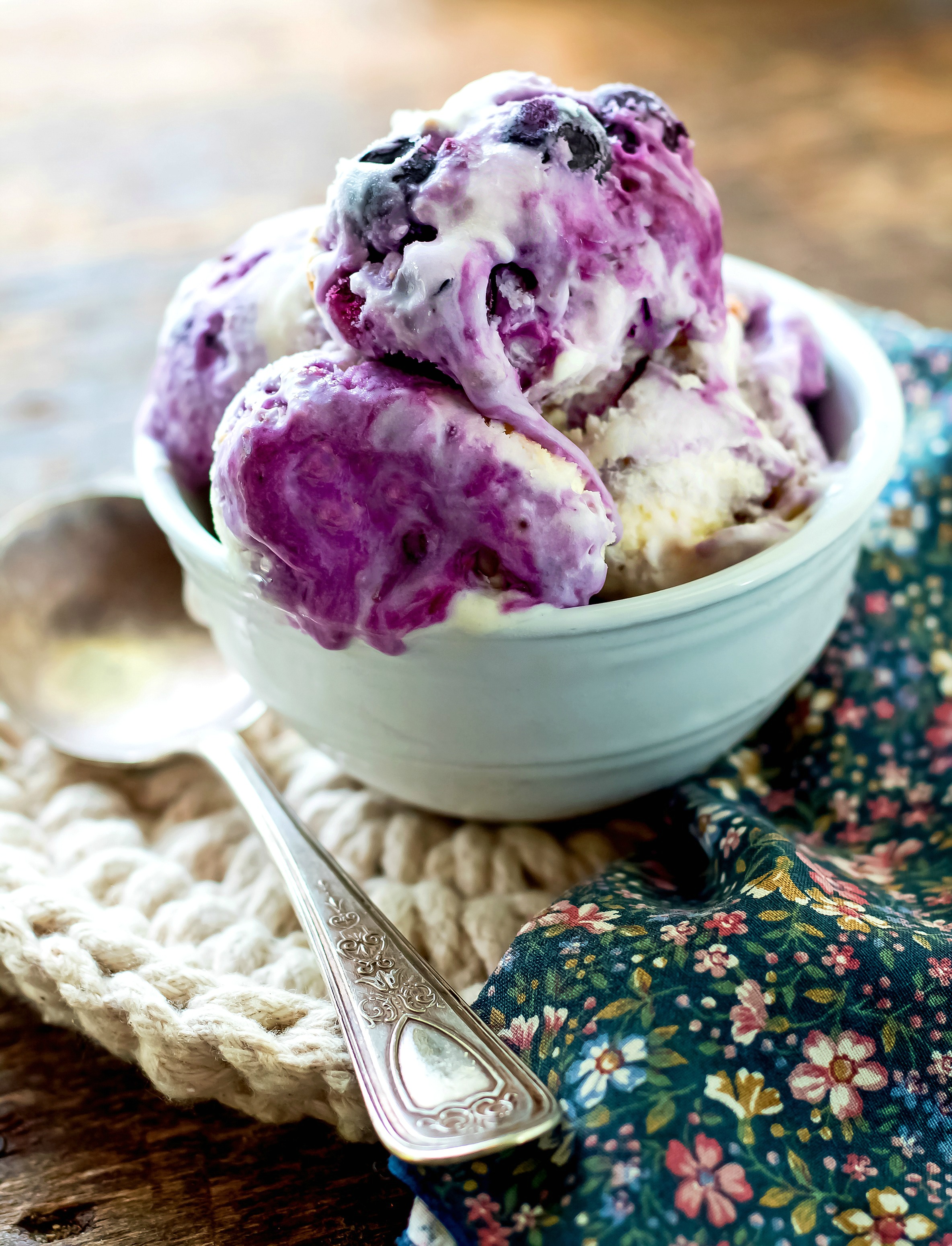 Blueberry Cream Cheese Ice Cream
Homemade ice cream with it's countless flavor combinations is a natural for Spring, Summer and those winter days when we're thinking about warmer weather. It's comfort food plain and simply…delicious cool, creamy comfort food.
When I moved from Pennsylvania to Kentucky somehow my ice cream maker was nowhere to be found when the unpacking was done. It was time to buy a new one.  Blueberry Cream Cheese Ice Cream is incredible. The ice cream texture is smooth and creamy. Even if you didn't want the bells and whistles of blueberries and graham crackers, the base ice cream recipe is worth making just to have a fantastic cream cheese flavored ice cream. I ate this with a spoon straight out of the ice cream maker, it's delicious! You could top it with whatever you wanted, the cheesecake flavor would compliment a variety of flavor toppings.
Making the ice cream…
Even though my ice cream maker makes two quarts of ice cream, I had to make this recipe in two batches. I filled the ice cream maker cylinder 2/3 's full for each batch. While the ice cream is being made in the cylinder it expands and fills the cylinder up to the top. It was best for me to not try making the whole batch at one time. You could also just make half the recipe.
I used a premade graham cracker crust bought from the store that I crumbled up. I used half the crumbs in the ice cream and saved the rest to put on top of the ice cream when we ate it. This appeased my husband who wouldn't of cared for a lot of graham cracker crumbs.
I layered half the ice cream in a 13×9 inch dish, I spread the blueberry filling down with 1/2 the graham cracker crumbs on top (saving the rest for a topping). Then I placed the other half of the ice cream on top and swirled through the entire pan with a knife.
Blueberry Cream Cheese Ice Cream, comfort food at it's best. Enjoy!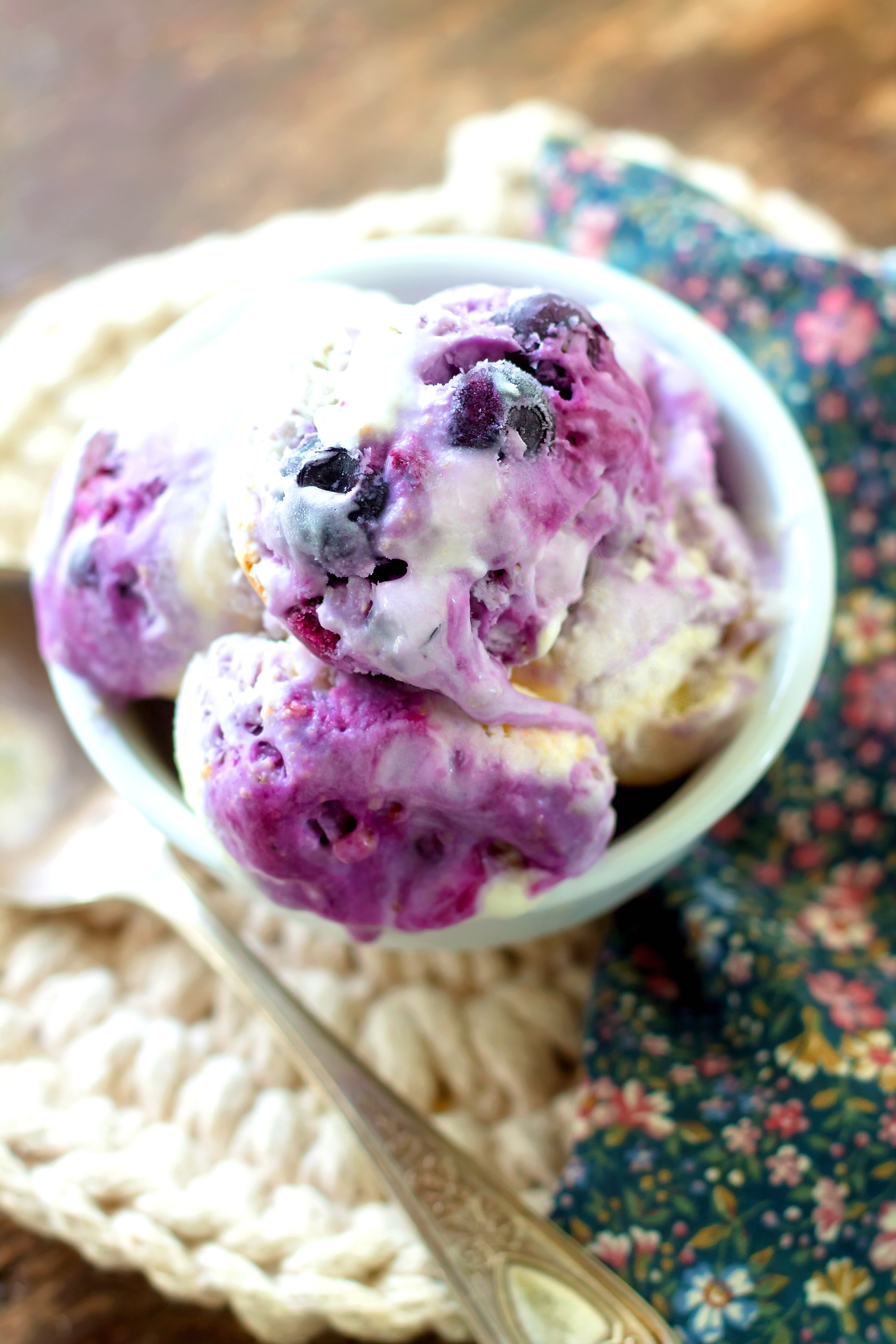 Ingredients
Blueberry filling:
1/2 cup sugar
1 Tablespoon cornstarch
1/2 cup water
1 1/4 cups fresh or frozen blueberries if using frozen, do not thaw
1 Tablespoon lemon juice
Ice cream :
1 1/2 cups sugar
one 3-4 ounce pkg instant cheesecake pudding mix
1 quart heavy whipping cream
2 cups whole milk
2 Teaspoons vanilla
Graham Cracker Crumbs
one 9 inch premade graham cracker pie crust, crumbed
Instructions
For the blueberries:

Place the sugar and cornstarch in a small saucepan,stir to mix together. Pour the water into the pan in a steady stream while whisking until the mixture is smooth and without lumps.  Add the blueberries and lemon juice, stir to combine. Place the saucepan on the stove over medium heat, cook until blueberries boil, reduce the heat and simmer the mixture until it thickens slightly, stirring occasionally.  Remove from the stove, place in a bowl, cover and refrigerate until it's chilled.

For the ice cream:

Whisk all the ice cream ingredients until you have a smooth lump free mixture. Fill the ice cream maker cylinder 2/3 full.  Freeze according to your ice cream maker directions.

Refrigerate the remaining mixture until you're ready to make the second batch. For the second batch – whisk mixture that's been in the refrigerator before adding to the ice cream maker to make sure ingredients are well combined.

Graham Cracker crust – crumble the crust up to make crumbs.

Make the layers…

Using a 9×13 inch baking dish, spread half the ice cream recipe in the bottom of the dish. Spoon the  blueberry filling over top.  Sprinkle the graham cracker crumbs over the blueberry filling.  Cover with the second half of the ice cream. Store in the freezer, covered.

Sumber : https://bunnyswarmoven.net/blueberry-cream-cheese-ice-cream/
Sumber : https://addapinch.com/blueberry-cheesecake-ice-cream-recipe/