Banana Muffins with Crumb Topping are moist, soft and full of banana flavor with a crunchy delicious topping that puts this banana muffin over the top!  You're going to love every single crumb of this delicious muffin!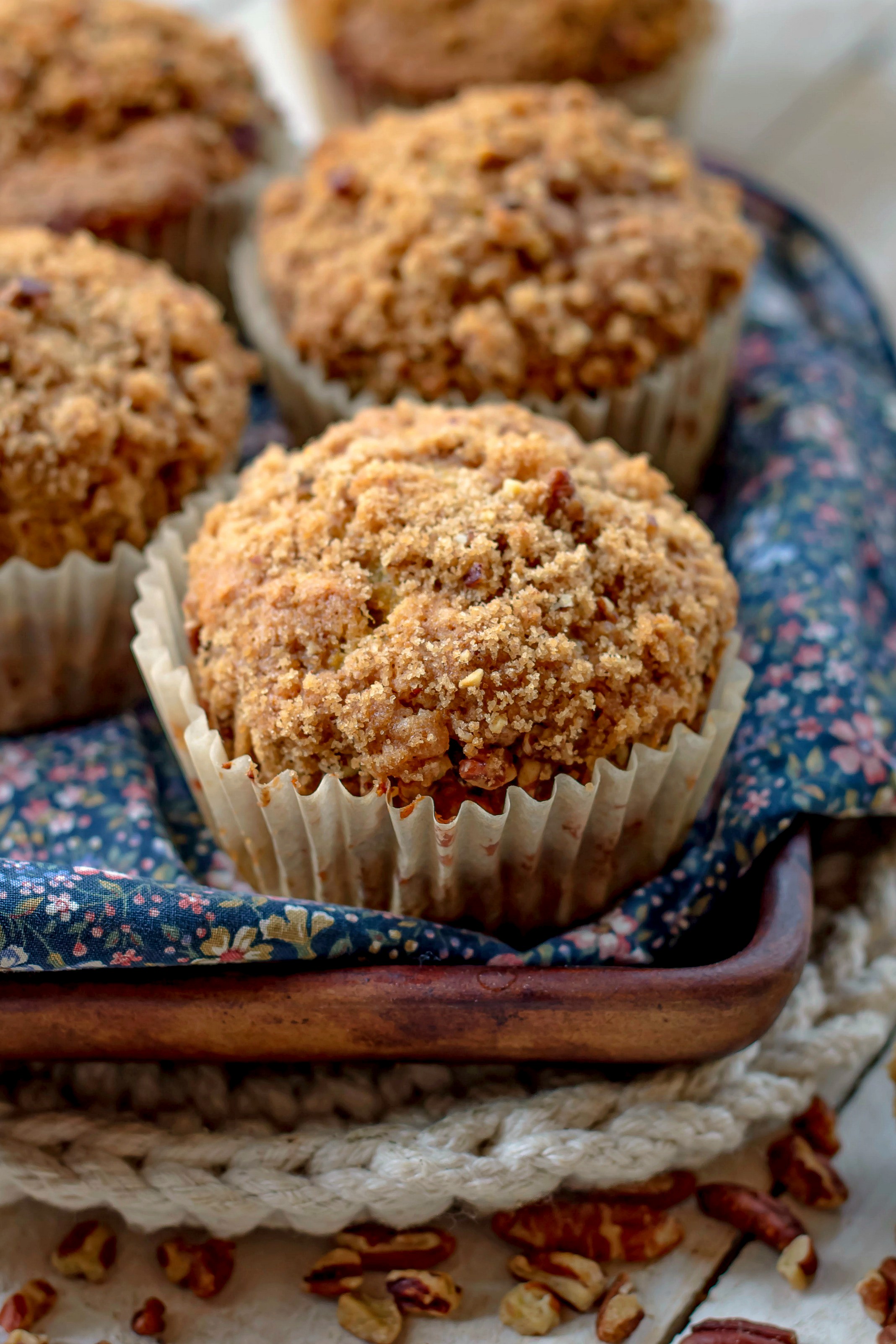 Banana Muffins with Crumb Topping
Muffins, those little bundles of joy that are so easy to make and taste so good with a cup of coffee in the morning.  This moist ,soft, tender muffin has a wonderful banana flavor!  The topping made of brown sugar, butter and pecans complements the banana flavor to a T!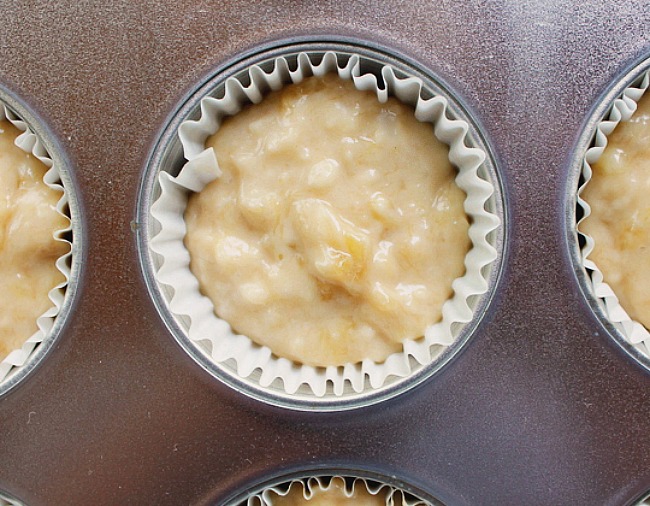 Let's talk about this recipe and muffins in general and how to make them melt in your mouth delicious.
As in this recipe and most muffin recipes,you start out by combining the dry ingredients in one bowl and the wet ingredients in another bowl.  Then combining the two right before you bake them.  Combine the two bowls of ingredients by either stirring or folding them together until they are just incorporated.
"Mix until just incorporated"…those instructions come up a lot in scratch baking whether it be muffins or cakes.  The reason being …the more you mix, the more gluten is created and the tougher the end result.   Muffin batters are normally lumpy, as you can see this one is. It's ok, they're suppose to be.  After you have mixed your ingredients until just incorporated, fill the paper liners 3/4 full of batter.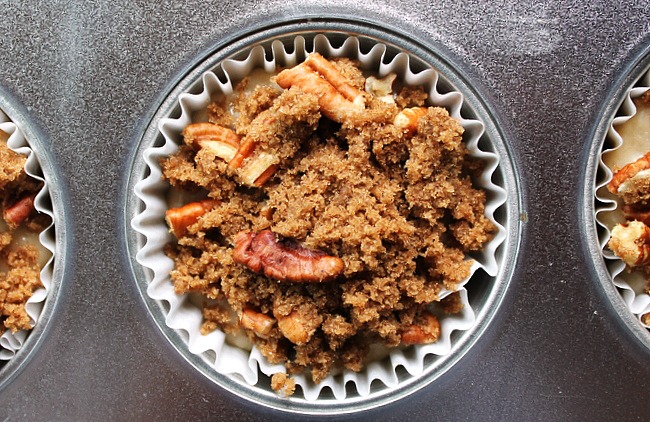 These muffins have a delicious brown sugar,butter and pecan topping to place on top of the batter.  All that's left is to bake at 375 degrees for 20 minutes and you have the best Banana Muffins with Crumb Topping you have ever eaten! I hope you love them as much as we do!  Enjoy!
Looking For More Recipes From Bunny's Warm Oven, Try These!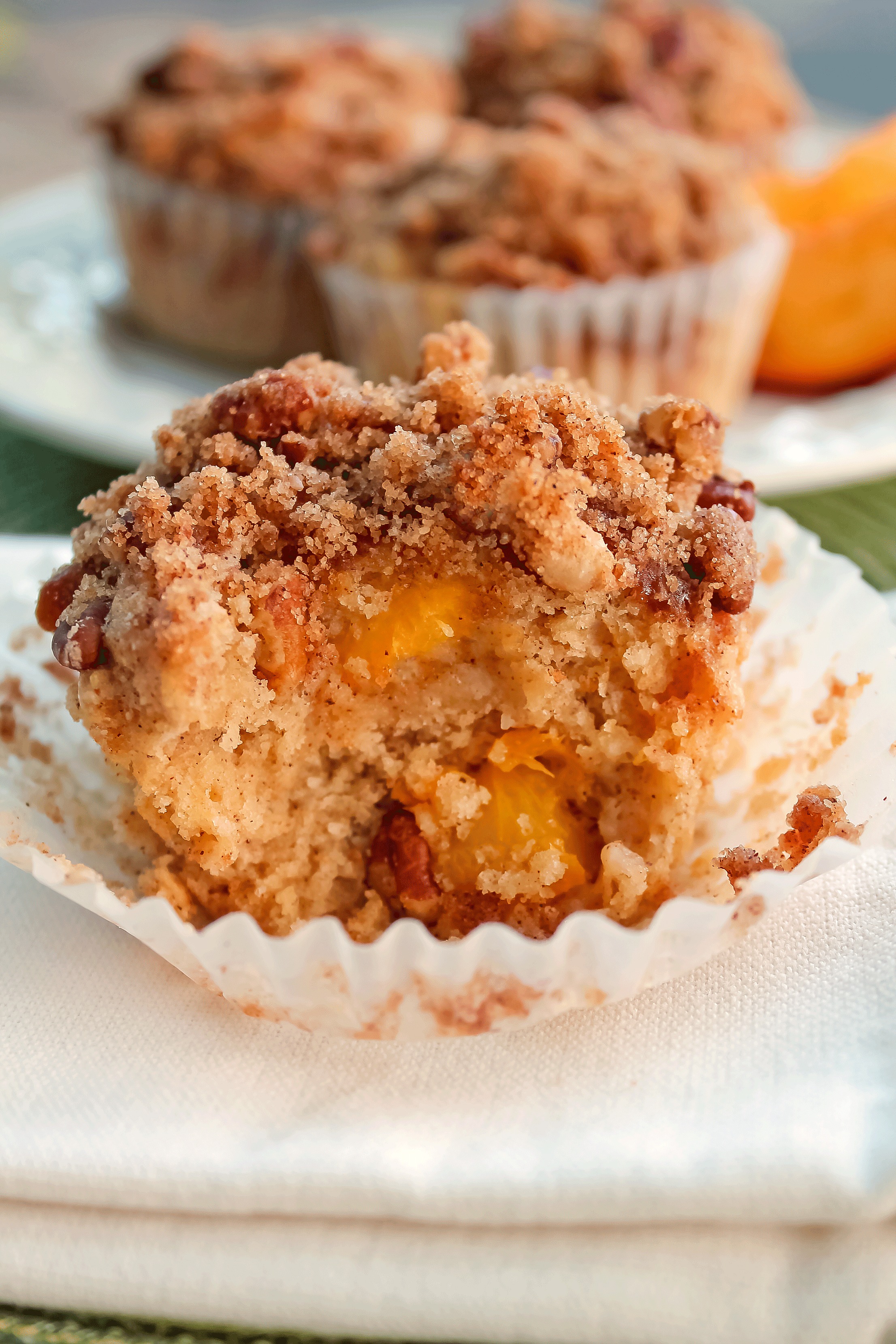 Ingredients
1 1/2 cups all purpose flour
1 teaspoon baking soda
1 teaspoon baking powder
1/2 teaspoon salt
3 large ripe bananas (11/4 cups mashed bananas) the riper your banana, the more banana flavor you'll get
3/4 cup white sugar
1 large egg slightly beaten
1/3 cup butter melted,cooled
Topping
1/3 cup packed brown sugar (light or dark brown)
1 tablespoon all purpose flour
1/2 teaspoon cinnamon
1/4 cup chopped pecans
1 Tablespoon cold butter
Instructions
Muffin Directions
1. In a large bowl, combine the flour, baking soda,baking powder and salt. Stir with a fork.

2. In a medium size bowl, mix the bananas, white sugar, the slightly beaten egg and melted butter together. Pour this mixture into the large bowl with the flour mixture and stir or fold until just incorporated. Fill your paper lined muffin cups 3/4 full of batter.
Topping Directions
1. In a medium bowl combine the brown sugar,flour,and cinnamon together. Cut the 1 tablespoon of cold butter into the mixture until it's crumbly. Add the chopped pecans and stir.

2. Sprinkle crumb topping on top of muffin batter in pan, bake at 375 degrees for 20 minutes or until tests done with a toothpick. Cool in pan 10 minutes.
Sumber : https://bunnyswarmoven.net/banana-muffins-with-crumb-topping/
Content retrieved from: https://bunnyswarmoven.net/banana-muffins-with-crumb-topping/.