If you love bananas foster as much as I do, then this is the snack for you!  I seriously can't believe how much it tastes like the traditional dessert, and turned into a party Chex mix, your guests are going to love this unique and delicious bananas foster party chex mix recipe (that also happens to be a completely gluten-free snack recipe!)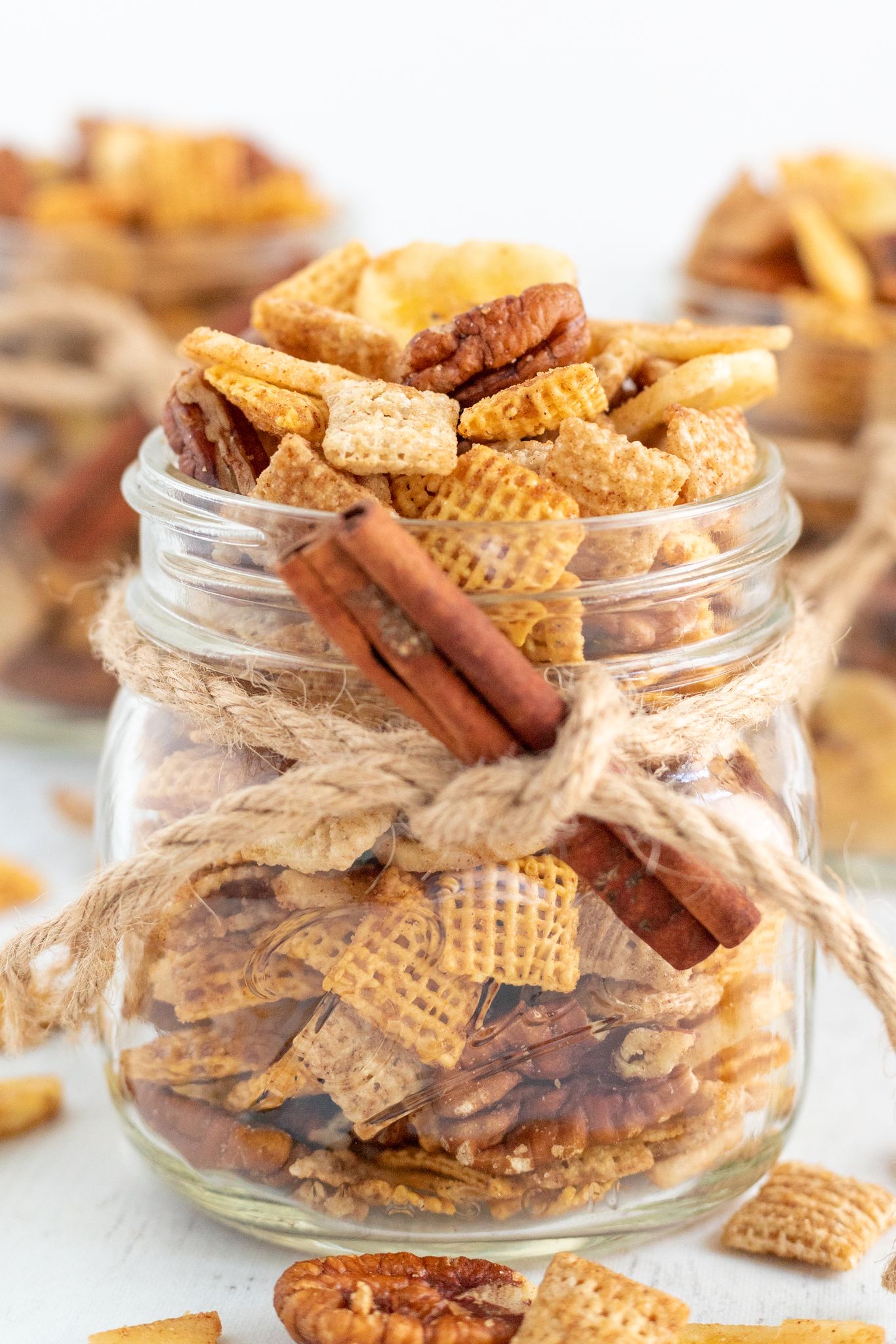 Banana Foster Chex Mix is an easy snack that really only takes minutes to put together.  It's so darn easy you're going to use your microwave to make it. Yeah like, that easy.  But the flavor, oh my goodness, the flavor. This Chex snack mix is perfect as a :
Game Day Treat
Party Snack
Homemade Gift for co-workers – the paper boy – the mailman – teachers – etc
Homemade Halloween Treat
Bake Sales
What are my ingredient options for Banana Foster Chex Mix?
The original  Bananas Foster is a dessert made with bananas and vanilla ice cream, with a sauce made from butter, brown sugar, cinnamon, dark rum, and banana liqueur.  This delicious snack mix has all the banana foster flavors except the vanilla ice cream, but hey if you want to top a bowl full of vanilla ice cream with this snack mix go for!   Banana Foster Chex Mix doesn't use actual rum, we're using rum extract as well as banana extract for the recipe. If for some reason you don't like the flavor of rum, switch the rum extract out for vanilla extract. You can also switch out the pecans in the recipe for the nut of your choice.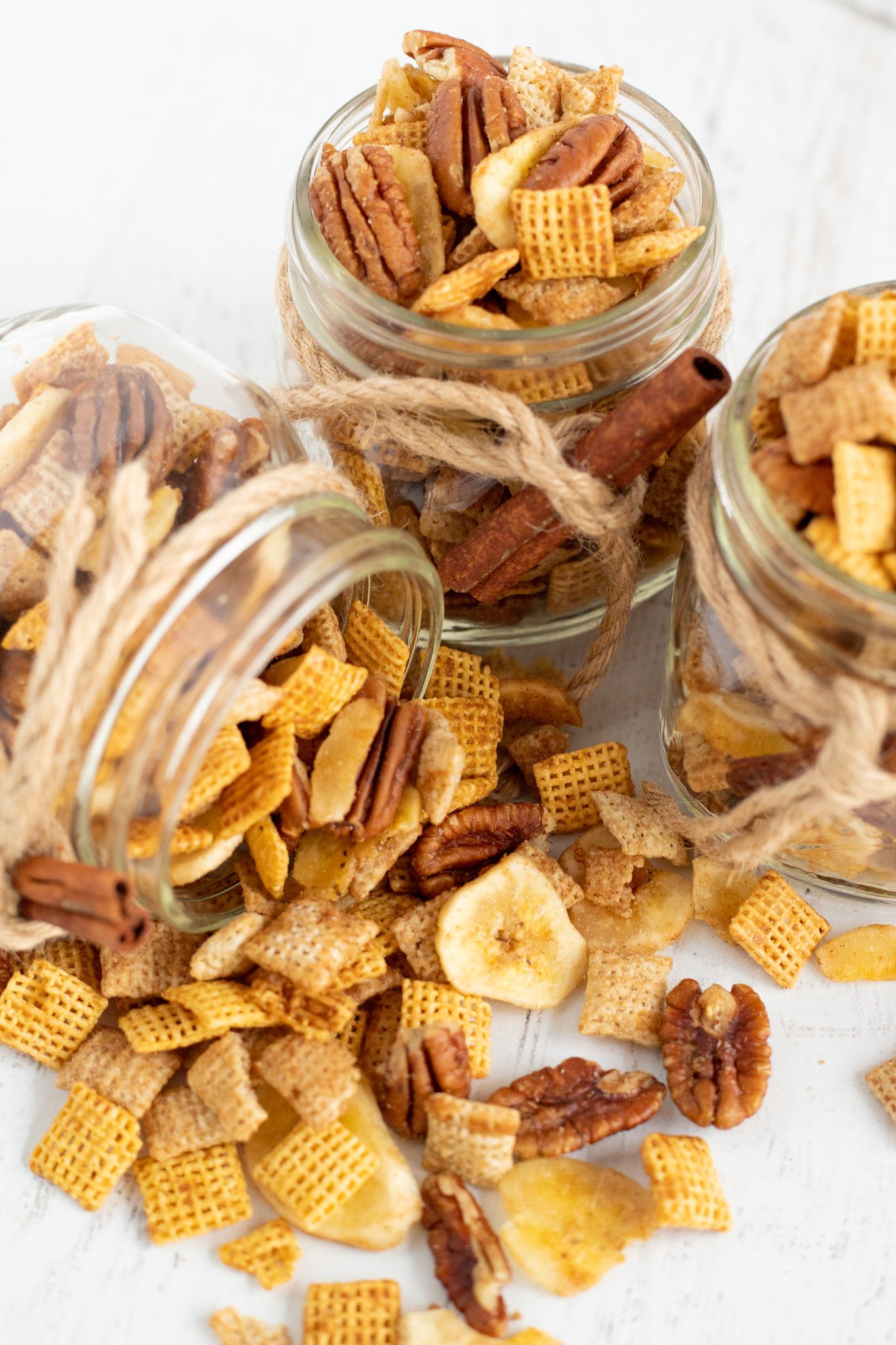 Banana Foster Chex Mix Ingredients:
3 cups Honey Nut Chex Cereal
3 cups Cinnamon Chex Cereal
2 1/4 cups pecan halves ( or your favorite nut)
1 1/2 cups dried banana chips
1/3 cup butter, cubed
1/3 cup packed brown sugar
1/2 Teaspoon ground cinnamon
1/2 Teaspoon banana extract
1/2 Teaspoon Rum extract (use vanilla extract if you aren't partial to the flavor of rum)

We start Banana Foster Chex Mix by placing the Honey Nut Chex, Cinnamon Chex, pecan halves and dried banana chips in a large microwavable bowl.  Stir the ingredients to combine them. Make sure the bowl is large enough to hold the cereals, nuts and dried banana chips plus have room to pour the sauce over the ingredients and toss to combine them.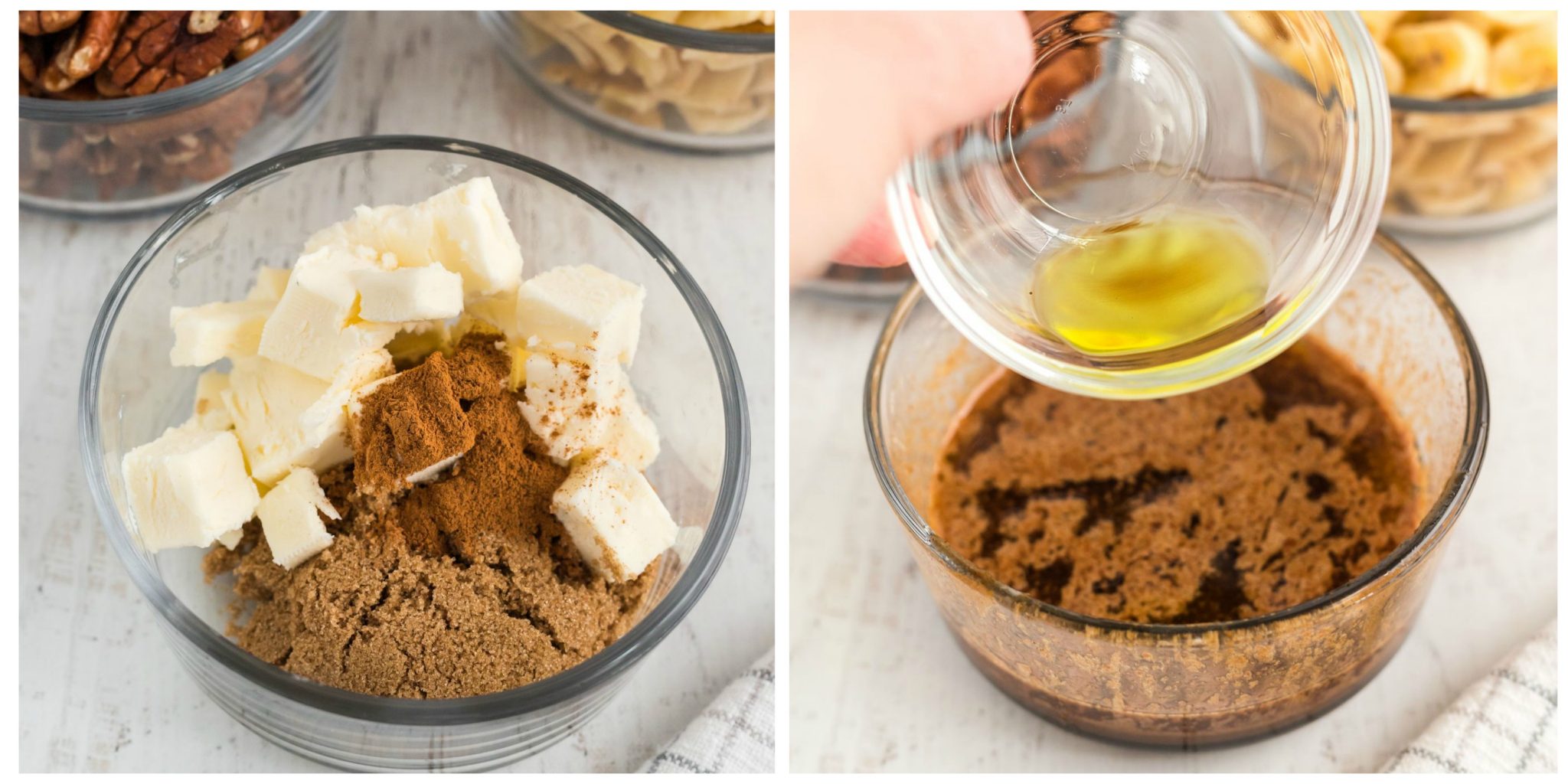 Next, we're going to make the Banana Foster Sauce to pour over the cereals, nuts and dried bananas. Place the butter, brown sugar and cinnamon in a small microwaveable bowl. Microwave the mixture on high for 2 minutes, stirring once. Stir the banana and rum extracts into the brown sugar/ butter/ cinnamon mixture.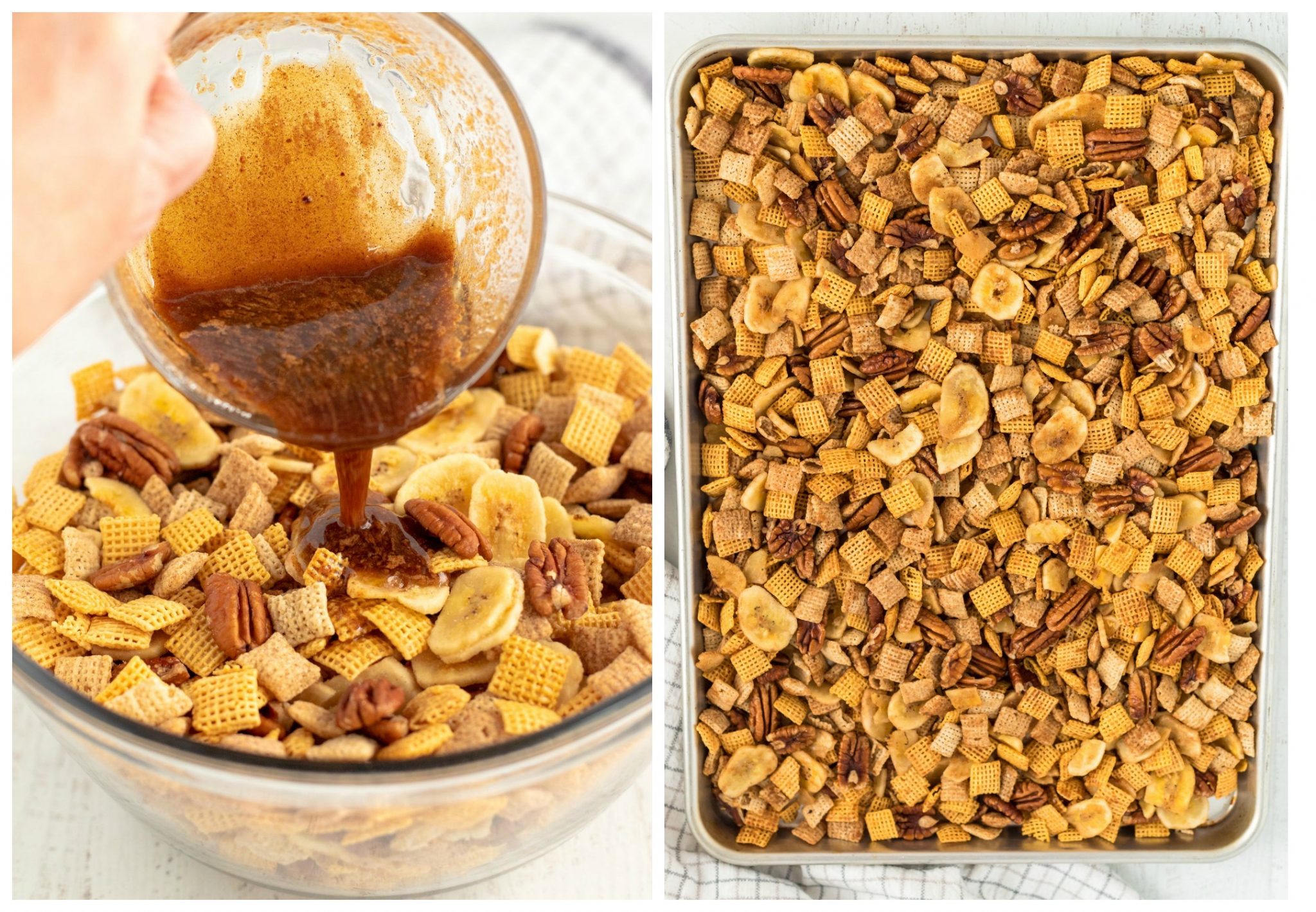 Pour the microwaved syrup mixture over the cereals, nuts and dried bananas in the large bowl and toss the ingredients to coat them. Microwave the large bowl with the coated ingredients on high for 3 minutes, stirring every minute. Spread the mixture onto cookie sheets too cool. Store this delicious Chex snack mix in an airtight container.
If you have an event or holiday that you'd like to make Banana Foster Chex Mix for start planning ahead by looking for coupons for the cereal (use the brand name or the store equivalent), purchase the nuts when they are on sale and store them in the freezer to use when you make the recipe.  This delicious treat can be a very budget friendly recipe to make if you plan for it.  Banana Foster Chex Mix, it's delicious and the perfect all year round snack!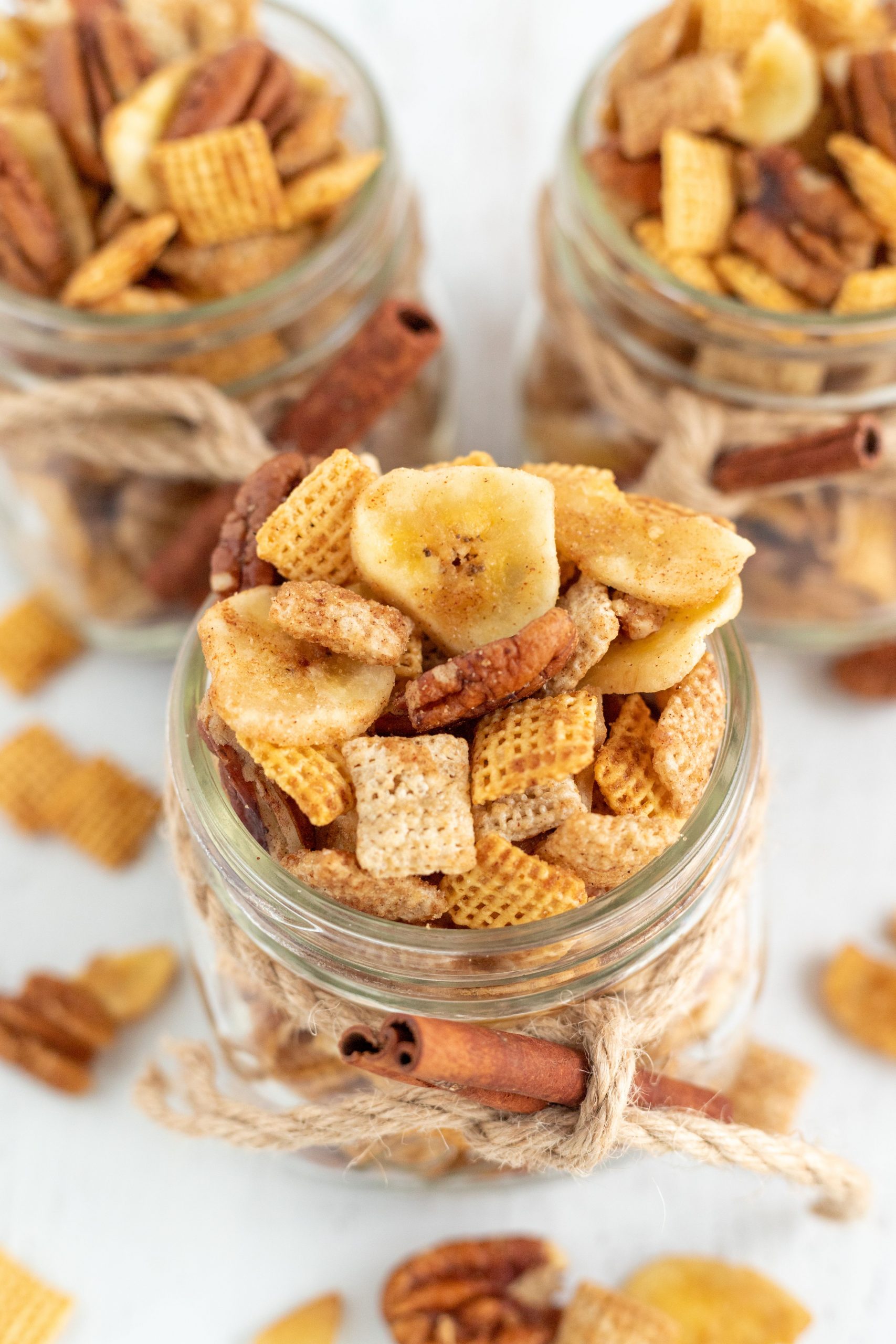 Looking For More Delicious Recipes From Bunny's Warm Oven, Try These!
Ingredients
3 cups Honey Nut Chex
3 cups Cinnamon Chex
2 1/4 cups pecan halves
1 1/2 cups dried banana chips
1/3 cup butter, cubed
1/3 cup packed brown sugar
1/2 Teaspoon cinnamon
1/2 Teaspoon banana extract
1/2 Teaspoon rum extract
Instructions
microwave

We start the recipe by placing the first 4 ingredients (Honey Nut Chex, Cinnamon Chex, pecan halves, dried banana chips) in the recipe list in a large microwaveable bowl. Set the bowl aside.

Next, place the butter, brown sugar and cinnamon into a small microwaveable bowl. Place the small bowl in the microwave and microwave on high for 2 minutes, stirring once. Stir the extracts into the microwaved mixture.

Pour the microwave mixture over the ingredients in the large bowl (Chex cereal mixes, pecan halves and dried banana chips) and toss to coat the ingredients.

Place the large bowl with the coated ingredients into the microwave, microwave on high for 3 minutes, stirring every minute. Remove the large bowl from the microwave and place the coated ingredients onto baking sheets to cool. After the ingredients have cooled, store in airtight containers.

Sumber : https://bunnyswarmoven.net/banana-foster-chex-mix/ 
Sumber : https://sweetphi.com/bananas-foster-party-chex-mix-recipe/