Apple Harvest Cake is a wonderful homemade cake. The middle of the cake is filled with a ribbon of cinnamon and sugar with apples, you're going to love it!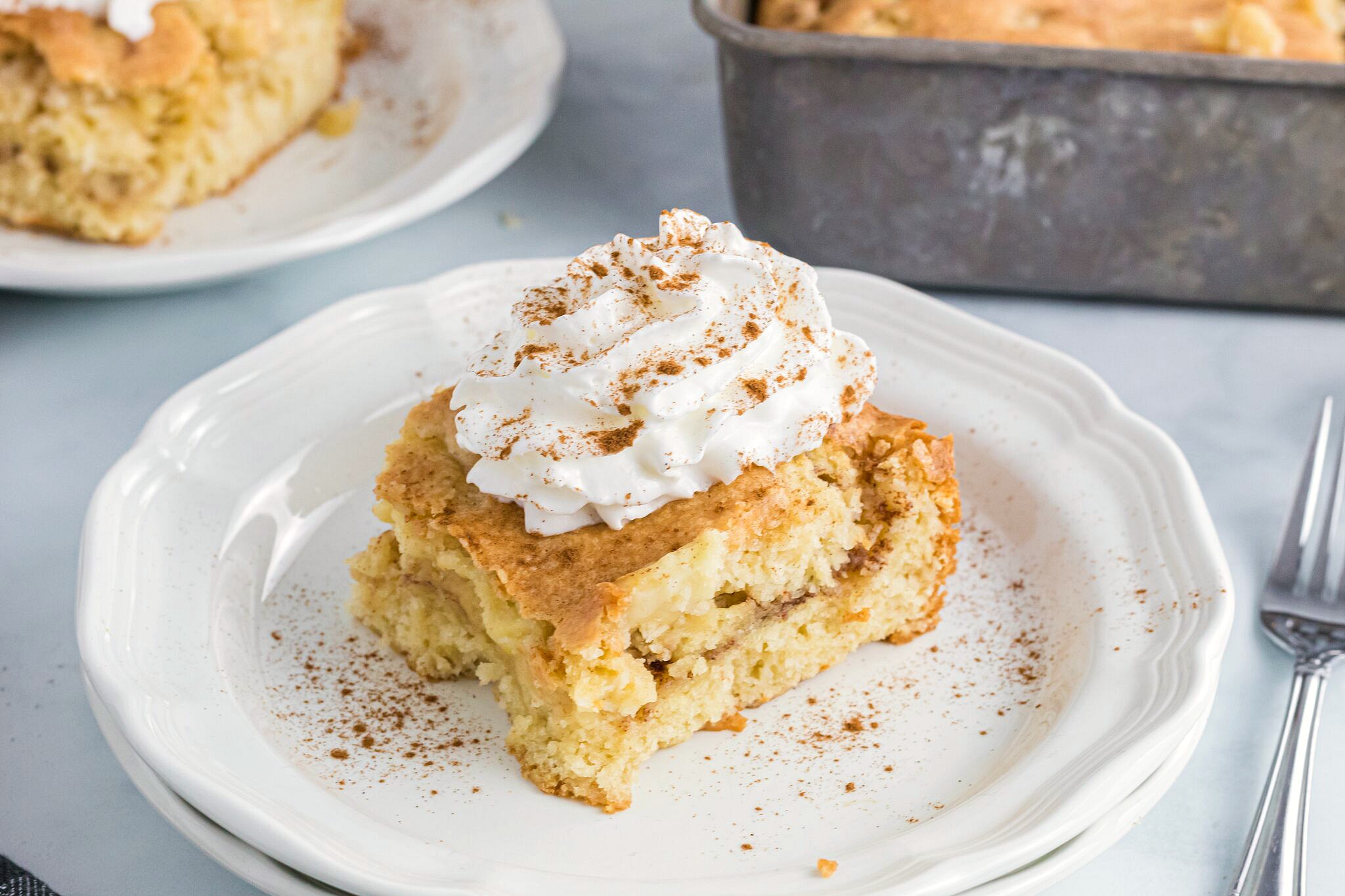 The first thing that came to mind when I tasted this homemade apple cake  was how moist it was, this cake is chock full of apples.  The cinnamon – sugar ribbon that flows through the center of the cake gives it just the right amount of sweetness, not overly sweet but just right. I had it plain , right out of the pan and I was delighted with it!  You could adorn this with a drizzle of glaze if you wanted to but it doesn't need it. It's the perfect apple coffee cake. I put a little bit of whipped cream on the top with a sprinkle of cinnamon. I'm thinking about the Apple Pie Ice Cream in the freezer with this cake….a match made in heaven! Let's gather the ingredients and make this homemade apple cake together.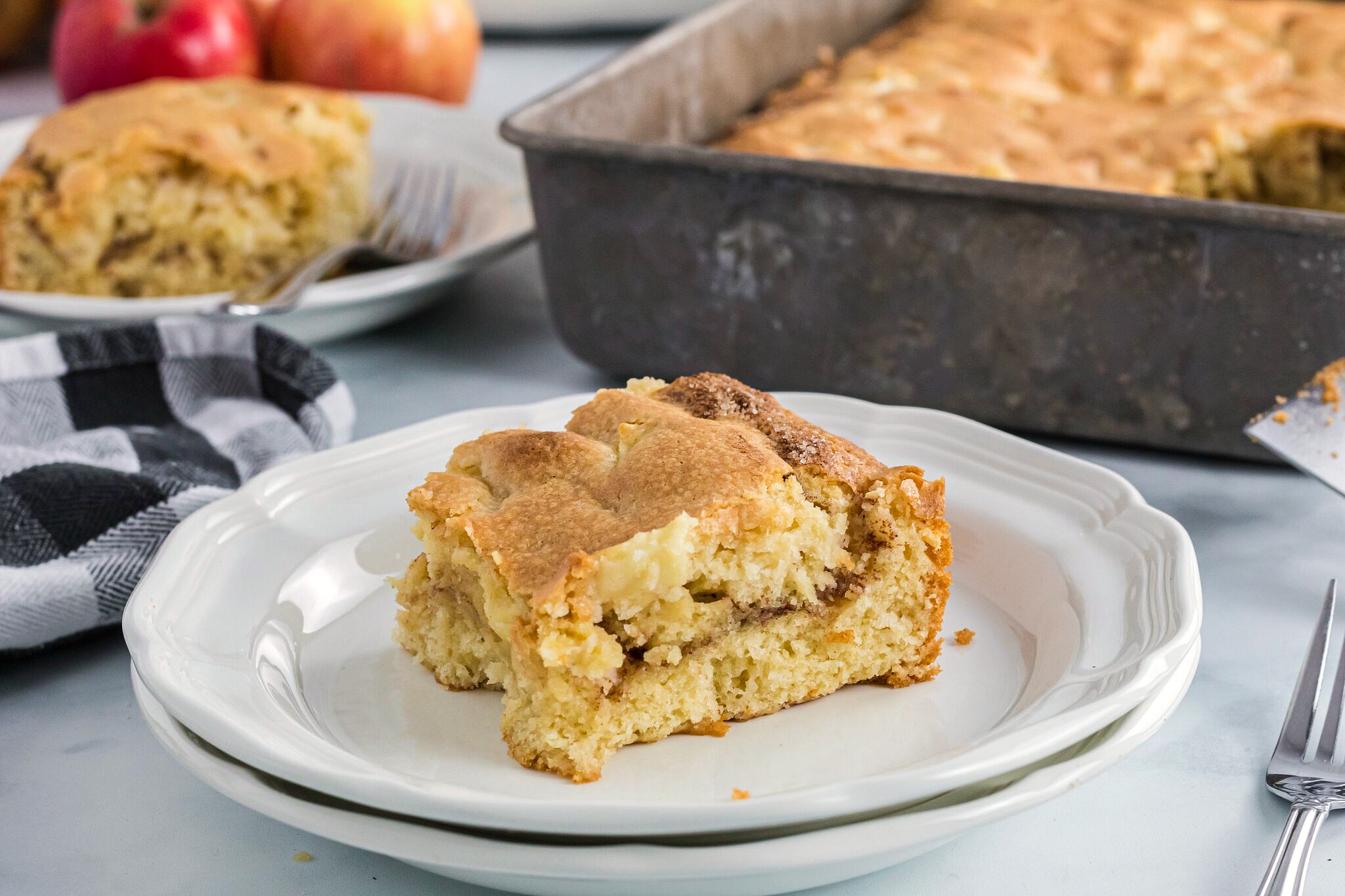 Apple Harvest Cake Ingredients:
2-1/4 cups sugar, divided
1 cup vegetable oil
4 eggs, room temperature
1/4 cup orange juice, room temperature
2-1/2 teaspoons vanilla extract
3 cups all-purpose flour
3 teaspoons baking powder
1/2 teaspoon salt
4 medium tart apples (baking apples), peeled and cubed
2 teaspoons ground cinnamon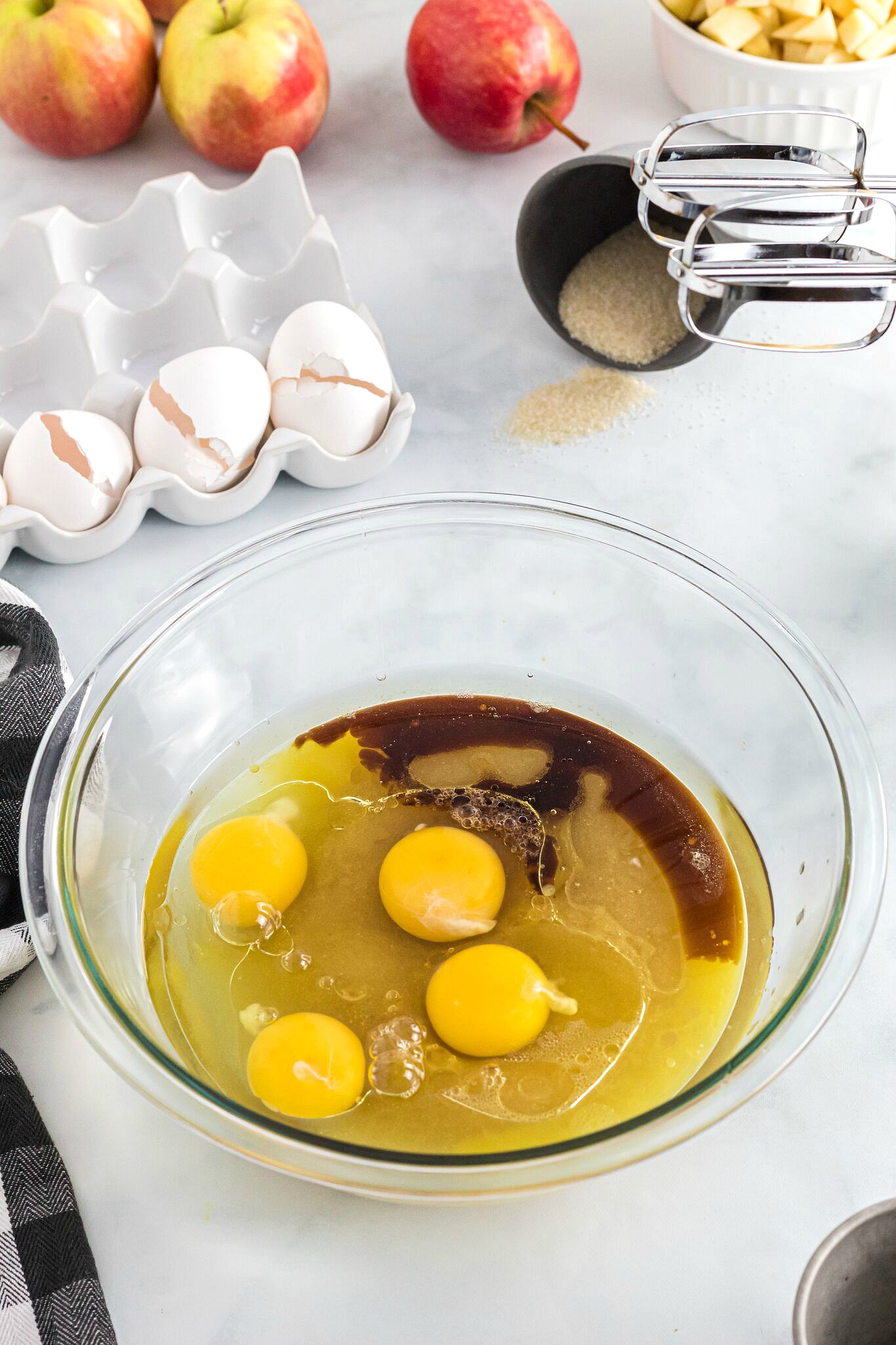 We start our apple cake by placing 2 cups of sugar, the oil, eggs, orange juice and vanilla in a large bowl. Beat the ingredients until they are well blended.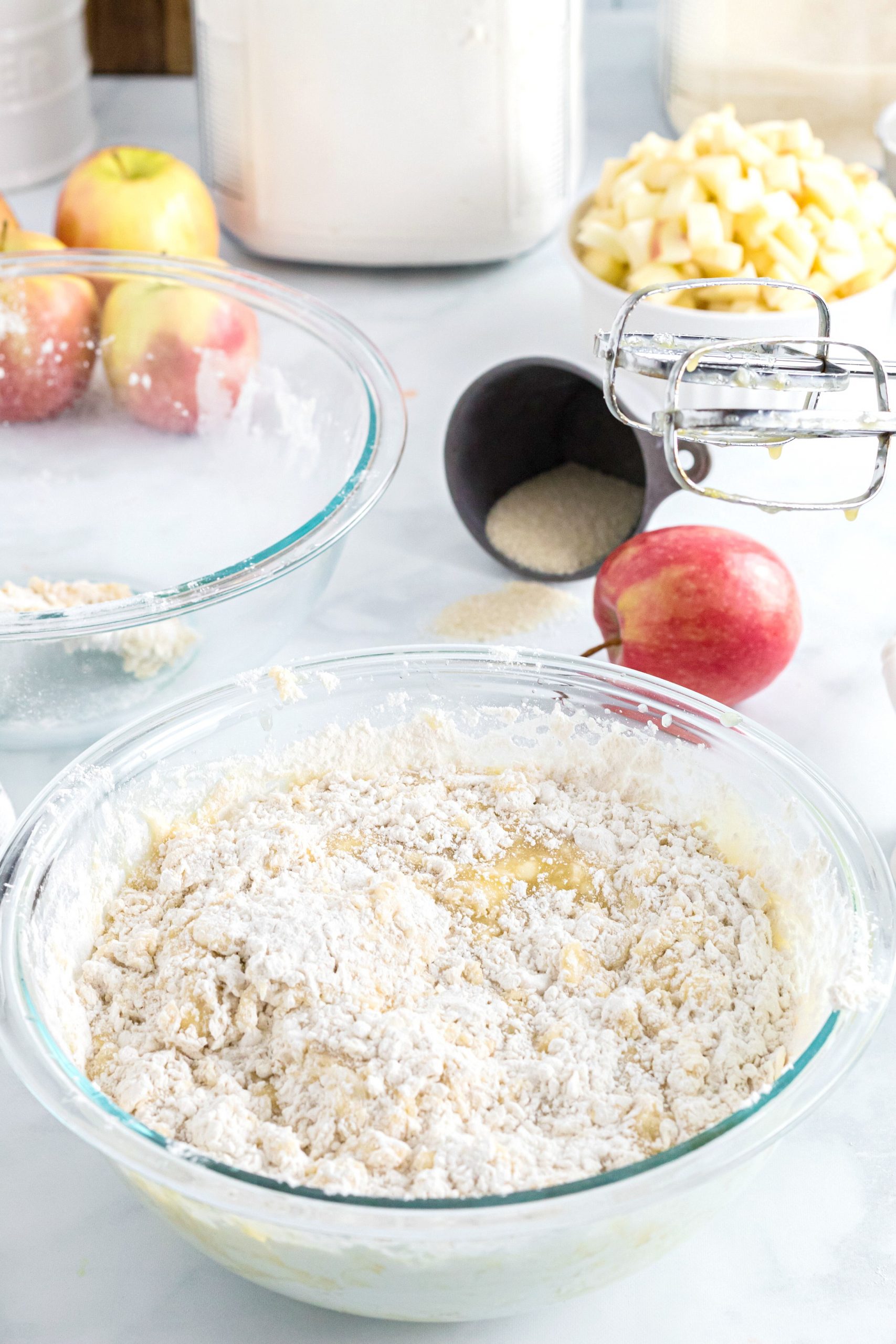 Place the flour, baking powder and salt in a medium bowl, stir the ingredients together to combine them.  Gradually beat the flour mixture into the large bowl with the wet ingredients.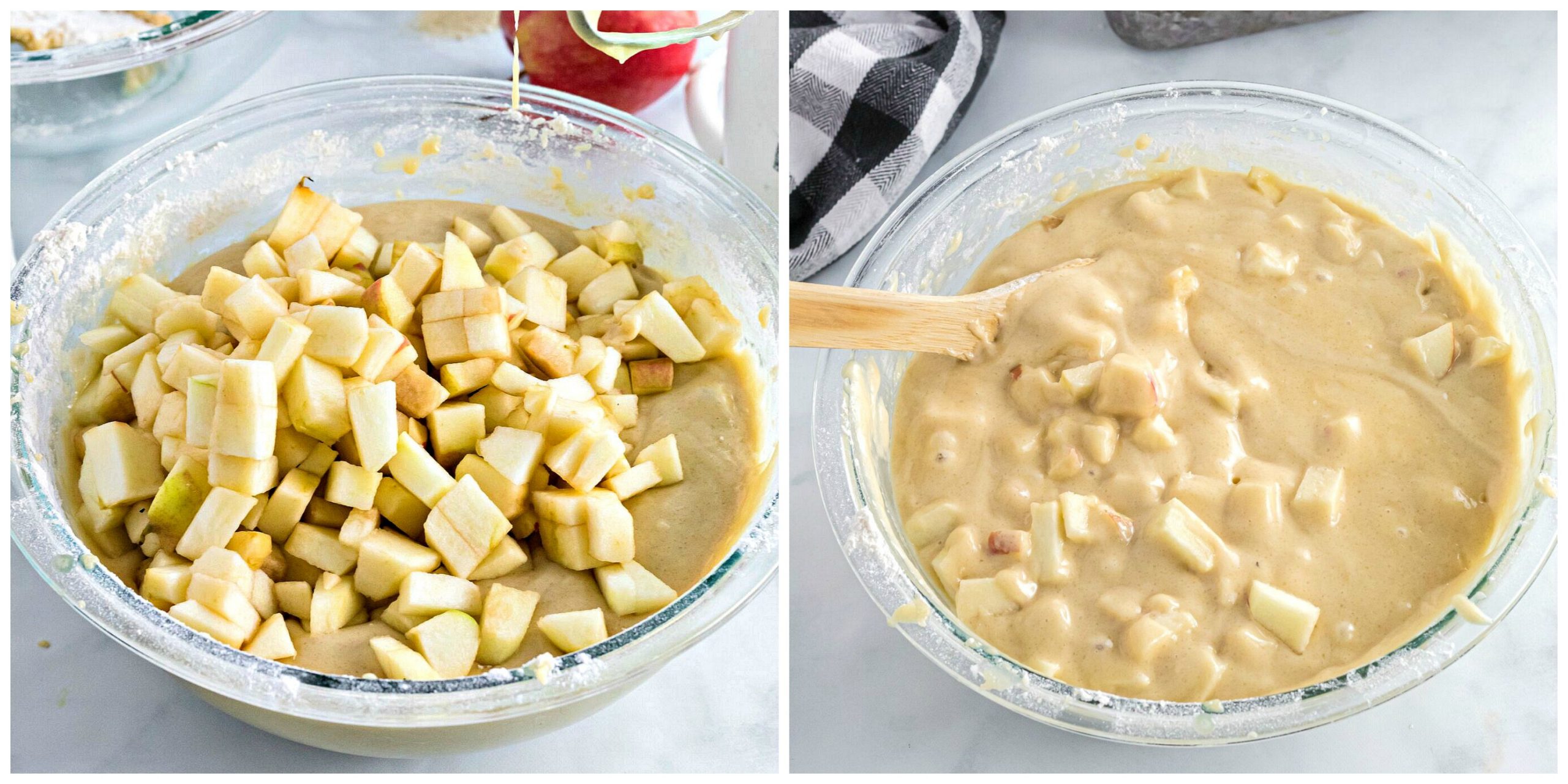 Add the diced apples to the bowl and stir them into the batter.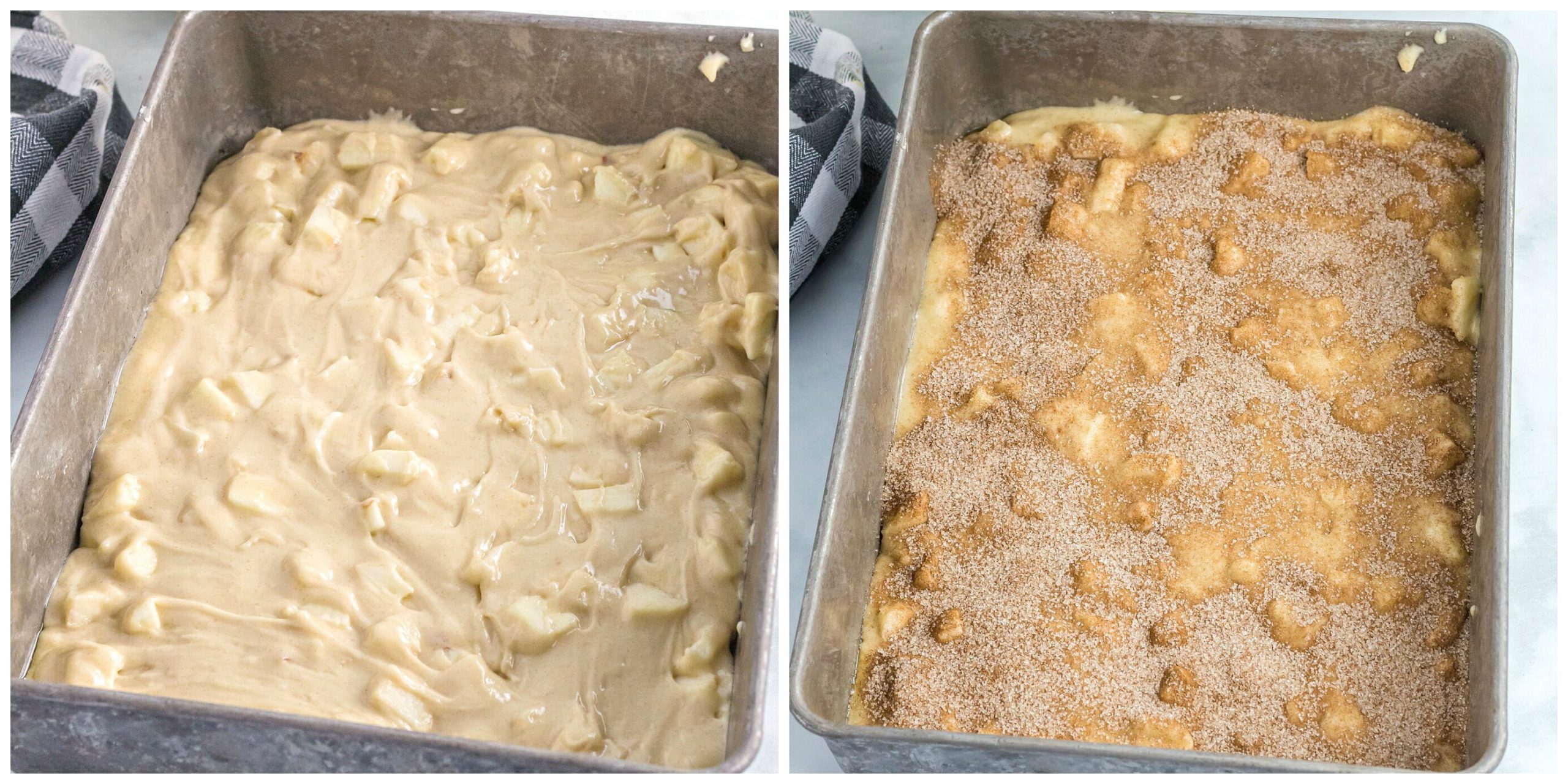 Spread half the batter into a greased 13×9 inch baking pan. Spread the batter out evenly to the edges of the pan.  Combine the cinnamon and remaining 1/4 cup of sugar in a medium size bowl.  Stir to combine the ingredients.  Sprinkle the cinnamon/sugar mixture over the batter in the baking pan.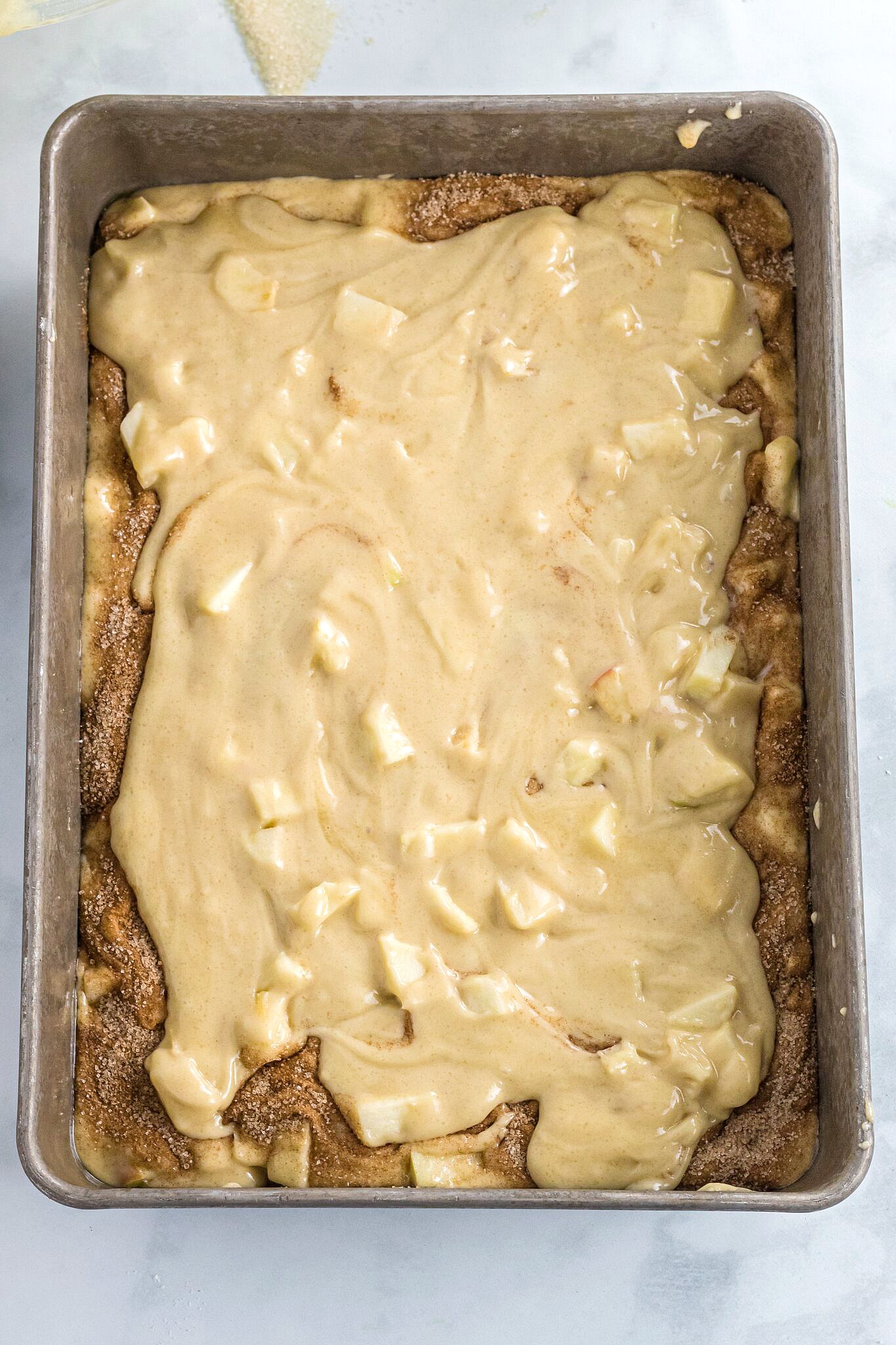 Carefully spread the remaining half of the cake batter over the cinnamon sugar.  Bake the cake in a preheated 350 degree oven for 40 – 50 minutes or until a toothpick inserted in the center comes out clean.  Remove the cake from the oven to a wire rack to cool.  Garnish Apple Harvest Cake slices with whipped cream with a sprinkling of cinnamon if you like.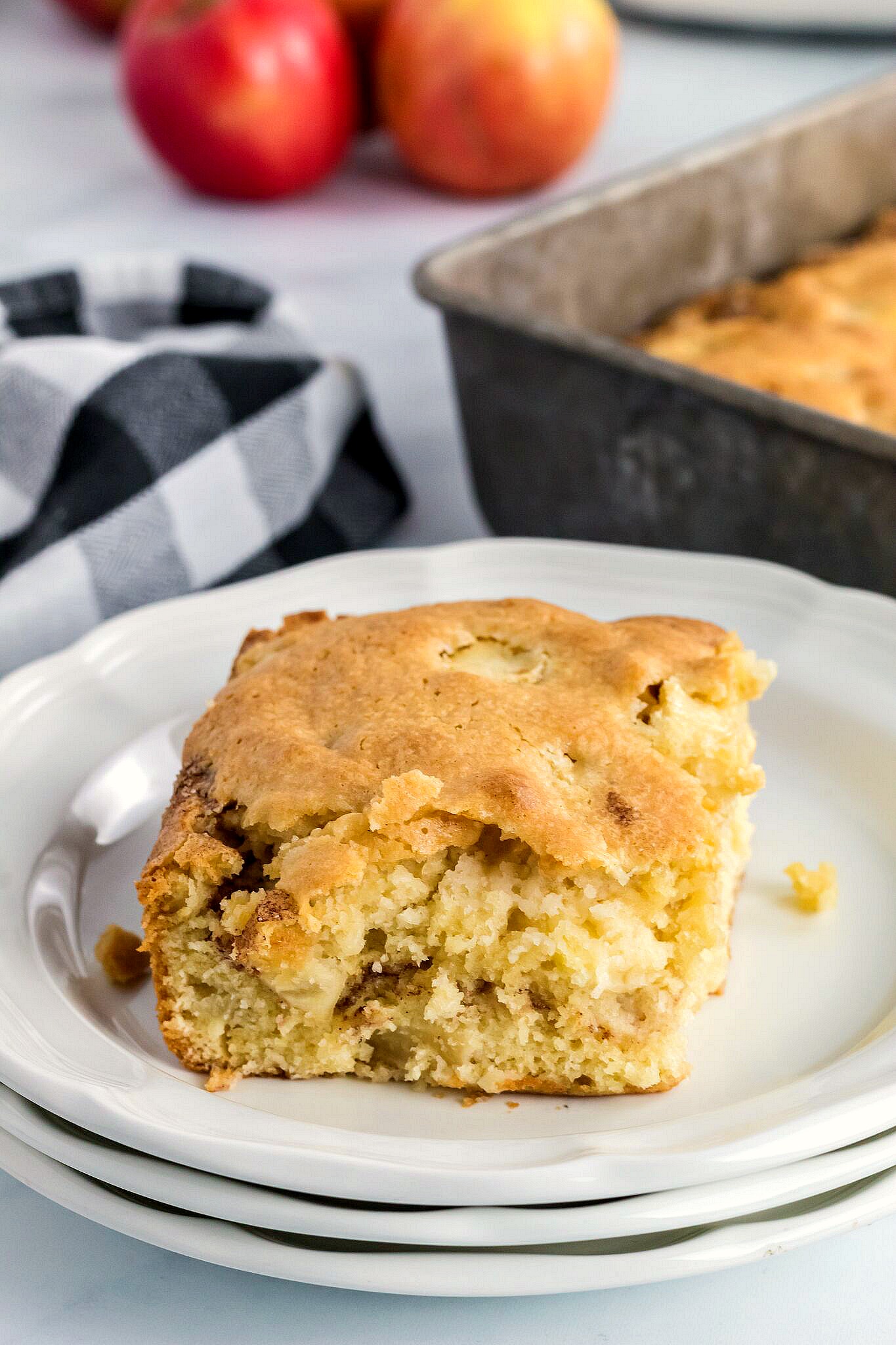 Apple Harvest Cake – a moist and tender homemade apple cake perfect to serve all year round, Enjoy!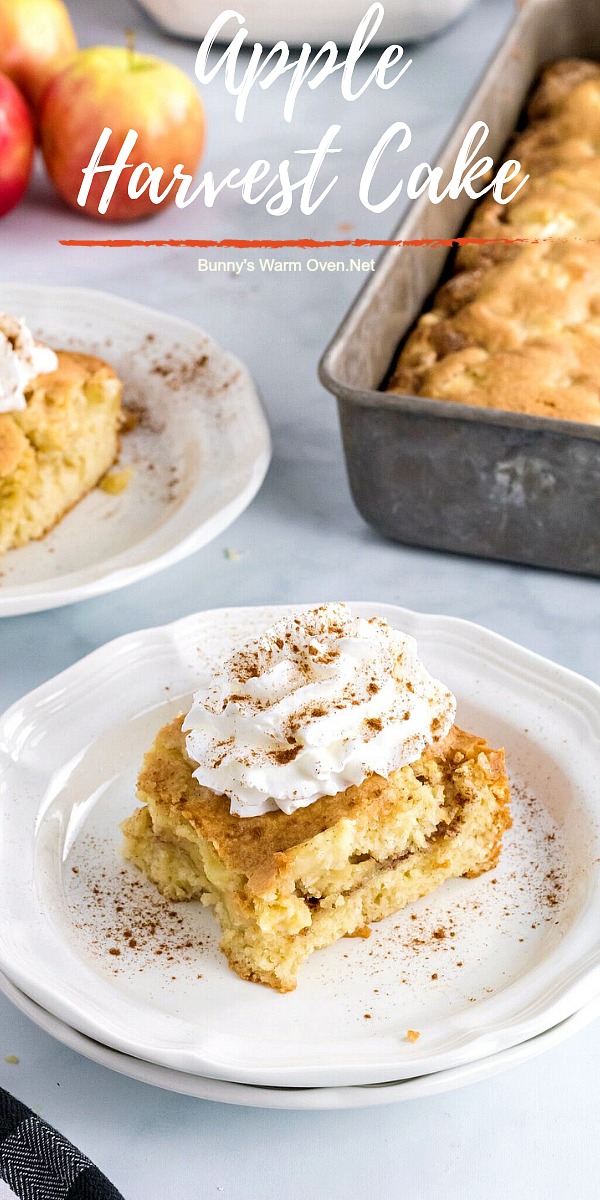 Ingredients
2 1/4 cups sugar, divided
1 cup vegetable oil
4 eggs, room temperature
1/4 cup orange juice
2 1/2 Teaspoons vanilla extract
3 cups all purpose flour
3 Teaspoons baking soda
1/2 Teaspoon salt
4 medium size baking apples, peeled and cubed
2 Teaspoons cinnamon
whipped cream as a garnish
Instructions
Place 2 cups of sugar, the vegetable oil, eggs orange juice and vanilla in a large bowl. Beat the ingredients together until well blended.

Place the flour, baking soda and salt in a medium size bowl, whisk the ingredients together to combine them.

Gradually add the dry ingredients to the batter with an electric mixer just until the ingredients are combined. Stir in the apple pieces.

Spread half the batter into a greased 13×9 inch baking pan. Combine the cinnamon and the remaining sugar together in a small bowl, sprinkle the cinnamon/sugar mixture over the batter. Carefully spread the remaining batter over the top.

Place the cake in a preheated 350 degree oven for 40 – 50 minutes or until a toothpick inserted in the center comes out clean. Remove the pan from the oven to a wire rack to cool. Garnish cake slices with whipped cream if desired.

Sumber : https://bunnyswarmoven.net/apple-harvest-cake/