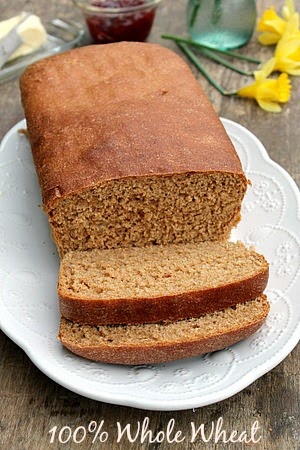 We have two food bloggers in this big food loving family. Today I'd like to introduce you to Paul's son Zephaniah , the author of the blog Bread +Bourbon. He is also a teacher, musician, singer, song writer, baker and lover of good food.  Like this delicious cooked to perfection southern fried chicken from his blog Bread+Bourbon.   Zeph came to visit from Tennessee a couple of weeks back and we decided to bake together.  Since neither one of us had ever made a 100% whole wheat bread, we decided to put our heads together and tackle it.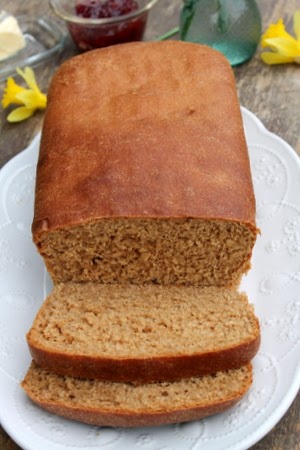 Ingredients:
1 to 1 1/8 cups lukewarm water, depending on the weather you're having at the time you make the bread. ( you can substitute 1/4 of orange juice for 1/4 cup water in the recipe to make whole wheat bread have a tamer whole wheat flavor)
1/4 cup vegetable oil
1/4 cup honey
3 1/2 cups whole wheat flour (measure by fluffing flour and leveling off excess)
1 packet active dry yeast dissolved in 2 tablespoons of the water in the recipe
1 1/4 teaspoons salt
1/4 cup non fat dried milk
Directions:
Using a large bowl, combine all the ingredients together ( don't forget to fluff the flour before measuring).  Stir the ingredients until they come together and leave the sides of the bowl.  Let the dough rest for 30 minutes in the bowl covered.  In this 30 minute rest time the water is being absorbed by the wheat flour and making the bran soft, making it easier to knead.
After the 30 minute rest time, oil your board and hands to keep the dough from sticking to them.  Look at your dough…is it soft and supple …slightly tacky?  If so, knead for about 10 minutes. You could add a little flour while needing if the dough is sticky to make it tacky.  If it looks dense, start adding water, a couple Tablespoons at a time while you knead the dough till you have a soft, supple slightly tacky dough.
Grease a large bowl, turn the dough in the bowl so all sides have a little oil on them.  Let the dough rise for 1 or 2 hours until it is puffy.  It may not double in size.
Put your risen dough on an oiled board and shape it into a loaf ,put it into an 8 inch greased loaf pan.  Grease a strip of plastic wrap and cover the dough with it. Let the bread rise till it comes above the baking pan about an inch, this could take an hour or two ( probably 2, remember whole wheat dough is stubborn) depending on the warmth of your kitchen.
Towards the end of the rise , preheat your oven to 350 degrees. Carefully remove the plastic wrap. Bake the dough for 20 minutes, then tent it with a piece of aluminum foil to keep it from over browning. Bake for the remaining 15 to 20 minutes.  Remove the bread from the oven, you may have to run a butter knife around the sides to loosen it and turn it out onto a cooling rack.  Brush with butter if desired to make a nice soft top crust.
Sumber : https://bunnyswarmoven.net/a-delicious-soft-100-whole-wheat-bread/