I was browsing the Fleischman Yeast site looking for bread recipes when I spotted a sectioned called 1 Dish and decided to check it out.  In this section they have everything from breakfast to dinner with desserts thrown in that are a 1 Dish recipe made with a yeast batter.  1 Dish meaning the yeast batter is mixed in a 9 inch deep dish pie plate and then other ingredients are added  and baked in a cold oven.   I'd never seen anything like it so I decided to try one.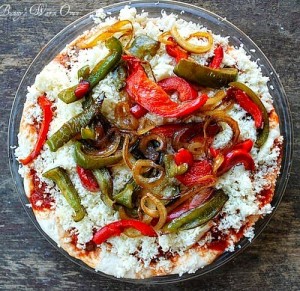 There's no kneading or rise time for this batter.  As the recipe states you can mix the yeast batter in the pie plate or use a separate bowl.  Pat the dough into a greased or sprayed 9 inch deep dish pie plate.  Place the meatballs firmly into the dough then top the meatballs with tomato sauce, minced garlic, mozzarella cheese and the herb seasoning.  I added sauteed green and red peppers with some onion on top of the cheese, we love our peppers and onions.  Put this in a cold oven and turn the temperature to 350 degrees ,the yeast will rise as the temperature in the oven warms.  Bake for 30 minutes.  Fleischmann's Yeast also has a video with the recipe you can look at before you make it.  It's very helpful.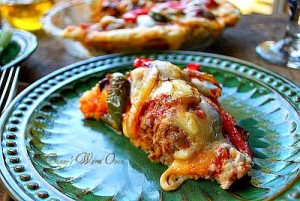 We absolutely LOVED this dinner!  Sorry you can't see the crust because of the melting gooey cheese, but that's not a bad thing!  I plan on using this recipe to make a Chicken Parmesan 1 Dish  Pizza Bake Dinner because this one turned out so well.  The 1 Dish section also has dessert recipes, you can bet I'll be checking those out! Enjoy!
INGREDIENTS :
1⅛ lbs Ground Beef

1½ lbs Pizza Dough
4 oz Fresh Mozzarella Cheese

6 oz Cherry Tomatoes

2 cloves Garlic
1 Green Bell Pepper
1 bunch Basil
2 Tbsps All-Purpose Flour
2 Tbsps Tomato Paste

1½ Tbsps Meatball Spice Blend (Garlic Powder, Dried Oregano, & Onion Powder)
Recipe Note:If desired,batter may be mixed in a separate bowl.  Proceed as directed above.
Sumber : https://bunnyswarmoven.net/1-dish-italian-meatball-and-cheese-pizza-bake-with-green-and-red-peppers/
Sumber : https://www.blueapron.com/recipes/meatball-pizza-with-fresh-mozzarella-cheese-charm-tomatoes